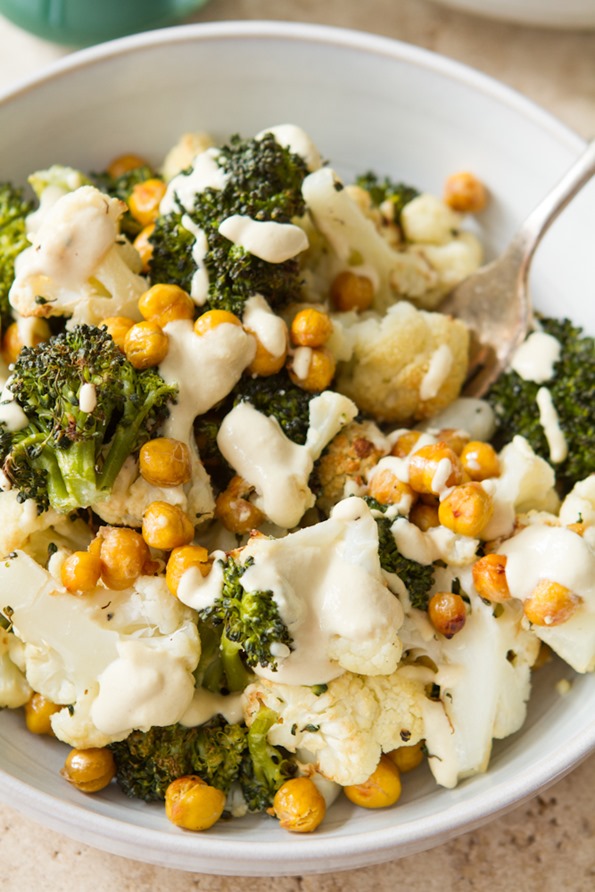 It's now March and after a few months of winter it appears I'm going crazy. Why? Well, you can now add roasted cauliflower to my list of strange-but-true late winter food cravings. Weird, I know. Cauliflower has never been high on my list of comfort food vegetables, but for some reason I just couldn't get the idea of a creamy roasted cauliflower recipe out of my mind. So I made a creamy cashew-based lemon tahini sauce and mixed it with roasted chickpeas, cauliflower, and broccoli. Doesn't that just sound dreamy?
I may have just lost half of you, but hear me out; if you've never been a fan of cauliflower (or broccoli) this just might be the recipe that changes your mind. It turned my husband into a believer and I hope it does for you too.
To make this simple dish a meal, I roasted some chickpeas to go along with it. The roasted chickpeas add a nice crunch to this mix and of course pair so well with the creamy sauce. Eric has recently discovered that the texture of roasted chickpeas is so much better than unroasted. So guess what we've been doing a lot lately? Yup, roasting chickpeas. This dish would also be wonderful served over a bed of grains if you are feeling so inclined. I planned on serving this with millet, proceeded to forget about it on the stove, and scorched the heck out of it. Figures.
The temperature is slowly climbing here in Southern Ontario and like many of you, we're anxiously awaiting spring's arrival. In the meantime, I'll be celebrating "springing forward" on March 10th which will mean daylight until just after 7pm. Major progress!!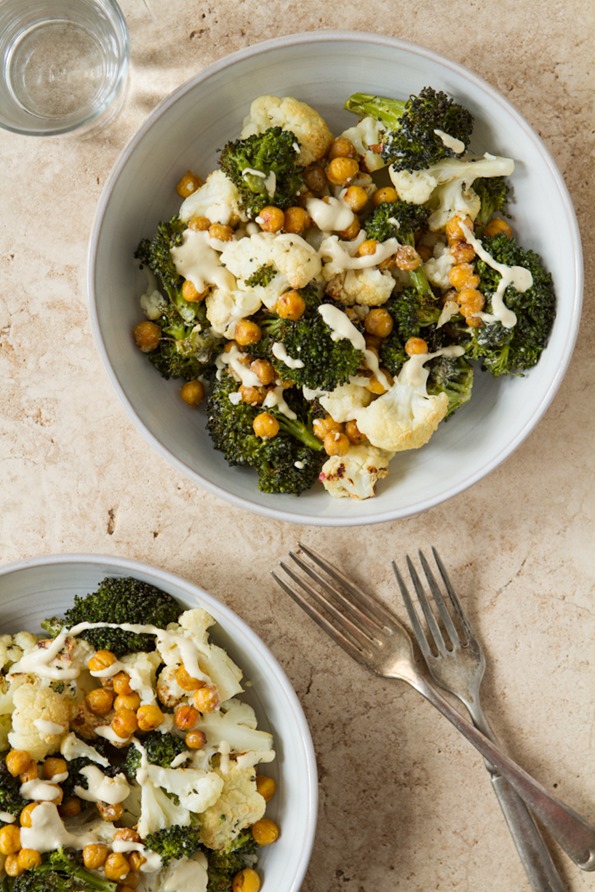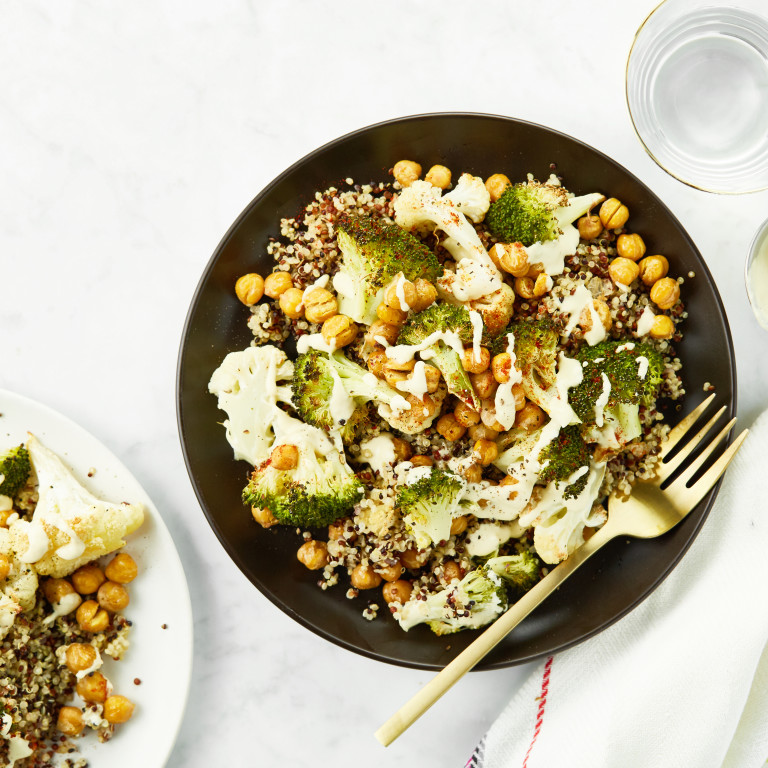 Roasted Buddha Bowl
Vegan, gluten-free, refined sugar-free, soy-free

Yield

3 to 4 servings
Soak time

8 hours
Prep time

Cook time

Total time

If you think you're not a fan of cauliflower or broccoli, this might just be the recipe that changes your mind. Roasted to perfection and served with an addictive (seriously, addictive) cashew-based garlic lemon tahini sauce, these veggies get downright dreamy. The addition of roasted chickpeas boosts the dish to a full-blown meal, and lends it a delightful crunch, too. I love serving it on a bed of warm quinoa. Pro tip: The dressing recipe makes only half a cup (125 mL), so if you're someone who likes a lot of dressing with your bowls (or even a versatile dressing for workweek lunches!), I recommend doubling it.
Ingredients
For the bowl:
1 large head broccoli, chopped (5 to 6 cups/325g to 390g)
1 large head cauliflower, chopped (5 to 6 cups/400g to 480g)
1 (14-ounce/398 mL) can chickpeas, drained and rinsed
1 tablespoon plus 1 teaspoon (20 mL) olive oil
Fine sea salt, to taste
Freshly ground black pepper, to taste
Cooked grains (such as quinoa) (optional)
For the dressing:
1/2 cup raw cashews, soaked
2 tablespoons (30 mL) fresh lemon juice
1 tablespoon (15 mL) tahini
1 large garlic clove
1/4 teaspoon fine sea salt
1/4 cup (20 g) nutritional yeast
6 tablespoons (90 mL) water, or more if needed
Directions
Soak cashews in a bowl of water overnight or for at least 8 hours. For a quick-soak method, pour boiling water over the cashews and let sit in the bowl for at least 45 minutes. Drain.
Preheat the oven to 400°F (200°C) and line two large baking sheets with parchment paper.
Place the chopped broccoli and cauliflower onto one baking sheet. (If it doesn't all fit on one, you can add some onto the second sheet.) Drizzle with 1 tablespoon oil and toss until coated. Sprinkle with a generous amount of salt and pepper. Place into the oven.
Place a tea towel on the counter and spread out the drained chickpeas. Fold the sides of the towel over the chickpeas to cover, and roll the chickpeas around until dry. Transfer chickpeas onto the parchment-lined baking sheet. Drizzle with 1 teaspoon oil and roll around the chickpeas with your hands until they are fully coated. Sprinkle with salt and place into the oven.
Roast the broccoli, cauliflower, and chickpeas for 25 to 30 minutes, until the broccoli and cauliflower are lightly browned and the chickpeas are golden. (At the halfway mark you can give the chickpea pan a gentle shake to roll them around in the pan.)
Meanwhile, add all of the dressing ingredients into a blender and blend on high speed until smooth. If you are cooking grains, such as quinoa, cook them now, too.
Plate the cooked grains (if using), and top with the roasted broccoli, cauliflower, and chickpeas. Drizzle on a generous amount of dressing. Season with salt and pepper, and any desired spices (I like to add smoked paprika and/or cayenne pepper, too).
If you have leftover dressing, it will keep for up to 5 days in the fridge in a sealed container. The dressing will thicken as it sits (especially when chilled), so you can add more water to thin out as necessary, or simply allow it to come to room temperature before serving. Any leftover grains, chickpeas, and veggies will keep in a sealed container in the fridge for up to a few days. I tend to reheat them in a skillet with some oil over medium heat.
Tip:
Need a nut-free dressing? Try this Lemon Tahini dressing on for size.
Nutrition Information
(click to expand)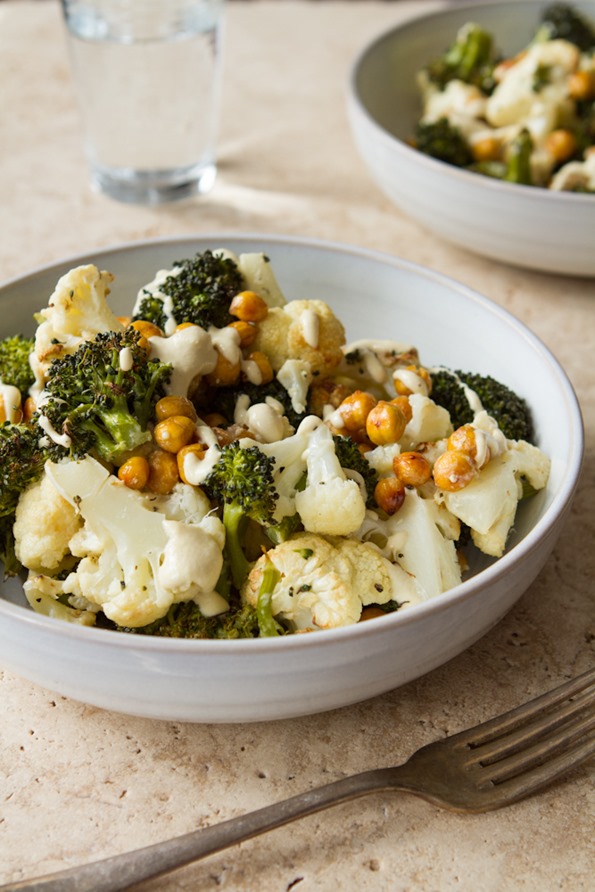 The first time I made this dish I was so hungry (and the dish was so tasty!) I ate almost the entire dish straight from the mixing bowl with a fork. My camera wasn't quick enough for me this time! That's when I came up with the name Buddha Bowl because I was rocking a Buhhda-like belly the rest of the day. Note to self: if you eat an entire head of cauliflower in one sitting you will pay the consequences. Carry on.