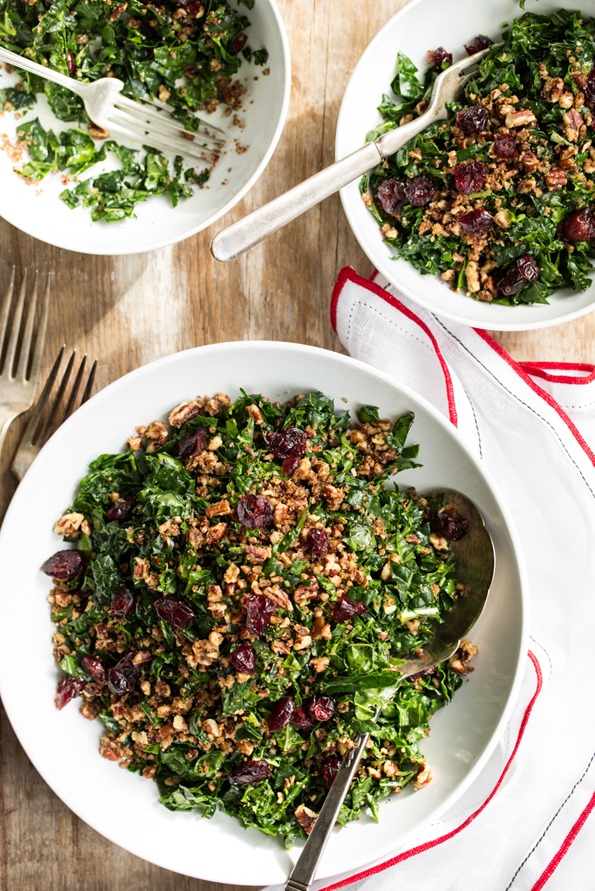 Whenever I'm in the Phoenix area, I make a point to dine at True Food Kitchen. For those who aren't familiar with True Food, the famous Dr. Andrew Weil (along with restaurateur Sam Fox) opened this restaurant in 2008. There are now several locations. The entire menu is based around Dr. Weil's Anti-Inflammatory Diet and food pyramid with an emphasis on local and organic food whenever possible. And I can tell you, every time I've been the restaurant is absolutely packed (and it's a huge restaurant!).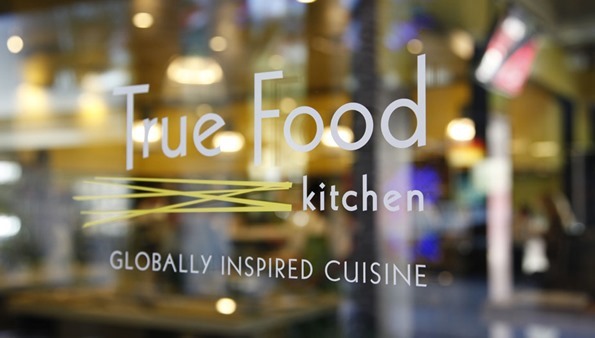 [image source: True Food Kitchen]
Everything I've had at this restaurant has been ah-mazing. Even though it's not a vegan or vegetarian restaurant, I always find a few great options on the menu. My last visit was no different. I ordered The Autumn Ingredient salad and I was blown away. It's bursting with roasted squash, brussels sprouts, pomegranate, cauliflower, mulberries, and white beans. It was the first time I've had roasted pomegranate seeds and I can tell you I'll be doing this real soon. The only thing that I didn't care for was the Horseradish Vinaigrette that came with it (but I'm not a horseradish person, so what do I know).
Also intriguing, was my mom's Tuscan Kale Salad – I love the idea of shredded kale (it just seems so much easier to chew!). The shredded kale was tossed in a simple lemon garlic dressing with a few handfuls of breadcrumbs and parmesan cheese thrown in. I decided I had to make a vegan version of this salad as soon as possible. I knew it would make the perfect salad starter for any holiday menu!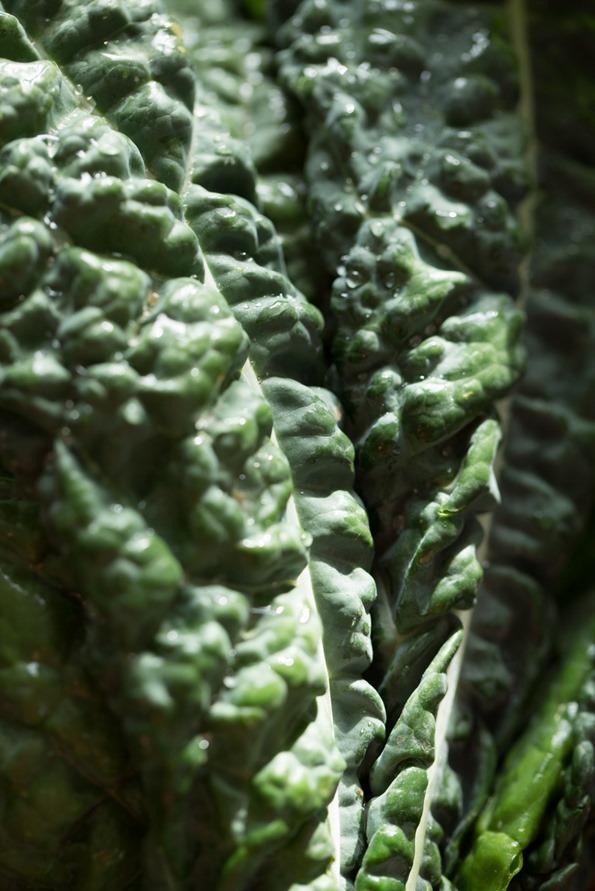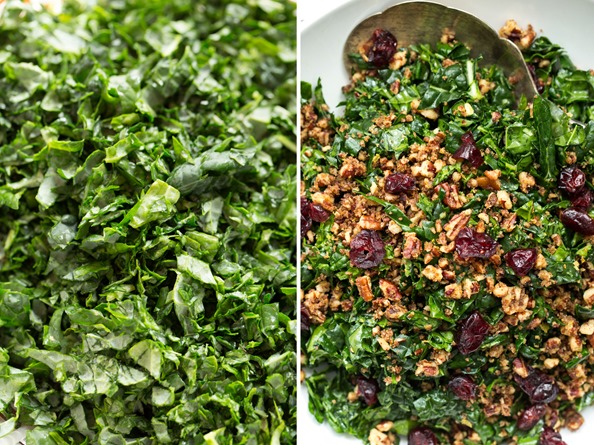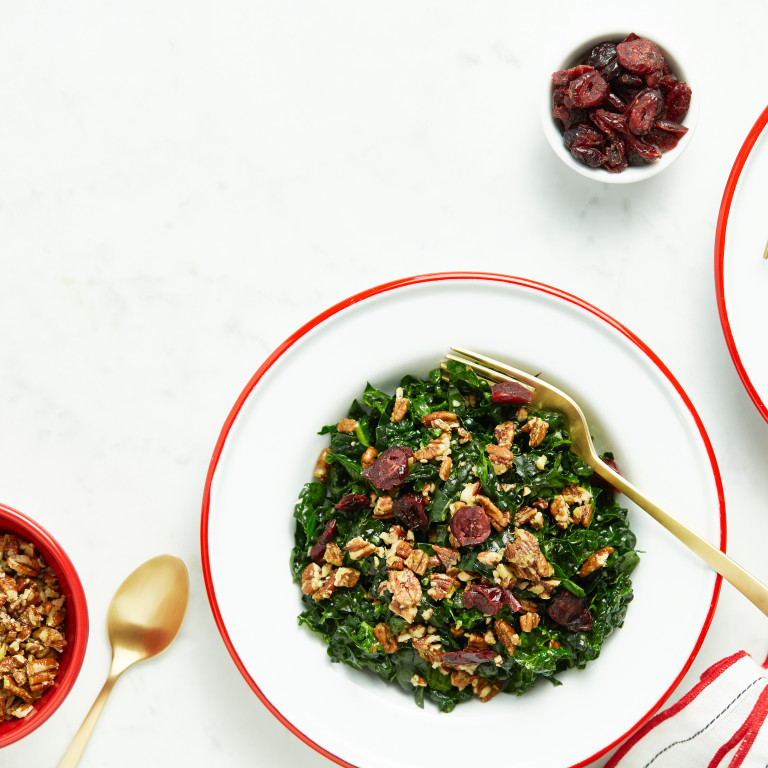 The Best Shredded Kale Salad
Vegan, gluten-free, grain-free, soy-free

Yield

4 small bowls
Prep time

Cook time

Total time

Inspired by a kale salad my mom enjoyed at a restaurant called True Food Kitchen, I knew I had to make my own dairy-free version as soon as I was back in my kitchen. The key to this salad is finely chopping (or shredding) the kale. The lemon-garlic dressing will coat each and every tiny piece of kale, working its magical softening powers and infusing the shredded kale with so much flavour. I prefer to use Lacinato (or dinosaur) kale in this salad because it's much more delicate than traditional curly kale and it has a milder flavour. Instead of cheese, I topped the salad with a toasted pecan "Parmesan" topping and a handful of dried sweetened cranberries. The result is one of the best kale salads I've tried to date and you'll find yourself wanting to inhale the entire bowl. Two bunches of dinosaur kale might seem like a lot, but once it's shredded, it only makes about 8 cups and then it further reduces in volume by almost half as it marinates. If you are making this salad for more than 4 people, I suggest doubling it.
Ingredients
For the salad and dressing:
2 medium bunches destemmed lacinato/dinosaur kale, finely chopped (8 to 9 cups/300 to 340 g chopped)
2 large garlic cloves
1/4 cup (60 mL) fresh lemon juice
3 to 4 tablespoons (45 to 60 mL) extra-virgin olive oil, to taste
1/4 teaspoon fine sea salt
1/4 teaspoon freshly ground black pepper (just eyeball it)
1/4 to 1/2 cup (35 to 70 g) dried sweetened cranberries, for garnish
For the pecan Parmesan:
1 cup (120 g) pecan halves, toasted
1 1/2 tablespoons nutritional yeast
1 tablespoon extra-virgin olive oil
2 pinches fine sea salt
Directions
Preheat the oven to 300°F (150°C). Spread the pecans onto a baking sheet and toast in the oven for 8 to 10 minutes until fragrant and lightly golden.
Remove the stems from the kale and discard. (You can save them for smoothies if you are hardcore!) Finely chop the kale leaves (the smaller, the better).
Wash the kale and spin dry. Place dried kale into a large bowl.
For the dressing: In a mini food processor, process the garlic until minced. Now add the lemon, oil, salt, and pepper and process until combined. Adjust to taste, if desired. Pour the dressing onto the kale and mix it into the kale with your hands or toss with spoons. Keep mixing for about 1 minute to ensure everything is coated perfectly.
For the Pecan Parmesan: Rinse out the mini processor and pat dry. Add the pecans into the processor and process until the pecans are the size of peas or a bit larger. Now add in the nutritional yeast, oil, and salt and process again until it has a coarse crumb texture. Be sure not to overprocess—we still want a nice crunchy texture here, not powder.
Sprinkle the Pecan Parmesan all over the salad. Toss on a handful or two of dried cranberries. Wrap and place in the fridge for 30 to 60 minutes to soften, or you can simply enjoy it right away. In the past, I've tried letting this salad sit overnight in the fridge and I greatly prefer the flavour of the salad served the day of, so I don't recommend making this salad the day before and letting it sit in the fridge overnight.
Tip:
Instead of a mini processor, you can chop/whisk the dressing and pecan "Parmesan" by hand.
For a nut-free version, try using breadcrumbs instead of pecans.
Nutrition Information
(click to expand)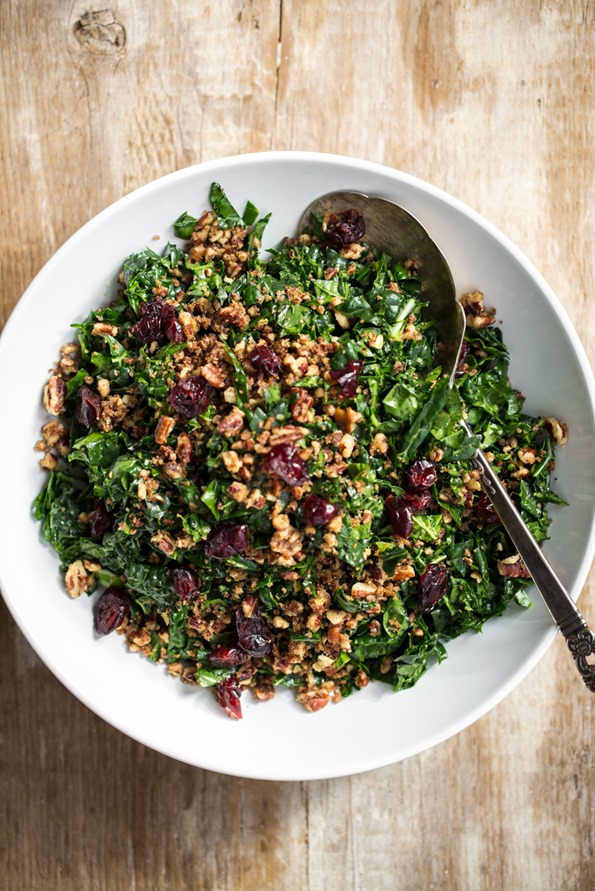 Like I said, I felt like I could've polished off the entire salad on my own. It's that good. I hope it'll convince you to give kale a shot if it's not already on your regular rotation!