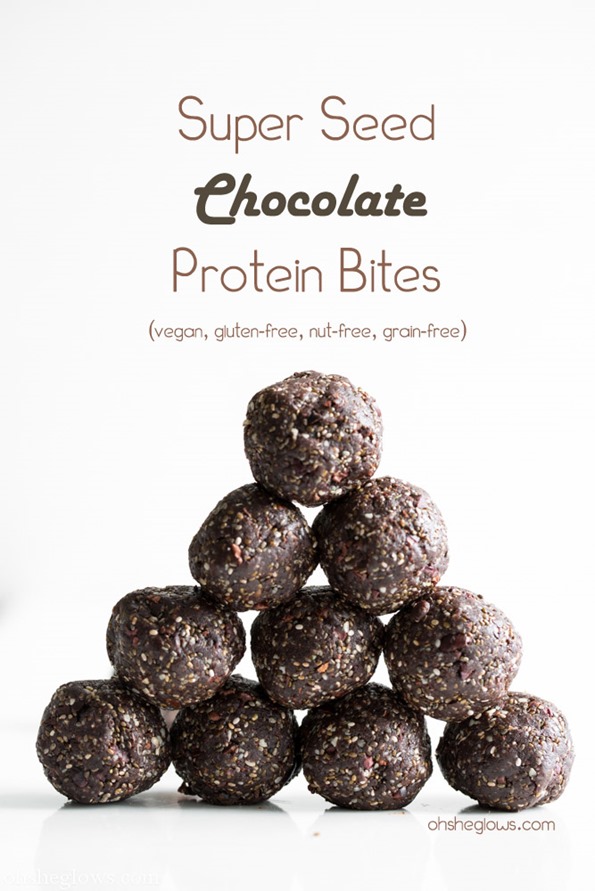 I often think of blog posts when I'm lying in bed trying to fall asleep. Sometimes my mind is just so clear late at night. Plus, I've learned you have to embrace creativity when it's here and ride it out when it's not. Some days it strikes at 1:30pm and others it's 1:30am.
Tonight, the clock reads 11:58pm and ideas are flooding into my mind. Hours before, I sat at the computer drawing a complete blank, so I welcome this wave of inspiration. I now have that awkward decision of whether I'm inspired enough to drag myself out of bed and down the hall to the office. This time I do and Eric murmurs something to me as I leave. The computer screen comes on and I'm blinded for a good minute, squinting my eyes until they adjust.
I type out my recipe ideas into my Google Drive document (yes, I finally got rid of my paper notebook!) and then I start writing a post. When I feel like I've dumped everything out of my mind, I turn off the computer and head to bed. It doesn't take very long until I'm fast asleep for the night.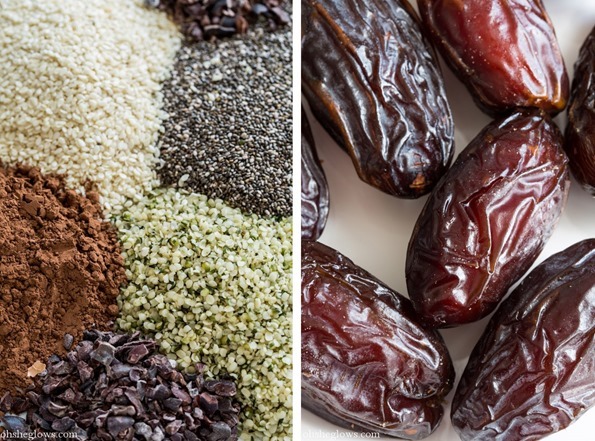 Many moons ago, I promised you a nut-free energy bite recipe. Today, I'm making good on my word and I believe this is the only nut-free energy bite recipe on my blog to date. Now, you know I love my nuts (there is just no good way to write that), but I'm a big fan of adding seeds into my daily diet too. If you follow me on Instagram you might have witnessed my recent obsession with adding hulled hemp seeds in smoothies. I just can't get enough of these omega-3 and protein rich seeds. I'm not sure if I'll ever go back to protein powder again!
Hulled hemp seeds do have a strong flavour – sometimes too strong if used with abandon – so in an effort not to allow their earthy flavour to take over a sweet treat, I decided that a chocolate flavour would work nicely to balance it out. Obviously, chocolate is the solution to every problem. Every time.
Into the food processor go pitted medjool dates and equal portions of sesame, chia, hemp, and cocoa powder. I added a bit of sea salt, vanilla, and cinnamon for flavour enhancing and a scoop of cacao nibs for some awesome crunch. Raw cacao nibs are quite bitter on their own, but in these bites they work well adding antioxidants, fibre, magnesium, and more. Feel free to use mini dark chocolate chips or chopped dark chocolate if you prefer. Leftovers are ready in the freezer for any snack attack and they are great when you're running out the door in the morning!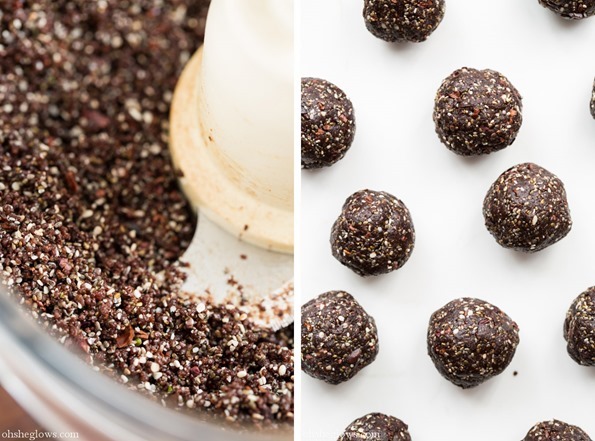 PS- Thanks to my partner in crime for his crazy stacking skills!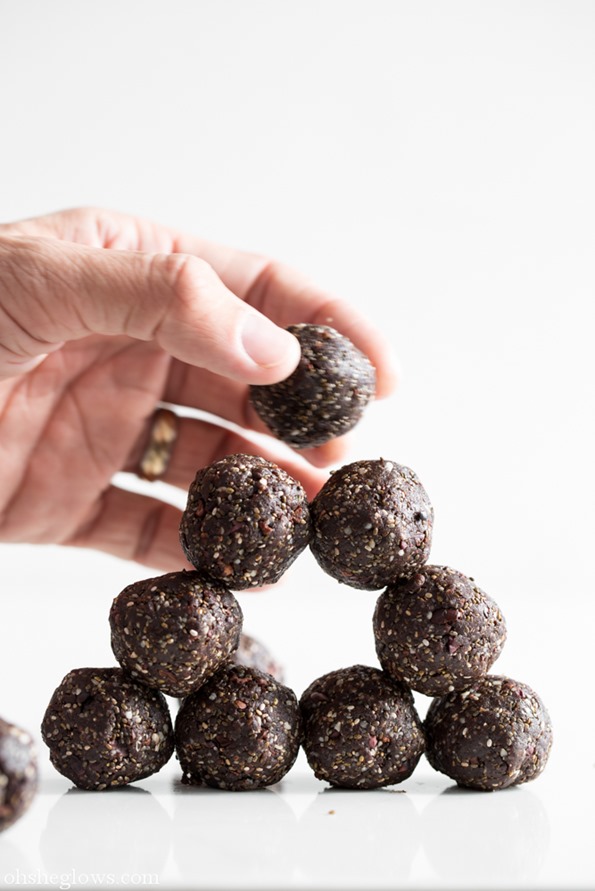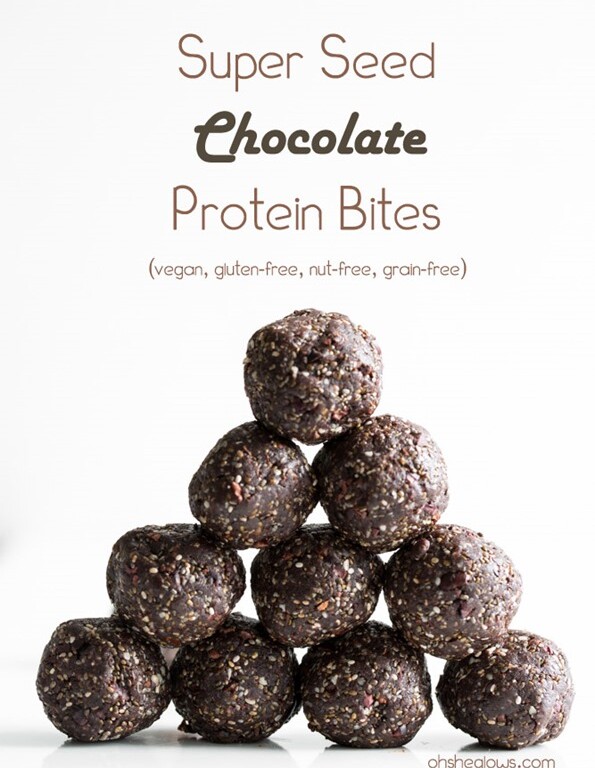 Super Seed Chocolate Protein Bites
Vegan, gluten-free, nut-free, soy-free

Yield

16 bites
Prep time

Cook time

0 minutes
Chill time

20
Total time

Nut-free chocolate energy bites featuring hemp, sesame, and chia seeds!
Ingredients
1 cup packed pitted Medjool dates (12-13 large)
1/4 cup hulled hemp seed
1/4 cup chia seed
1/4 cup sesame seed
1/4 cup cocoa powder
1/2 teaspoon pure vanilla extract
1/4 teaspoon cinnamon
1/4 teaspoon fine grain sea salt, or to taste
1/4 cup raw cacao nibs (or mini dark chocolate chips)
Directions
Add dates into processor and process until a chunky paste forms.
Add in the hemp, chia, sesame, cocoa, vanilla, cinnamon, and salt. Process until thoroughly combined. Pulse in the cacao nibs. The dough should be sticky when pressed between your fingers. If it's not sticky enough to shape into balls, add a small amount of water (a teaspoon at a time) and process until it comes together.
Shape dough into small balls (about 16) and freeze for 20 minutes or so until firm. Store leftovers in the freezer until your next snack attack hits.
Nutrition Information
(click to expand)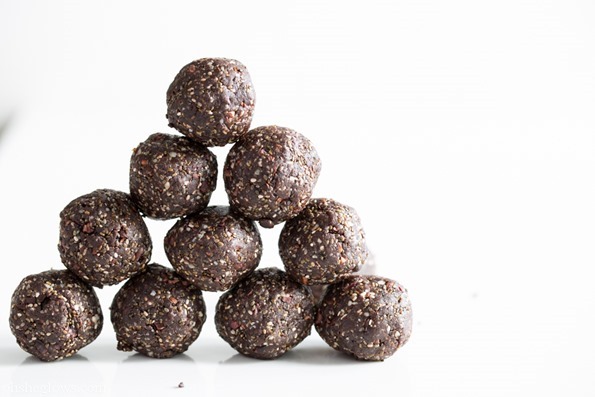 Hope you have an energetic start to your week!