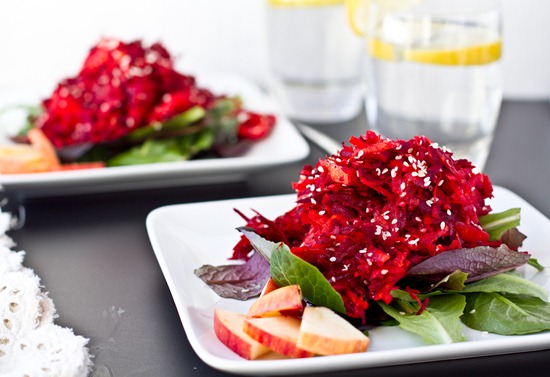 Hello, my name is Angela. It's very nice to meet you.
Lately I'm enjoying…
Sunshine
Walks around the neighbourhood
Bunny spottings
Epsom salt baths before bed
Homemade juice
Fresh hair do's
Homemade Lemon Sugar Scrub on face and body
Purging unwanted household items for donation
Horses on the farm
Melting snow and peeking grass
Tea with girlfriends
Deep stretches
Anything no bake, especially date squares!
Colour on my plate and in my closet
Red and Gold BEETS
What are you enjoying lately?
This week, the sun is back and the temperature seems to be ever so slowly creeping upwards. Five degrees and sunshine? I'll take it. And I'll raise you 20 degrees. bahaha.
This better not be an April Fool's joke because I'm finally ready for Spring…bring it on!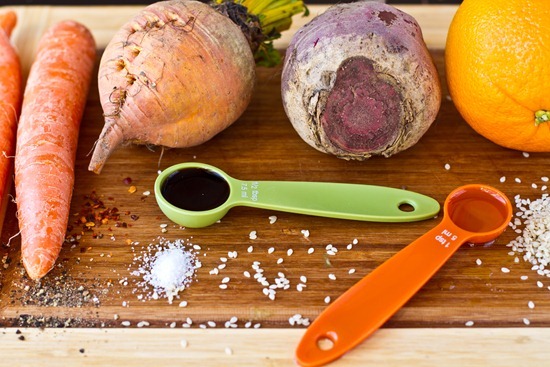 Yesterday, I was in such good spirits, all I could think about was making an energizing raw salad to fit my mood. I always feel so uplifted when I eat salads, so I thought I could take it to a new level with this fun beet, carrot, and apple salad served over a bed of greens.
My relationship with beets growing up was a rocky one and I occasionally still have nightmares about the pseudo Jell-O canned beets my dad used to encourage me to try. Last year, I fell in love with beets when I started to juice with them. After juicing, I got a bit more daring and tried this amazing cooked beet salad at Karyn's on Green in Chicago. Things have been going pretty well in our relationship, so I decided to put my fears aside and give a raw beet salad a shot! Who knows, maybe we'd take our relationship to a whole new level?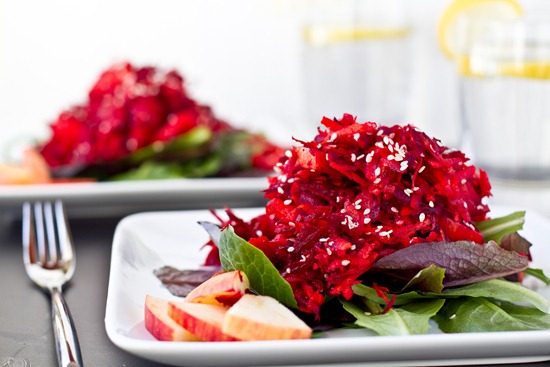 [print_this]
Spring Clean Raw Beet, Carrot, & Apple Salad
Adapted from Chocolate and Zucchini.
Ingredients:
2 medium carrots, peeled
1 large red beet, peeled
1 large golden beet, peeled
1 apple (sweet variety), chopped
1 garlic clove, minced (or less if you are not a garlic fan)
1 tbsp extra virgin olive oil
2 tsp fresh lemon juice
1 tbsp balsamic vinegar
Red pepper flakes, to taste (I used a couple shakes)
1/2 tbsp pure maple syrup, to taste
Kosher salt & freshly ground black pepper, to taste (I used about 1/4 tsp salt)
2-3 tbsp Sesame seeds
3-4 tbsp Chopped almonds
Directions:
1. Trim, peel, and grate the carrots and beets. You can use a food processor with a grater attachment if preferred). Chop apple and place the grates beets, carrot, and chopped apple into a large bowl.
2. Assemble the dressing by whisking together the minced garlic, EVOO, lemon juice, vinegar, red pepper flakes, maple syrup, salt, and pepper. Adjust dressing to taste. Pour the dressing onto the vegetables and mix well. Allow to sit for at least a half hour so the flavours can develop.
3. Add in your desired seeds and nuts and serve chilled or at room temperature over a bed of greens. Makes 2 servings.
[/print_this]
This would be a good time to whip out those ginormous lunch lady gloves that are supposed to be a size 'small'. ;)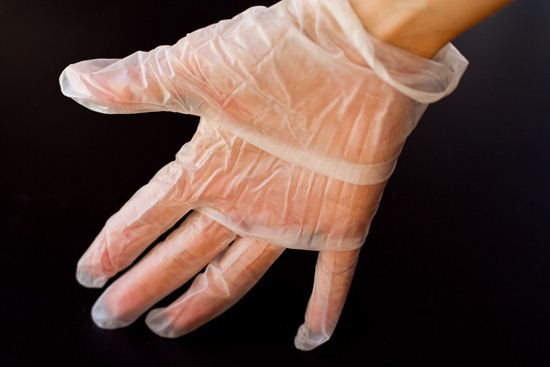 Creepy, yet functional. And no pink stained hands!
Oh…Eric tells me that I forgot to mention an OXO gadget yesterday. I did it on purpose because I never use this thing!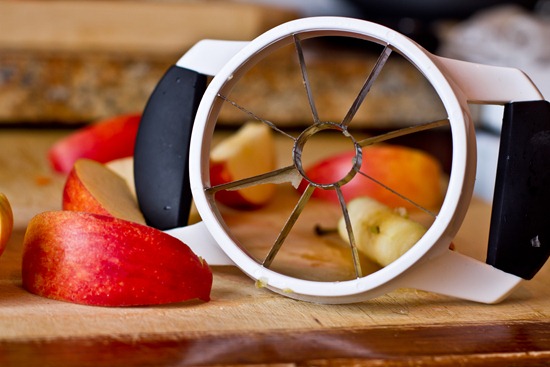 Meet the Apple Slicer. Eric LOVES this gadget and I make fun of him for being too lazy to slice an apple. I mean, do we really need to save time slicing an apple? Are apples difficult to slice? I never see a need to use it, but he uses it all the time and constantly raves about it. I used it yesterday for this salad and I have to admit it was a bit fun. ;) Shhh don't tell him I said that.
Sometimes I put produce stickers on it to annoy him. Remember, our war? It rages on my friends.
For this salad, you can grate everything by hand and kick it old school like I did or you can use a food processor if you have a grate attachment.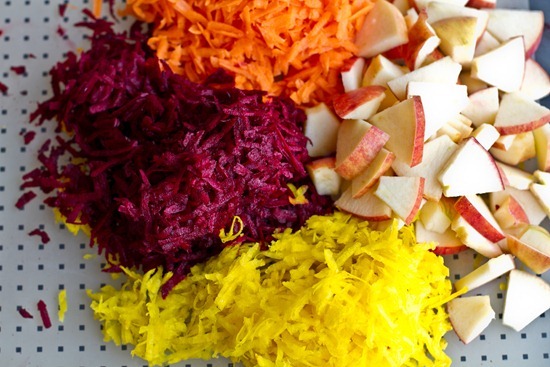 Note to self: Figure out how to use processor grate attachment stat.
At the last minute, I mixed in a hefty portion of sesame seeds and some chopped almonds for some healthy fats and protein. The chopped almonds gave it a nice texture and crunch!
When I first tried this salad, I was not very impressed. It just tasted a bit off and the flavour wasn't what I expected after using so many wonderful seasonings. I read the original recipe and I realized that it said to let the salad stand for about 30 minutes to let the flavours develop!
Ah, this made sense. And you know what? It rocked my world after letting it stand for about 30-40 minutes and it was even better several hours later when I had it with dinner. It was a bit sweet, a bit tangy, a bit spicy, and a bit garlicky. Somehow it just worked for me. I really had a kick to my step after eating this! I enjoyed it with an Ezekiel English muffin with hummus.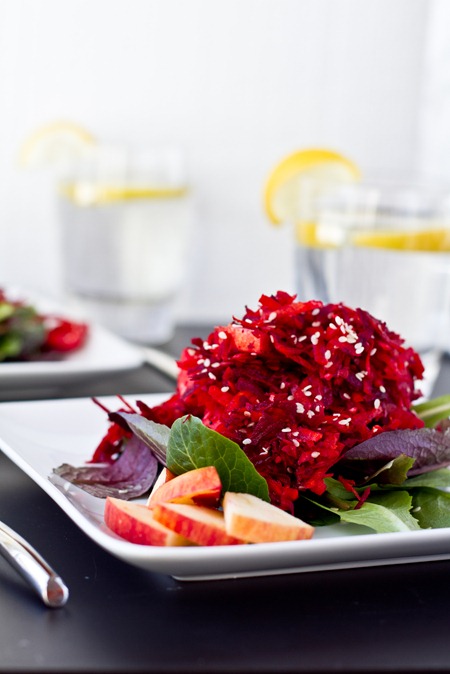 I'm off to see my doctor about my tailbone. I am happy to report that my tailbone pain has improved quite a bit over the past several days. I'm doing lots of back stretches twice a day as well as Epsom salt baths and light walking. Sitting is not good for the back, so I have been trying to stay active on my feet and get up from the desk frequently to stretch. Today, I'm hoping to get the approval from the doc to do some non-impact elliptical exercise at the gym until I'm back to 100%. This girl needs to sweat!
Coming up: One of my favourite baked goods so far in 2011. They have no refined flour, no white sugar, no added fat, no soy, and can be made gluten-free to boot. :)