I don't know about  you, but I'm cold. My fingers haven't been a normal temperature since September.
Yesterday, I decided I was going to be a tough Canadian girl and head outside for a run just after sunrise, despite the fact that it was only about –4C. If you know me, you may know that I don't do cold very well. Despite being born in New Brunswick and enduring many crazy Winters, I just hate the cold.
I left the house with 3/4 length pants, a light zip-up mesh jacket from Costco (you know the ones with all the air vents), a baseball cap, and running gloves. I figured I would be a bit cold to start off and then I'd warm up. No problem, right?
Well, it turns out I'm not so tough…and I was dressed like a fool! A jacket with mesh air vents all over it? What was I thinking? I didn't even make it half way down my street before feeling like my body would break off like an ice chunk if I took one more step. I stopped in my tracks and flew like a bat out of hell all the way home! All I remember is thinking that I was dying. So much for tough…
I knew if I turned back there would be a strong possibility that I may not make it back outside again, but I gave myself a little pep talk and took just a couple minutes to put on some warmer clothes. I threw on a light Nike jacket and a headband around my ears and I was off once again! Half the battle is showing up. Granted, I was still wearing 3/4 length pants, but you win some you lose some.
After about 5 minutes of warming up, I ended up having a wonderful 4-mile run. The sun came out and the cold didn't bother me much now that I was dressed properly. I returned with rosy cheeks and a new outlook on the day before me.
Moral of the story: Dress for success.
…and eat really spicy Indian food which is what we've been doing a lot lately!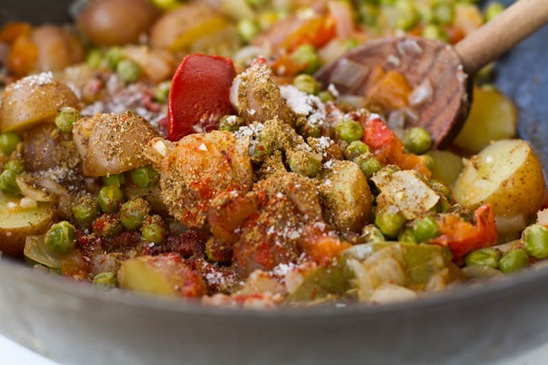 I've turned Eric into a real curry fan, despite his claims that he doesn't like spicy food. Well, I'm not buying it anymore!
Last week, we found ourselves eating at the Whole Foods food bar like we often do when we're in Mississauga. I tried a dish called Aloo Matar (which I read is a classic Punjabi dish). With a base of potatoes and green peas sautéed with Indian spices, it's the perfect comforting, stick-to-your-ribs, warm-me-up meal. I knew I had to try to make this at home.
You can see the dish in the photo just below the sign! It sure isn't a pretty dish, but it's amazing regardless.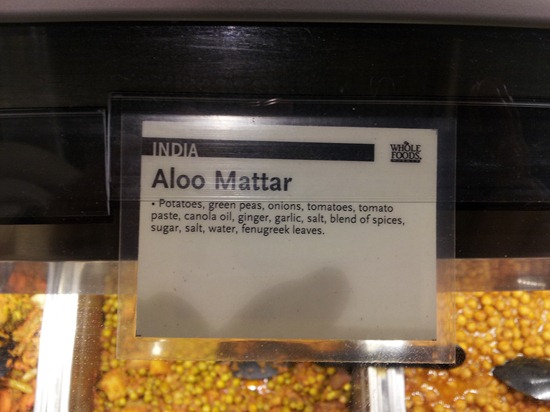 My first attempt was pretty good, although I would like to compare them side by side! I used this All Recipes Aloo Matar recipe and adapted it to what I had in my pantry. I didn't have ginger garlic paste, so I used fresh garlic and ginger and then changed a bunch of other things.
Aloo Matar (attempt 1)
1/2 tbsp coconut oil
1 sweet onion, chopped
2 garlic cloves, minced
1 tbsp fresh grated ginger
1 bay leaf
1 lb potatoes, chopped
2 cups frozen peas
2 cups chopped tomatoes
1 tbsp tomato paste
1 & 1/2 tsp garam masala
1 tsp kosher salt
1/2 tsp sugar
1 tsp ground cumin
pinch chili pepper and paprika
It turned out really good, but I kept feeling like something was missing. Maybe it was the garlic ginger paste or fenugreek leaves? If anyone has a kick-butt authentic Aloo matar recipe, please let me know!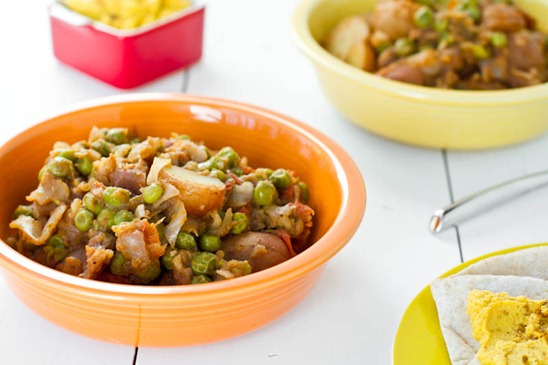 I made my Butternut Squash Mac N Cheeze again last week (obsessed) and had some roasted butternut squash to use up, so I thought it would be fun to make a curry-flavoured hummus. I added a cup of roasted squash, tweaked my favourite hummus recipe, and then added spices to taste. It paired wonderfully with the Aloo Matar and it was fun to dip the pita bread in and mix it all together.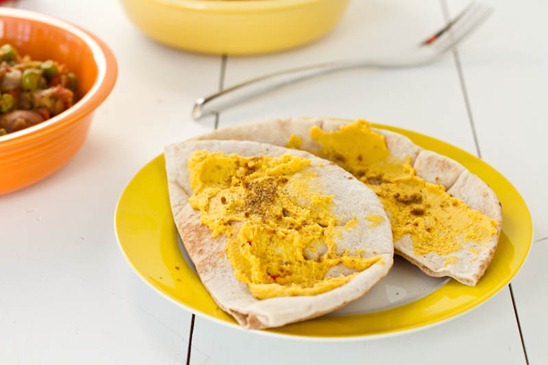 [print_this]
Spicy Curry Butternut Squash Hummus
You control how spicy you want this hummus! The butternut squash adds a light sweetness which is nicely contrasted by the curry powder, tahini, and cumin. Serve with a warm pita and your favourite Indian dish.
Yield: 2 cups
Ingredients:
2 garlic cloves
1 cup cooked butternut squash
One 15-oz can chickpeas, drained and rinsed
1/4 cup fresh lemon juice
2 tbsp tahini
2 tbsp water
1 tsp kosher salt
1/2 tsp ground cumin
2-3 tsp good-quality curry powder, to taste
1. With the processor running, drop in two garlic cloves to mince. Scrape down side of bowl, and add in the rest of the ingredients and process until smooth. Adjust curry spices to taste and add more water if necessary to attain your desired consistency. Garnish with garam masala and a bit of olive oil if desired. Serve with pita bread, crackers, tortilla wraps, vegetables, etc.
[/print_this]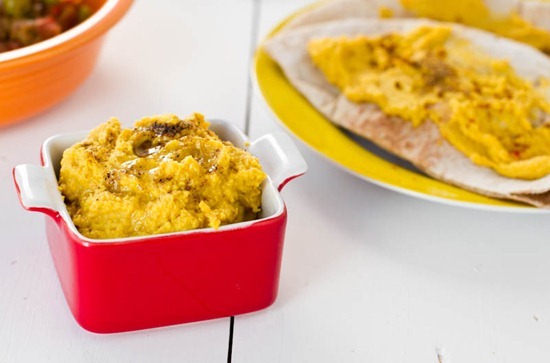 At first, I wasn't sure if I was crazy over this hummus, but it really grew on me after a few tastes. I don't think the batch lasted longer than 2 days!
We're definitely feeling warmer over here, but more spicy food will be needed soon…
and maybe a Snuggie or two.