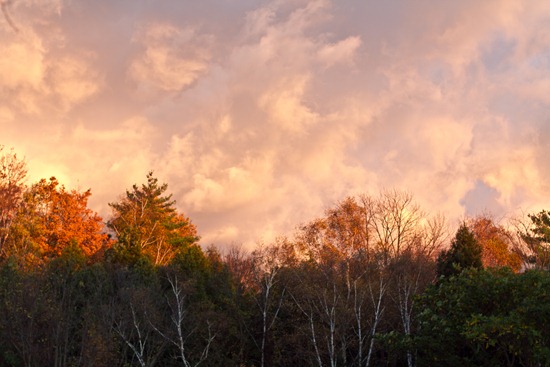 Today the stars must have been aligned because I had an all around awesome day. It was a nice contrast to yesterday because yesterday I felt like I was going to pull my hair out and I had all these weird issues creep up. Today, however, was a great day. :) Lots of work accomplished, some successful recipe attempts, a great 4 mile run, and time spent with loved ones!
It is also a great day when your kitchen smells like warm apple pie…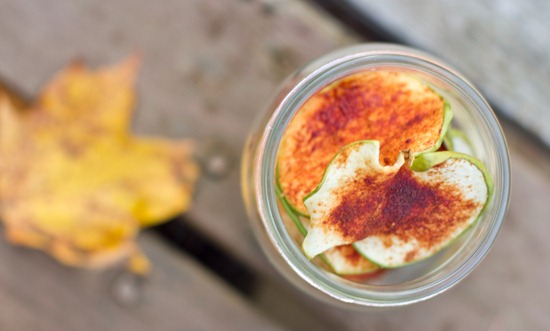 Spiced Apple Pie Chips
Chewy, slightly crunchy, tangy, yet sweet and spicy. The perfect healthy Fall snack to throw in your lunch bag or give as a gift to loved ones.
Adapted from here.
Ingredients:
3 Granny Smith apples
Lemon juice from 1/2 lemon
2 tbsp sugar
2 tsp cinnamon
Sprinkle of sea salt (optional)
Directions: Line a baking sheet with parchment or line a dehydrator sheet with parchment. If using an oven and not a dehydrator, preheat oven to 150F. In a small bowl mix together the cinnamon and sugar. Set aside. Slice granny smith apples into very thin slices approx 1/8-1/4 of an inch in width. Leave skin on. You may use a mandoline if you have one. One apples are sliced place them into a medium sized bowl and squeeze fresh lemon juice over top. Line up the slices on the baking sheet, making sure they do not overlap. Grab the sugar mixture and sprinkle over top of each slice. Now take a tiny pinch of sea salt and sprinkle very lightly over top. You may skip this step but I like a bit of salt to bring out the sweetness of the apple, however it might not be for everyone. Place into the oven or dehydrator at 150F. I dried the apples in a dehydrator at 150F for approximately 3.5-4 hours. Flip the apple slices every half hour to ensure even cooking. I am not sure how long an oven would take, but you can play around with it, checking them often when you flip them every half hour. They are ready when they are curled up a bit at the sides and a bit crisp yet still chewy. You can cook them to suit your needs!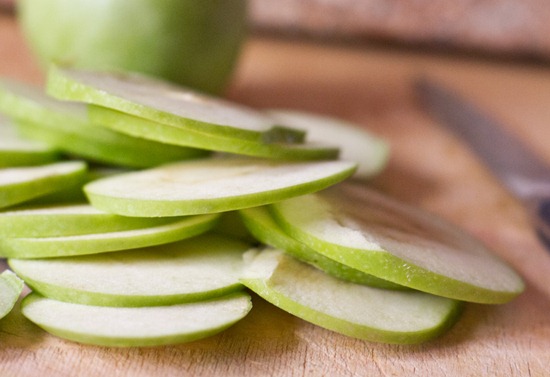 These chips were quite easy to make!
Just slice up some apples…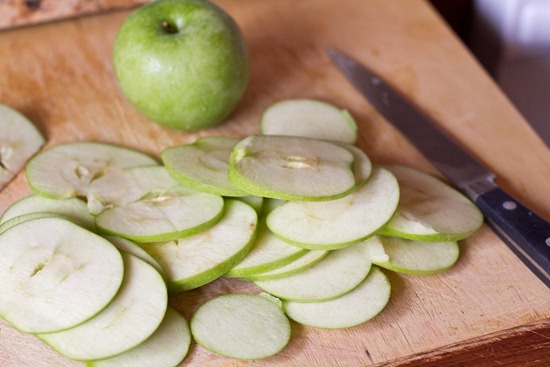 Coat in lemon juice to prevent browning…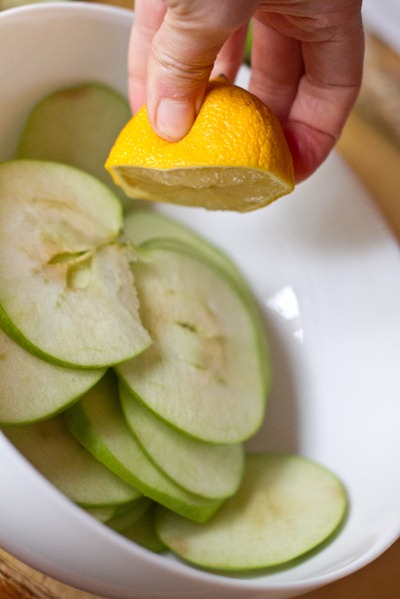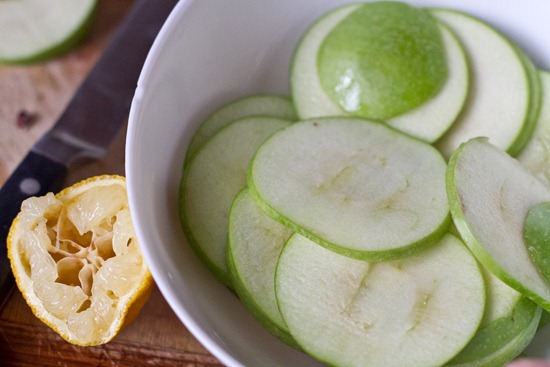 Lay on baking sheet or dehydrator sheet lined with a non-stick mat or parchment: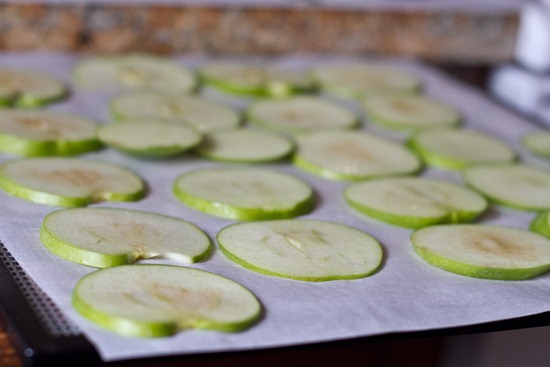 Sprinkle with cinnamon & sugar…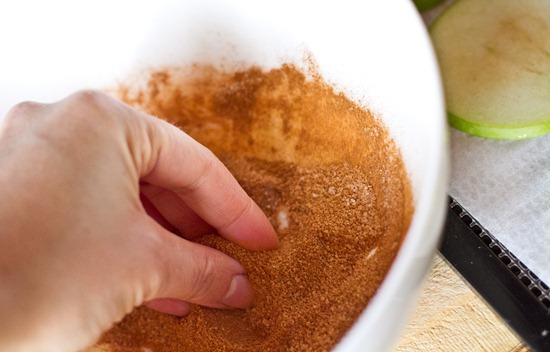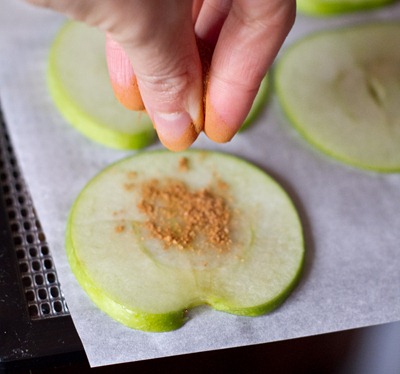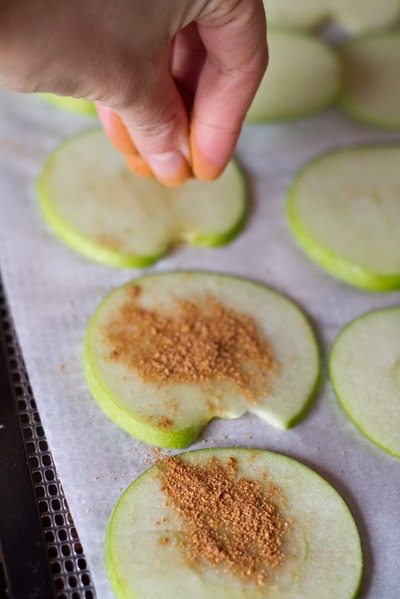 Spread it around with your fingers a bit.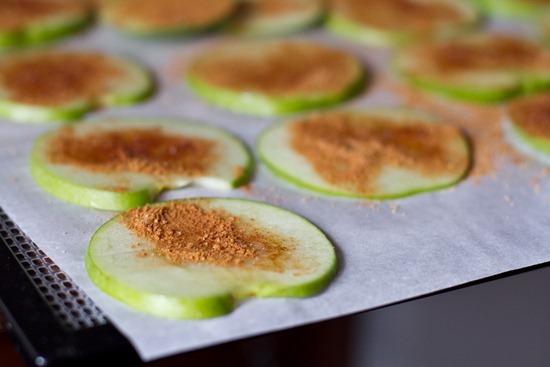 And place in oven or dehydrator, flipping every 30 minutes.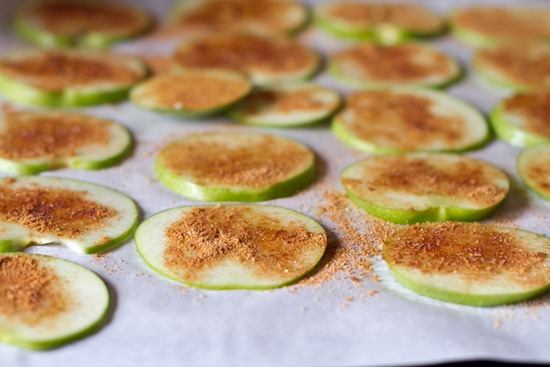 After about 3.5-4 hours in my dehydrator at 150F. You can also bake them in the oven too!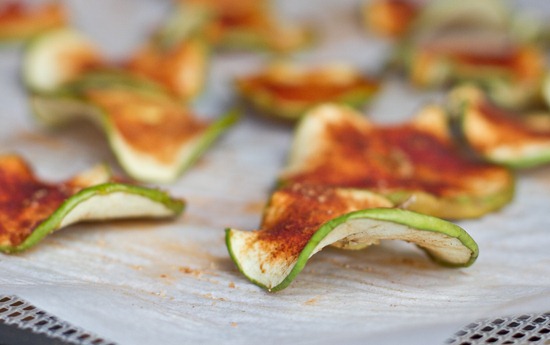 This is really exciting.
If you are feeling really crazy, you can try brushing some melted Earth Balance or butter on top before sprinkling on the sugar & cinnamon. I bet that would taste great!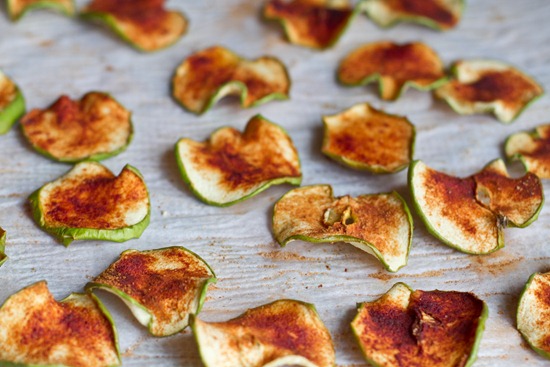 Wouldn't these Apple Pie Chips make a fun gift?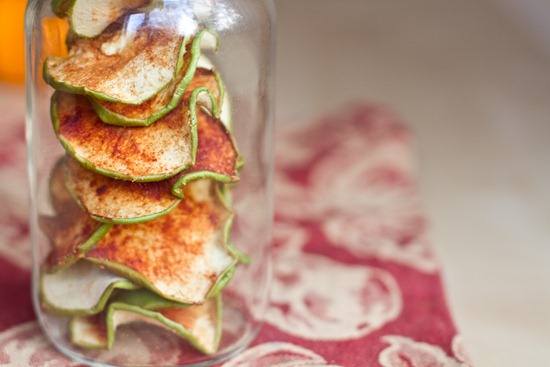 I cannot contain my excitement. The 80 year old grandma in me is waiting to bust out!!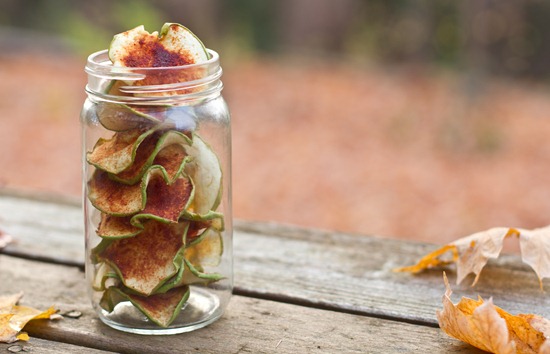 For some reason I wasn't expecting these to taste as good as they did! They really knocked my socks off. Very chewy, a bit tart, and spicy & sweet on top. Amazing. :)
Next time I will probably triple the batch. :)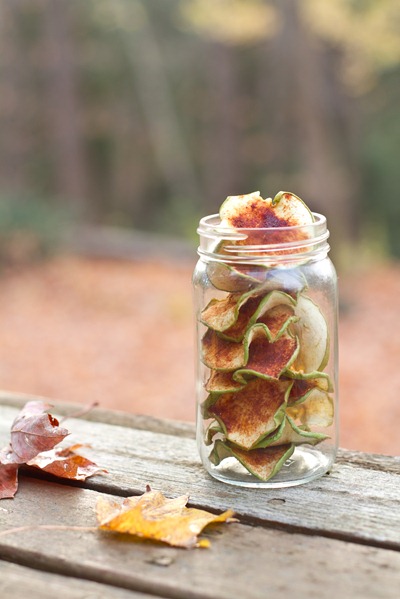 I'm off to snuggle up with Sketchie & Eric and watch some NCIS.
Have a great night! :)