Good afternoon!
Well we have had a carbon copy of yesterday's weather today! It is just glorious outside. :D Another 60F day and sunny. Gosh I love spring!!! Our cold Canadian winters definitely make you appreciate the lovely spring and summer seasons that we do have.
I had an awesome lunch today on the sun deck:
A Veggie Stir Fry with some homemade 50 cent Hummus! YUM!
1/2 zucchini
4 organic carrots
3 cups organic baby spinach
On the deck: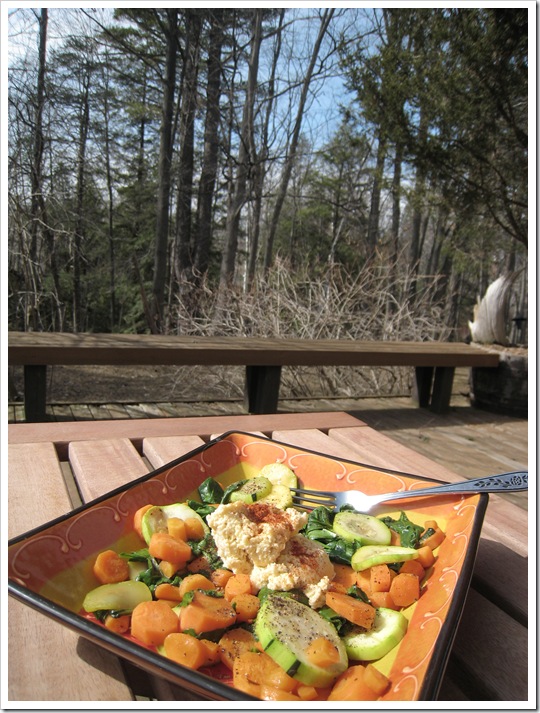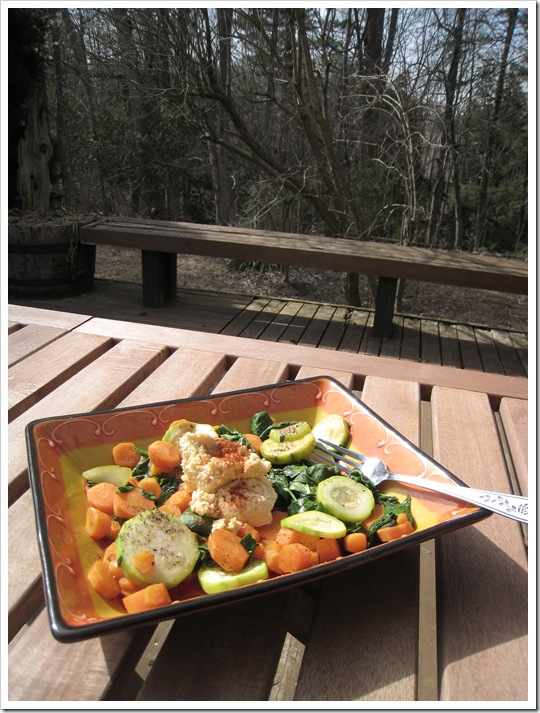 This was so delicious! I felt so energized and healthy after eating these powerhouse vegetables!
I also had 1/3 of a powerbar (below), an apple, and another 1/3 cup of hummus!
Did you know? The iron in Spinach is not absorbed well when consumed in it's whole and raw state. That's why it is good to steam or puree your spinach before consuming.
Glo Bakery Experiment: Pumpkin Ginger Powerbars
I had another successful Glo Bakery Experiment today!
I adapted the recipe found here.
My modifications included using organic molasses, cane sugar, EVOO, Almond extract, raw oats, whole spelt flour, half salt, and dried cherries.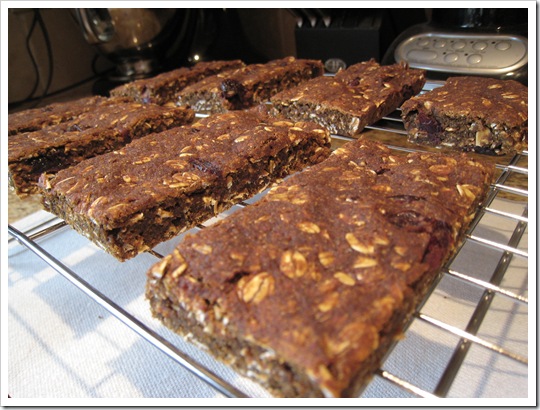 I will admit I was a bit skeptical as to how they would taste when mixing them up, but to my surprise they tasted so delicious. These are the perfect all natural power bar!!! I even drizzled some with a sweet glaze. :)
These would be the perfect bar to bring on a long hike in the woods or to throw in your purse for an emergency snack!
Ok, time for me to get back to my Glo Bakery paperwork. Good news, I officially have a business number now! Progress….:)
See you tonight for my hilly workout and my #1 visualization trick to help you eat healthier!
Today's Question: If you had $100 and were let loose in a shopping mall, what would you buy? Would you make a beeline for the shoe stores, the lingerie stores, computer gadgets, health/supplement stores, a favourite clothing store??
I would probably buy a couple of nice 'going out' shirts or a dress. I may also spend it at Lululemon if they had a new Shape Jacket in a nice colour. :) I would also be tempted to buy some new spring sandals!
What would you buy?