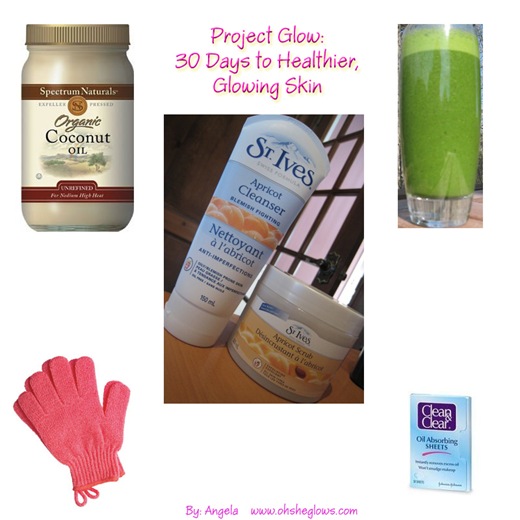 I have received many a question from readers asking about Project Glow, so I though I would lay it all out in a post. :) Seeing as today is MAY 1st (Can you believe it!?), I thought it would be great to hold this challenge for the month of May.
As I mentioned, Caitlin from Healthy Tipping Point, emailed me asking for me to put together a Skin Care Challenge for her!
And this is what I came up with:
Project Glow: 1 Month To Healthier, Glowing Skin

What You'll Need:
1) St. Ives Apricot Scrub (if possible buy the tub as you will be using this in the shower on your body too!)
2) St. Ives Blemish Fighting Cleasner (For Oily/Acne Prone Skin)
3) Exfoliating Gloves
4) Neutrogena Daily Moisturizer (SPF 30/45) OR Neutrogena Healthy Skin Anti Wrinkle Cream in SPF 15
5) Optional: Coconut Oil for body moisturizing (Found at health food stores or bulk stores)
6) Optional: Oil Blotting Sheets
Your Prescription for Glowing Skin!

1) Skin care
Morning/shower: Remove any leftover raccoon eyes. :) Put on one exfoliating glove and wet. Place a quarter sized amount of St Ives Apricot Scrub on wet glove. Gently exfoliate your face with circular motions. Pay close attention to problem spots where blackheads form: around the nose, chin, etc. I always give those spots extra scrubs. Optional: Gently scrub underneath your chin and neck (I skip this part because I'm lazy). Rinse face well. Use exfoliating glove and some more St Ives Scrub to exfoliate entire body. When you get out of the shower pay dry and while skin is still damp, apply Coconut oil everywhere except your face. On your face, use Neutrogena moisturizer when skin is still damp. If you are applying concealer or foundation, apply it when moisturizer is still a bit damp. It will go on smoother.
If you find that your face gets oily throughout the day, use oil blotting sheets to soak up oil and prevent clogged pores.
Before bed: Remove eye make-up. Use St Ives Blemish Fighting Cleanser. Be sure to clean entire face well. I always rush washing my face at night because I just want to get into bed, but it really makes a difference if you wash face well and get all the dirt out. Pat dry and apply your favourite night cream. Be sure that the night cream won't clog pores. I simply use more of my Neutrogena Healthy Skin Anti Wrinkle cream. It has SPF, but I couldn't be bothered to buy the night cream!
2) Glowing from the Inside Out: FOOD
Green Monster: Drink 1 Green Monster each day.
Week 1: 1-2 cups of kale or spinach
Week 2: 2-3 cups of kale or spinach
Week 3: 3-4 cups of kale or spinach
Week 4: 4 cups of kale or spinach
Note: The more greens you use, the more liquid you need or your smoothie will be too thick- ick! :) Kale is much chewier than spinach so if you can't take the kale, get out of the kitchen errr…use spinach instead ;) Spinach is the super blending veggie! See my recipe page for green monster recipes: www.ohsheglows.com/recipes
Limit Dairy– especially heavily processed dairy like cheese and ice cream. In some studies dairy has been found to cause breakouts. Whether this is true or not is a personal thing, but it is worth trying out for yourself. If you know that dairy doesn't cause you problems, by all means go on eating it!
Eat lots of vegetables and fruits! That one is a no brainer. The more V + F you eat, the less processed foods you will eat.
Drink 1 cup of green tea each day.
Drink lemon water when possible.

3) Reduce Stress
Stress causes breakouts and dull, sallow skin. Do you have too much stress in your day to day life? Take steps each day to reduce it. Target what is making you unhappy and write down a game plan how you can improve the situation. Read, get enough sleep, exercise, meditate, stretch, listen to music, laugh, dance, be with friends, create good karma. All of these things will help reduce stress and make you feel GOOD. Endorphins eliminate bacteria that cause breakouts. Ok I made that part up, but it would be cool, no?
Important tips:
1) Always wash face before working out if you have make-up on. Don't worry about it if you are working out first thing in the AM though. Give your face a quick wash post workout with St Ives Blemish Fighting Cleanser. Moisturize if necessary.
2) If you have sensitive skin you may not want to exfoliate every day. It is fine for 'tough' skin, but everyone is different! You are the best judge of your skin type.
Disclaimer: The above tips are what has worked for my skin and may not work for you. Try this regime at your own risk! ;)
Now go get glowing!
Update: Caitlin emailed me today telling me that she is ALREADY seeing more clear skin!!

May 1st (Day 36): We are exactly half way through the BBBC! Can you believe it? It is time to crank things up a little. Today I want you to do what I'd like to call an 'around the world' targeting your major muscle groups.
1) Do 2 sets of calf raises (I do 50 at a time), 2) Do 2 sets of lunges on each leg (I do about 25 per leg), 3) Do your hardest core move (For me it is the side planks with extended arm), 4) 1 set of pushups, and 5) 1 set of tricep dips.
See you this afternoon for my decision about upcoming races! I will also be updating you on my BBBC progress.
Happy Friday!!!