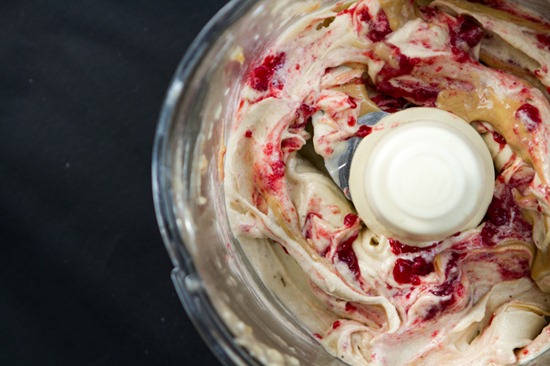 Last weekend, as I was making banana soft serve, the idea struck me to use it as a base for a popsicle. Instead of a typical icy, fruit-based popsicle, I wanted a popsicle with an ice-cream like taste and texture. A bit similar to these fruity popsicles, but more ice cream like. I figured banana soft serve could do the trick while being less costly than all-natural popsicles from the grocery store.
And, tell me, what goes better with banana than peanut butter and jam?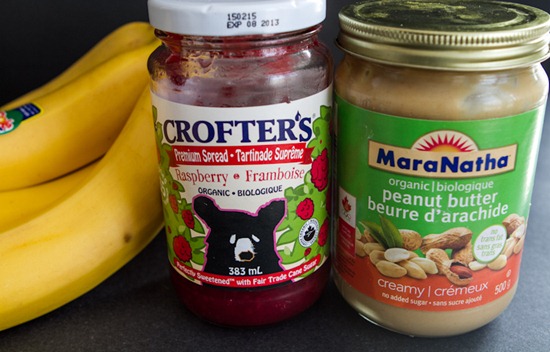 A little planning ahead will do you well with this recipe because you'll need 4 peeled and frozen bananas to kick things off. For some reason, I seemed to be hoarding frozen bananas in the freezer last week, so I had them ready to go! Who am I kidding, I'm always hoarding bananas. Don't worry if the frozen bananas are covered in ice crystals; it'll all come out in the wash.
Roughly chop the frozen bananas and whirl in the food processor along with 3-4 tbsp of almond milk. Once it starts to get creamy (you'll have to scrape the bowl down every now and then), add 2 tablespoons of peanut butter and process until smooth.
Now we have amaaaazing peanut butter banana soft serve. You might think to yourself it doesn't get much better than this…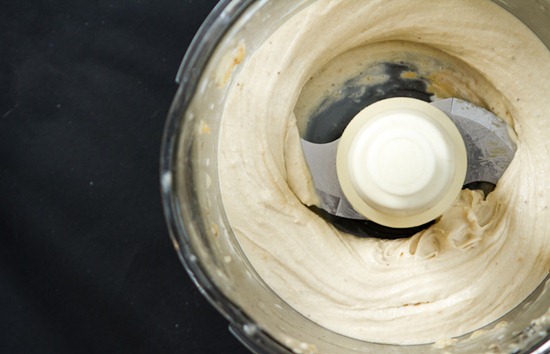 Oh but it does.
Now remove the bowl from the base of the processor and stir in 3 tbsp of your favourite jam and another tablespoon of peanut butter. You want to leave it nice and chunky, with thick ribbon-like swirls throughout.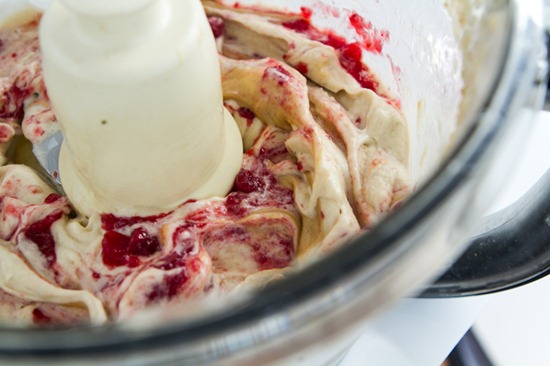 Try to stop yourself from planting your face in the bowl. It's difficult.
Scoop into popsicle molds, sneaking spoonfuls here and there.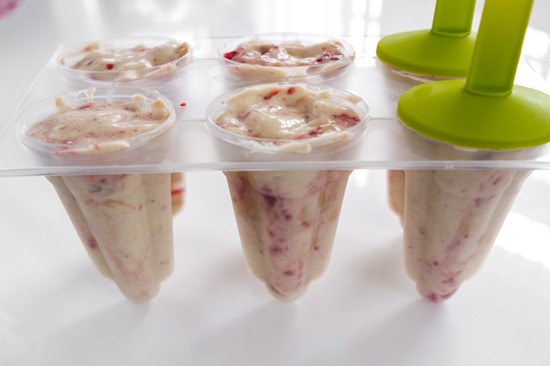 Now, here is the tricky part. These take a long time to freeze & set. I would say about 6-8 hours or longer. It might as well have been a week as far as my impatient self was concerned. I suggest leaving them overnight in the freezer if you can. Your sanity will thank you for it.
Don't worry though, the clean up is fun!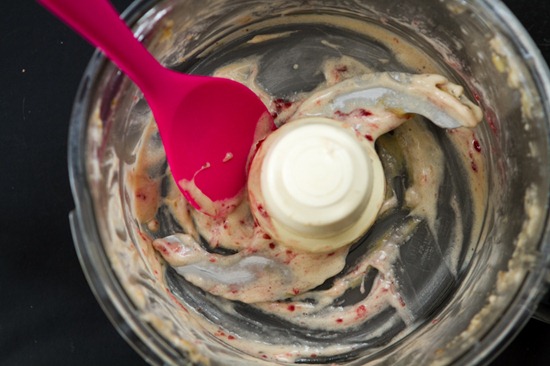 Here's the thing. These are probably the homeliest, sad lookin' popsicles I've ever laid eyes on, but they are also some of the best popsicles I've tried. It's like PB & J & B ice cream, without the dairy. A banana split in popsicle form.
Maybe they aren't the best looking popsicles I've come across, but I can promise you won't be able to stop at just one.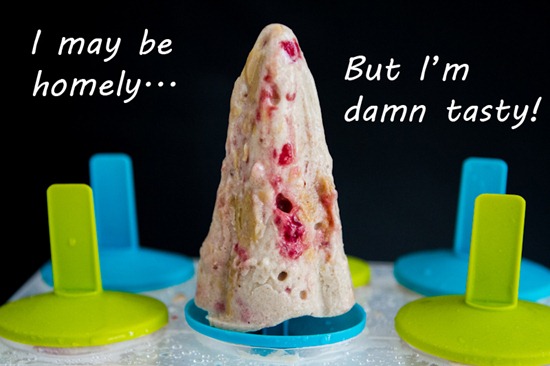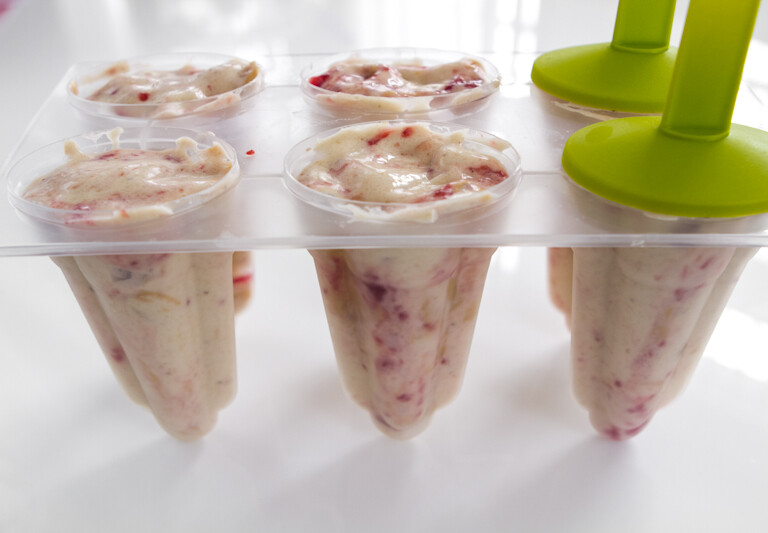 Peanut Butter, Jam, and Banana Soft Serve Popsicles
Vegan, gluten-free, no bake/raw, oil-free, soy-free

Yield

6 small popsicles
Prep time

Cook time

0 minutes
Chill time

6-8 hours
Total time

These are soft, ice cream like popsicles with swirls of PB and jam throughout. For a fun twist, try stirring in some shaved chocolate. When freezing, shaved chocolate is nice because you don't have to bite into big frozen chocolate chips.
Ingredients
4 medium/large bananas, peeled and frozen
3-4 tbsp almond milk
2 tbsp natural peanut butter
3 tbsp raspberry or strawberry jam, for swirling in
1 tbsp natural peanut butter, for swirling in
Directions
In a food processor, add 4 roughly chopped frozen bananas along with a few tablespoons of almond milk. Whirl in the processor until smooth, stopping to scrape down the sides of the bowl as needed.
Now add in two tablespoons of peanut butter and process again until combined & smooth.
Remove bowl from base and stir in the jam and another tablespoon of peanut butter, leaving thick ribbons of jam and PB throughout the soft serve. Do not overmix.
Spoon the soft serve into popsicle molds (it made enough for 6 small popsicles for me, however this will vary based on the size of your molds). Push the mixture all the way to the bottom with the end of a spoon. Freeze for at least 6-8 hours, or overnight. Run hot water over the mold to help the popsicle slide out. I found they were a bit difficult to get out of the mold, but I'm not sure if that was due to my strange shaped popsicle mold or simply the consistency of the popsicle.
Nutrition Information
(click to expand)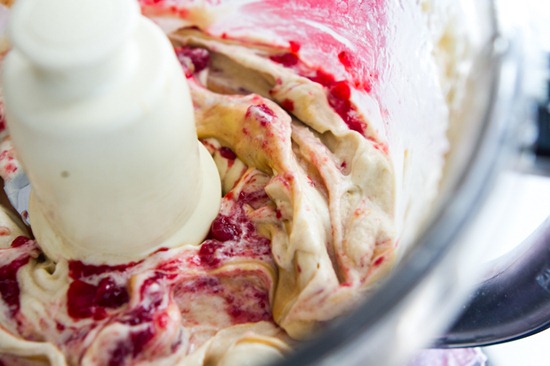 and some blog news to share…
Eric and I have been working behind the scenes on some exciting blog stuff that I'm really excited to share with you! One of the changes I'm excited about is a new categorization system. My recipes will soon be completely searchable via a new menu system directly from my home page. You will be able to search easily by dietary preferences (gluten-free, soy-free, etc), season, type of dish (appetizer, entrée, dessert, etc), and much more. This is something I've wanted to do for years now and I hope it makes your life easier. My other blog topics, such as fitness and my various writing posts, will also be categorized in various ways so they are much easier to locate.
Needless to say, this has been a huge undertaking as it's involved going through every single blog post over the last (almost) 4 years and re-categorizing everything with a fine tooth comb. Eric has been working his magic on a few other design related things (involving lots of coding that I know nothing about) and you will be seeing those changes soon too. I don't know what I'd do without this guy. He's a smart cookie! He also decided to DRAW a picture of me on the sidebar so every time I see the new homepage I die laughing. I'll have to get a screenshot of it to show you so you know what I mean. Anyway, there won't be any major changes right now – in fact you might not even notice some of them – but the blog will look a bit fresher and easier to navigate. That is the goal.
There are other things going on too – we're working on an entirely new website. Unfortunately, it's going to be a long time in the works, so more on that at a later date!