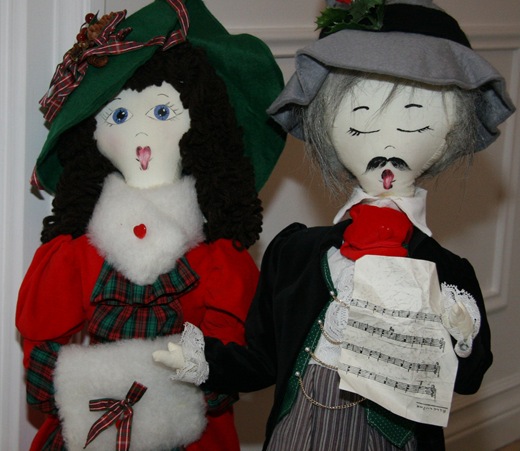 Our 1st Annual Ugly Christmas Sweater Party was a smashing success!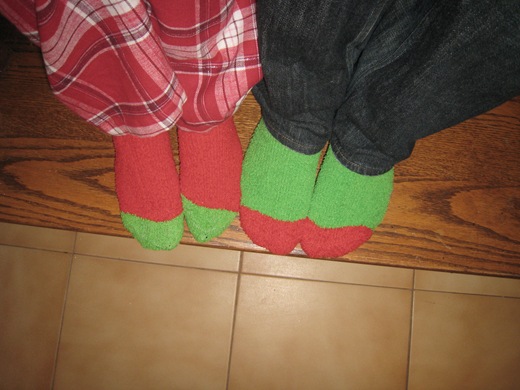 Eric and I rocked out his and hers Dollarstore Christmas socks! ;) More on our outfits later…
The last thing I made yesterday was SANGRIA!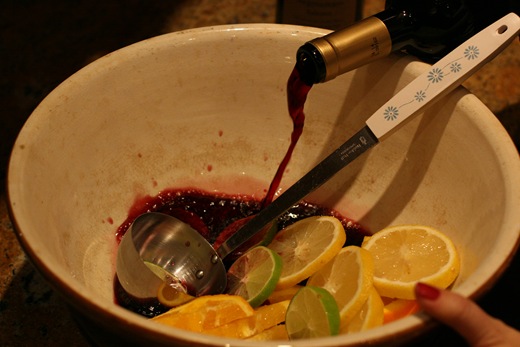 This bowl has a lot of history…it was my Father in Law's mother's bowl that was handed down to us!
It was my first time making Sangria. I was short on time so I didn't make the traditional version with heating up sugar and water to make syrup, however my easy version still tasted lovely!
Ingredients:
1 bottle red wine
4-5 cans club soda
Agave nectar (to taste) I used 3-5 T maybe?
Lots of ice
1 lemon, sliced
1 lime, sliced
1 orange, sliced
1 bottle POM juice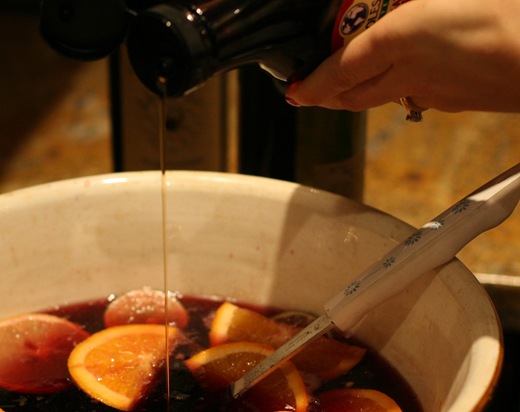 It was a big hit. Not too sweet which was really nice!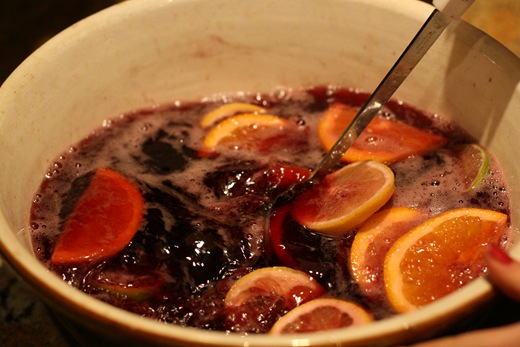 FOOD, GLO-RIOUS, FOOD!
Eric made the veggie platter! Crunch, munch, crunch. Plus the gourmet dip (salsa + hummus)- so easy!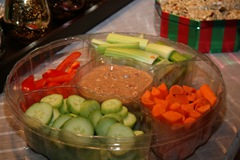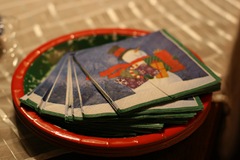 My Pumpkin Spiced Cinnamon Stix and Creamy Peanut Butter 'Yogurt' Dip (left) and Dark Chocolate Peppermint Spelt Cookies + Vegan crackers (right):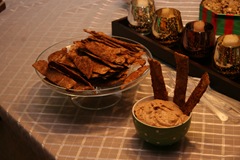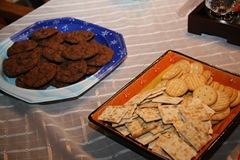 GLO BARS! They went FAST…I wish I had made more.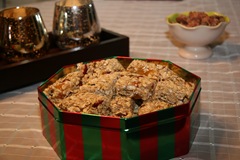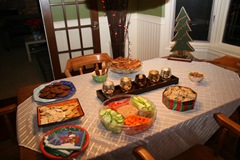 Our neighbors brought over meatballs, which the men promptly gobbled up. ;) Emily also brought over a Christmas Log Cake!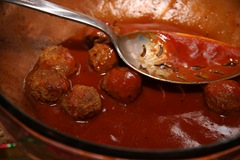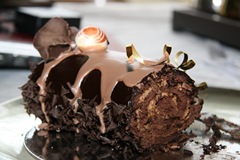 Alex brought Spiced Almonds and a tea towel from her recent trip to Barbados! Unfortunately, Emily, Alex, and Emily's boyfriend Kyle had to leave early and we forgot to snap some pictures together! Oops!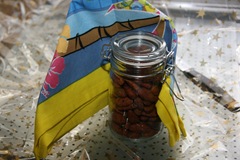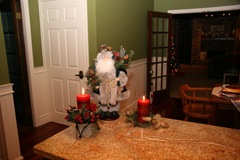 Christmas Glow: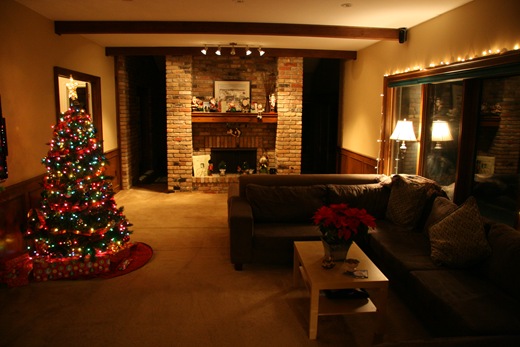 I also made this centrepiece out of a huge martini glass and bulbs: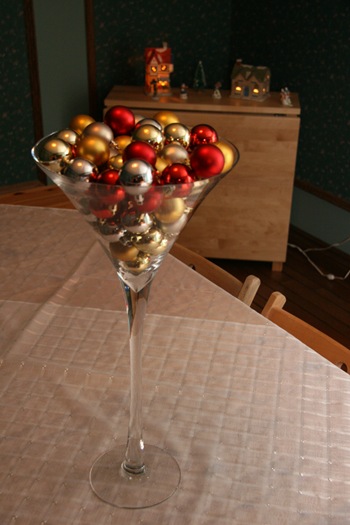 OUTFITS!
Eric bought a green turtleneck and red vest from Value Village (thrift store)! Merry Xmas visor is from Dollarstore.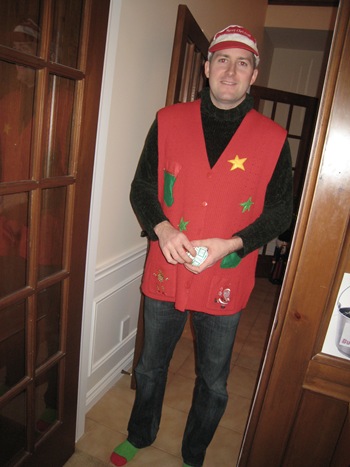 He sewed all of the Christmas decals onto the red vest himself!!!!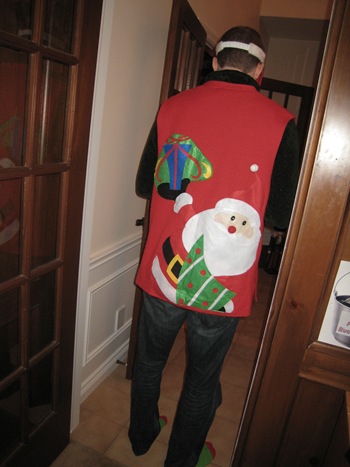 Yes, he sewed on santa too!
My outfit was made up of Dollarstore flashing antlers, Dollarstore Xmas earrings + jingle bell ring, OSGMOM's Christmas sweater, a white v-neck tee, red plaid PJ pants, red nails, and Dollarstore Xmas socks!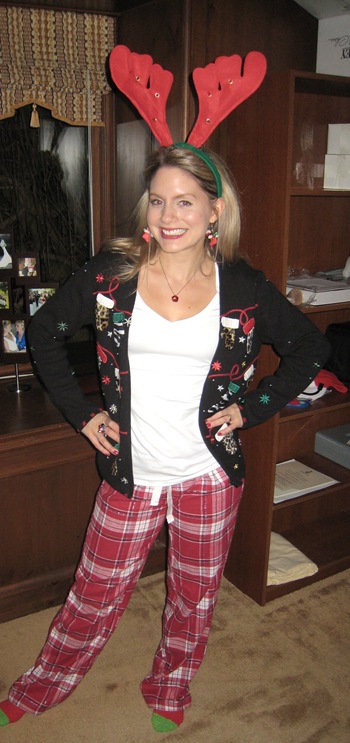 I felt so comfy and fabulously fashionable, of course!!!
Then it was time for door prizes and the male and female winners!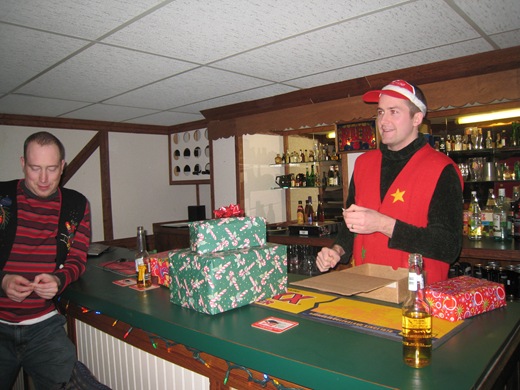 We had a good turn out…there were about 20 of us throughout the evening! Luckily everyone gathered in the basement, so my main floor still looks CLEAN! ;) Love that.
We also had the heat turned down to just 64F so everyone didn't roast in their sweaters!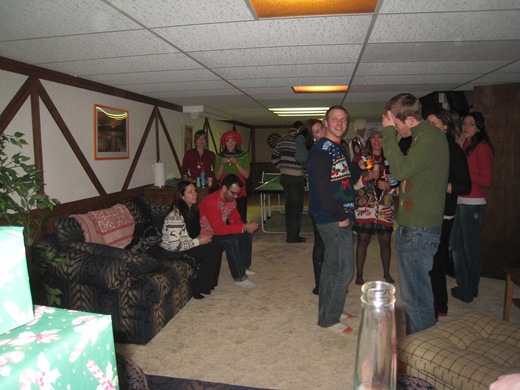 The female winner, Jamie: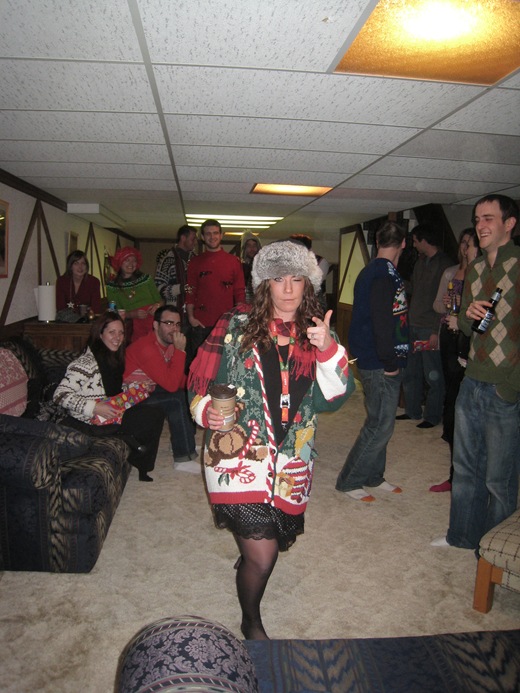 Tacky Awesomeness.
And the male winner, Henrick: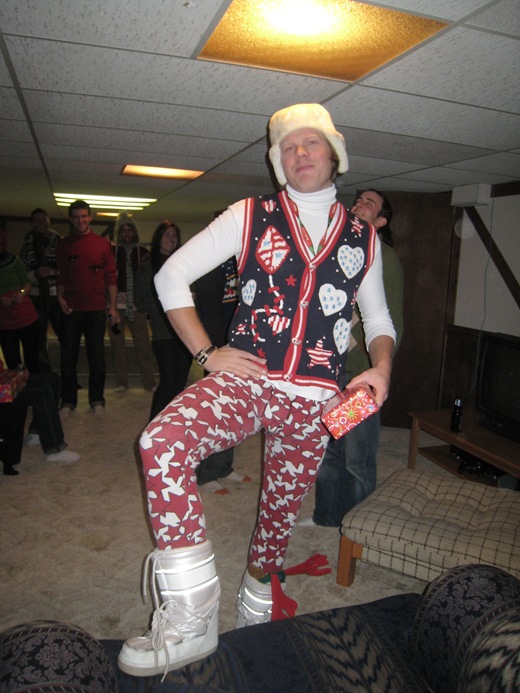 He's Swedish and obviously super cool. Best costume ever!!!!!!!!!!!!
The winners posed with their loot! FYI- they are also MARRIED! lol. Could there be a cuter couple!?
Don't worry it's FAKE fur! I was glad I didn't have to go all PETA on her ass. ;)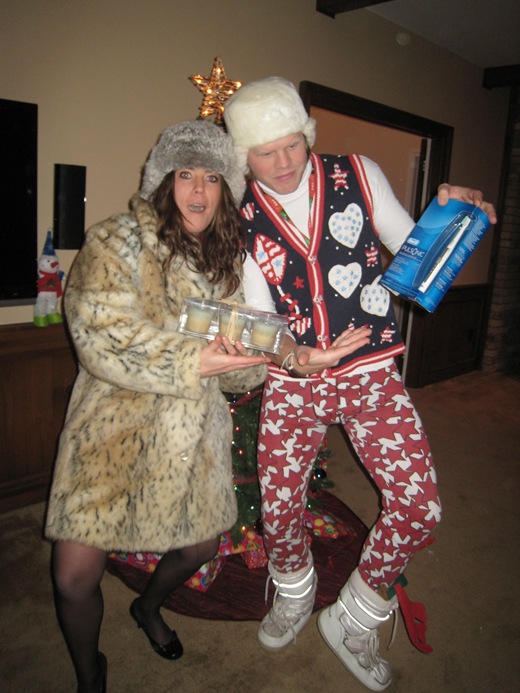 Henrick won an Oral-B Pulsonic electric toothbrush. A HUGE thank you to Oral B for donating this fabulous prize for our party! Jaime won a box of candles and a 'Peace' 4-hook wall plate (not shown).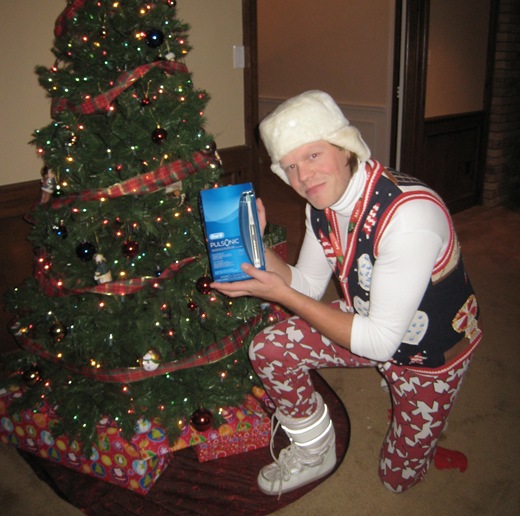 One of the door prizes was a fabulous Jewelry hanger. Carly was over joyed! ;)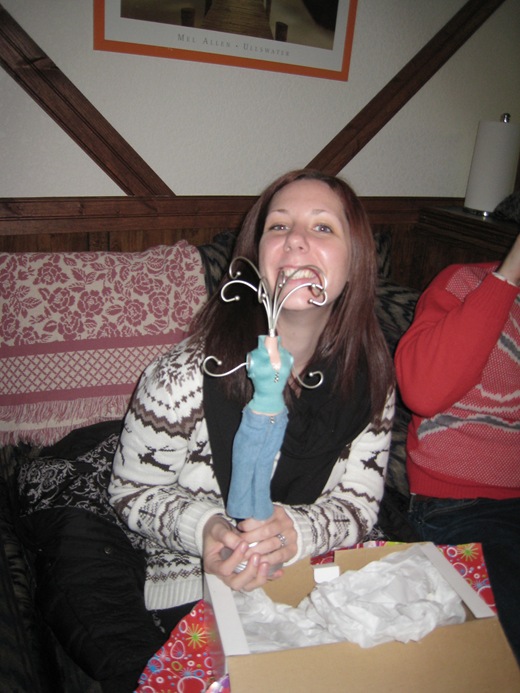 It was such a fun night!
I only had 2 beers the entire night! I think this is the best I have felt after a big party…ever. ;) I definitely don't drink like I used to. I find as I get older I realize that I don't need to rely on alcohol to have a good time. Maybe it is just being more comfortable in my own skin?
I'm still fairly tired…didn't get to bed until 2:30am and Eric not until 4am! lol.
SATURDAY:
Clean up the huge mess of bottles (boy, those men drink like FISH!)
Treadmill hill Workout (GOAL: Speed 4.2, incline 15% for at least 35 mins)
Glo Bakery work- I had a huge influx of orders yesterday that need to be prepared to ship out.  Don't forget if you place an order this weekend, it will ship out first thing Monday morning!
Still no word on my CTV interview…bahhhhhh.
Laundry/start packing for trip
Catch up on emails (I'm SO behind!!!!!!!!!)
Have a LOVELY last weekend before Christmas! HOW IS IT THE 20th TOMORROW?? I just need to buy one gift for Eric and I am done, thankfully!
What about you…do you have many gifts left to buy? Are you a last minute shopper or an early bird?