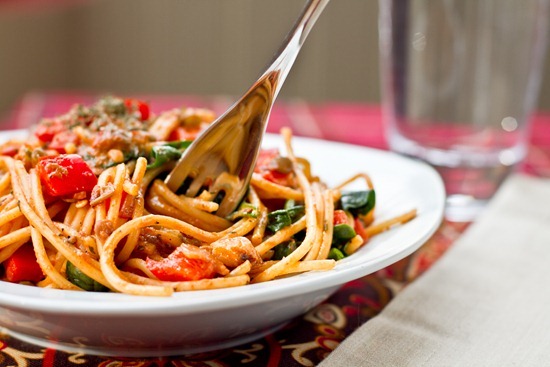 This delicious meal came about on Saturday at midnight.
We had just arrived home from a friend's house and Eric proclaimed that he was STARVING. So famished in fact, he was feeling sick to his stomach. He lifted his shirt and sucked in his stomach to emphasize his hunger while I gave him an unimpressed look suggesting that he should probably do something about it. After thinking back over the day's events, he realized that he missed lunch on Saturday which probably explained for his lingering hunger!
Whoa, whoa, whoa. Wait just a minute here.
How exactly does someone just forget to eat a meal?
Personally, I have never quite understood this phenomenon, although it happens to Eric at least once a week. I don't think in my entire life I have ever forgotten to eat a meal.
I think it is a guy thing?
Anyways, Eric was lucky that I had a couple beers in me because he was able to convince me to cook him something…at midnight. I ended up making this quick (15 minutes flat) and delicious pasta dish.
I had no plan. I had no recipe. I just let inspiration guide me and we ended up with one kick butt pasta. When I presented this dish to him at 12:15am, the look on his face was just priceless. He knew he had struck it big.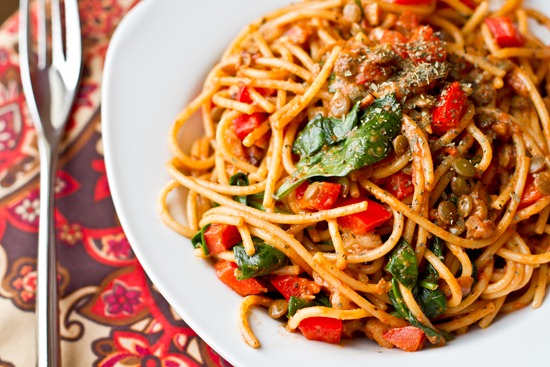 [print_this]
Olive Oil Pasta with Walnuts, Lentils, and Red Peppers
This decadent pasta sauce will blow you away- and you won't believe what is hiding in the sauce! Amped up with protein-packed lentils, spinach, red peppers, and crunchy, toasted walnuts this is certainly a pasta with a punch.
Yield: 1 large serving or two small servings
Ingredients:
1 serving (3oz) spaghetti (I used Kamut pasta)
1/4 cup chopped walnuts, dry toasted
1/2 cup + 1-2 tbsp medium heat salsa (I used Simply Natural brand)
1.5-2 tbsp good quality extra virgin olive oil
2-2.5 tbsp nutritional yeast (gives it a creaminess)
1-1.5 tbsp ketchup
1/2 tsp garlic powder, or to taste
1/2 tsp dried basil (fresh would be lovely!)
1/4 tsp black pepper
1/2 tsp kosher salt, or to taste
Pinch red pepper flakes
1/4-1/2 cup chopped red pepper (optional)
1/2 cup spinach
1/3 cup cooked lentils
Directions:
1.Cook 1 serving of pasta according to package directions. Meanwhile, grab a small pot and turn heat to medium. Add chopped walnuts to dry pot and lightly toast for a few minutes, being careful not to burn.
2. After toasting the walnuts, add in the rest of the ingredients (except for the spinach), to taste. Be careful as the walnuts will sizzle and may splatter when you add in the salsa. Stir well and heat on medium-low for another 7-8 minutes.
3. Place spinach in a colander and rinse. When pasta is cooked, remove from heat and pour onto the colander (with the spinach in it) and rinse lightly. Drain and then add the spinach and pasta into the pot. Now pour the sauce into the pasta and spinach and stir well. Season to taste and adjust flavours if necessary. Makes 1 large serving or 2 small servings.
[/print_this]
It was his lucky night!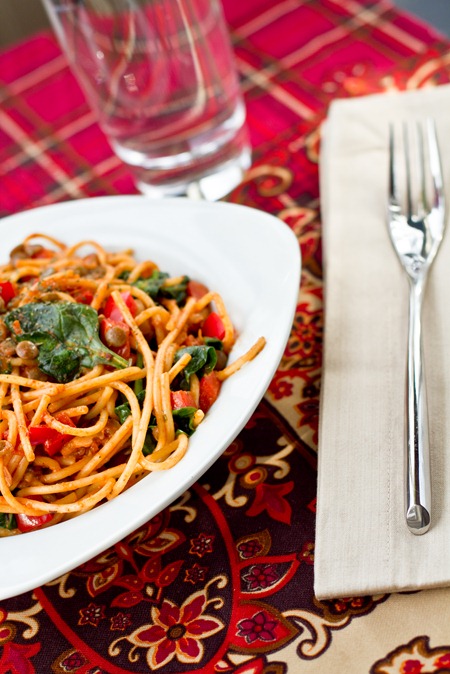 This was probably the most random pasta sauce I have ever made, but we both thought it was one of the most delicious, second only to the 15-Minute Creamy Avocado Pasta.
My random ingredients included…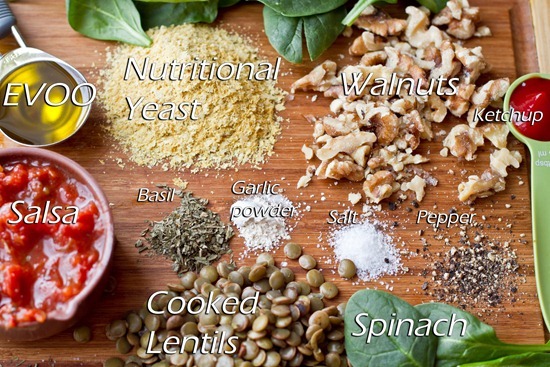 Ketchup is the secret ingredient! It gives it a very slight hint of sweetness. Eric was very happy to see the ketchup bottle come out.
I also added about 1/4 cup of red peppers to the sauce.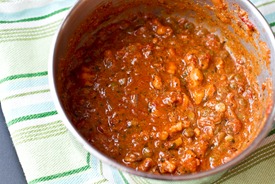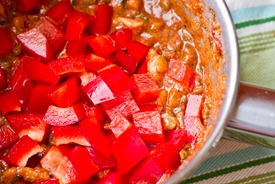 After draining, add the spinach and pasta back into the pot.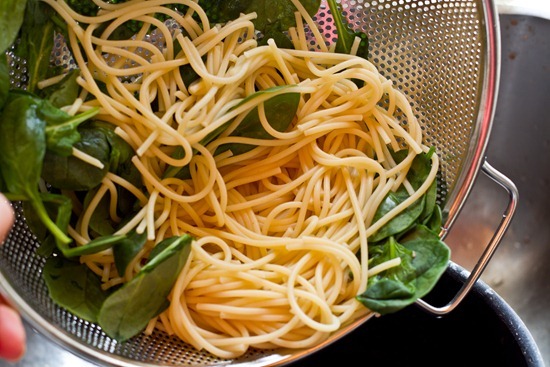 Mix everything together and serve!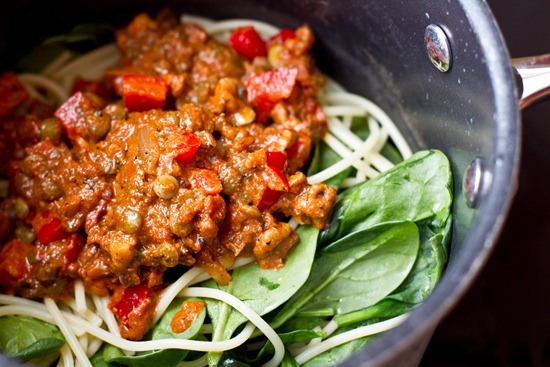 Eric loved this! I snuck a couple bites and I also thought it was delicious. In fact, I loved it so much I made it for myself on Sunday. (I also took the pictures on Sunday too!)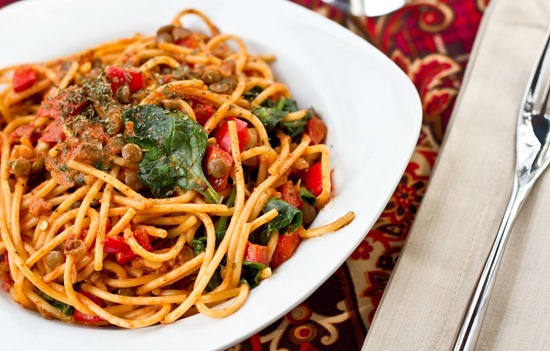 As I was preparing this, I realized that I have had a bit of a culinary 'awakening' over the past several months. I used to be terrified to cook anything without a recipe, but since I have had this blog I have really learned to embrace my adventurous side in the kitchen. Cooking shouldn't be scary…it should be FUN! The great thing about cooking is that you can always adjust things to taste and keep tweaking things until you are satisfied. You pretty much cannot screw up.
(Unless of course, we are talking about last weekend when I dropped the opened salt shaker into our dinner dish just before serving!!) That was not my finest moment.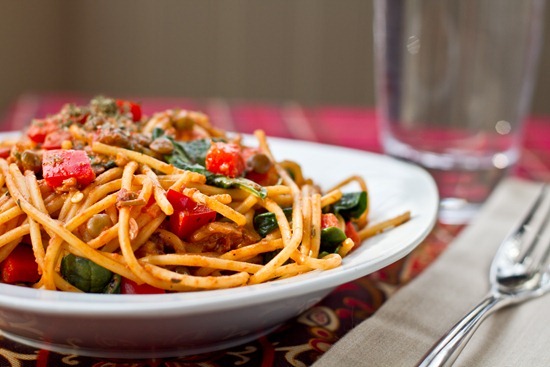 For dessert:  Chocolate Cupcakes with Almond Buttercream and Raspberry Glaze.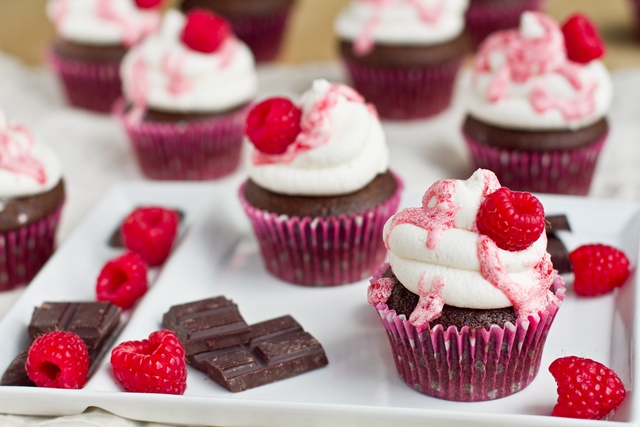 PS- The record amount of rain turned into a snow storm this weekend!
Not cool weatherman, not cool.