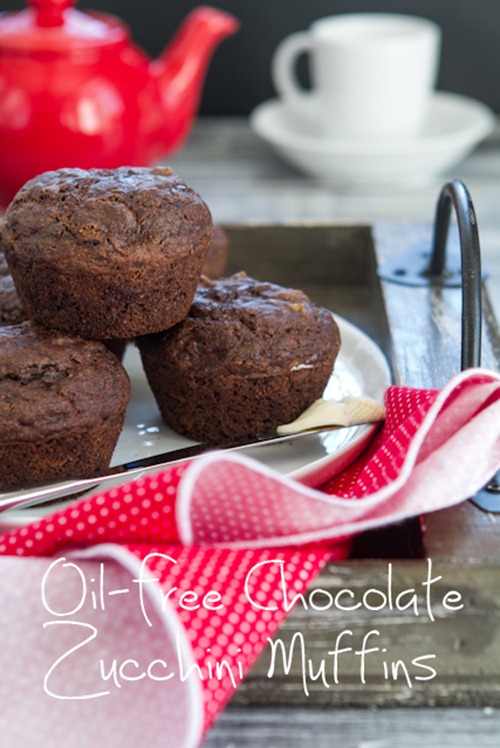 I never considered myself a big zucchini fan until this summer. Farmer's market zucchini is what really sold me; before then, I could take it or leave it. I was used to buying small, shriveled up zucchini from the grocery store, so when I tried freshly picked zucchini it was a game changer. My favourite way to prepare it is to sauté green and yellow zucchini with patty pan squash in a bit of olive oil, Herbamare, and pepper. It's so simple and incredibly tasty.
This morning I took advantage of our holiday Monday and made zucchini muffins for breakfast. I've had great luck in the past with oil-free zucchini bread and I hoped these muffins would follow suit. They are fairly low in sugar, completely oil-free, and have a nice dose of crunchy walnuts for healthy omega-3 fatty acids. These aren't your typical heavy and dense muffins; they are light as a feather and almost cupcake-like in texture. I enjoy them with a pat of soy-free Earth Balance to add a bit of moisture and buttery flavour.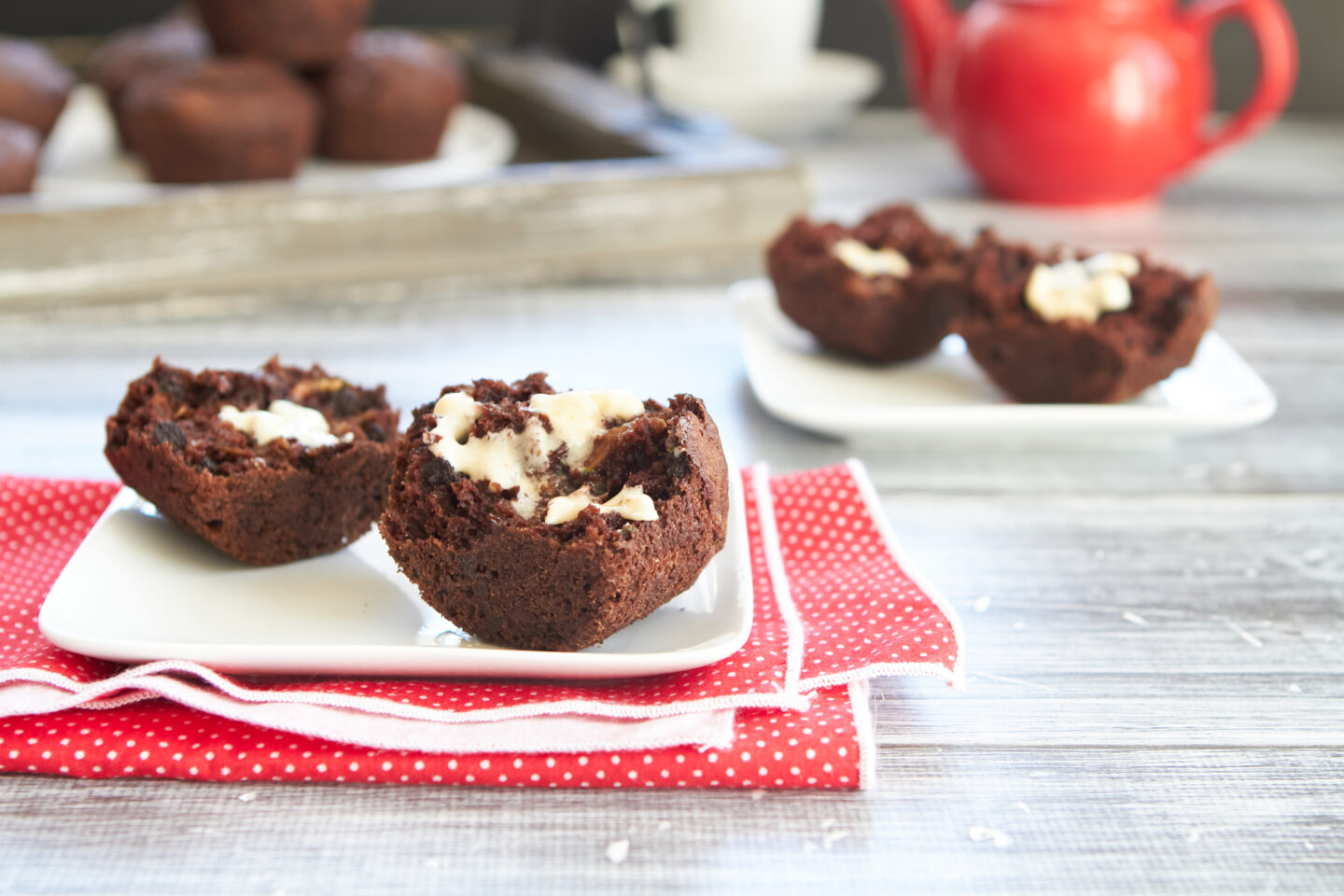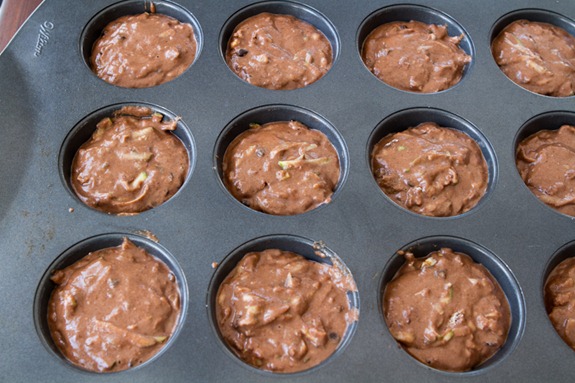 From start to finish, they were ready in 30 minutes flat. Not too shabby!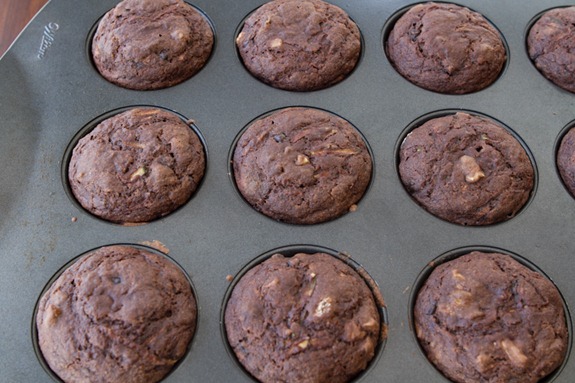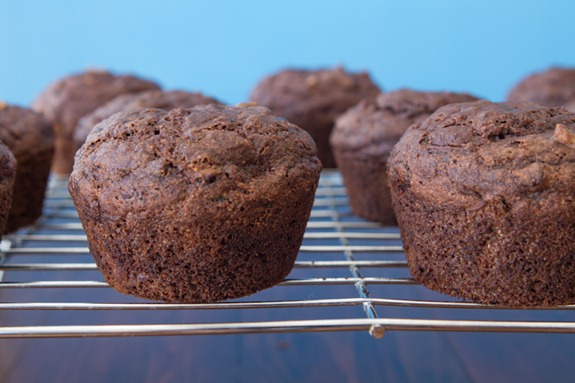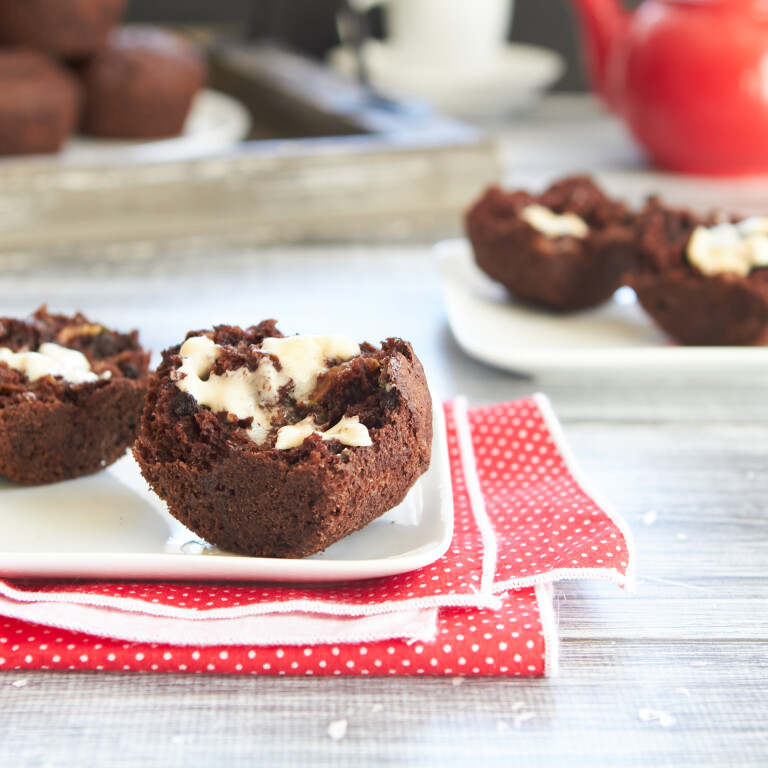 Oil-Free Chocolate Zucchini Walnut Muffins
Vegan, oil-free, soy-free

Yield

12 muffins
Prep time

Cook time

Total time

Lightly sweet, whole wheat, and oil-free, these muffins make a special breakfast or take along snack. I love them with a pat of soy-free Earth balance to add a bit of moisture. Whole Wheat Pastry Flour works well in this recipe to create light muffins that are still 100% whole grain. You can also use all-purpose flour if that's all you have on hand. I don't recommend subbing the pastry flour for regular whole wheat flour as the muffins will likely turn out too dry and dense
Adapted from: Oil-Free Zucchini Bread.
Ingredients
1 flax egg (1 tbsp ground flax + 3 tbsp water)
1 & 1/4 cup lightly packed shredded zucchini, skin left on
1 & 1/4 cup almond milk
2 tsp apple cider vinegar (or lemon juice)
3 tbsp pure maple syrup
1 tsp vanilla extract
2 cups whole wheat pastry flour (or all-purpose)
1/3 cup cocoa powder
1 tbsp baking powder
1 tsp baking soda
1/2 tsp fine grain sea salt
1/2 cup cane sugar
1/3 cup dark chocolate chips (I used Enjoy Life mini chips)
2/3 cup walnuts, chopped
Directions
Preheat oven to 350°F and lightly spray muffin with oil or grease with Earth Balance.
Mix flax egg in a small bowl and set aside. Grate zucchini using a grater box (regular grate size). Set aside.
Mix almond milk and apple cider vinegar (or sub fresh lemon juice) in a small bowl and set aside. It will curdle, but this is the point as we're making vegan buttermilk.
In a large mixing bowl, mix together the dry ingredients (flour, cocoa powder, baking powder, baking soda, salt, and sugar).
Mix together the wet ingredients (flax egg, almond milk mixture, maple syrup, and vanilla) and then pour over dry ingredients. Stir until just combined. Fold in the chocolate chips, walnuts, and shredded zucchini.
Spoon batter into prepared muffin tin filling each tin 3/4 of the way full. Bake for about 15-17 minutes at 350°F, or until muffins slowly spring back when touched. A toothpick should come out mostly clean. Cool in tin for 5 minutes. With a knife, loosen around the muffin edge and transfer to a cooling rack until completely cool.
Nutrition Information
(click to expand)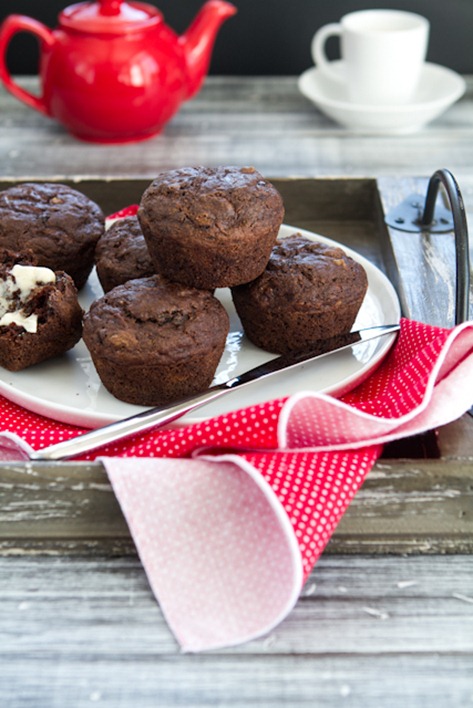 Have a great Civic Day to those of you celebrating the long weekend! I'm off to enjoy the last couple hours of the afternoon by the water. Why does three days of weekend always seem to fly by just as fast?