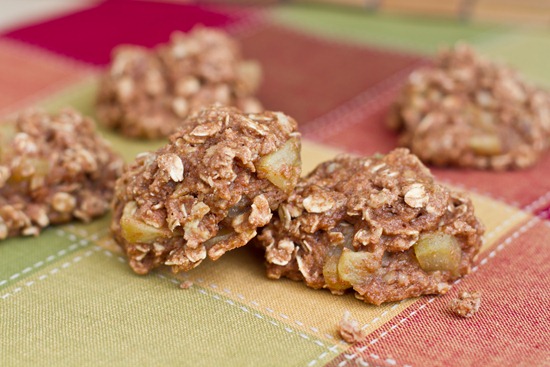 The other night as I was giving my Recipes page a makeover, I realized that I have a bit of a thing for creating healthy snack cookies.
I have devoured…
1) Banana Apricot Spelt Oatmeal Cookies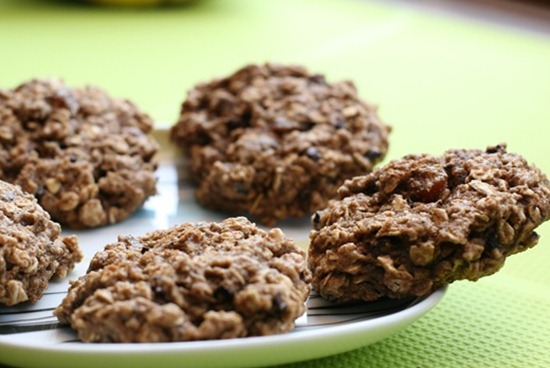 2) Itty Bitty Carrot Cake Cookies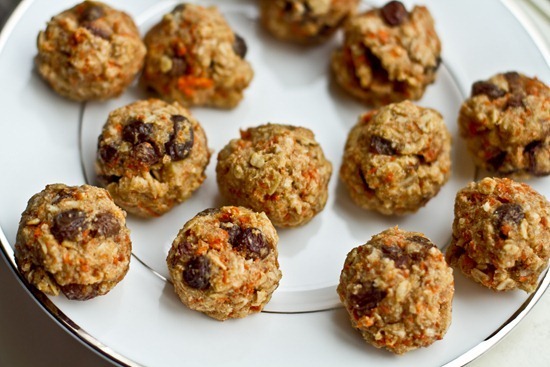 3) Pumpkin Pie Banana Chunk Cookies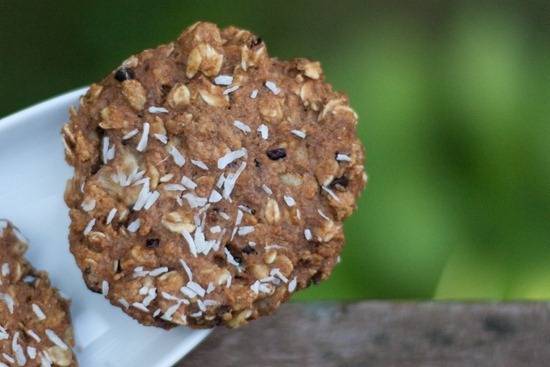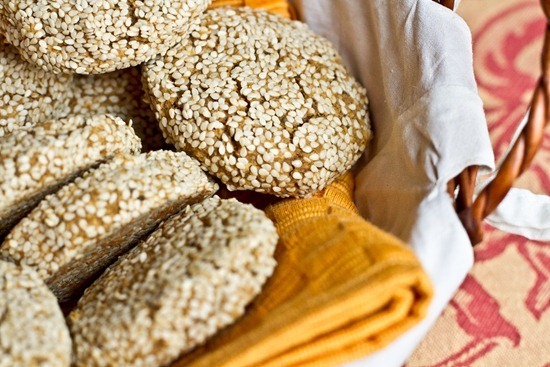 Healthy snack cookies bring me great joy. The other night, as I looked out my window to yet another blistery snow storm, I realized that I needed more joy in my life.
The kind of joy that tastes great, but still allows me to button my pants the next day. I needed joy with a healthy twist…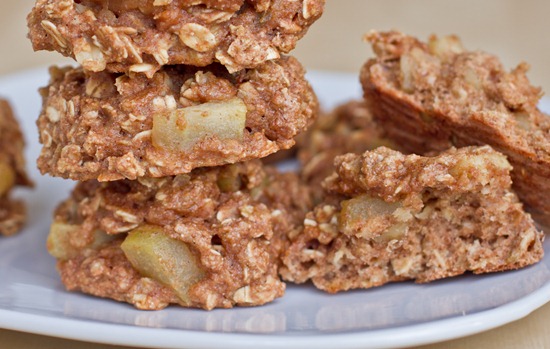 [print_this]
Oil-Free Apple Pie Muffin Tops
Soft, and chewy with a mouth-watering Apple Pie flavour thanks to the big chunks of apple, walnut pieces, hint of cinnamon and nutmeg, and dash of fresh lemon juice. They are just like biting into a Muffin, so Eric promptly named them 'Muffin Tops', but don't worry they are easy on the waistline! They don't contain a lick of oil or vegan butter, but are still incredibly moist thanks to the cooked apple mixture and mashed banana.
Yield: About 17 Muffin Tops
Ingredients:
Apple Pie Mixture
2 Granny Smith apples, peeled (1 chopped, 1 grated)
1/4 cup pure maple syrup
1 tbsp fresh lemon juice
Pinch of kosher salt (optional)
Dry Ingredients:
1 + 1/4 cup whole grain spelt flour
1 cup regular oats
1/4 cup lightly packed brown sugar
1/2 cup chopped walnuts
1/2 tsp kosher salt
1/2 tsp baking powder
2 teaspoons ground cinnamon
Pinch of nutmeg (1/8th tsp)
Wet Ingredients:
1 flax egg (1 tbsp ground flax + 3 tbsp water), mixed together
1 tsp pure vanilla extract
1/4 cup almond milk
1/3 cup mashed banana (1 ripe medium sized banana)
Directions:
1. Preheat oven to 350 and line a baking sheet with parchment paper or a non-stick mat. Set aside. Mix your flax egg together (1 tbsp ground flax + 3 tbsp water) in a bowl and set aside.
2. Peel two granny smith apples. Take 1 apple and finely grate it. Now take the other peeled apple and chop it into 1 inch pieces. Add both to pot along with 1/4 cup pure maple syrup and 1 tbsp of fresh lemon juice. Stir. Cook over medium-low heat while you prepare the rest of the ingredients, for about 5-10 minutes. Watch closely and reduce heat as necessary so you don't burn it.
3. Mix dry ingredients in a large bowl and set aside. In another bowl, mix your wet ingredients: vanilla extract, almond milk, mashed banana, and gelled up flax egg. Whisk well.
4. When apple mixture has cooked and softened for about 5-10 minutes, add it to the wet ingredients and stir well. Now pour the wet mixture onto the dry mixture and stir well. It will take a bit of elbow grease to get the mixture fully mixed, but not to worry.
5. Scoop 2 tbsp or a bit more for each Muffin top, leaving about 1.5-2 inches between each. Do not press the mixture flat. Bake for 14 minutes at 350F or until slightly golden in colour, but still soft. Please note that these cookies should be soft and do not get crisp or firm. They have the texture of a muffin.
6. Cool on pan for about 5 minutes before transferring to a cooling rack. Makes about 17 Muffin Tops.
Nutritional info: (per cookie, makes 17): 105 kcals, 3 grams fat (0 sat fat), 19 grams carbs, 2 grams fibre, 8 grams sugar, 2 grams protein.
[/print_this]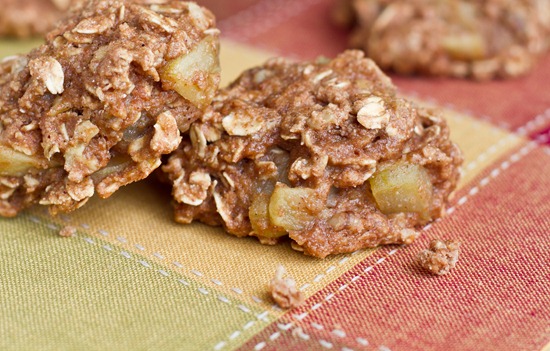 First thing we do is mix the flax egg and set it aside to gel up.
Now, peel your apples. Grate 1 of the apples and chop the other into 1 inch pieces.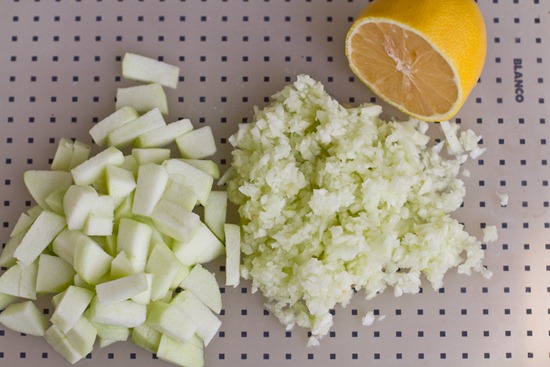 Perfecto!
Add both apples,1 tbsp lemon juice, and 1/4 cup pure maple syrup into a pot, stir well, and heat on medium-low.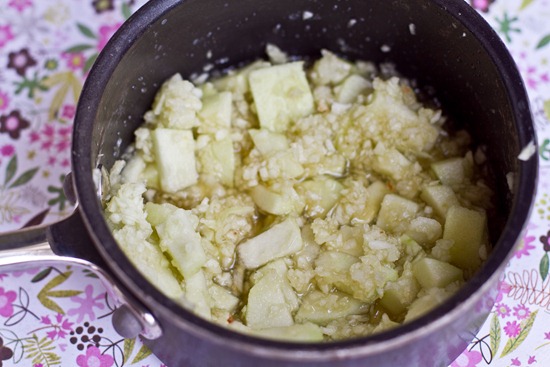 Why cook the apples?
The reason I cooked the apples was to allow the maple and lemon flavours to soak into the apple, creating sweet, soft bites of apple, just like you'd find in an apple pie. The result was fantastic! It really didn't add much time at all since you are preparing the other ingredients as they cook.
Meanwhile…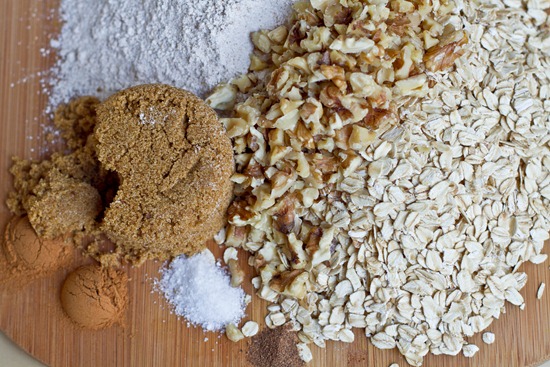 Whisk together the dry ingredients.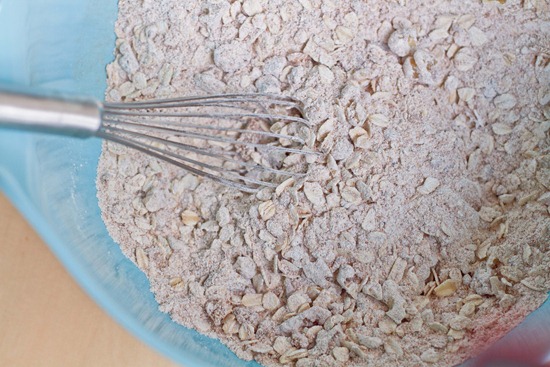 In a separate bowl, mix together the wet ingredients (gelled up flax egg, 1/3 cup mashed banana, 1/4 cup almond milk, vanilla)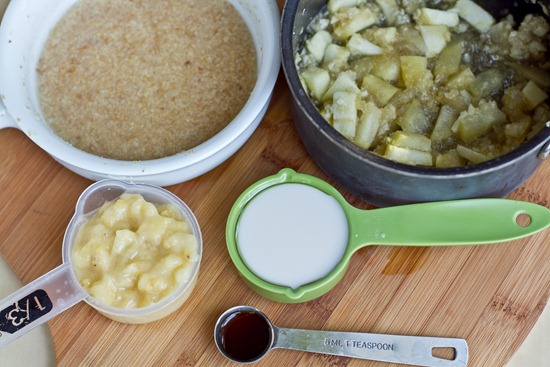 Fun Fact: The mashed banana served as the oil-replacer in this recipe.
After the apples have cooked on the stovetop for about 5-10 minutes, add them to the wet ingredients.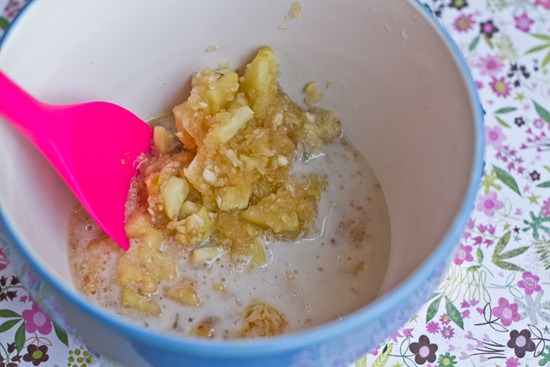 Stir all wet ingredients together, including this cooked apple mixture.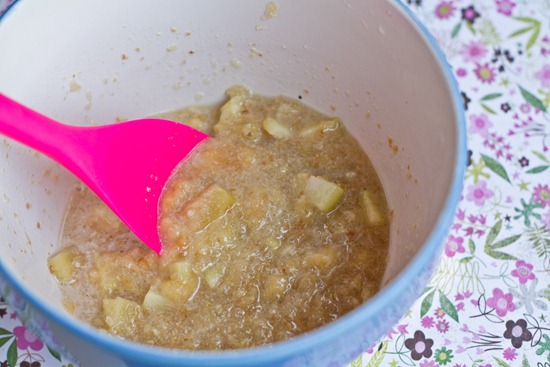 Now add the wet to the dry…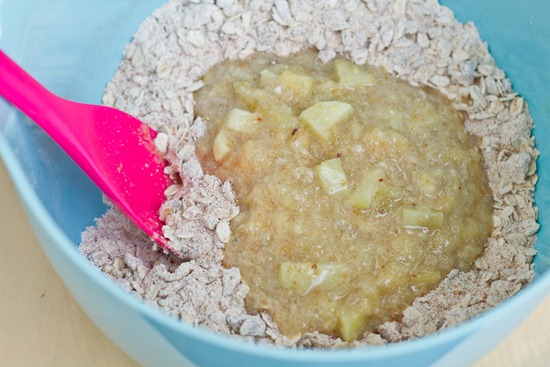 Mix well. It will take a while for the mixture to come together, but not to worry!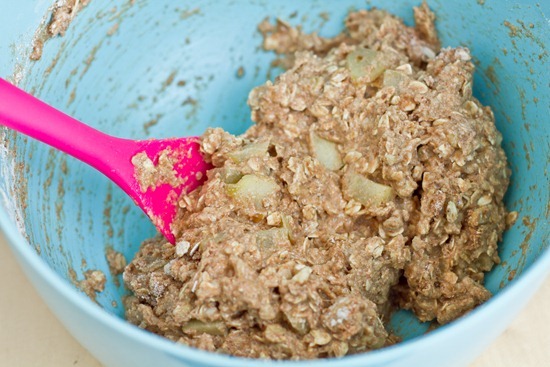 Stir until the flour is all mixed in. The batter will be very thick.
Scoop 2 tbsp of the mixture onto the baking sheet for each cookie/muffin top.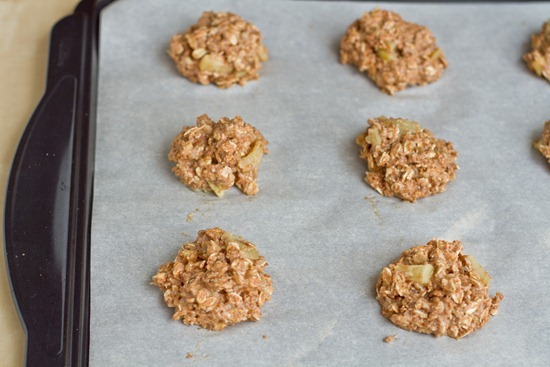 Bake for 14 minutes at 350F.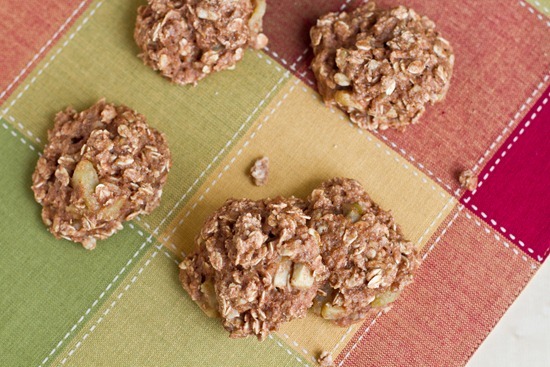 You will be left with an addicting snack cookie, that is like biting into a soft and chewy muffin top! My mother-in-law, friend Jessica, Eric, and I all gave these a big thumbs up and they went very fast. They are a great snack if you are looking for a pick-me-up that won't give you a sugar crash.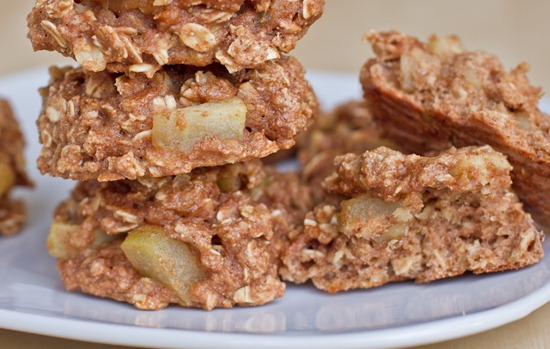 I'm off to do my first Tempo run of my Winter 2011 Half Marathon training plan. Any tips for Tempo runs? I'll do a recap of what I did and let you know how it goes…Wish me luck!