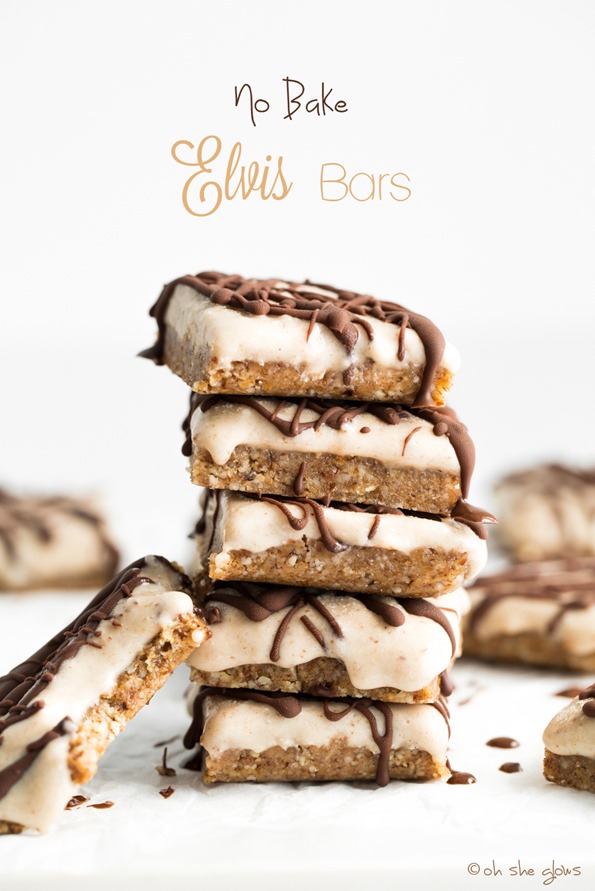 When I wrote this post yesterday afternoon I was sitting at my desk with a mini fan blasting ten inches from my face. My wrist rested on a frozen gel-pack and my hair was a lovely style of poof. Please remind me not to bother blow drying my hair when it's this humid out. We always get a few hot days in September, but 36 Celsius with a humidity of 44C is a bit much. As much as I don't want the colder weather to arrive, this heat wave makes me slightly happy fall is approaching. Bring on the boots, jeans, and crunchy leaves. Just don't bring the snow, wind chill, and black ice, mmm kay?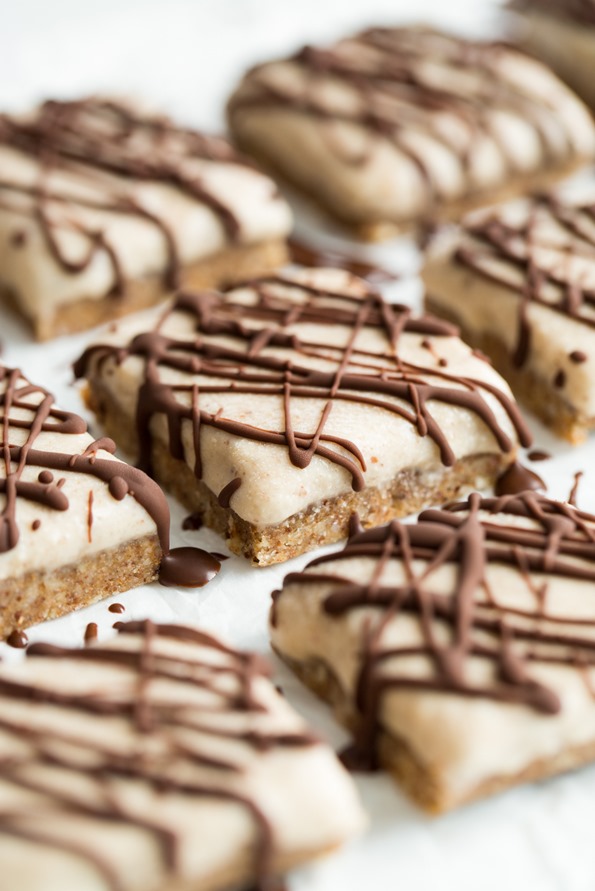 All I could think about was making something cold and refreshing yesterday. Smoothies, fruit, salads, and no bake snacks are the perfect heat wave foods. I figure if I'm sticking my head in the freezer, I might as well be eating something from the freezer at the same time!  I've always been good at multitasking.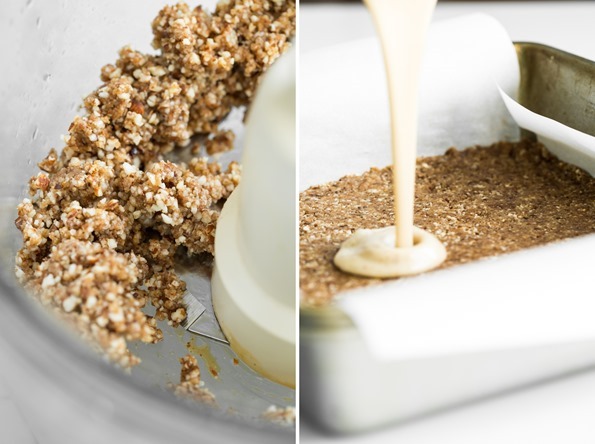 This simple, cool-you-down snack is my take on the ever popular Elvis Pie. Apparently, Elvis used to enjoy banana and peanut butter sandwiches (sometimes with bacon as well). Instead of using peanut butter, I made this a banana and almond butter combo complete with a delicious almond-based crust. The bacon is replaced by chocolate, of course.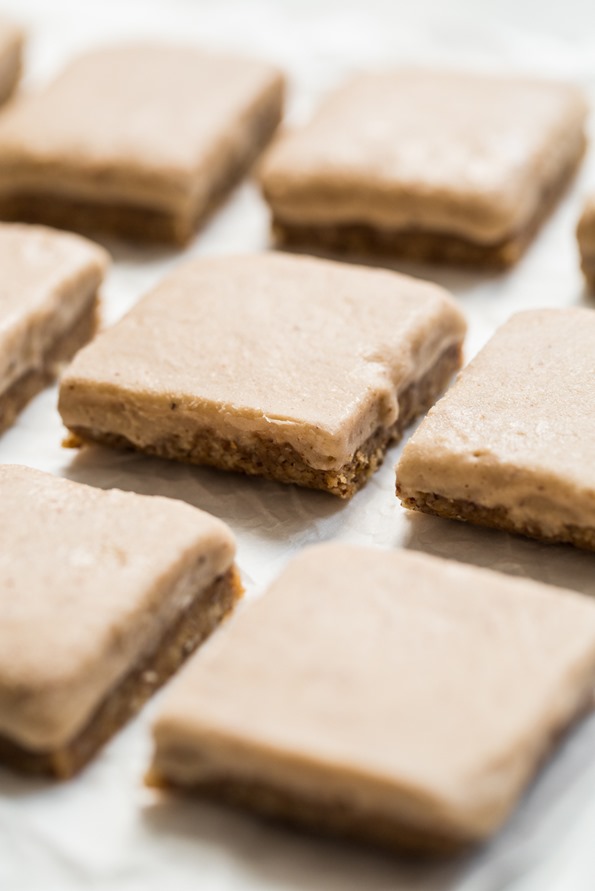 Photographing this frozen treat in 36C, standing beside huge windows with the sun beaming in on me was not very fun. Total hot flash moment. After each shot, I had to race the squares back to the freezer because they melted in seconds. Needless to say, I demolished a row of squares immediately after the shoot to avoid heat exhaustion. Or at least that's what I told myself.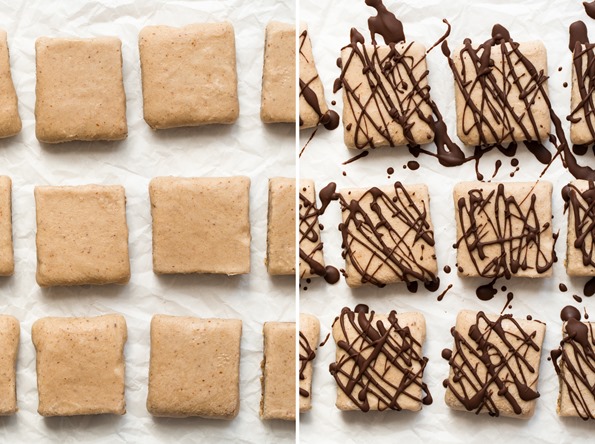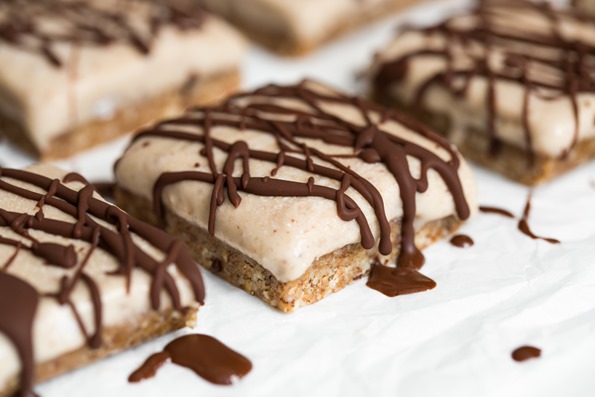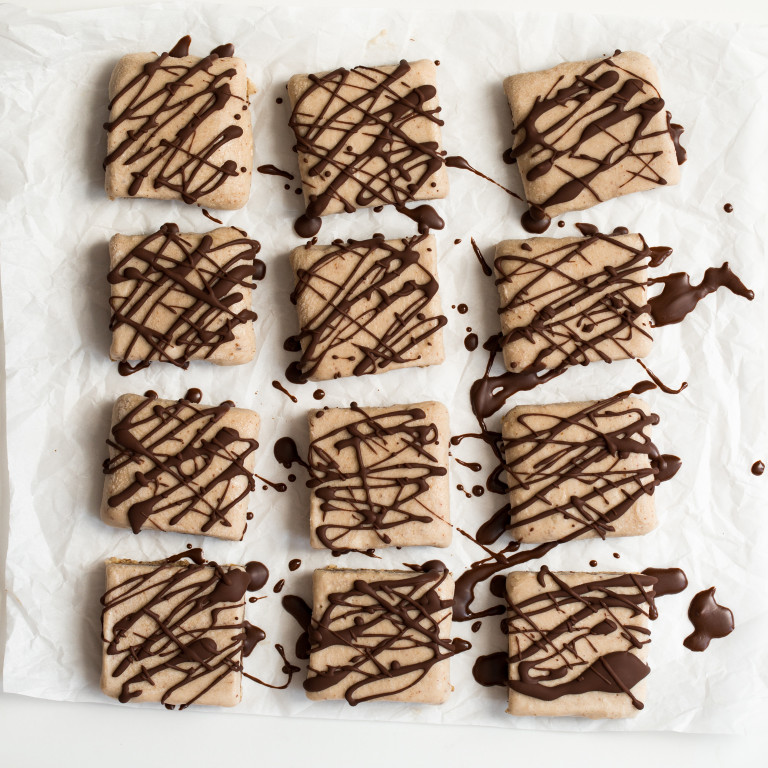 No Bake Elvis Bars
Vegan, gluten-free, grain-free, no bake/raw

Yield

16 small squares
Prep time

Cook time

0 minutes
Chill time

1-1.5 hours
Total time

A quick and easy, minimally sweetened frozen dessert square inspired by the popular Elvis Pie. My version uses almond butter instead of peanut butter and replaces the bacon for chocolate. Be sure to enjoy these straight out of the freezer as they melt really fast!
Ingredients
For the crust:
1.5 cup whole almonds
2 tablespoons coconut oil
2 tablespoons coconut nectar syrup (see note)
1 tablespoon almond butter or peanut butter
1/2 teaspoon cinnamon
pinch of fine grain sea salt, to taste
For the middle layer:
2 medium ripe bananas, peeled
1/4 cup coconut oil, softened slightly
2 tablespoons almond butter or peanut butter
1 teaspoon pure vanilla extract
pinch of fine grain sea salt, to taste
For the chocolate drizzle:
3 tablespoons mini dark chocolate chips
1/2 tablespoon coconut oil
Directions
Line an 8-inch square pan with two pieces of parchment paper, one going each way. This makes it easy to lift out the bars later on.
For the crust: Add the almonds into a food processor and process until a fine crumb forms, slightly larger than sand. Now add in the rest of the crust ingredients and process until the mixture comes together, scraping the side of the bowl as needed. The mixture should be a slightly tacky and should stick together when pressed with your fingers. If it's not, add a very small splash of water and process again for a few seconds.
Dump the crust mixture into the prepared pan. Smooth out evenly and then press down firmly and evenly into the pan. You can lightly wet your fingers if the crust sticks to them. Use a pastry roller to roll it very smooth, compacting it as much as possible. Place in freezer while you prepare the middle layer.
Middle layer: Give the processor bowl a quick rinse. Add all the middle layer ingredients into the processor and process until smooth. Remove the crust from the freezer and pour the middle layer on top. Smooth out. Return to the freezer for at least 1-1.5 hours to set, until the middle layer is very firm to the touch.
Chocolate drizzle: When the middle layer is completely solid, prepare the topping. In a small pot heat the chocolate and coconut oil on the lowest heat, stirring to combine. When half of the chips have melted, remove the pot from the heat and stir until completely melted. Remove the bars from the freezer. Lift slab out of the pan and slice into squares. Spread out the squares on a plate lined with parchment paper. Drizzle on the melted chocolate and return bars to the freezer until the chocolate is firm and the bars are solid.
Enjoy these bars frozen, straight from the freezer. They melt very quickly so I don't suggest leaving them out for more than a couple minutes. Wrap leftovers and store in the freezer.
Tip:
1) Brown rice syrup will work instead of coconut nectar. I haven't tried any other liquid sweeteners yet, but I assume maple syrup or honey (if you eat it) would work too, although the crust might not stick together as much since coconut nectar is so thick. 2) There is no substitute for the coconut oil that I know of. It solidifies when freezing helping to make the bars very firm.
Nutrition Information
(click to expand)