We ended up getting quite the storm yesterday! One broken shovel and lots of soup and hot tea later, we can feel our limbs once again.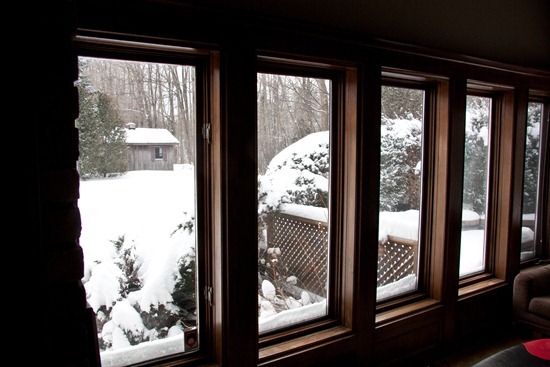 Then I tortured myself by looking up tropical vacations on Travel Zoo. I really need to stop doing that to myself.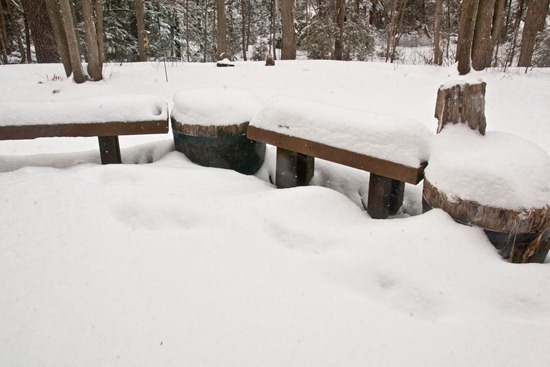 Luckily, there are always Valentine's Day goodies to look forward to.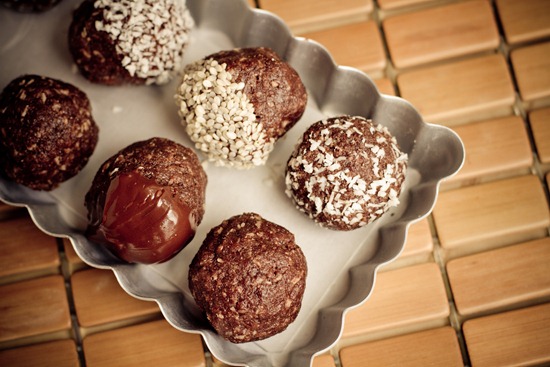 If you care to see the rest of my Valentine's Day recipes you can check out the Recipes page where I have grouped them together near the top. I recently added a Recipe of the Week feature on my Recipes page too.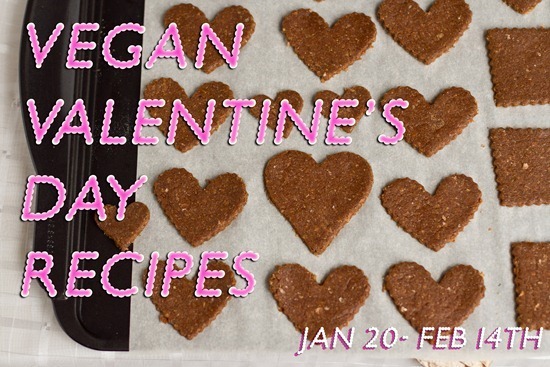 I actually didn't plan on making these No Bake Chocolate Macaroons at all.
I was trying to create my own macaroon recipe (baked in the oven) and they turned out very crumbly. Then the wheels got turning and I thought it would be fun to make a macaroon that required no baking (or dehydrating) at all. I have been doing the vegan baking and cooking thing for over a year and a half now and one thing I have discovered is that my recipes are often the result of a flop or unexpected result in the kitchen. I set off to bake one thing, and something else happens…it's best just to roll with it.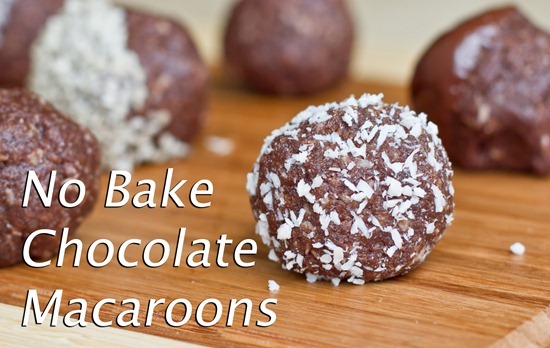 [print_this]
No Bake Chocolate Macaroons
Yield: 7 large Macaroons
Ingredients:
3/4 cup whole grain spelt flour (or other flour minus ~1 tbsp)
1/4 cup + 2 tbsp unsweetened shredded coconut
2 tbsp cocoa powder, sifted
1/2 cup brown sugar, lightly packed (or regular sugar)* see note
1/2 tsp kosher salt
1/4 cup coconut oil, melted
2 tbsp Almond Milk (or other milk)
1/2 tsp pure vanilla extract
Melted chocolate or coconut for rolling the balls in (optional)
Directions:
1. In a medium sized bowl, mix the dry ingredients together (spelt flour, shredded coconut, sifted cocoa powder, sifted brown sugar, and kosher salt).
2. Add the melted coconut oil, almond milk, and vanilla. Stir until combined.
3. Grab some of the mixture and roll it into a ball in your hand. Repeat for the rest of the mixture. You can roll the Macaroons into more shredded coconut or dip them in melted chocolate if you like! I made 7 large Macaroons.
Note: Eric found the texture of the brown sugar was a bit 'sandy'. If you think this would bother you, you could use regular white sugar, or even try dissolving the brown sugar in the coconut oil in the microwave.
[/print_this]
The no-bake spree continues!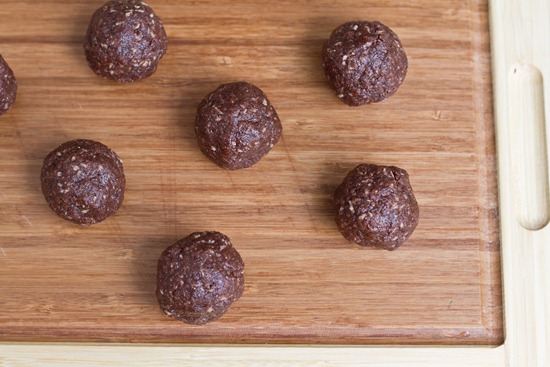 They are ready in 5 minutes flat.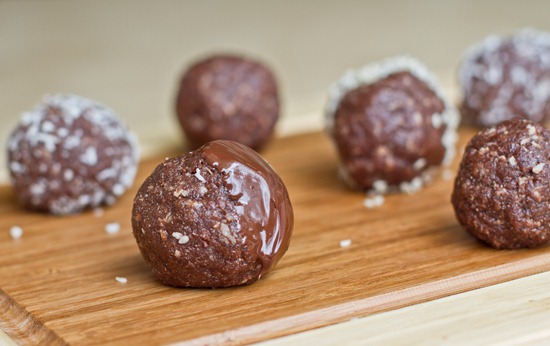 Gather your 8 ingredients.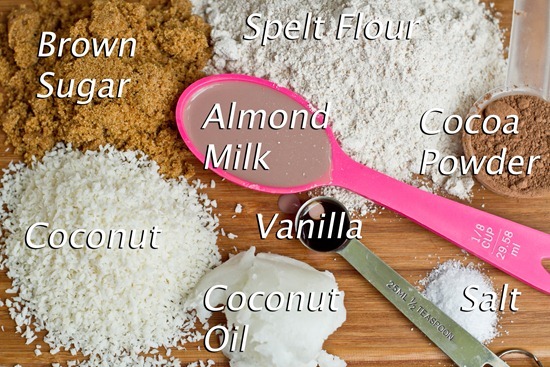 Substitution questions:
You can substitute the spelt flour for another kind of flour, but you may need to use less flour because spelt flour saturates more easily (maybe use 1 tbsp less of another kind of flour)
You can substitute regular white sugar for brown sugar
You can use any kind of milk you prefer (here I used chocolate Almond Milk)
You might be able to get away with using a different oil, but the flavour will change…so don't hate me if you don't like it!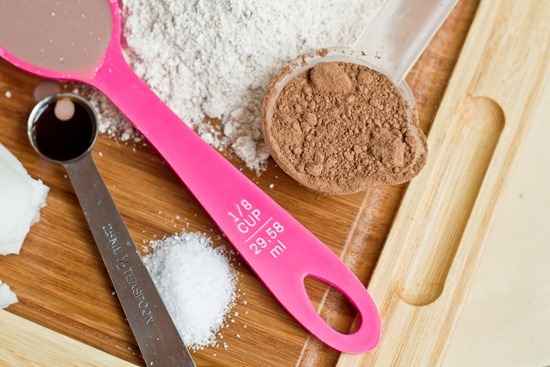 Sift the dry ingredients. Nobody wants a clump of bitter cocoa in their Macaroon. ;)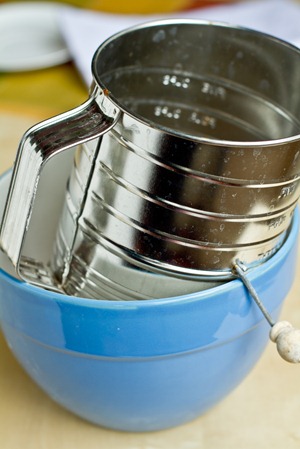 Mix dry + wet.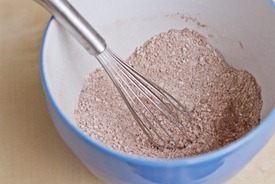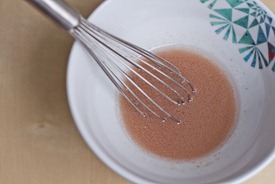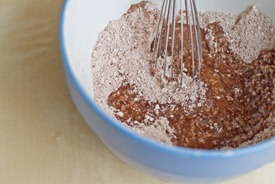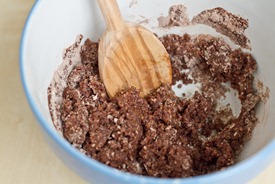 Roll into balls!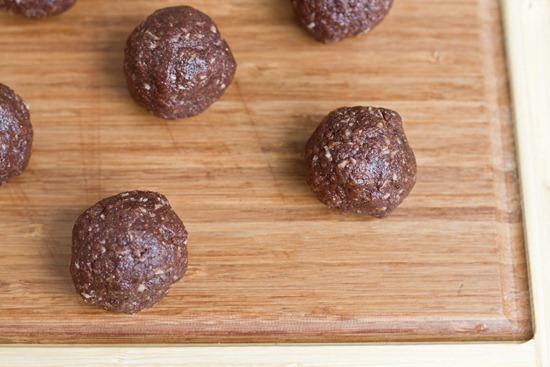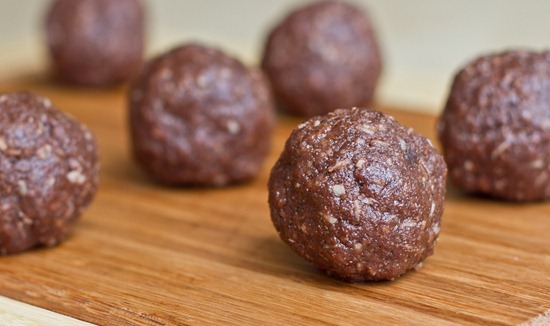 I loved rolling the Macaroons into coconut to finish them off. You need to press down quite hard for it to stick.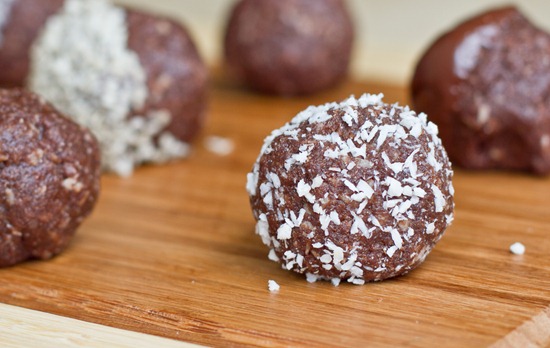 You can also dip them in melted chocolate and roll them into seeds or nuts.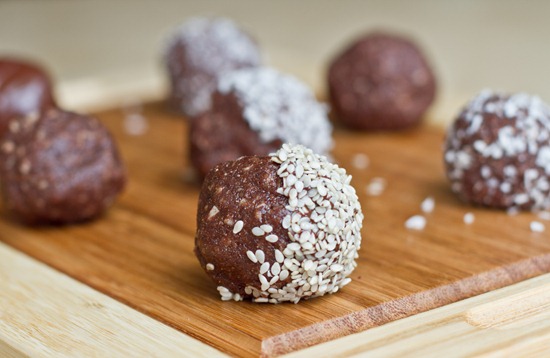 The result is a no-bake chocolate macaroon with a lovely, authentic macaroon flavour. They are soft, so if you prefer some crunch, you could always add in some chopped nuts or crisp rice cereal to your liking.
Eric loved the taste, but he wasn't crazy about the texture because he thought the brown sugar made the texture a bit 'sandy'. You could probably prevent this by using regular white sugar or you could try dissolving the brown sugar into the coconut oil in the microwave. Personally, I didn't mind the 'sandy' texture myself.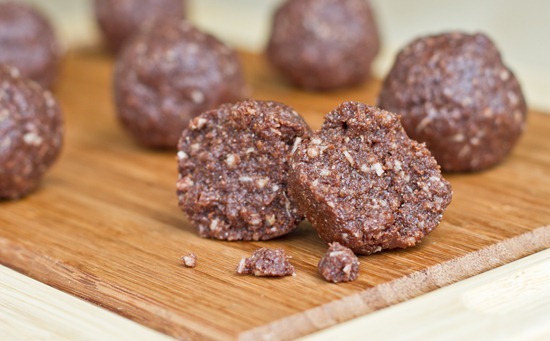 Store them in the fridge or freezer.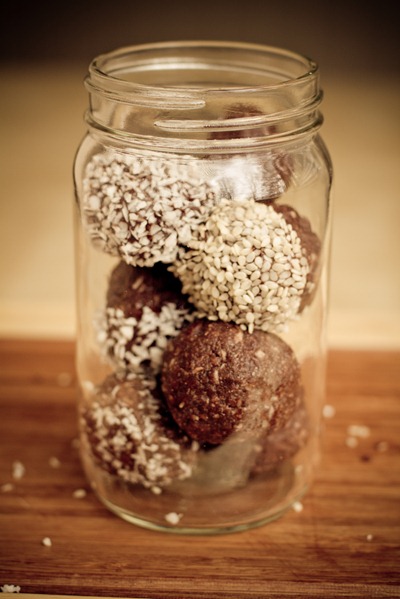 For the rest of my Valentine's Day recipes, see here.