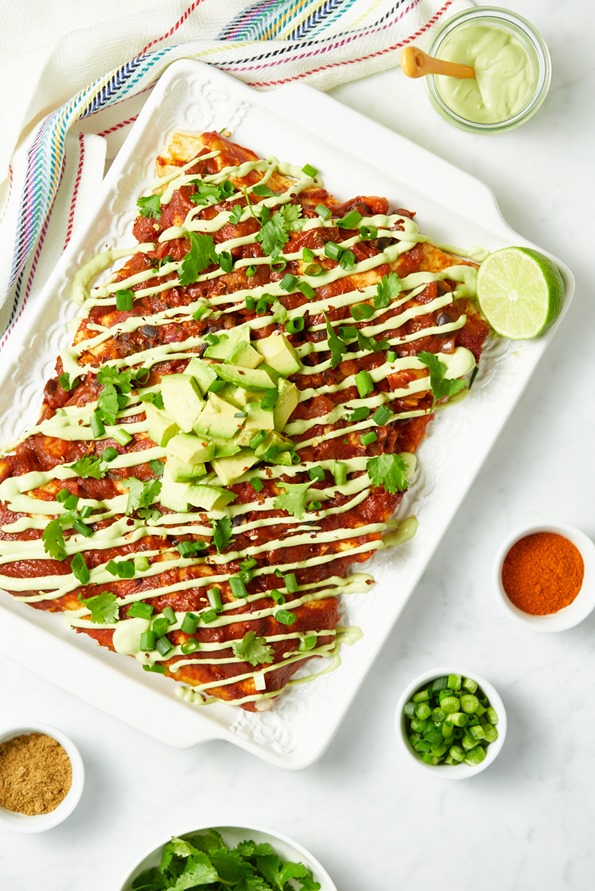 Before I get to this insanely delicious recipe, I want to let you know what I've been up to this month! Some of you have seen on Snapchat that I've been behind the lens each day for a very special photography project—which includes shooting more than 60 brand-new recipe photos! It's been pretty crazy around here and I haven't had a day off in ages, but it's really coming together beautifully. Eric even helped me create a dedicated photography space in our empty dining room and it's been nice to have a set area to shoot (why did it take me so long to do this?). We're gearing up to share this new project with you late winter, and I appreciate your patience as things will continue to be a bit slower around here as I complete the photography project this month. If you want to see all the behind-the-scenes action, follow along on Snapchat (username: angelaliddon).
I'm also happy to announce that we're gearing up to kick off a brand-new newsletter! It's going to be packed with all kinds of beautiful photos, recipes, life updates, tips/tricks, and sneak peeks/insider info (such as on the aforementioned project!). Since it has been so long since I sent out a newsletter (probably 1.5 to 2 years), we're starting fresh and asking you to sign up again. This is because we want to make sure our subscribers truly want to receive our newsletter; the goal is to connect with you in a meaningful way — not to spam unsuspecting inboxes! I'm all about quality over quantity. Once you've signed up you will get an email asking you to confirm your subscription, and you'll need to click the link to activate the fun. The first newsletter is expected to go out this month with a special Valentine's Day theme (va va voom!), so keep your eyes peeled! Sign up here:
[mc4wp_form id="73540"]
For those of you who have been asking if my next cookbook has a release date, I'm thrilled to tell you that it will release on September 6, 2016. Not too long to go now! You can now pre-order the book in Canada via Amazon.ca and Chapters/Indigo (many more retailers to come). We don't have a cover yet, but of course I will share the preview with you as soon as I can!
As you can see there are a lot of fun things coming up in 2016. More on all of this very soon…
This recipe is honestly one of my favourite entrees in a very long time and I'm so excited to share it with you. This is the recipe to make when you want to blow your friends and family away. Trust me on this one. It's a spin-off of my favourite vegan enchilada recipe from way back in 2011. Why the heck has it taken me so long to make another? Well, to be honest, I didn't think I could improve upon that recipe, but I was wrong…very wrong. This version is even more flavourful, satisfying, and robust thanks to the addition of smoky roasted red peppers, umami-rich sun-dried tomatoes, and my favourite homemade enchilada sauce. I top it all off with a decadent cashew cream that's flavored with cilantro, garlic, and lime. Yowza. This is winter comfort food at its best!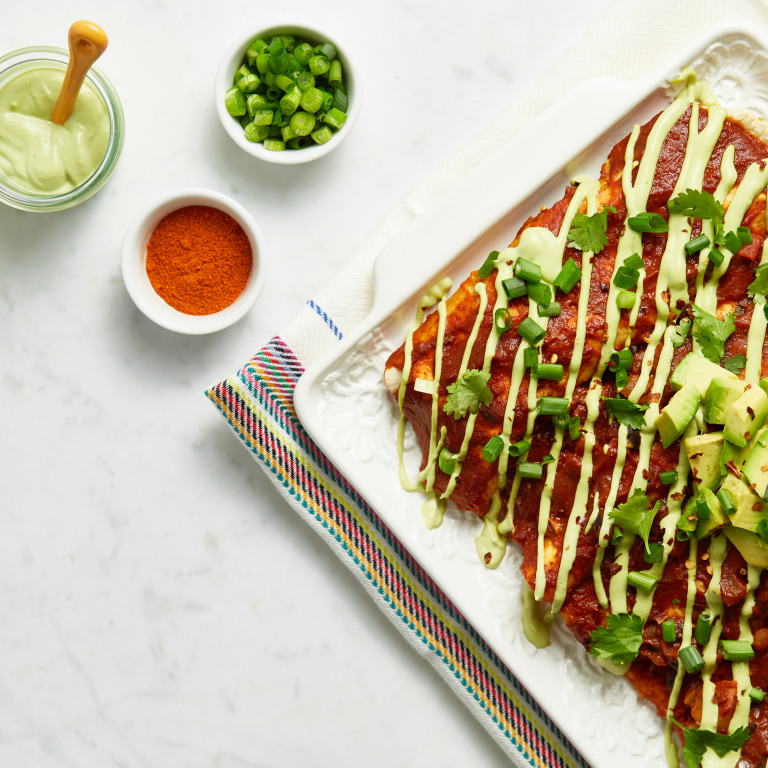 Next Level Vegan Enchiladas
Vegan, refined sugar-free, soy-free

Yield

6 large enchiladas
Prep time

Cook time

Total time

These mild- to moderate-heat enchiladas will change your life! A delicious homemade Enchilada Sauce smothers a sweet potato, roasted red pepper, sun-dried tomato, and black bean filling wrapped in soft tortillas. After baking, I top it all off with a decadent Cilanto-Lime-Garlic Cashew Cream, green onion, cilantro, red pepper flakes, and chopped avocado. This dish will blow your taste buds away, I can promise you that! Please note that the prep time includes making the enchilada sauce and cashew cream in addition to the enchiladas. Yes, it's a labour-intensive recipe for sure, but you can save time the day of by prepping the cashew cream and enchilada sauce the day before.
Ingredients
For the enchiladas:
2 cups (260 g) peeled and chopped (1/2-inch dice) sweet potato
1 tablespoon plus 1 teaspoon extra-virgin olive oil
1 medium red onion, diced (2 to 2 1/2 cups)
3 large garlic cloves, minced
1 cup jarred roasted red pepper, drained and chopped
1/2 cup oil-packed sun-dried tomatoes, drained and finely chopped
2 cups baby spinach, roughly chopped
1 (14-ounce/398 mL) can black beans (about 1 1/2 cups), drained and rinsed
2 1/2 cups Homemade Enchilada Sauce (1 batch)
1 tablespoon fresh lime juice
1 teaspoon chili powder
1 teaspoon ground cumin
1/2 teaspoon fine sea salt, or to taste
5 to 6 medium/large soft tortilla wraps
For the toppings:
Chopped green onion, red pepper flakes, avocado, and cilantro
Directions
Prepare the Homemade Enchilada Sauce and soak the cashews for the Cilantro-Lime-Garlic Cashew Cream before you begin.
Lightly grease a large rectangular baking dish (at least 8x12 inches). Set aside.
Add the chopped sweet potato into a medium pot of water and bring to a boil. Reduce heat and simmer for 9 to 15 minutes, uncovered, until fork tender. Drain and set aside. You can also steam the potatoes until tender, instead of boiling.
In a large skillet, stir together the oil, onion, and garlic and sauté over medium heat for around 3 to 5 minutes until the onion softens. Season with a pinch of salt and pepper.
Preheat the oven to 350°F (180°C).
Add the chopped roasted peppers, sun-dried tomatoes, cooked/drained sweet potato, spinach, and black beans. Cook for 3 to 5 minutes over medium-high heat, until the spinach is wilted.
Stir in 1/4 cup plus 2 tablespoons of homemade enchilada sauce, followed by the lime juice, chili powder, cumin, and salt. Adjust seasonings to taste, if desired.
Add 3/4 cup of Enchilada Sauce onto the bottom of your casserole dish and spread it out evenly.
Scoop 3/4 cup of the sweet potato and black bean filling onto each tortilla. Roll up the tortilla and place it, seam side down, in the casserole dish. Repeat for the rest. If you have any leftover filling, you can spread it on top of the tortillas. Spread all of the remaining enchilada sauce on top of the tortillas until they are completely covered in sauce.
Bake the enchiladas, uncovered, at 350⁰F (180°C) for 20 to 25 minutes, until the sauce is a deep red colour and the enchiladas are heated through.
While the enchiladas are baking, prepare the Cilantro-Lime-Garlic Cashew Cream.
When enchiladas are ready to serve, add half of the cashew cream into a baggie, snip off the corner, and "pipe" the sauce all over the enchiladas. Alternatively, you can simply spread or dollop the sauce on top of each enchilada. Garnish with chopped cilantro, avocado, red pepper flakes, and green onion. Serve any remaining cashew cream on the side with a spoon.
Tip:
Make it kid-friendly: Omit the cayenne and red pepper flakes.
Nutrition Information
(click to expand)