When we moved earlier this year, we parted with a lot of household and personal items so we could fit into our new space. Parting with stuff also helped us stage the house – less clutter and personal items translates into a more "showable" house and we had a lot of positive feedback from prospective buyers.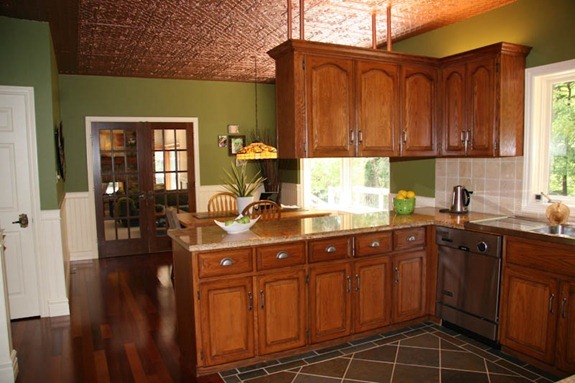 In this case below, we actually had to add furniture and things. It was previously an empty entryway if some of you recall.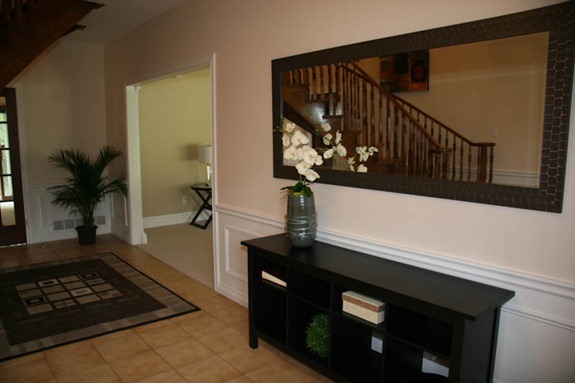 The best way to de-clutter is to do it in waves. Normally, I'd say "just rip the bandage off in one quick motion", but with de-cluttering there really is a mental shift that has to occur over time. We'd go through each room 3-5 times over the span of a few months. Each time, it got a bit easier to get rid of things, and then a bit easier still. It was a freeing experience to finally get rid of things we didn't even know were weighing us down. I was concerned that I would regret giving some things away, but 4 months later, those items haven't entered my mind. I actually can't even remember what we gave away!! I guess that's a good sign that they weren't necessities.
Well, I did think about one donation actually – my juicer! Even though my juicer was looking busted from plenty of use, I still debated whether I would regret giving it away. And I'll admit, a few times this summer it has longingly crossed my mind. Then I remember my kitchen storage situation – and I'm thankful I don't have to find a place to cram it.
The one thing I do not want to ever part with is my blender. I use my Vitamix every.single.day. without fail, sometimes multiple times a day if I'm testing certain recipes. They are costly machines, but when I factor in how much I use it, the quality, and the 7 year warranty, it's worth it for me. I even use it in the colder months – it's great for blending soups and sauces (think Butternut Squash mac and cheeze) and I still like to get my smoothie fix in the winter, bundled up in a sweater of course.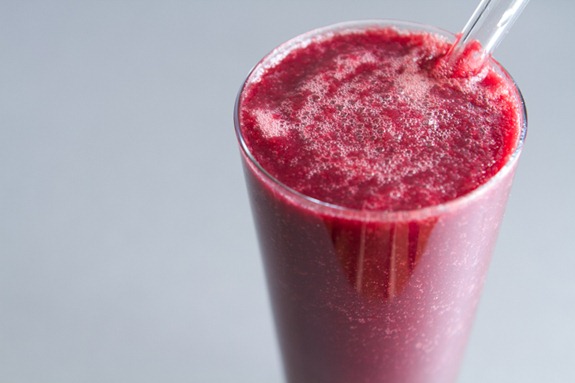 Recently, I heard about making juices with a Vitamix. You blend vegetables in the Vitamix and then strain the liquid through an old pair of tights, nut milk bag, or cheesecloth. This strains out the fibre from the juice, much like a traditional juicer would (Ange has a great tutorial here).
The one thing I never liked about juicing was all the leftover pulp. I would sometimes use it in soups or my vegetable garden compost, but there were many times when I couldn't find a use for it. I like the idea of using a Vitamix to juice, but to be honest, I can't see myself patient enough to strain the juice each time and then find a use for the pulp. I decided to just try it without straining to see if it was decent enough to enjoy.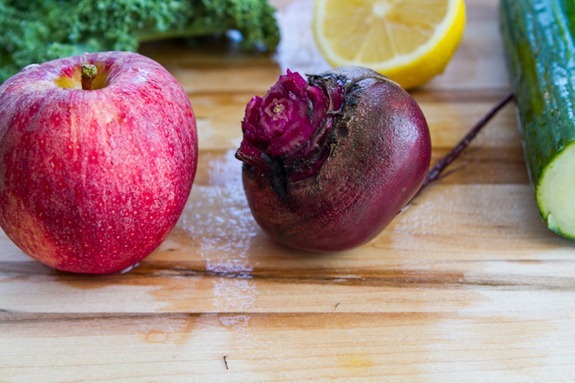 Surprisingly, it was decent! And I got hooked on adding all kinds of veggies into the blender. My vegetable consumption has gone way up by adding one of these drinks in a day and I love that I'm still getting all the fibre. It's hotly debated right now whether smoothies or juices are better for the body, but I think both have their place in a healthy diet.
I wouldn't recommend this recipe without a heavy duty blender, but if you do attempt it, I suggest blending it on the highest setting for at least a couple minutes. Keep in mind that even with my Vitamix, the texture is still thick (the best way to describe the texture is "foamy") – keep in mind we're blending whole veggies and fruit. If your blender can't get the vegetables smooth, I suggest straining it through a cheesecloth.
I've been making all kinds of veggie combos, but here is an easy one to get started with. It's lightly sweetened with an apple and has a kick of grapefruit in there for a little zing. The bright pink colour is so gorgeous it's hard to believe it's all from 1/2 a tiny beet.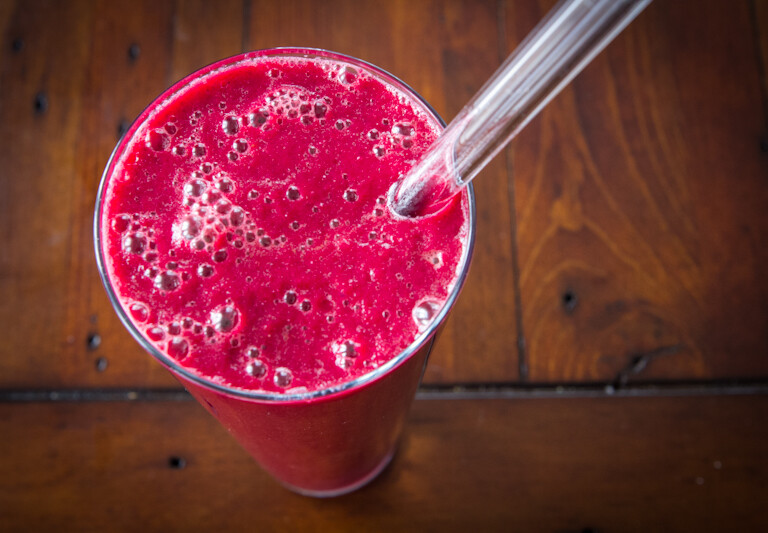 Neon Pink Smoothie Juice
Vegan, gluten-free, no bake/raw, nut-free, oil-free, soy-free

Yield

2.5 cups
Prep time

Cook time

0 minutes
Total time

I call this smoothie juice because it's a cross between a smoothie and a veggie juice. The texture comes out thick and foamy, but you have the added benefits of the fibre in there to move the digestive track right along. These juices aren't overly sweet or filling, so I enjoy them as an addition to a normal breakfast or simply as a refreshing drink on its own.
Ingredients
1/2 English cucumber, peeled & roughly chopped
1/2 small raw beet, peeled & roughly chopped
1 apple, cored & roughly chopped
Fresh Grapefruit juice, to taste (I used 6 tbsp fresh grapefruit juice) or other citrus to taste
3-5 ice cubes
Directions
In a high-speed blender, add the cucumber and blend on low speed to break it up. Now add the beet and apple. Blend, starting on a lower speed, and gradually increase the speed. I used my Vitamix plunger stick a lot to push it down and stir it as it was coming together. If needed, add a bit of water.
Blend on highest speed for 1-2 minutes. Add in citrus juice to taste and about 4 ice cubes. Blend again until smooth.
Serve immediately.
Nutrition Information
(click to expand)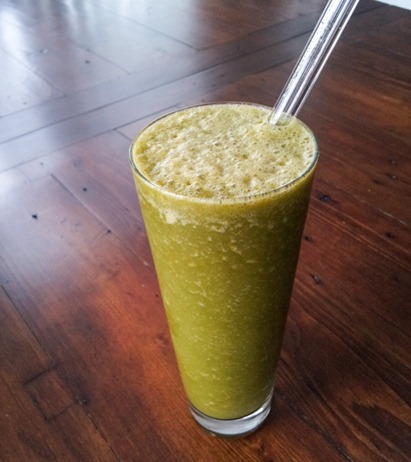 I also make green/brown ones using various things like kale, cucumbers, avocado, celery, carrots, oranges, apples, etc. I add in some water if needed to get it going. Sometimes I also throw in a tablespoon of chia seeds for extra nutrition.
They don't always taste amazing, but they sure are quick and make me feel great.