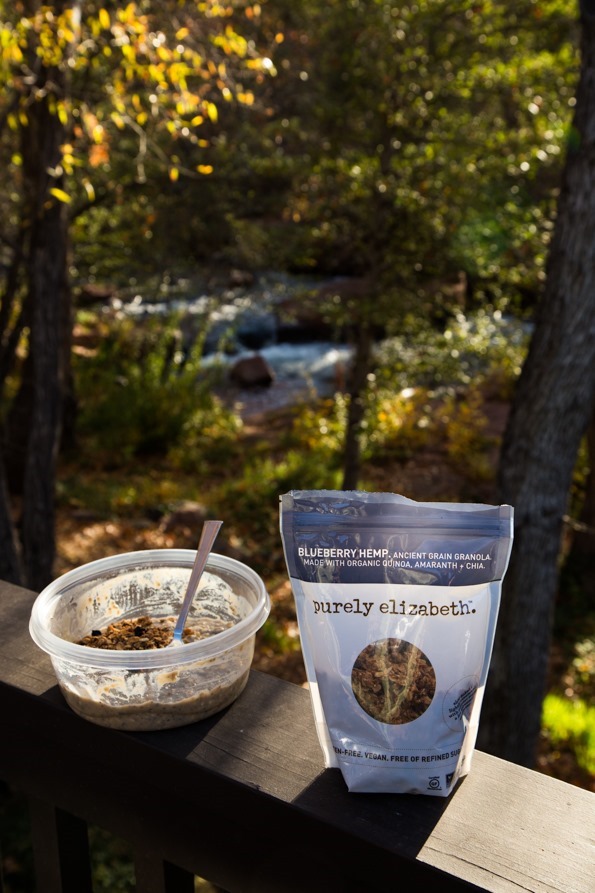 Hello, hello!
This trip was a busy one and our days were packed full with adventures, so I defaulted to Instagram as my "mini blog post" method of choice while traveling. It's a fun way to share little snippets of scenery, people, and food when on the road. Oh, what did we do without Instagram? I just love it. Anyway, we have hundreds of DSLR photos to sift through, but I hope to put together a recap at some point!
For now, I thought I would take a moment to share my go-to breakfast on our travels. We met up with my mom and step dad in Scottsdale and we also spent a couple glorious days in Sedona.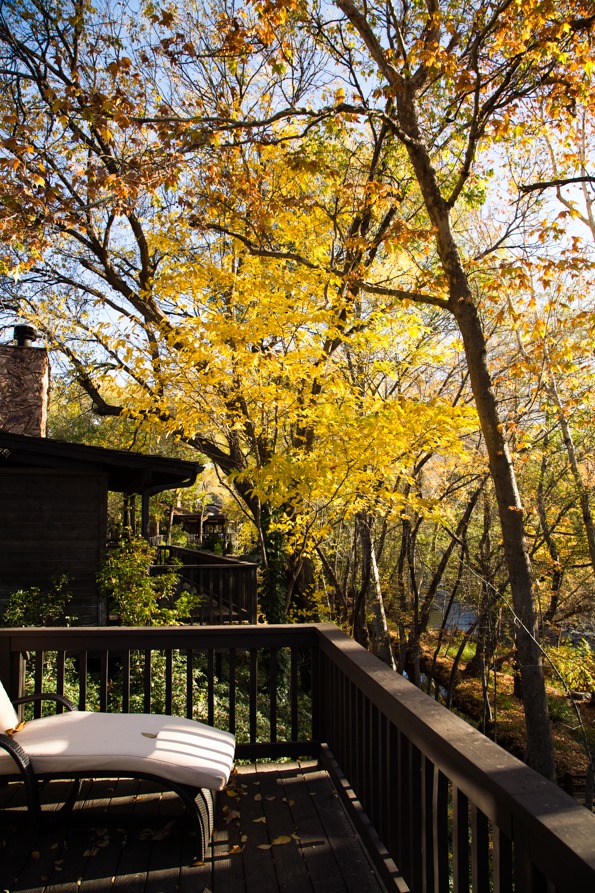 When traveling, Eric and I both prefer to make breakfast in our room before heading out. We're kind of sticklers for having the same breakfast every morning and nothing beats how quick it is, especially because we headed out for hikes by 6am several mornings! I've been on a big vegan overnight oats kick lately and his go-to is always Nature's Path cereal. For this trip, I brought along protein powder from home and then I picked up the ingredients for my current favourite, super-filling bowl of vegan overnight oats. Just prep it at night before bed and it's ready in the morning. Obviously, this breakfast wouldn't work everywhere depending on where you are going, but it's great when it does.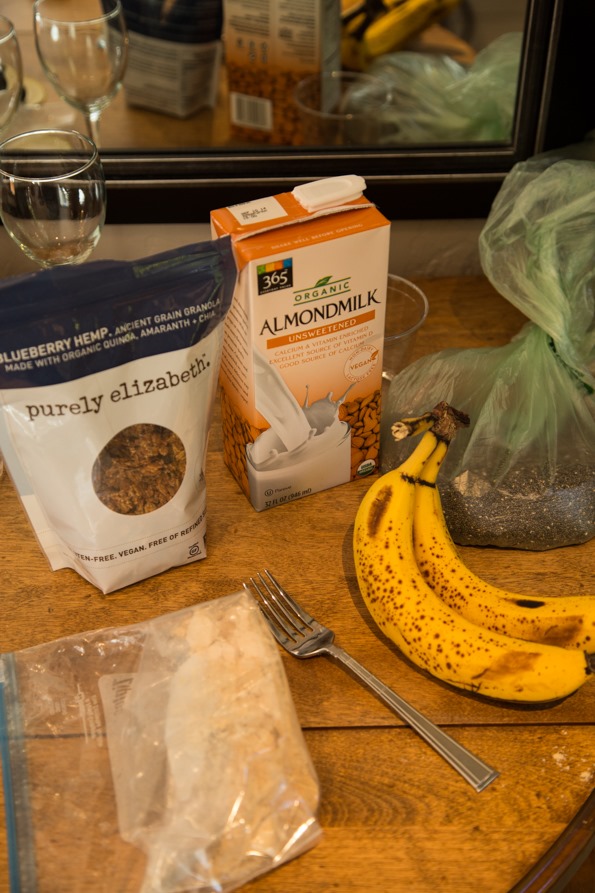 [Missing from the photo above – oats]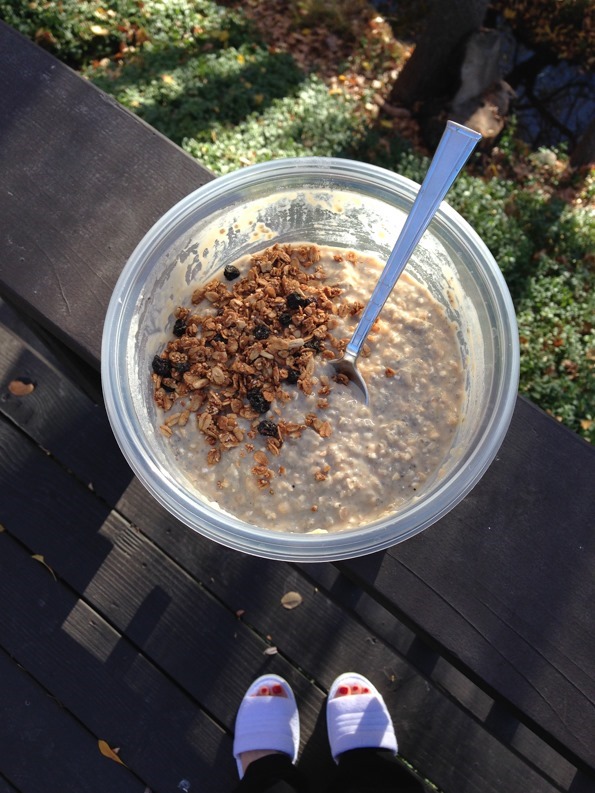 While I was taking pictures of my breakfast on the deck, I kept the door to the cabin ajar and a tiny lizard made its way into our room!!! Rookie mistake. hah. We found this little guy baking on a window in the sun. So cute.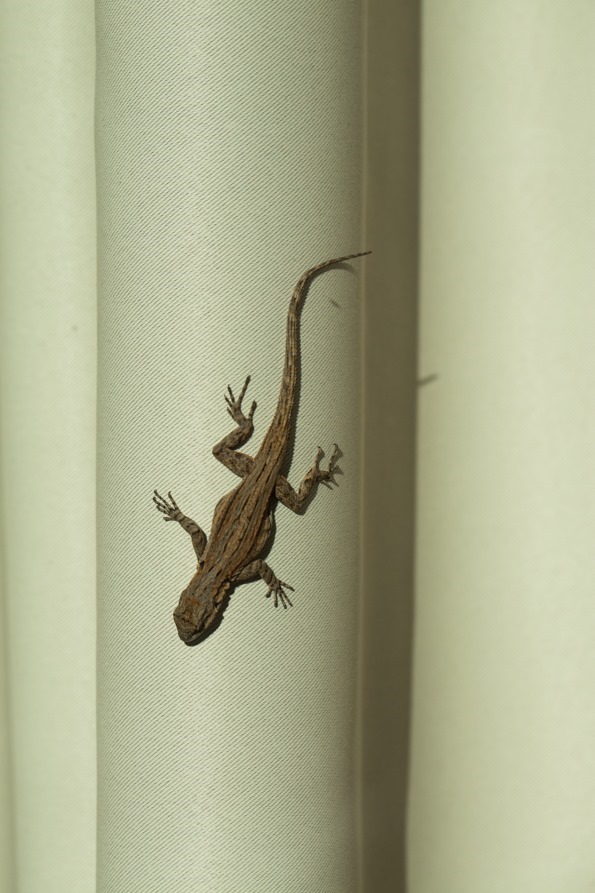 I also picked up some granola for breakfast and hiking fuel, and it ended up being my favourite store-bought granola of all time. Have you tried this purely elizabeth brand yet? I haven't seen it in stores near me, so I'm going to have to recreate this at home. It's chock-full of good ingredients like coconut oil & coconut sugar, sunflower seeds, quinoa flakes, and I also think this flavour is nut-free (but made in a facility that uses nuts, FYI).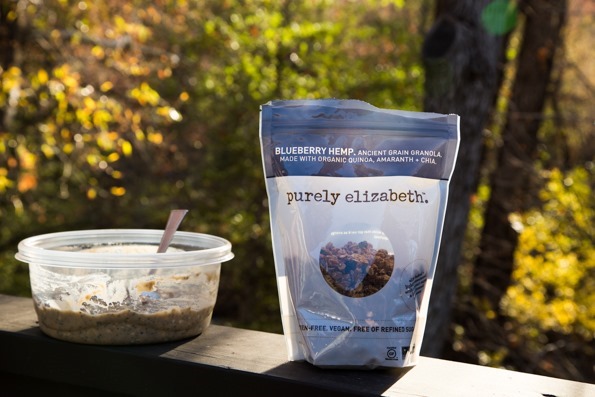 Protein-Packed Vegan Overnight Oats

Yield

1 large bowl
Prep time

Cook time

0 minutes
Chill time

60
Total time

Just a word of caution: The protein powder in this recipe is not for everyone and it's a taste and texture I got used to with time. My advice is to start off with a small amount of protein powder and gradually add more as you get used to it. The flavour will differ dramatically based on the brand you use. Try something quite neutral. I use Sunwarrior Warrior Blend Natural. The other option is just to omit the protein powder all together. Also, feel free to add sweetener if the oats aren't sweet enough for you. I did a rough calculation and my bowl has almost 25 grams of protein and it keeps me going all morning long!
Ingredients
1 very large ripe banana
3 tablespoons chia seeds
1 scoop protein powder of choice (I use Sunwarrior Warrior Blend Natural), optional
1/3 cup gluten-free rolled or quick oats
1 cup water (or almond milk)
1/3 cup almond milk (or more water in a pinch, but it won't be as creamy)
granola or fresh fruit, for topping
Directions
In a medium bowl, mash the banana until mostly smooth.
Stir in chia seeds followed by the protein powder (if using) and oats. It will resemble a very thick paste.
Whisk in the water/almond milk with a fork, until smooth and no clumps remain.
Place in the fridge overnight or for at least 1-2 hours, until the oats are soft and the mixture is thick.
Serve with a sprinkle of granola and fresh fruit, if desired.
Tip:
This breakfast is the perfect healthy fuel for hiking trails, climbing mountains, and early morning sunrise adventures. I love knowing that I start off the day with a balanced breakfast just in case we end up having a late lunch.
Nutrition Information
(click to expand)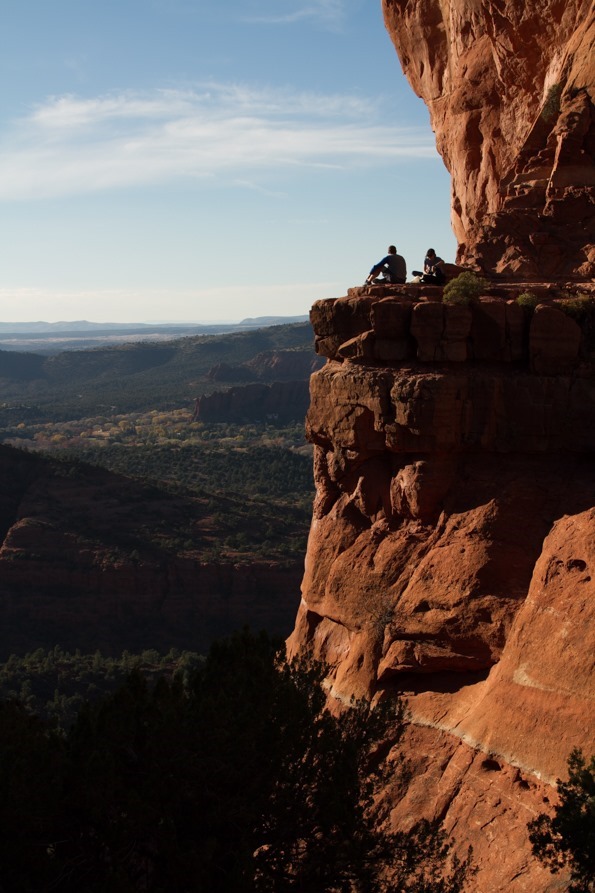 Yes, this girl who is scared of heights sat on that very mountain edge! Don't tell my mom. I promise it wasn't as bad as it looks in the photo! hah.
All good things must come to an end, I suppose. I have a second pass of my book editing due shortly, so I best get back to reality and start digging through email. I'm hoping to post another Thanksgiving/holiday recipe inspired by this incredible meal I had at True Food Kitchen the other day. Here's hoping it turns out as good or even better!
See you soon.