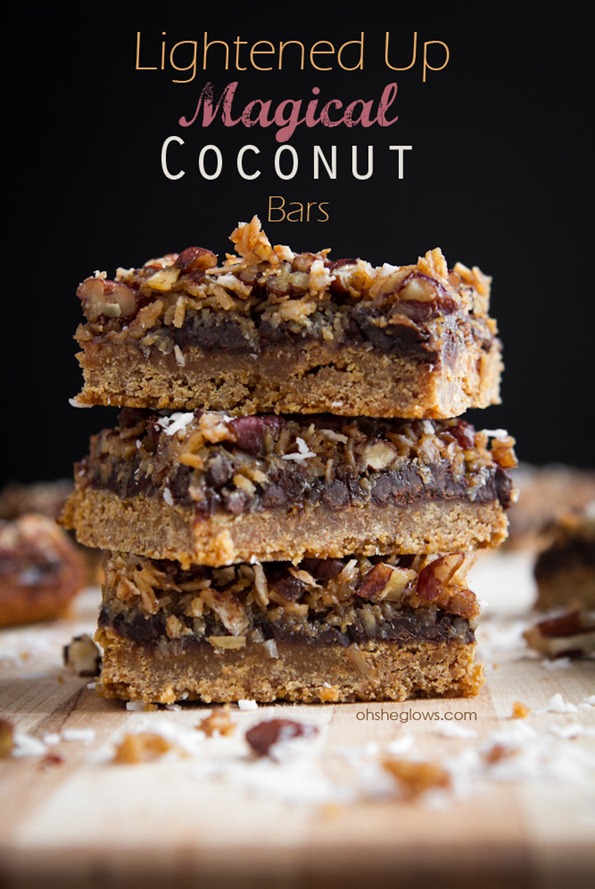 Magical Coconut Bars were always one of my favourite dessert squares growing up, next to Nanaimo bars. In my younger mind, the sweeter the dessert, the better. The words "too sweet" just weren't in my vocabulary back then.
Fortunately, for my body (and cavity-prone teeth) I outgrew this mindset, embracing lighter, slightly earthier versions of my favourite desserts. It's amazing what the taste buds can adapt to with a little time and patience.
Luckily for these lightened up bars, no patience was required for my taste buds. It was love at first bite!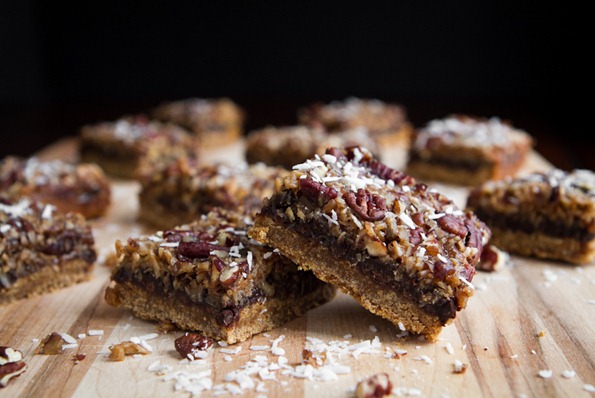 Here are some of the swaps I made:
– coconut oil instead of butter, plus a reduced amount
– unsweetened shredded coconut instead of sweetened coconut flakes
– unrefined coconut sugar instead of processed white sugar
– homemade condensed light coconut milk instead of a can of sweetened condensed dairy milk
– reduction in the amount of chocolate and coconut
I really wasn't sure how they would turn out given all these changes, but the outcome was just right – decadent, but still light tasting, or at least that was the consensus in the group. I really can't imagine these any sweeter than they already are.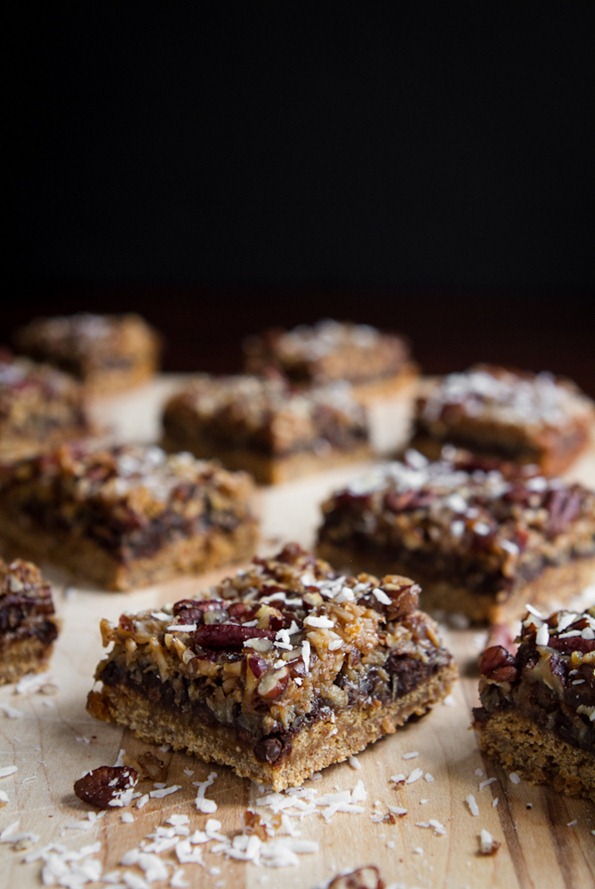 I took some step-by-step photos to show you how easy (and fun) they are to make!
1. Make graham cracker crust & push down hard. 2. Pour on homemade condensed coconut milk.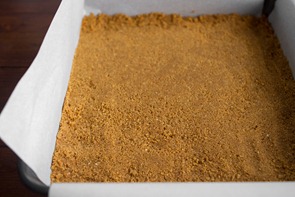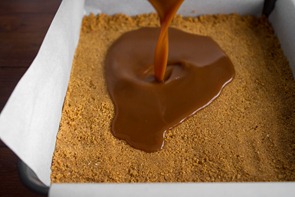 3. Sprinkle on chocolate chips. 4. Followed by shredded coconut.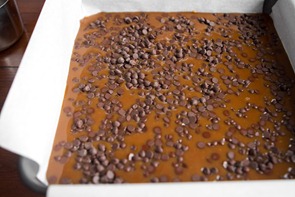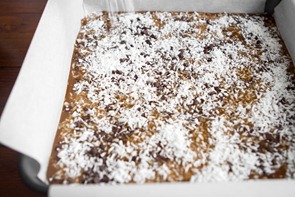 5. Chop pecans and sprinkle on top. Press mixture down with hands and bake for ~30 minutes.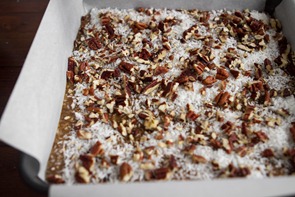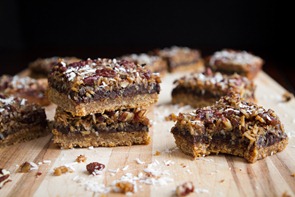 The hardest part is waiting for the bars to set! Most recipes say to chill the pan overnight before slicing (is this even possible? hahah) or chill in the fridge for a minimum of 4 hours. Being the patient person I am, I shoved these bars straight into the freezer. A mere 2 hours later, I was enjoying my first square which sliced perfectly. Freezer for the win!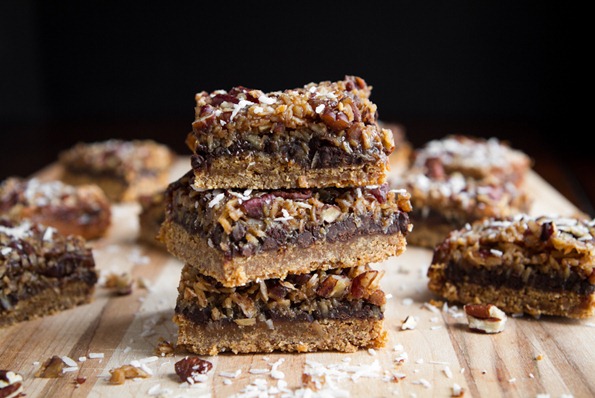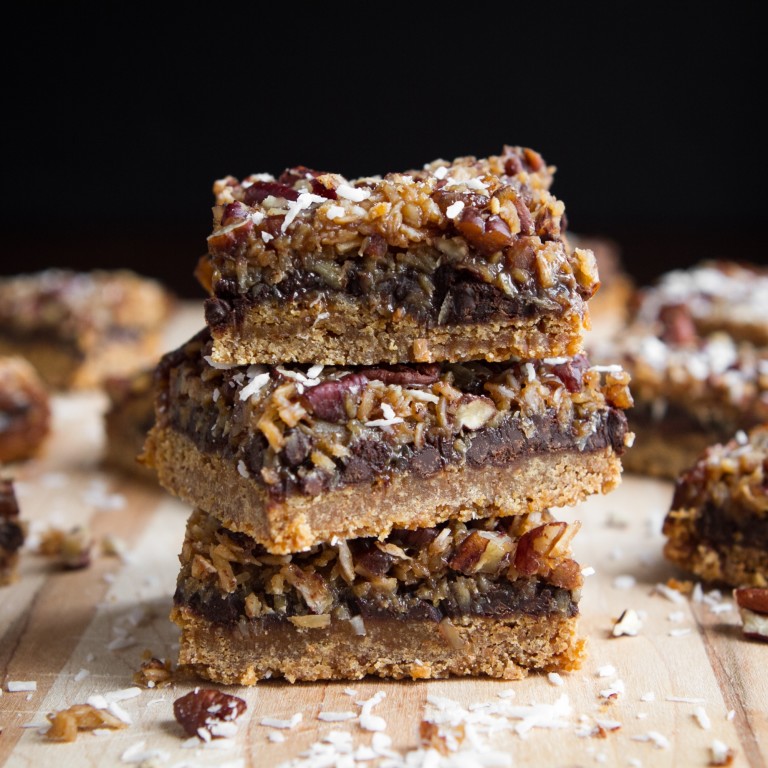 Lightened Up Magical Coconut Bars

Yield

20 Squares
Prep time

Cook time

Chill time

2 hours
Total time

While these are lighter than some traditional magical coconut bar recipes, they are still quite decadent, so I prefer to serve them in small squares. A little bit goes a long way! We also found that the bars tasted better the next day, possibly because the flavours have time to settle. Make sure you really push the graham crumbs down firmly into the pan. This is key if you want the crust to hold together well. See my substitution notes below and be sure to read the entire recipe before starting. Adapted from Post Punk Kitchen.
Ingredients
1 can light coconut milk
2/3 cup coconut sugar
2 cups vegan graham cracker crumbs
6 tbsp (65g) coconut oil
3 tbsp maple syrup
3/4 cup dairy-free chocolate chips (I used Enjoy Life mini)
1 cup unsweetened shredded coconut
3/4 cup pecans, chopped
pinch of flaked sea salt, for garnish (optional)
Directions
Prepare condensed coconut milk: Preheat oven to 350°F and line a 9-inch square pan with two pieces of parchment paper (one going each way). Add entire can of coconut milk into a medium-sized pot, and whisk in the coconut sugar. Increase heat to medium and bring to a low simmer. Watch closely as it can boil over very quickly! Simmer on low-medium heat for about 12-14 minutes, whisking occasionally, until the mixture thickens slightly. If film develops on the top as it condenses, just whisk it back into the mixture. Remove from heat to cool while you prepare the crust.
Prepare graham cracker crust: In a pot, soften coconut oil over low heat until mostly melted. Add to a mixing bowl along with graham cracker crumbs and maple syrup. Stir very well until thoroughly combined. Spoon graham mixture into prepared pan. Starting at the centre of the pan, press the graham cracker crumbs as firmly as you can, moving outward from the centre. The harder you press the crumbs into the pan, the better the bars will hold together. I used a pastry roller at the end to really pack it all in and I had no problems with crumbling when I sliced the bars.
Assemble: Pour warm condensed milk over the graham crust. Now, sprinkle on the chocolate chips, followed by the coconut, and finally the pecans, evenly over the condensed milk. Press the mixture down lightly with hands until the coconut milk soaks upward into each layer. Sprinkle with flaked sea salt (optional).
Bake in the oven, uncovered, for 27-31 minutes at 350°F (I baked for 30 mins), until the edges are golden. Remove pan from oven and place on cooling rack for about 30 minutes. Now, transfer the pan to your freezer for 2 hours (quick-set method). Or chill the bars in the fridge for a minimum of 4 hours or overnight. When set, cut into squares (thaw at room temp first if removing from freezer). Bars can be wrapped up and left on the counter, or in the fridge or freezer.
Tip:
You can use full-fat coconut milk instead of light.
Coconut sugar can be subbed for any granulated sugar (Sucanat, natural cane sugar, brown sugar, etc).
Two cups of graham cracker crumbs produced a fairly thick crust (see photo). You can probably reduce the amount to 1.5 cups if you want a thinner crust.
You can probably sub non-dairy butter for coconut oil.
I purchased my graham cracker crumbs from Bulk Barn.
Nutrition Information
(click to expand)
I know some of you are probably wondering about a gluten-free version too. You could try using gluten-free graham crackers and processing those in the processor/blender or you might be able to make an almond flour crust. Thoughts? If anyone tries a GF version please leave a note in the comments!