Good afternoon!
How is everyone's first day of Spring going? The sun is beaming today and there isn't a cloud in the sky- how fitting! My mood is always so cheery when the sun is out.
I had a short trip at the mall but it was a huge success. I can't remember the last time when I actually found a top that I liked. I am VERY picky when it comes to shopping and I usually end up leaving empty handed. Today was not like that at all. The first shirt I tried on I bought- that never happens to me.
I had a gift receipt to use at Bebe, so last night I started browsing their online store. I love Bebe's website- they have SO many of their clothes on it! I find many clothing stores don't do this for some weird reason. I don't like many of Bebe's 'club wear' clothes (just not my style), however they do have many unique and beautiful tops and dresses.
I saw this shirt on the Bebe website last night, and fell in love: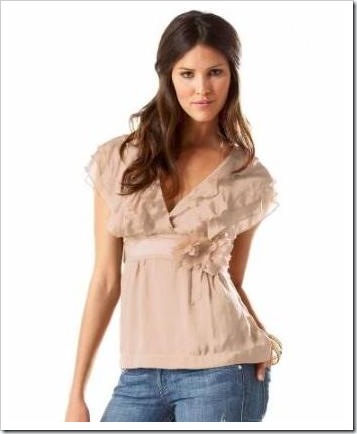 It is feminine and flirty + soft and pretty- and I loved the colours it comes in.
I had an occasion in mind for today's trip: Tomorrow night I am going out for a nice Italian dinner in Toronto with some girlfriends…can't wait! I haven't been out with the girls in AGES.
Other stuff I tried on:
This is the same top as above in white: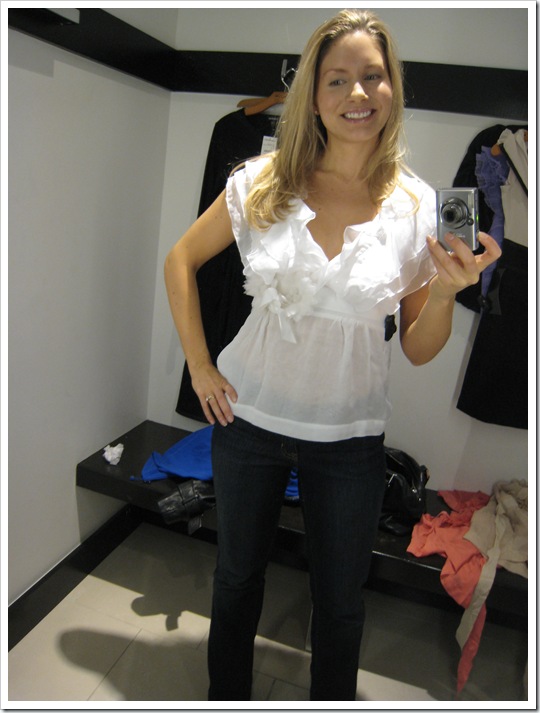 I loved this beige top, but couldn't get past the big flower (that you couldn't remove)…
I kind of like it more now after looking at the pictures. Am I crazy? Or does the flower grow on you? lol. I like the sheer fabric and the halter neckline. I never wear halter styles.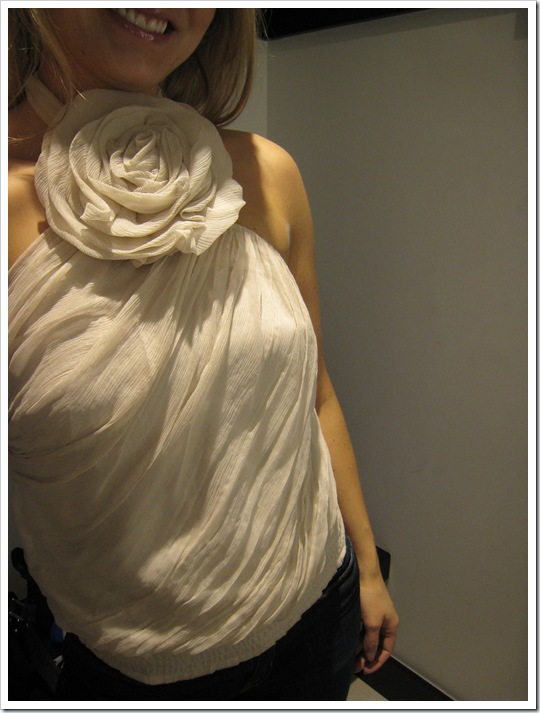 This purple top is not something I would normally try on! So I did today. :) The poof is a little crazy for me, but at the same time I kinda liked it. Reminded me of something Sarah Jessica Parker would wear! So bold!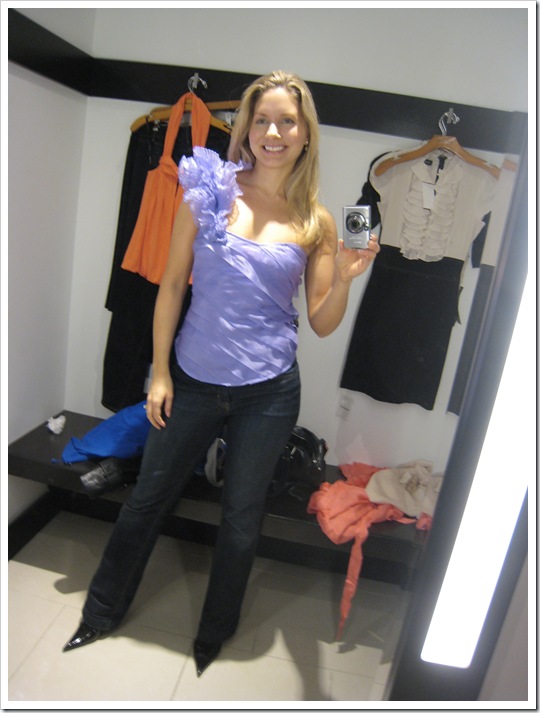 I loved the colour of this top…it was pretty cute but I wasn't sold on it. Orange is definitely my favourite colour. Well that and pink!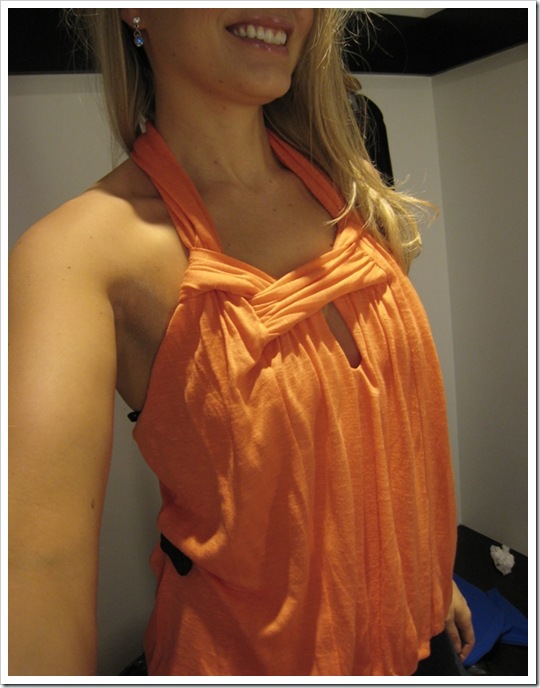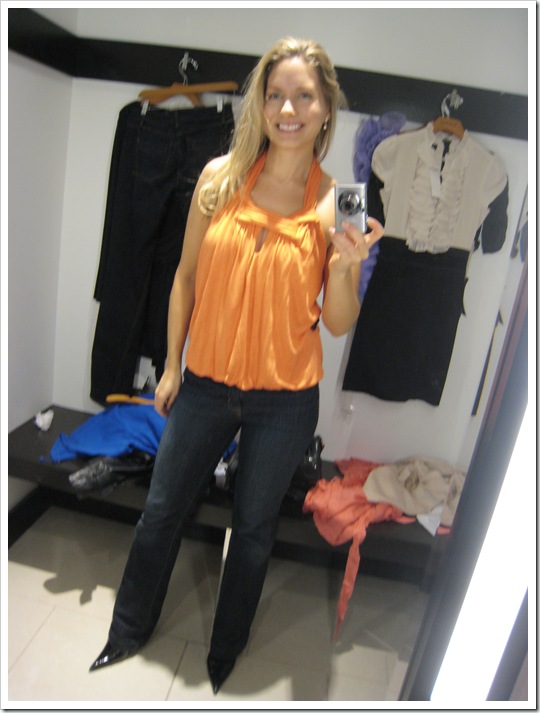 This black top was cute + very slimming, but the cowl neck was HUGE! And this was an extra-small! It scooped down so much you could clearly see my whole chest when I so much as leaned 1 degree forward. Not cool. lol.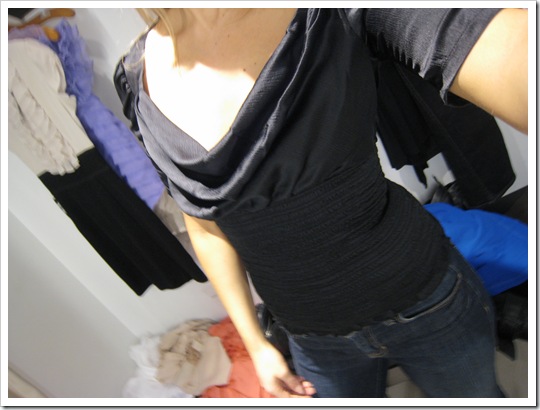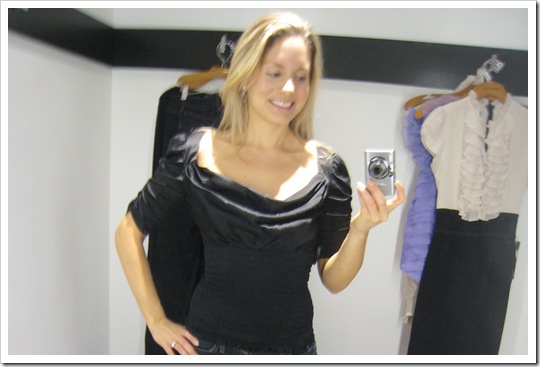 I guess a cowl neck just isn't for me! lol.
The cute dress on the right I liked but wasn't willing to buy. :)
Stay tuned tomorrow for pictures of what I bought! :) I will be wearing it to dinner with the girls.
Question of the Day:
Where did I get the black dress featured in this morning's post?
It is from a US store called Wet Seal. I got it while in Vegas! :) I wish we had this store (as well as Express and The Limited) in Canada!!
Lunch + Work + Sweat:
I am pretty much starving now even after cereal + an apple that served as driving snacks. Not sure what I will make- maybe a stirfry with some Quinoa and my special tomato + avocado sauce??
Also on the agenda- working on the Glo Bakery website as well as a workout!
For my workout today I may rake the leaves outside. We have a huge yard (Almost 2 acres worth) so there is a ton of raking to be done now that spring is here. I might put on my Heart Rate Monitor and see what kind of a workout it really is! Plus, I could enjoy the beautiful sunshine too. :)
Today's Question:
What is your favourite style of top? Sleeveless, strapless, halter, v-neck, one-shoulder, boat neck, cowl neck?
See you later!!! Wishing you a healthy and fit day. :)