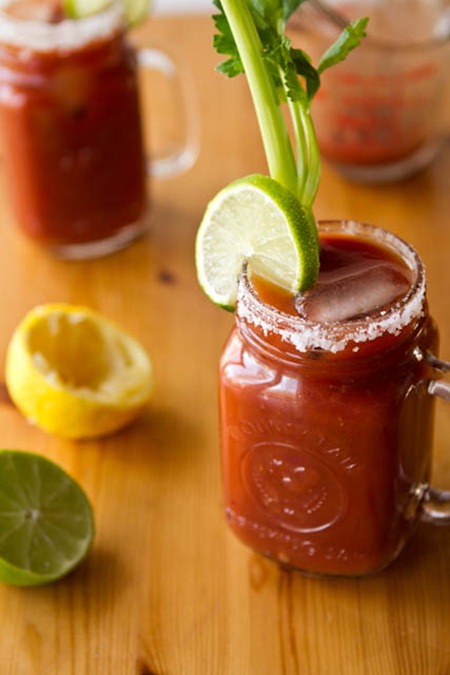 Have you ever had a Caesar or Bloody Mary cocktail before?
Caesar's were my absolute favourite drink growing up- the virgin, non-alcoholic kind, mind you! It was a rare occasion when my family wouldn't have a few supersized bottles of Mott's Clamato in our pantry. If our stock ran out, my sister and I would often fight over who got the last glass. Or, we'd drink so much that my dad would go to make himself a glass and there would be none left for him.
"Did someone drink the rest of the Clamato juice…??"
Uh oh.
"Kristi did it!!!"
We'd pour a huge, celery-salt rimmed glass of Clamato juice, add in some Worcestershire sauce, ice, a few drops of Tabasco, and a stalk of celery. Nothing was better.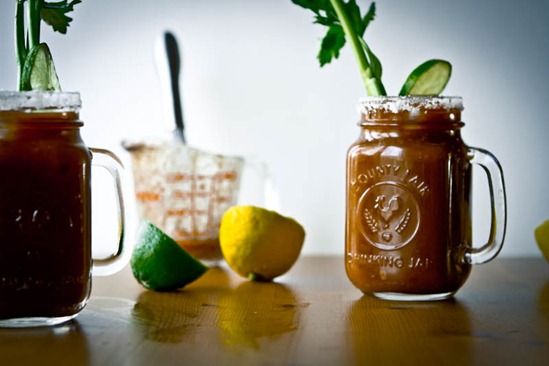 Admittedly, I always thought a Bloody Mary was simply a virgin Caesar with vodka added to it; however, I recently discovered that Caesar's and Bloody Mary's are two different drinks.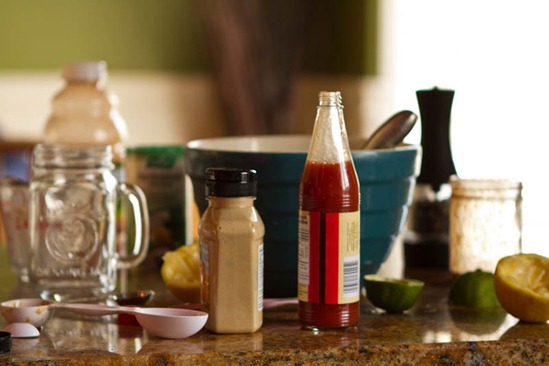 A Bloody Mary is a cocktail that uses tomato juice as the base and includes other ingredients such as vodka, celery salt, Worcestershire sauce, horseradish, olive, cayenne pepper/Tabasco sauce, lemon juice, and occasionally even bouillon. Sometimes instead of celery it's garnished with pickled asparagus or other vegetables. The origin of the drink is unclear and there is dispute over who created it, although many speculate the drink came from the US (1).
A Caesar cocktail, on the other hand, is made up with a base of clam and tomato juice (think Clamato juice), containing similar ingredients like Tabasco sauce, Worcestershire sauce, vodka, celery, and a celery-salt rimmed glass. It's said to originate from Calgary, Alberta in 1969 (2). Walter Chell created the drink for the opening of his new restaurant in Calgary (3).
As you can see, the two drinks are strikingly similar, save for a different base, a few seasonings, and traditional garnishes.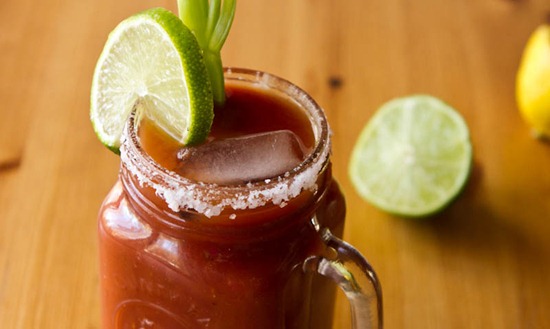 When people ask me what foods were the most difficult to give up when I went vegan, many are surprised when I say "Clamato Juice". But it's true! I used to drink this stuff like water and it only occurred to me recently that I should try making my own vegan-friendly version at home.
My mission started rather abruptly, with a V8 explosion. I opened this bottle a couple months ago, forgot it in the back of the fridge, and was rewarded with this little mess when I opened it. Needless to say, I did not use this sour V8 in my cocktail! The smell of it would make your nose hairs curl. It was just awful.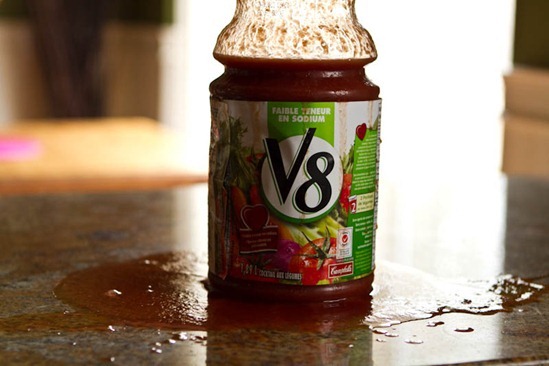 Enter, new, unopened vegetable juice.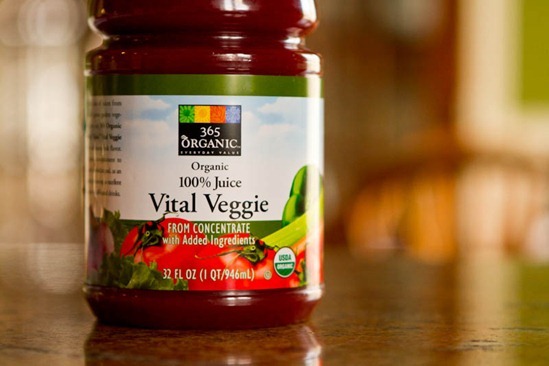 Using this Homemade Bloody Mary recipe from Kristina as a guide, I dumped the juice in a bowl and added the ingredients all to taste.
I suggest you do the same. You may prefer more or less of the seasonings I used. When it tastes good to you, it's done!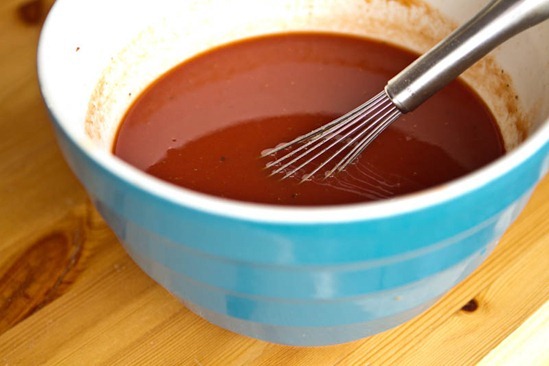 After tasting and testing and adjusting the seasonings (feel free to pretend you're a crazy cool Mixologist), it wasn't long before I decided that my drink was perfect. I also added a pinch of kelp granules to give it a hint of the sea, without the clams.
The mix turned out so similar to my childhood favourite I'm not sure I could pick out the original in a blind taste test. I guess the real test will be making this for my dad when he comes to visit. I predict he will like this version better, but I may be biased. ;)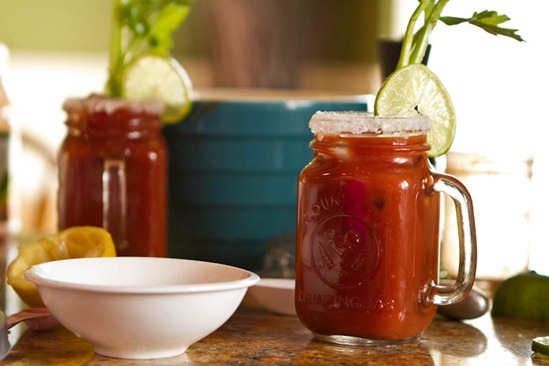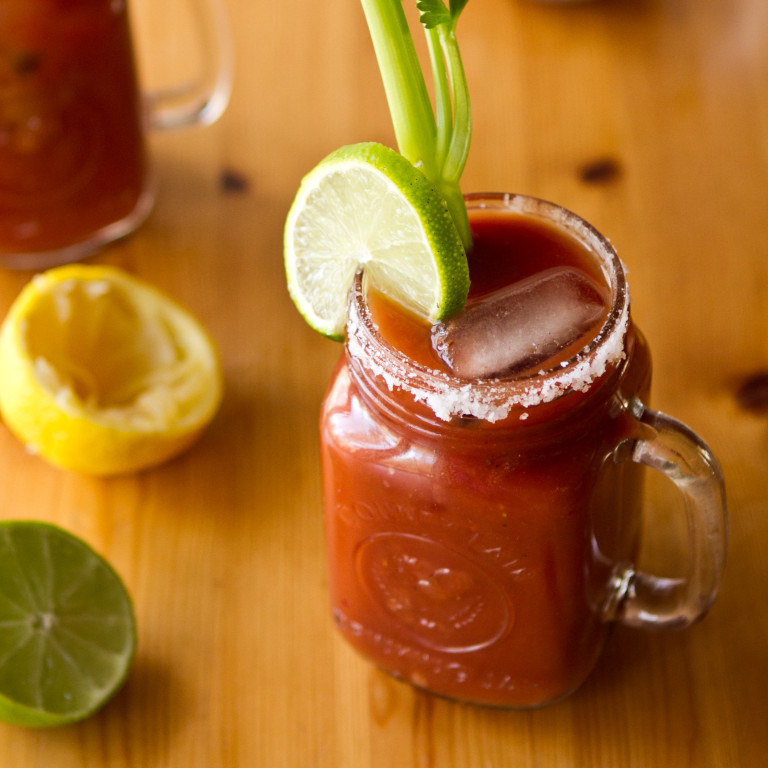 Homemade Vegan Caesar Cocktail
Vegan, no bake/raw, oil-free

Yield

Two 500ml servings
Prep time

Cook time

0 minutes
Total time

Is this a vegan version of a Caesar cocktail or is it an adapted version of the Bloody Mary? I can't decide. Whatever you call it, this is one fantastic drink with a whopping 4 servings of vegetables per 500 ml glass. Be sure to add the seasonings to taste and you can't go wrong. Adapted from Former Chef.
Ingredients
4 cups (32 oz) vegetable juice
1 tbsp Dijon mustard
1-1.5 tbsp vegan Worcestershire sauce (I use The Wizard's brand)
2-2.5 tsp hot sauce, or to taste
4 tbsp fresh lemon juice
3 tbsp fresh lime juice
3/4 tsp celery seed
Sprinkle of Herbamare or kosher salt, to taste
Freshly ground black pepper, to taste
Vodka, to taste (optional)
Kelp granules, to taste (optional)
To garnish: celery salt, lime, celery stalks, ice
Directions
In a large bowl or pitcher, add the vegetable juice. Now whisk in the rest of the ingredients all to taste.
Grab two 500-ml glasses and rim the edge with a lime wedge. Now dip glass rim into a shallow bowl of celery salt. Pour drink into glasses and garnish with a lime wedge, celery stalk, and ice. Serve immediately.
Nutrition Information
(click to expand)
I didn't have any celery salt on hand, so I used kosher salt. I wouldn't really recommend it though, it was more for the photo than anything!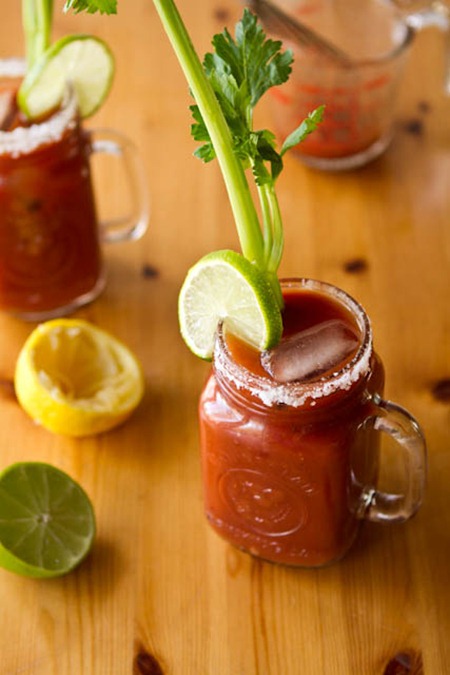 After a tough workout yesterday, this was the best, thirst-quenching drink to happen to my taste buds in a long time!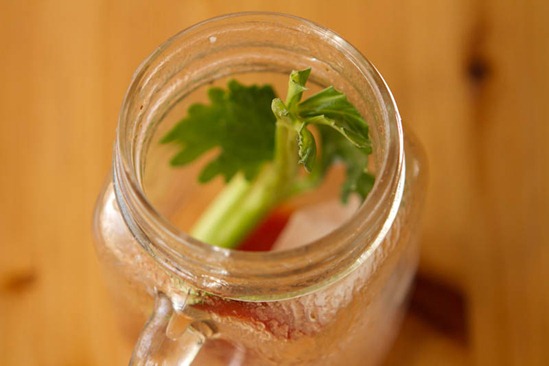 With 4 servings of vegetables per glass, it was also a great way to sneak veggies into my day with minimal effort.