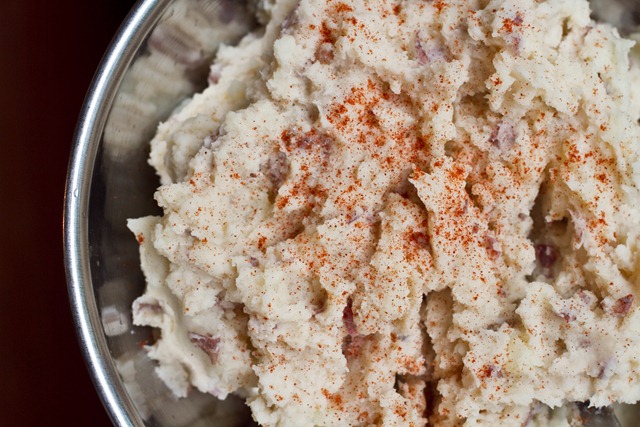 Eric loves mashed potatoes.
I mean, he really loves mashed potatoes.
He has been hinting on a daily basis that mashed potatoes would be a great way to 'use up' our stock pile of red potatoes courtesy of our Plan B CSA.
I said, 'Sounds good, when ya making them?' ;)
I have successfully evaded his hints for the past few weeks as I dreamed about making another batch of Homemade Salt & Vinegar Chips. Who needs mashed potatoes when you can make chips?
It's not that I don't like mashed potatoes. Really I do. I just love them when they are creamy, garlicky, smooth 'n chunky, skins and all. Buttery, salty, piled with salsa or ketchup. It is fun to dress them up.
They are total comfort food.
However, my issue is that by the time I remember to add them as a side dish, it is already too late and I don't have enough time to cook them. I tell myself, 'I will make them tomorrow' and then they get buried under veggies, forgotten about for weeks. Then I start to see snake-like sprouts trying to escape from the crisper and I run in the opposite direction like a little baby.
I also never think to use potatoes as a main dish because they lack protein and staying power.
I vowed to change that by amping up the protein.
Watch out Eric, you better be careful of what you wish for. ;)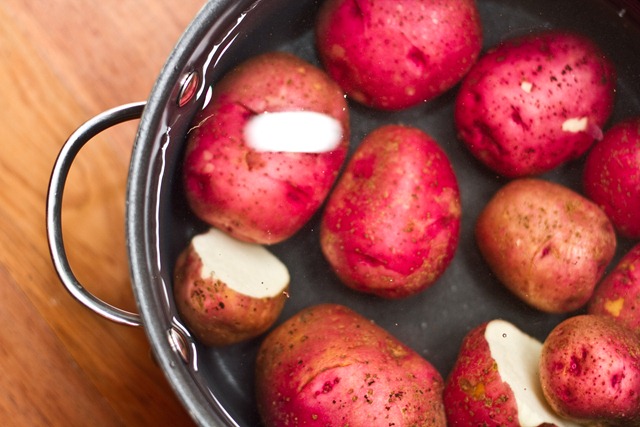 [print_this]
High Protein Garlic Mashed Potatoes
These mashed potatoes have a delicious buttery and garlicky flavour and lots of texture from the potato skins. The boast a whopping 11 grams of protein and 11 grams of fibre per serving. Use them as a main dish by adding some cooked veggies and toppings like ketchup, salsa, BBQ sauce, or buttery spread.
Ingredients:
10-12 large organic red potatoes
3-3.5 cups cooked navy beans (two 15-oz cans)*
1/4 cup soy-free Earth Balance buttery spread
2 tbsp unsweet. almond milk
4-5 large cloves of garlic
1 tsp sea salt
1/4 tsp ground paprika
Freshly ground black pepper, to taste
other herbs and seasoning, to taste
Directions:
1. Wash potatoes with a potato scrubber, chop into large chunks, and toss into a large pot. I prefer to leave the skin on, but you can peel if desired.
2. Fill pot with water until potatoes are covered. Cook on medium-high heat for about 30-35 minutes until fork tender. Drain potatoes and place in a large bowl.
3. Drop in garlic cloves into a food processor (running) and process until finely chopped. Add drained and rinsed beans, salt, paprika, and process until mostly smooth.
3. After cooling potatoes for a few minutes, take a potato masher and mash until desired consistency is achieved. Now add your milk and Earth Balance and keep mashing.
4. Add processed bean mixture to potato mixture and mash until smooth. Sprinkle with black pepper, other herbs, and additional sea salt.
5. Serve with Earth Balance, salsa, ketchup, or BBQ sauce, and a serving of cooked veggies to round out the meal.
Note: You can also swap the beans for 1 cup of red lentils. Simply stir in cooked lentils as you mash the potatoes.
Nutritional Info: (Serves 8). Per serving, approx: 336kcal, 7 gram fat, 11 grams fibre, 11 grams protein, 2 grams sugar.
[/print_this]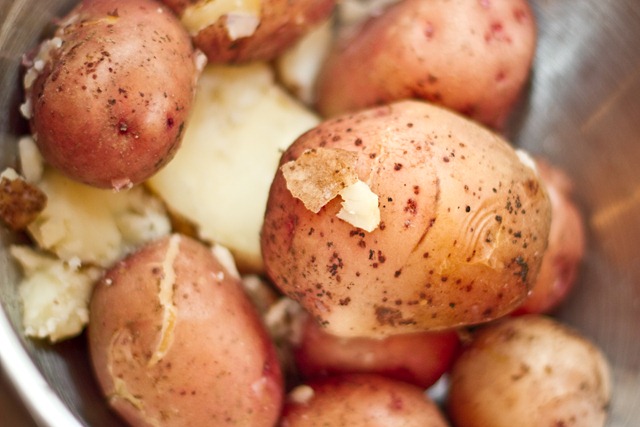 Add some elbow grease and work out those arms! ;)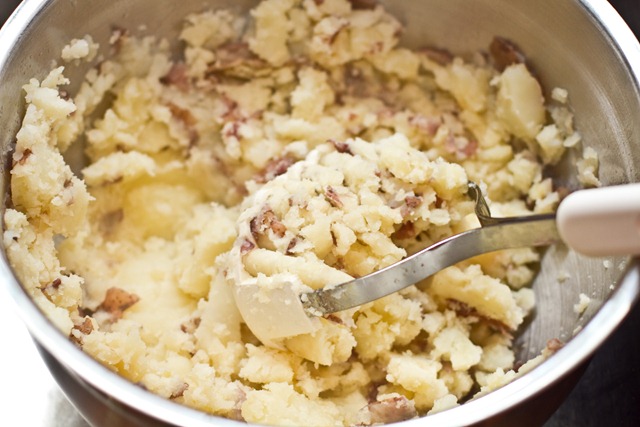 Add almond milk…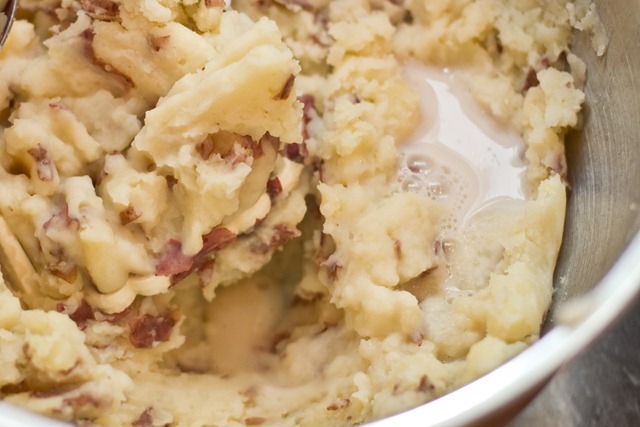 and Earth Balance (or what you have on hand!)…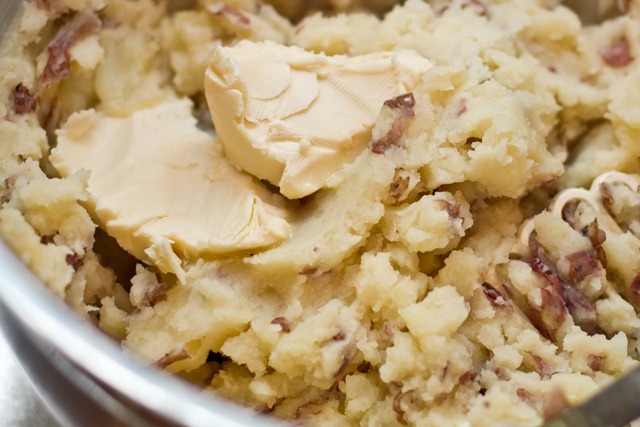 We are huge fans of leaving the skins in the mashed potatoes. It adds a great texture and more nutrients (although I wouldn't suggest leaving the skin on if you use non-organic as potatoes are part of the dirty dozen and are high in pesticides).
Drain beans.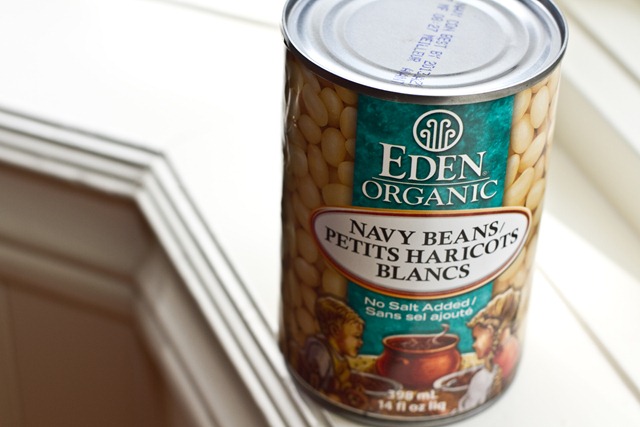 Process 2 cans of navy beans (3-3.5 cups), garlic, salt, and paprika in food processor until almost smooth…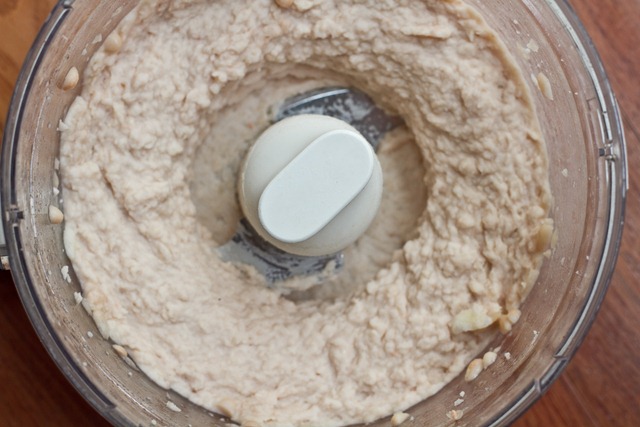 The bean mixture will taste amazing. Spoon some into mouth.
Yum.
Add bean mixture to potato mixture and mash 'em up!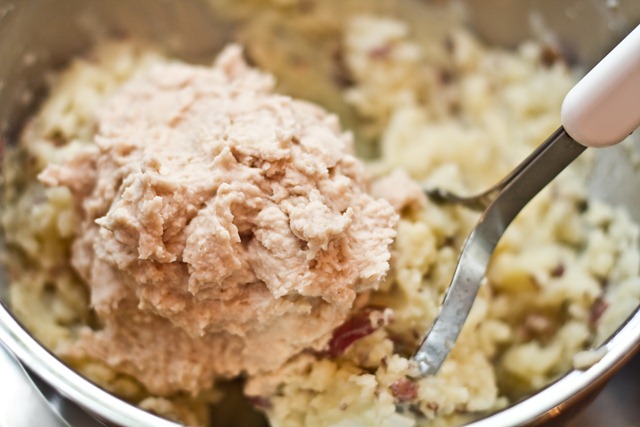 Wheeeee.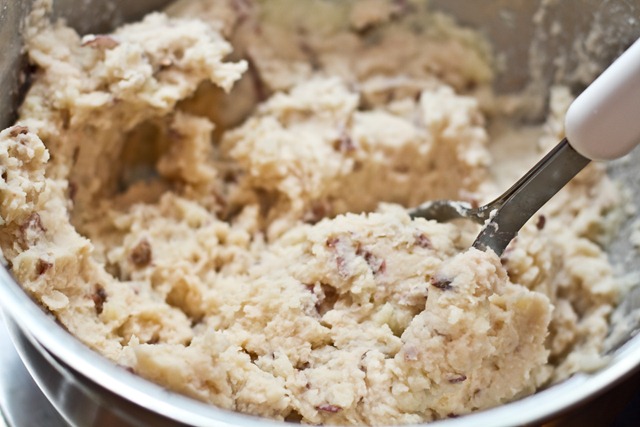 Sprinkle with remaining paprika, black pepper, and more salt.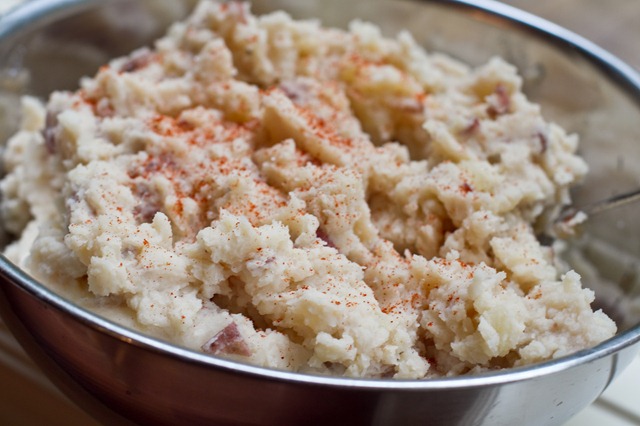 I left them a bit chunky because Eric likes them that way. It's a texture thing when they are too smooth, I guess. ;)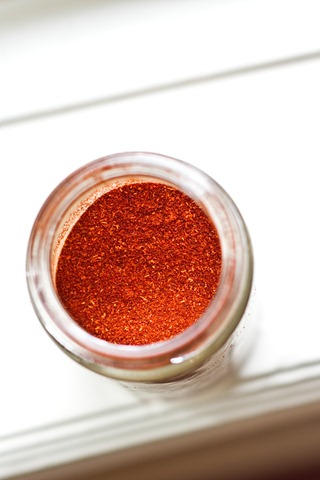 Adding navy beans to mashed potatoes is a great way to make them protein rich and sneak in some nutrition without anyone being the wiser.
They are now high in protein and delicious.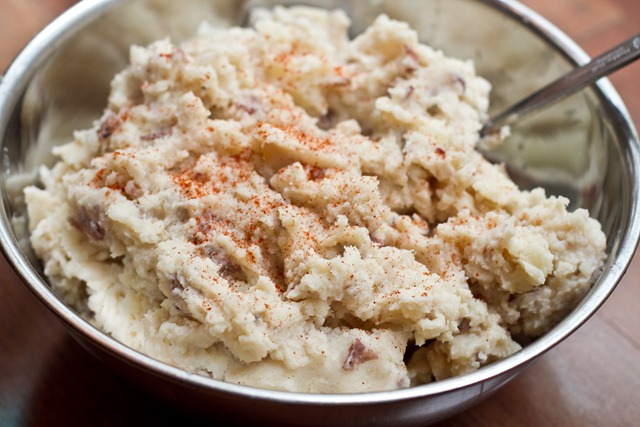 Eric and I used these potatoes as the main dish for our meal. I added some cooked veggies and stirred them in. It was delicious and very filling! Eric thought they were awesome and he had no idea they contained beans! Success.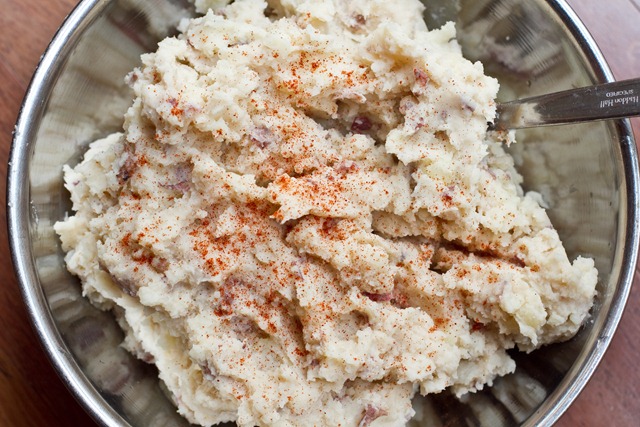 I will see you tomorrow morning. :) I will be talking about what activities I did post-10k race to expedite the recovery process! Enjoy your evening.