Happy (early) Civic day to those of us celebrating! Next up, a delicious guest post from the Culinary Queen, writer, recipe developer, and very-soon-mom-to-be, Emily, from Daily Garnish! Please enjoy her 5 favourite vegan recipes below. I'll be back later in the day with a fun PIZZA how-to post. See you soon! Ange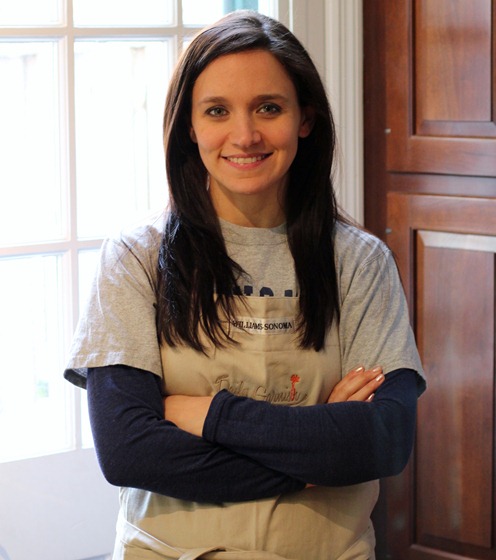 Good morning, Oh She Glows readers! I'm Emily from Daily Garnish, and I'm thrilled to be guest posting on one of my favorite blogs this morning.
My husband and I have both been vegetarians for about three years now, and more recently we've been eating a mostly vegan diet. In just a few years of meatless eating, we have both found ourselves to look better, feel better, and simply live better each day. In 2009 I quit my job in fundraising to go to culinary school and follow a dream, and now I do recipe development and writing as a full time job. It's pretty exciting!
Our latest creation is a baby boy, due this coming October! I've found that pregnancy has only intensified my passion for healthy, meatless eating, and I'm looking forward to spoiling our little guy with delicious vegan treats.
Today I'm happy to share with you a few of my personal favorite vegan recipes – everything from appetizers to soups to baked goods. A little something for everyone. Enjoy!
Strawberry Jelly Surprise Muffins
These are my favorites of all the muffins I've made, and what's great is that you can customize them with whatever fillings you want – different jellies, nut butters, and more!
Spaghetti Squash with Vegan Mushroom Cream Sauce
This is one of my all-time favorite recipes, and one that we make over and over again at my house. Non-vegans will never know that this isn't a real mushroom cream sauce!
Caramelized Onion Mashed Potatoes & Vegan Gravy
You really can't go wrong with mashed potatoes and gravy. Am I right? The caramelized onions take this to a whole new level – a Thanksgiving favorite at our house!
Soup is my favorite thing in the world, and there is something just so comfortable about a creamy chowder. This lightened vegan version of corn chowder has quinoa and beans for a protein punch. Tastes rich but is actually ridiculously healthy – my favorite kind of food!
Healthy Vegan Spinach Artichoke Dip
This is a great thing to make if you're headed to a party and you're worried that there might not be any vegan options available for you. Vegans and non-vegans have both raved about this healthified version of a classic appetizer.
Many thanks to Angela for the opportunity to talk with you guys today. You can find plenty more recipes, and occasional baby talk over at Daily Garnish. Stop over and say hi!