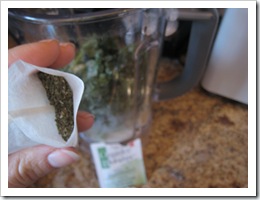 My day got off to a great start and then quickly hit a few pot holes (sounds like my life- haha! I joke, I joke). I started off my morning with an amazing and refreshing green monster.
Today I decided that Peppermint Tea would be utterly fabulous in my green monster.
I was feeling impulsive so I just dumped the entire PC Organic Peppermint Tea bag right into the blender.
Take that I thought!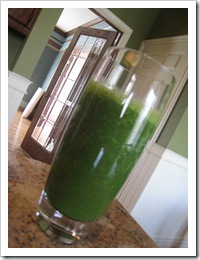 The result was nothing less than pure minty goodness!
I thought that it was going to be too minty since I dumped the whole bag in there, but to my surprise it was just right. It gave the smoothie a nice kick and an edge on the bitter kale.
I will be doing this again and again and I strongly suggest trying it out!
I am also going to experiment with other flavours of tea too. Goji berry, anyone?
Ah yea.

It was about 8:30am, I had my morning OSG post down and I was ready for Part 2 of the sugar cookies. I worked hard on them for 1 and 1/2 hours and then back into the fridge they went. I still have part 3 to do!
The good news is that my hand is getting steadier when I pipe the fine edge of the cookie. The bad news is that I am highly critical of my work. I see others sugar cookies and think that they look amazing but when it comes to judging my own, I am quite harsh. I'm sure my confidence will improve with time!
So it was now around 10am and I was ready to start the next part of my order: Beantween You and Me Brownies.
These brownies are a huge hit and I am sure that they will be one of my top sellers.
The brownies involve MANY steps and many bowls and it is quite the process making them, but the end result is awesome.
If only this was my only problem!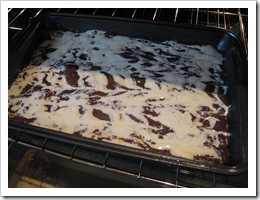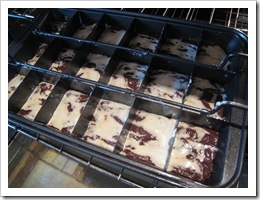 About 5 minutes after I put the brownies in, I realized I forgot to put the separator in. Luckily I slid it in fairly easy. Whew. Pot hole number 1 averted.
They baked about 40 minutes, but while they were baking a black storm cloud hit.
I forgot the flour!!!!!!
Sure, it only calls for 1/2 cup but still. The flour is the key ingredient in a recipe (often!). My heart sunk. Eric slowly backed away preparing for the worst.
I just tried to keep my cool together and hope for the best. When they came out I thought maybe they will be fine.
It was time for lunch and I was really excited about my delicious pita!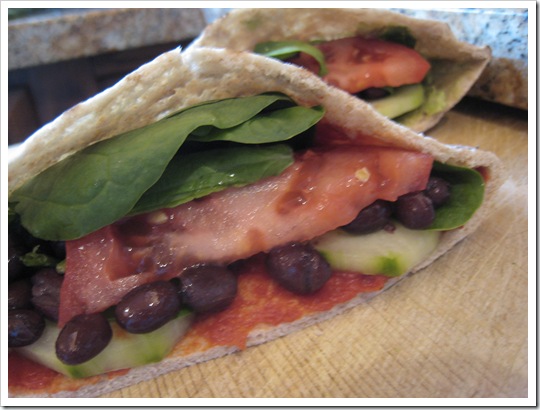 These pita wraps are my favourite. They are high in protein and fibre! Check out these awesome stats: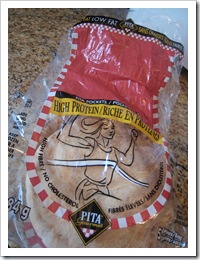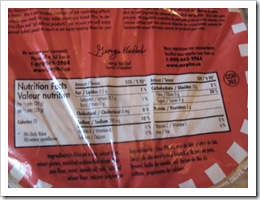 (Click to enlarge)
My pita contained:
Black Beans
1 handful baby organic spinach
2 tomato slices
1/2 avocado
Tomato paste
cukes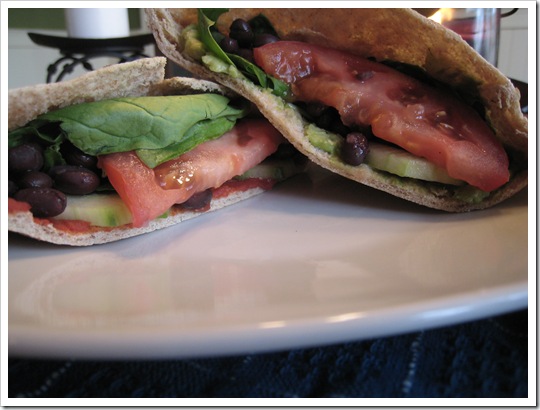 And a Tomato and Cucumber salad with Kraft Light Balsamic Vinaigrette: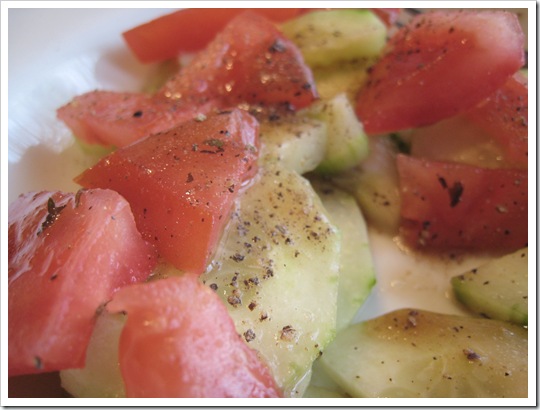 The salad reminds me of our honeymoon. I got these salads frequently while in Greece.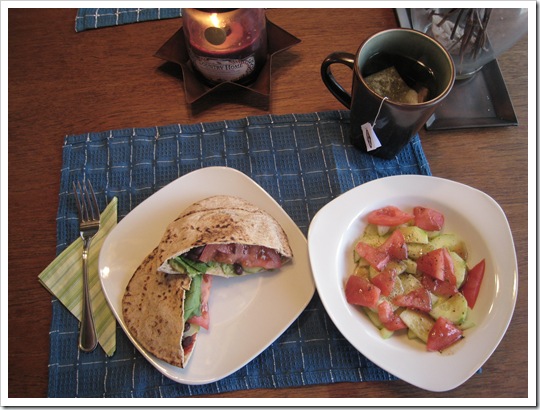 But the brownies weren't ok. They wouldn't even hold together. They were too crumbly, nothing to bind them.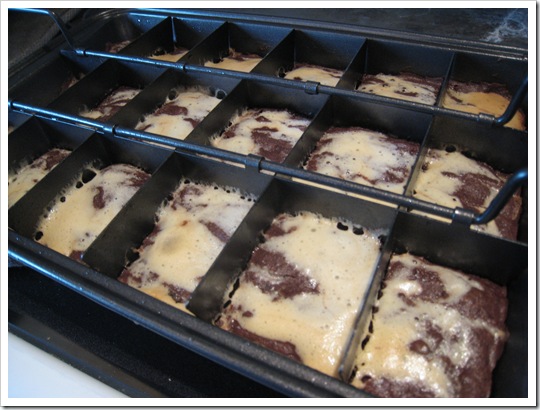 I mean sure they looked pretty, but I knew I would have to make them over from scratch.
And what's a sad baker to do?
I ate 3 of them, that's right! I shoved three of them into my mouth and loved every last bite! Do you really think I was going to throw these out? :)
They were still deliciously tasty even without the flour. It's just a shame that they fell apart!
So I was riding a major glycogen high from the delicious brownies and I was suddenly very eager to run.
I felt like I had carbo loaded before a half marathon or something. The energy was literally seeping out of my veins!

My workout was what I like to call:
The (2)-15-(3)-10-(1)-5-(2)-4-(1)-3-(1)-2-(1)-2-(1) Workout
I dreamed up that bad boy while on the treadmill! Don't your most brilliant moments happen while working out? haha.
Ok, so let me explain this workout!
2 min walking warm-up (4.0 mph, incline 7%)

15 min run (4.6 mph, incline 7%)

3 min walk (4.2 mph, incline 7%)

10 min run (4.6 mph, incline 7%)

1 min walk (4.2 mph, incline 7%)

5 min run (4.6 mph, incline 7%)

2 min walk (4.2 mph, incline 7%)

4 min run (4.6 mph, incline 7%)

1 min walk (4.0 mph, incline 7%)

3 min run (4.6 mph, incline 7%)

1 min walk (4.0 mph, incline 7%)

2 min. run (4.6 mph, incline 7%)

1 min. walk (4.0 mph, incline 75)

1 min run (4.6 mph, incline 7%)

1 min walk
I think that is right!?!?!
Keeping with today's OSG BBBC Challenge, I wanted to try a totally new workout and NEW workout I did!
This workout was amazing. And I'm not even done…
I stopped 3-4 times during my workout, got off the treadmill, and did the following:
Stop 1) 20 pushups (5 hard, 15 easy):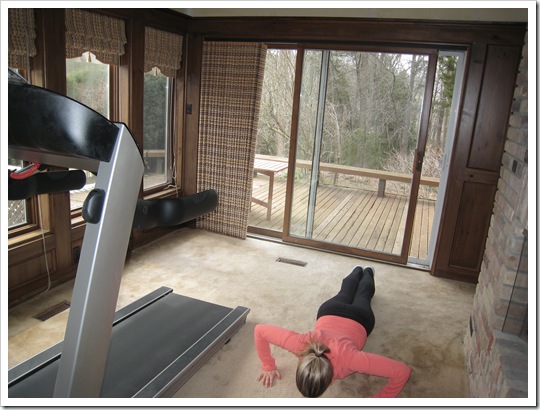 Stop 2) 1 minute Downward dog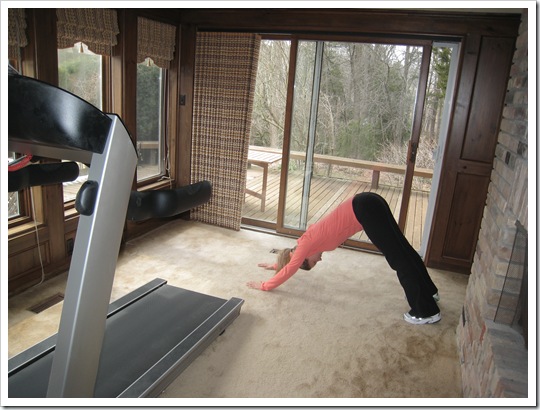 If you can believe it I have seen MAJOR improvements in my flexibility for downward dog since I started the BBBC! I used to be much worse than this. I am really enjoying this 'personalized/custom yoga' that I have been doing lately. It is so much better than videos, in my opinion!
Stop 3) 20 pushups
Stop 4) 1 minute downward facing dog
I cannot say enough how much fun this workout was!! It FLEW by. I honestly urge you to try it out!! It was my most fun workout I have done in ages. I also had the tunes cranked (Britney!) and I just felt happy.
My cranky bad mood was averted for a second time in 1 week.
I think I hit my first runner's high in a long time. About 30-35 minutes into my workout, I felt it! And damn it felt great. :)
At the end of my workout, I decided I wanted to play outside. It is a beautiful day outside, so I grabbed the Oh She Glows photographer (lol) and hit the grass!
Playing in the yard: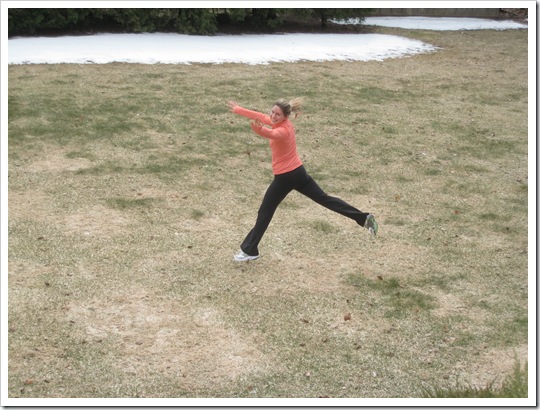 Being silly…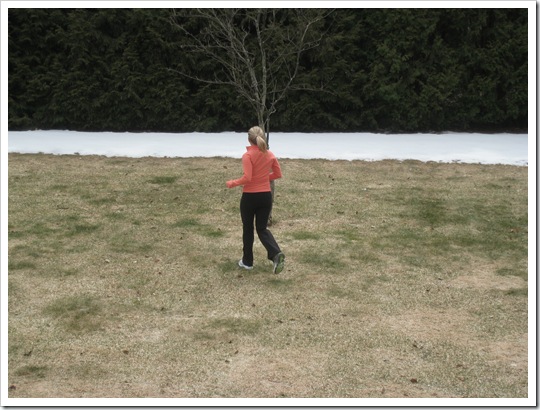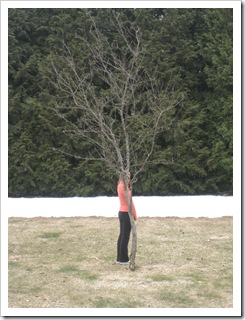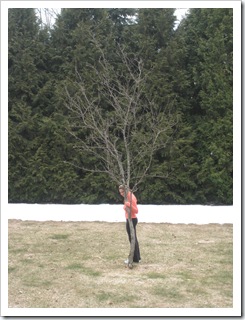 And some stretching: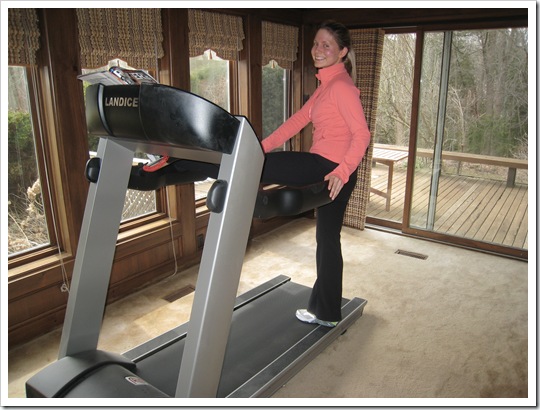 And yes, my face goes RED very easily when I workout! If it's not red at the end I didn't work out hard enough! ;)
Workout stats:
1 hour 2 mins. (included running outside)
Max heart rate: 164 bpm
Avg heart rate: 148 bpm
Feel the burn: 530 kcals (!!!!)
I told you this workout was good! If you want to torch calories and shake it up a little I suggest trying out the The (2)-15-(3)-10-(1)-5-(2)-4-(1)-3-(1)-2-(1)-2-(1) Workout!!
And now for the Yogi Tea quote of the day: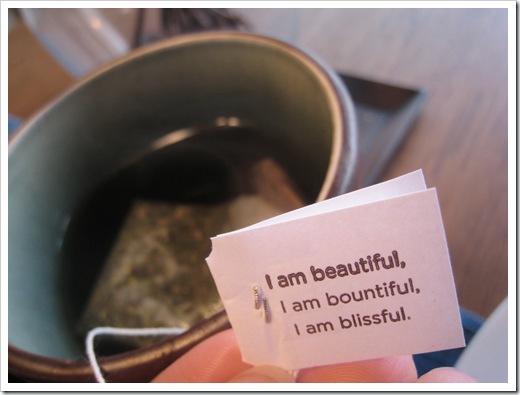 Ok I am officially obsessed with Yogi tea! I must order some online!
Off to re-do the brownies + decorate Part 3 of the cookies…!!! And maybe play in the yard some more!
Wow was that a long post or what!? See you later for the baking recap, my new logo, and our weekend plans.