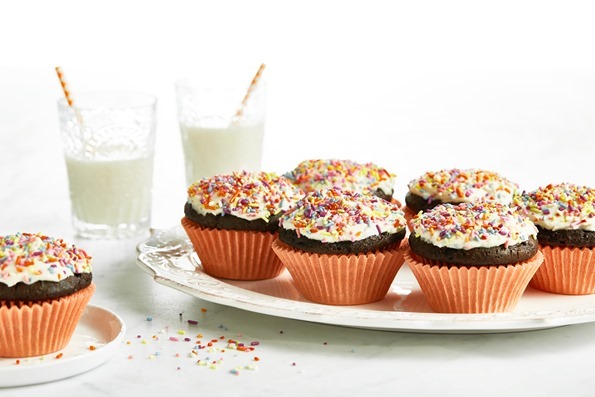 Good morning! I hope your week is going well so far. It has flown by on my end. I'm back with a recipe today, and will be posting my 20 Weeks pregnancy update later today and Friday FAQs tomorrow.
As you may know, I've been busy revamping reader-favourite blog recipes and shooting new photography for the Oh She Glows Recipe App. As I re-test old favourite recipes, I often find myself improving upon them in various ways (such as easier-to-follow directions, better tips, the addition of metric units of measure, or simply by creating something that tastes even better!). I kept saying that I wished there were a way I could share with you guys both what I'm up to and the recipes I'm revamping! Then it dawned on me…well, why don't I just share quick, mini posts doing just that? Initially, I brushed the idea off because I've never done "bite-sized" posts before, but it could be fun. With summer quickly approaching, short and sweet posts might be nice here and there! So why not turn it over to you, dear readers, and see if this is something you'd be into?
Basically my idea is this: I pop in with a mini recipe post sharing a recipe that I've revamped (or, occasionally, a new quick and easy recipe I've added to the app) along with one or two new photo(s). There will be a brief hello/update from me, and then the recipe! Boom. Bob's your uncle. (Wait, do people say that anymore? lol) Anyway, I'd love to hear what you think!
I'm kicking off today with my all-time favourite vegan chocolate cupcakes from way back in 2011. I had a major craving for cake last week (thanks Shari!), so this seemed like the next logical recipe to revisit. I ended up streamlining the written directions/ingredient list, adding metric units of measure (weight/volume), and pairing the cupcakes with a salted buttercream frosting. I also tested a gluten-free version (using Bob's Red Mill 1:1 flour), however I wasn't happy with the outcome (the cupcakes were quite dense). I think I'll have to work on a custom gluten-free flour blend in the future!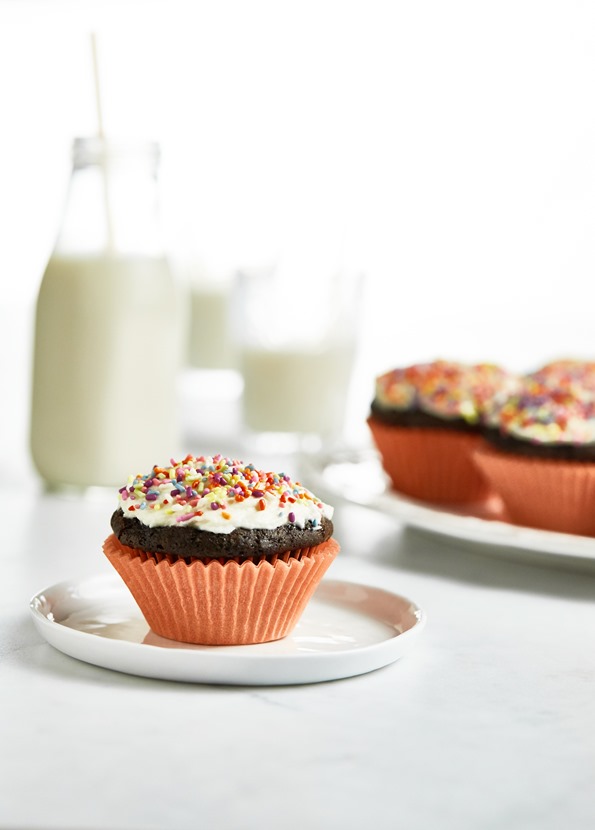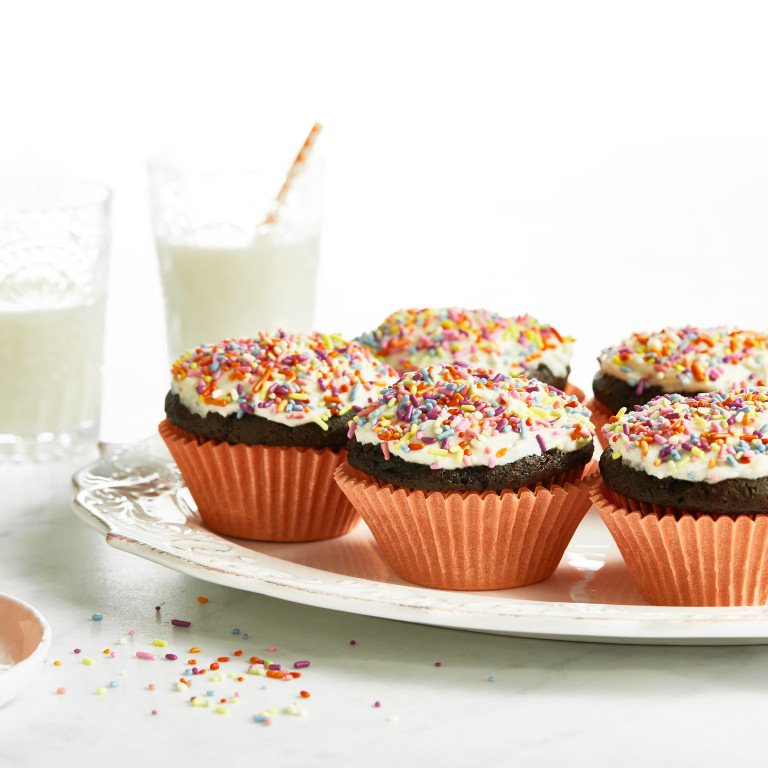 Fail-Proof Vegan Chocolate Cupcakes

Yield

12 cupcakes
Prep time

Cook time

Total time

These are my go-to, never-fail vegan cupcakes! They are the perfect cupcake for all of your celebration needs. You won't believe it when you see how much they rise while baking. I top them with a layer of salted buttercream and sprinkles for a festive twist. They never last long! For the fluffiest cupcakes use all-purpose flour, however the recipe is pretty forgiving so feel free to use white spelt flour or whole wheat pastry flour in a pinch (bake times may change slightly). Recipe updated from my 2011 version.
Ingredients
For the cupcakes:
1 cup (250 mL) unsweetened almond milk
1 cup (220 g) natural cane sugar
1/3 cup (80 mL) grapeseed oil

*

1 tablespoon apple cider vinegar
1 tablespoon pure vanilla extract
1 1/2 cups (210 g) unbleached all-purpose flour
1/3 cup (27 g) unsweetened cocoa powder
1 teaspoon baking soda
3/4 teaspoon fine sea salt
For the salted buttercream:
1/2 cup (100 g) vegan butter

*

*

1/2 teaspoon pure vanilla extract
2 cups (250 g) powdered icing sugar, sifted if necessary
1 1/2 to 3 teaspoons unsweetened almond milk, as needed
1/4 teaspoon fine sea salt, or to taste
Sprinkles, for decorating

*

*

*
Directions
Preheat oven to 350°F (180°C) and line a cupcake tin with 12 cupcake liners.
For the cupcakes: Add the milk, sugar, oil, vinegar, and vanilla into a large mixing bowl. With electric mixers, beat the wet ingredients on low speed until combined.
In a medium bowl, whisk together the flour, cocoa powder, baking soda, and salt until no clumps remain.
Gradually add the dry flour mixture to the wet ingredients and beat just until smooth and no patches of flour remain.
Spoon the batter into the cupcake liners, about two-thirds full for each.
Bake for 20 to 24 minutes, or until the cupcakes slowly spring back when pressed gently with a finger. A toothpick inserted into the centre should also come out clean. Cool the cupcakes on a cooling rack.
For the buttercream: In a large bowl, beat the butter and vanilla with electric beaters until light and fluffy.
Add the icing sugar, gradually, while beating on low speed. Now, add in the milk to thin it to your desired consistency, while gradually increasing the speed. I add a teaspoon at a time. If at any point you add too much milk and the buttercream becomes runny, simply add more icing sugar to thicken it back up. You want a nice spreadable consistency that is not runny.
Add the salt to taste and beat again to combine.
Once the cupcakes are completely cool, spread a thick layer of frosting on top of each, followed by a generous amount of sprinkles. Enjoy!
Leftover cupcakes will keep for a couple days in a sealed container, or you can freeze them for up to 1 month. I freeze them uncovered at first and then once they are frozen solid, I wrap each cupcake individually in foil. Then I place all of them into a large freezer zip bag, pressing out all the air.
Tip:
*

You can also use melted coconut oil in this recipe, however make sure that all of your ingredients are at room temperature (no cold milk!) to prevent the coconut oil from hardening upon contact.

*

*

I use soy-free vegan buttery spread (by Earth Balance), however feel free to use any kind of butter you prefer.

*

*

*

Look for natural sprinkles (without artificial dyes), such as "Let's Do Organic" brand.
Nutrition Information
(click to expand)