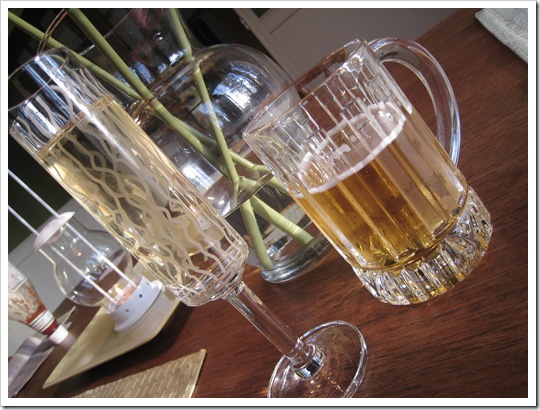 BOOM BOOM POW!
Shouldn't every Monday be like this? :)
Eric got home from work and I handed him a beer. Not to shabby, eh? He goes, "Whoa…it's a party up in here!" lol. Then I poured myself a glass of wine in one of our fun wedding champagne glasses and he says, "Let's do some shots!"
I had better things in mind…Dinner #1!
He had Alexander Keith's beer and I had Yellow Tail Chardonnay.
Green Bean Casserole (The modified version)
Full recipe here (plus directions!)
My ingredients:
2 quarts water
1.5 pounds fresh green beans
1 can mushrooms, drained (next time I would use more)
1 heaping tsp minced garlic
half salt to taste
fresh pepper
1 T EVOO
2 T whole wheat flour
3/4 veggie broth (I made from stock + boiling H2O)
3/4 cup Unsweetened Almond Breeze
1.5 sliced whole wheat bread, toasted (next time I would use double this)
1 T Becel Olive Oil margarine
Total prep time for me: 50 minutes
Some things to note:
Prepping the green beans was my least favourite part and also the most time consuming! For some reason I despise trimming green beans. As in I'd rather scoop cat litter.
BIGGEST SURPRISE: My sauce was still very thick and luxurious despite not using soy creamer. I used Unsweetened Almond Breeze and it still turned out very thick! I was shocked!
I Simmered the sauce for a good 5 minutes and stirred it until it got thick
I didn't want to dirty more dishes (I was also baking today) so instead of using the food processor I just toasted the bread and then mixed in the margarine with a fork in a bowl. Much easier.
I baked it slow at 325F for about 35-40 minutes because Eric was late getting home from work.
Voila:
My plate: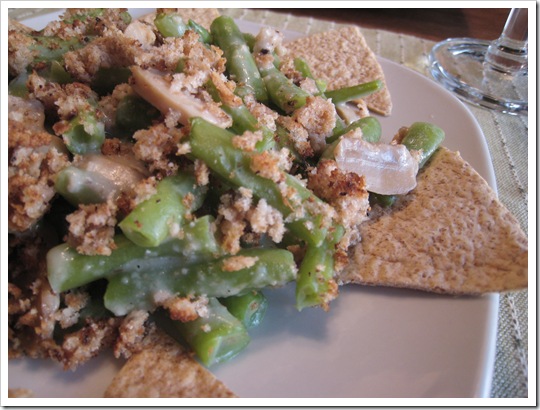 I cut up a whole wheat wrap and toasted it in the oven for 5 mins at 325F: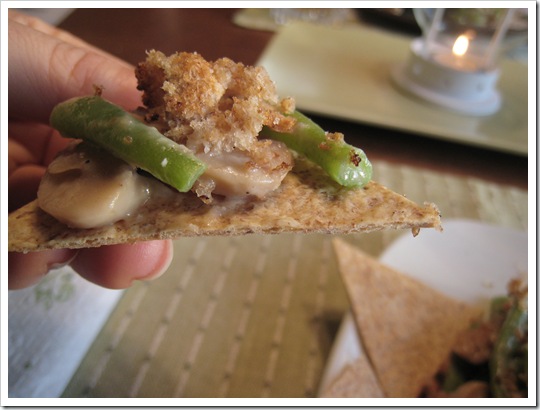 The taste?
This casserole was divine. I couldn't get over how creamy it was!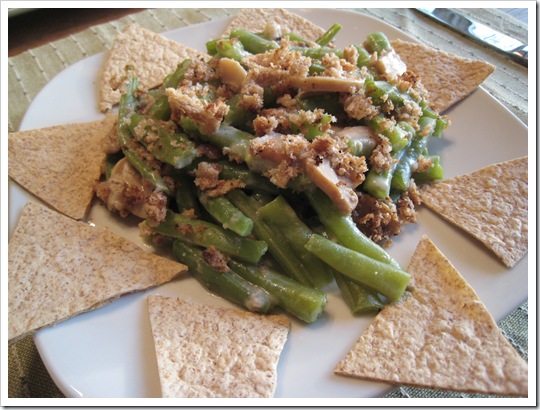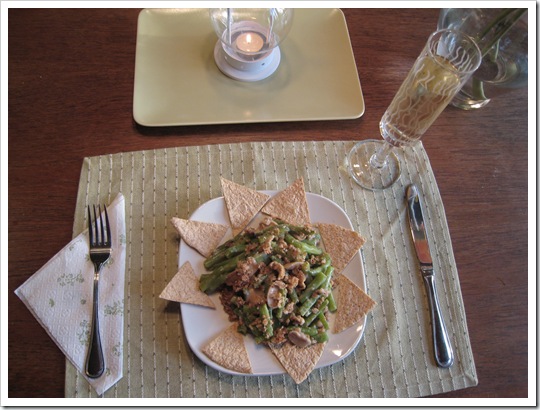 Second helping: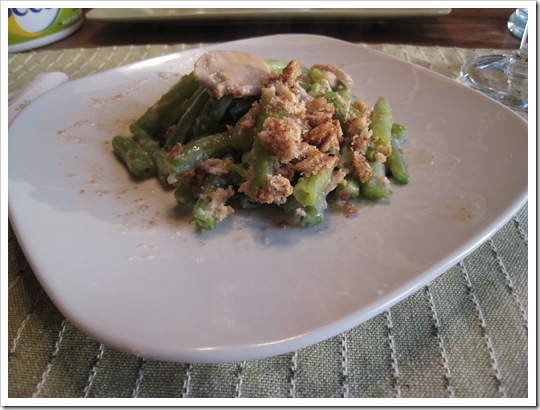 After dinner I had two more cake balls. They put me over my limit and now I am stuffed!! All the food was just too good.

The grass has gotten so much greener just since our gardening over the weekend. I just had to take this picture so my mom would see that all their hard work went to good use!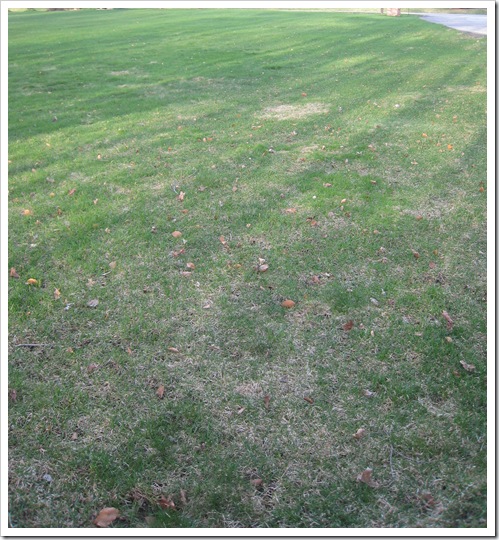 Daffodils everywhere!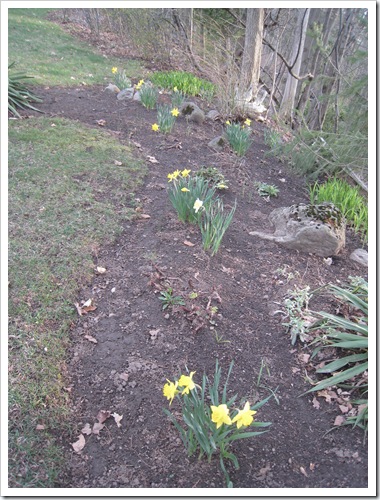 A bird feeding on some new food I put out: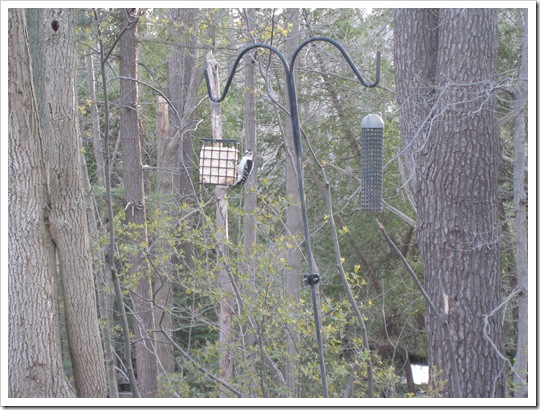 Then I planted these herbs: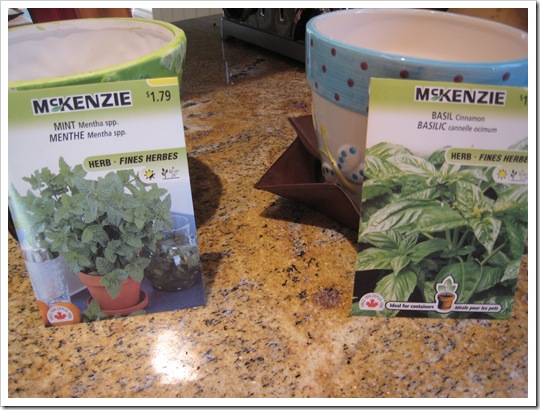 Such tiny seeds! I admit, I didn't plant these one by one!
Anyone good at reading palms? lol
Blue Basil + Green Mint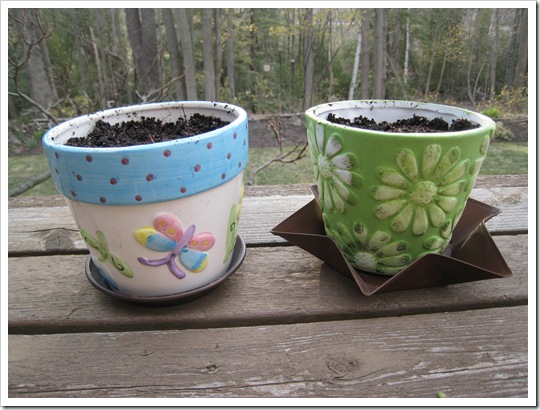 April 27, 2009: It's your favourite time again- PUSH-UPS! I know how much you all hate them so that must mean they work! Do 3 sets of push-ups for as many reps as you can stand!
I was hoping to comment on today's topics, but my computer is really slow. Apparently I only have 50 MB of space left so Eric needs to work on it. Must be all the food pictures I have been uploading! LOL.
See you tomorrow morning for another fun conversation about social comparison. Your comments from this morning were so thought provoking!
Have a great night!