Hello friends :)
Another dreary and rainy day in Southern Ontario! I guess after our picture perfect summer, we were bound to have a rude awakening this Fall.
I have to admit, the weather has been negatively affecting my mood in a big way.
I am feeling so sluggish, down in the dumps (which is not like me at all), and I'm really struggling to find motivation to workout.
I knew a workout would make me feel a million times better today, but I just couldn't get motivated. I went on Twitter to plea for encouragement because my Twitter friends always cheer me up and remind me how lucky I am to be able to move my body.
@Merrberruns said, 'Don't even think about it, just get out the door!'
And I thought to myself, That is brilliant.
Within 10 minutes I was out the door. I told myself just get out there and move, enjoy the Fall leaves, and be thankful you are not injured or sick.
I took off like the wind, with the cold wind at my back, and a kick to my step. This isn't so bad, I reminded myself. I even might have smiled at one point!
And then in the blink of an instant, I slipped on some wet leaves and landed butt first on the sidewalk.
Ouch.
I sat there for a moment and didn't know whether to laugh or cry. I realized that the fall wasn't a bad one, but my ego sure was bruised!
And then the Heavens opened up and it started to pour on me as I sat there.
Can I get a rain check please?
I stood up, dusted myself off…and called it a day 2 minutes into my run.
And that is all she wrote!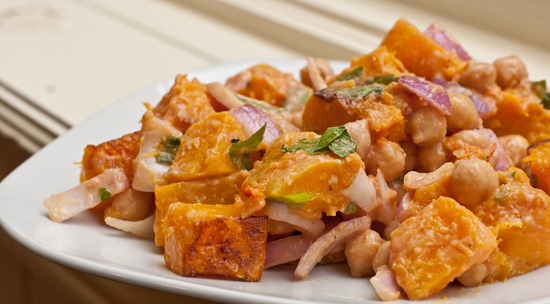 Despite the less than desirable run, FOOD always cheers me up!
I know 'they' say you aren't supposed to use food for comfort, but I say bah-humbug to that!
From the age of 11 until 25 I struggled with an eating disorder and food was the enemy. Now food is a huge source of pleasure in my life and I'm not afraid to admit it.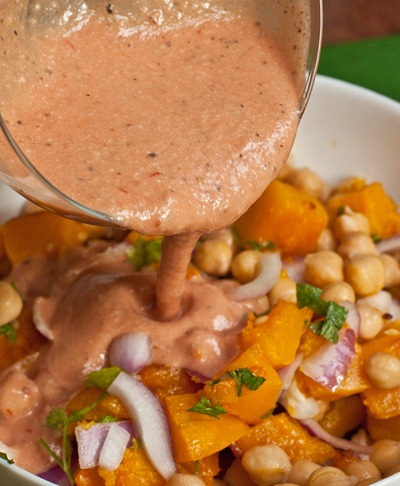 Warm Butternut Squash and Chickpea Salad
Adapted from Smitten Kitchen (but originated from Casa Moro)
Ingredients:
For salad:
1 medium butternut squash (about 2 to 2 1/2 pounds), peeled, seeded, and cut into 1 1/2-inch pieces
1 medium garlic clove, minced
2 tablespoons olive oil
2-3 pinches of Sea salt
One 15-ounce can chickpeas, drained and rinsed (1 1/2 cups)
1/4 of a medium red onion, finely chopped
1/4 cup coarsely chopped fresh parsley (I used dead parsley, lol)
For tahini dressing:
1 medium garlic clove, finely minced with a pinch of salt
1/4 cup lemon juice
3 tablespoons well-stirred tahini
2 tablespoons water
1.5 tablespoons olive oil
1/2 tbsp maple syrup
1/4 cup diced canned tomatoes
Black pepper, to taste
Sea salt, to taste (I used spicy Herbamare)
Directions: Preheat the oven to 425°F. In a large bowl, combine the butternut squash, garlic, allspice, olive oil, and salt. Toss the squash pieces until evenly coated. Roast them on a baking sheet for 30 minutes, or until soft. Remove from the oven and cool. Meanwhile, make the tahini dressing: In a small bowl, whisk together the garlic and lemon juice. Add the tahini and canned tomatoes, and whisk to blend. Add the water and olive oil, whisk well, and taste for seasoning. Add in pepper and sea salt to taste. To assemble the salad, combine the squash, chickpeas, onion, and cilantro or parsley in a mixing bowl. Add the tahini dressing to taste, and toss gently. Serves 4.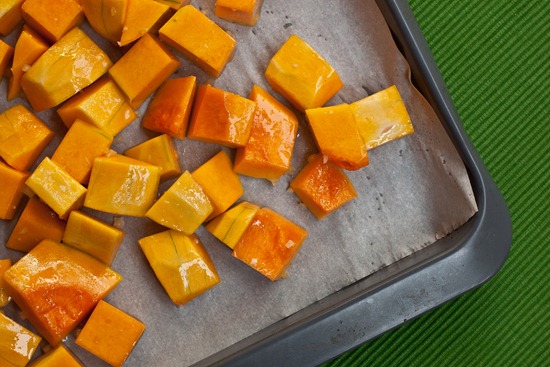 At what point do you admit that your Italian Parsley is dying?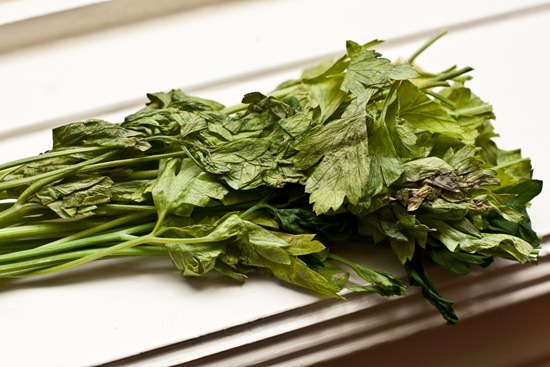 You don't. Turn a blind eye my friends. We work with what we got!
Unfortunately, I hated this tahini dressing.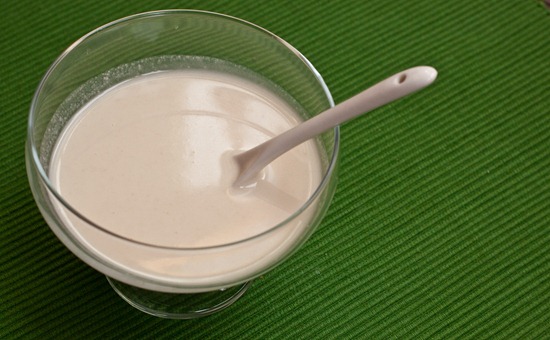 Ok, hate is a strong word… I despised it!
It was much too bitter and over powering for my taste. I guess I prefer my tahini in small doses.
I added canned diced tomatoes (1/4 cup or a bit more) since I had some in the fridge to use up. I also added lots of pepper and Spicy Herbamare.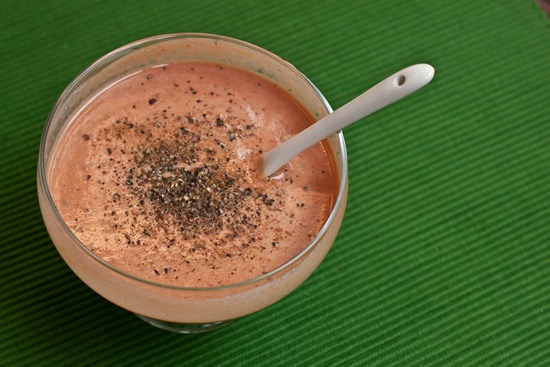 Lo and behold I LOVED the dressing after these easy modifications. Whew.  The beauty about cooking is that you can keep tasting things and adjust them as you go along. With baking, it isn't so easy to change things once you mix everything up.
These also cheered me up…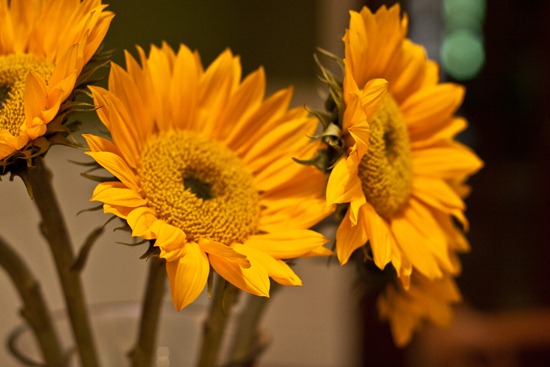 Thanks Karly!
I beg of you, do not skip the red onion in this salad. It made the entire dish!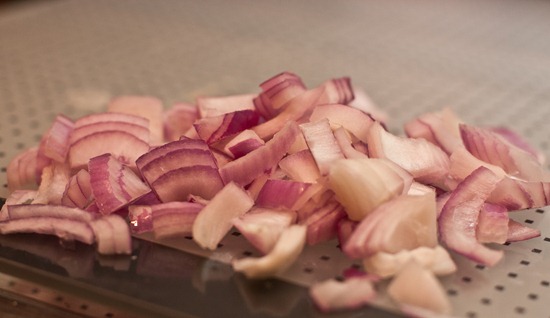 I like to let my butternut brown a bit, so I cooked it for about 35 minutes.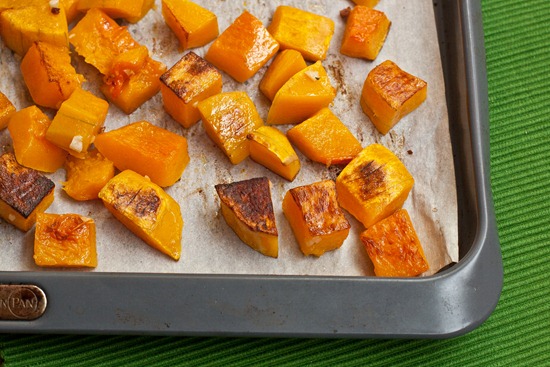 Getting close…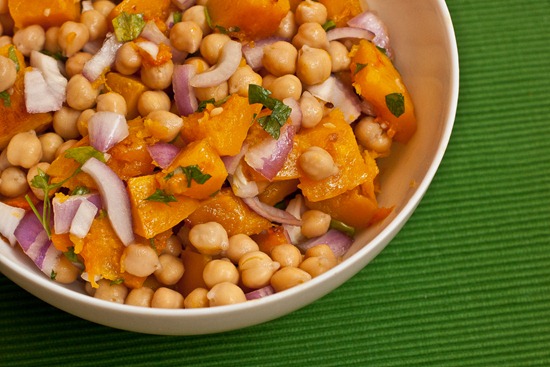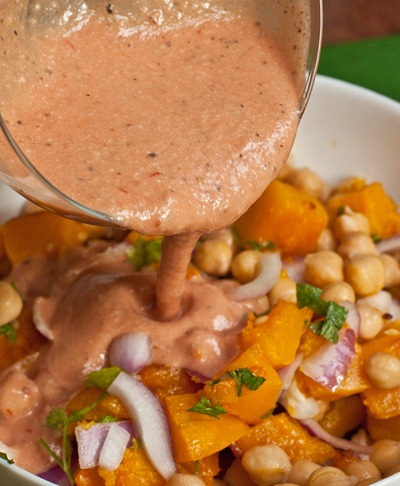 Yes.
It turned out MAGNIFICENT. I'm in love, love, love with this dish.
I'm going to cuddle up with this dish all Fall and hide under a blanket until the warm sun returns. If you don't see me for a while, you'll know where I am.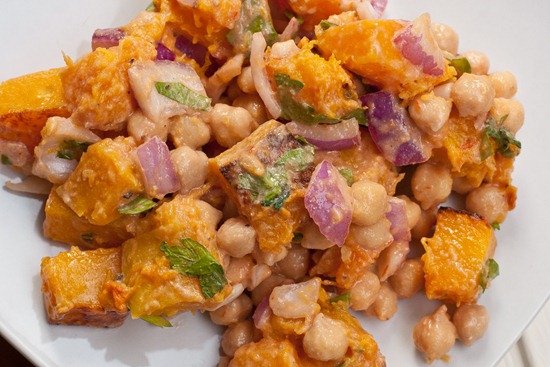 As for that run, I will try again tomorrow.