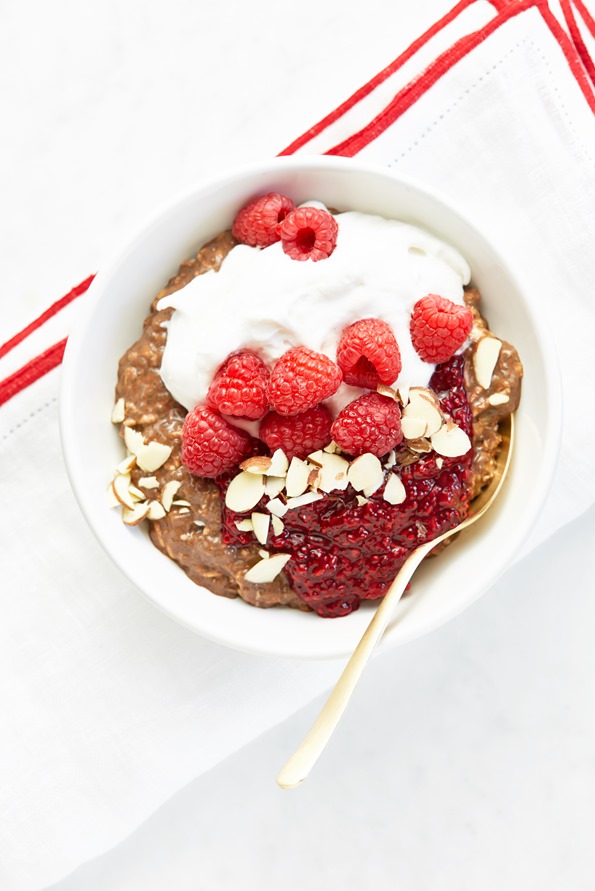 Way back in the day, I used to be all about creating breakfast parfaits. Do any of my long-time readers remember the onslaught of breakfast parfait recipes I posted around 2009/2010? Boy, was I on a roll with those parfaits. (Side note: how the heck have I been blogging so long?) Since becoming a parent, I've usually put parfaits on the back burner, labeling them as a bit fussy or too time-consuming for our fast-paced, toddler-needs-breakfast-yesterday mornings. After feeding Adriana, it's all I can do to inhale a lightning-fast smoothie or plain-Jane overnight oats while standing at the counter. But recently it hit me: Breakfast parfaits don't need to be fussy at all. In fact, I can prepare a couple things in the evening, and then all I have to do in the mornings is find a spoon. Even better, I make a big batch so it provides a multiday breakfast (unless I decide to power through an entire batch in a single day, which, trust me, has happened recently!).
For those of you with little mouths to feed, you might want to give this recipe a shot with them, too. My awesome recipe tester, Nicole, recently made it with her daycare kids, and she reported back that "they licked the bowls clean!" Adriana also thinks these parfaits are fun to eat (and oh so grown-up!), so she's been asking to try them out. (Mind you, some days that means a couple cautious bites before proudly declaring, "ALL DONE!!" but I'll take what I can get at this precarious age!)
Here's how you can prepare these parfaits in advance: One evening (or two, if you're feeling ambitious) each week, make this big batch of overnight oats, chia jam, and Coconut Whipped Cream (or simply thaw a tub of So Delicious Coco Whip!) After the oats set and the jam cools, layer everything into jars. In the morning, it's there waiting for you as a breakfast or snack, and it'll keep for a few days. So easy, so good, and so perfect for summer!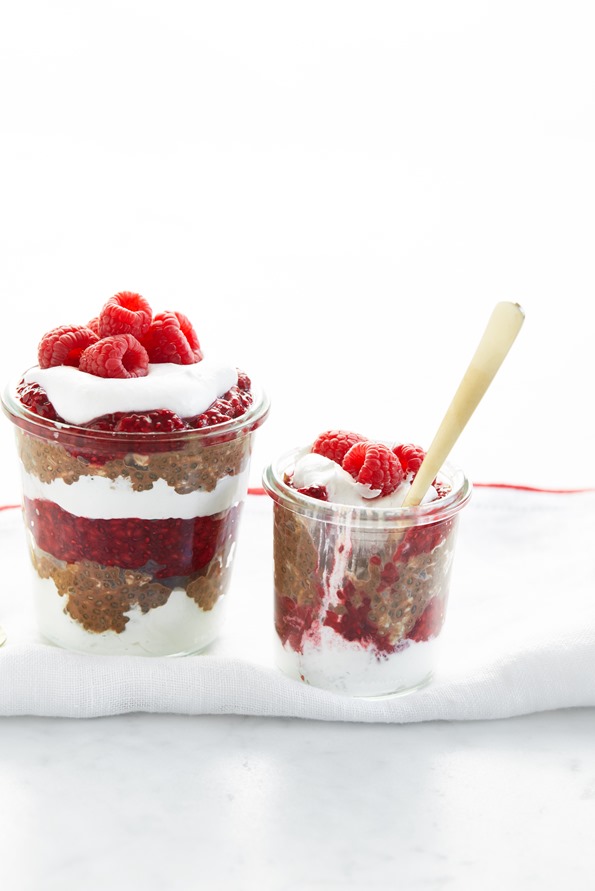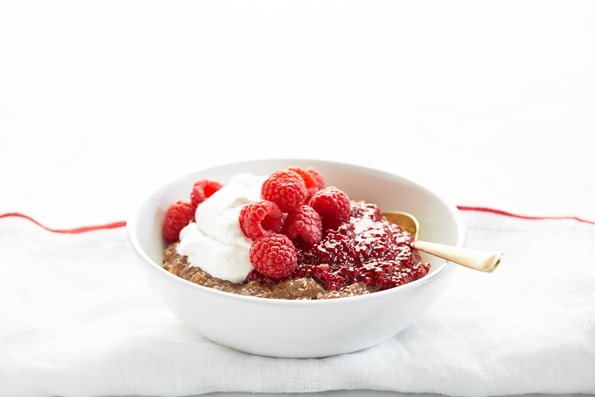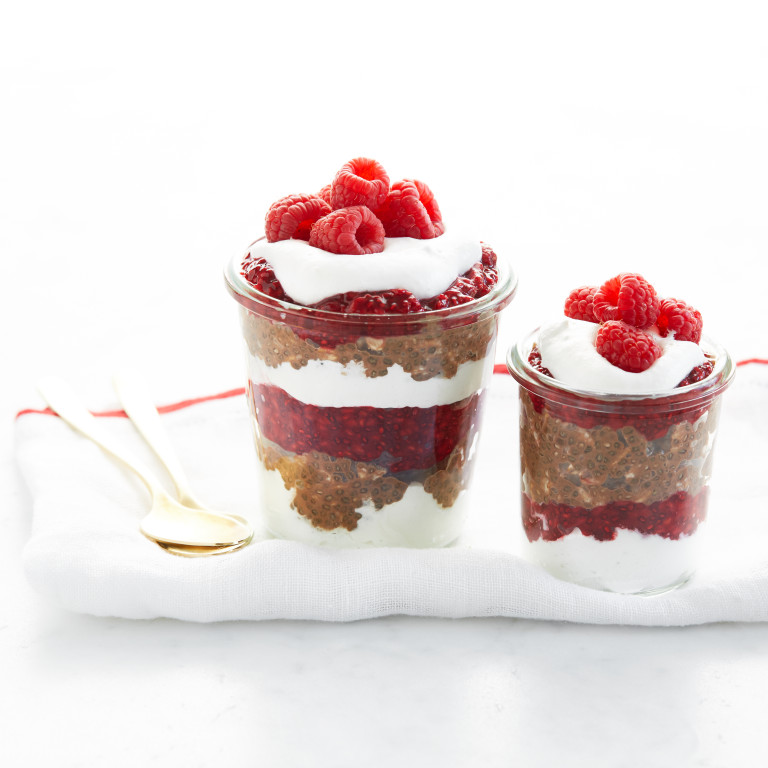 Chocolate Raspberry Dreams Breakfast Parfait
Vegan, gluten-free, no bake/raw, soy-free

Yield

Serves 4
Soak time

2 hours or overnight
Prep time

Cook time

Total time

This summer-friendly breakfast can be made the night before and assembled so it's ready to go in the morning! (And trust me when I say that you'll be dreaming of this while you sleep!) The batch makes enough for about 4 servings so you can enjoy it on several occasions. The chocolate overnight oats are mild-tasting and slightly bitter (depending on how much sweetener you use), so the zingy raspberry jam and lightly sweet coconut whip are essential when serving to boost the flavours. To highlight a contrast of textures, add some fresh or frozen raspberries and toasted nuts, too.
Ingredients
For the Raspberry Chia Seed Jam (makes 1 cup):
1 (300 g/10 oz) bag frozen raspberries
2 tablespoons (20 g) chia seeds
2 tablespoons (30 mL) pure maple syrup, or to taste
1 teaspoon (5 mL) pure vanilla extract or vanilla bean powder (optional)
For the Chocolate Overnight Oats (makes 3 cups):
1 cup (100 g) gluten-free rolled oats
1/3 cup (55 g) chia seeds
2 to 3 tablespoons (30 to 45 mL) pure maple syrup, to taste
2 tablespoons (10 g) unsweetened cocoa powder
2 1/2 cups (625 mL) unsweetened almond milk
For the topping:
Homemade Coconut Whipped Cream or So Delicious Coconut Whip

*

Fresh or frozen raspberries
Sliced toasted almonds or hazelnuts
Directions
For the Raspberry Chia Seed Jam: Add the frozen raspberries, chia seeds, and maple syrup into a medium pot. Stir to combine. Cook uncovered over medium heat, stirring frequently, for about 7 to 9 minutes, until the raspberries break down. (It will still look a bit runny, but it will thicken as it cools.) Remove from heat and stir in the vanilla, if using, and additional maple syrup, if desired. Allow the jam to cool on the counter, uncovered, for about a half hour before covering and chilling in the fridge.
For the Chocolate Overnight Oats: In a large container with a lid, whisk together the oats, chia seeds, maple syrup, and cocoa powder until combined. Add the milk, and whisk until no clumps of cocoa powder remain. Secure lid and let it sit on the counter for 2 to 3 minutes. After sitting briefly, shake the mixture (or stir) again to combine. This just helps prevent the chia seeds from clumping up. Chill in the fridge for a couple hours, or overnight.
Prepare the Coconut Whipped Cream, or if using, thaw the store-bought coconut whipped cream in the fridge or on the counter. Store in the fridge until ready to use.
When the chia jam and oats are ready, layer them into jars or bowls along with the coconut whipped cream. Add your desired toppings, and enjoy! The parfaits can be made in advance and enjoyed for a few days.
Tip:
*

To change up this recipe, feel free to swap the Coconut Whipped Cream for Banana Soft Serve.
Make it nut-free: Swap the almond milk for a nut-free non-dairy milk, and omit the nut topping.
Nutrition Information
(click to expand)