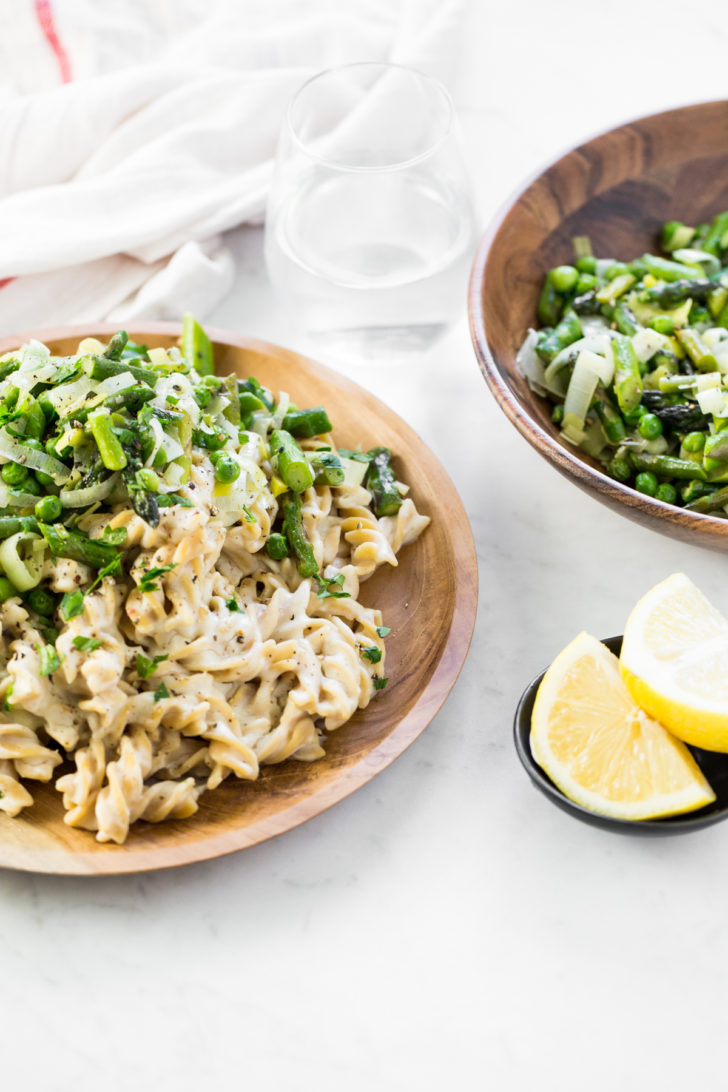 Eric is in love with this creamy cauliflower pasta dish. I mean, in love. In fact, he asked if we could make it together on Valentine's Day. Who am I to deny a grown man cauliflower? Plus, creamy pasta and Valentine's Day go hand and hand. Chocolate too, of course. I'd say it's a win-win.
Traditional Alfredo sauce is mostly made up of butter, cheese, and often, cream. Decadent? You betcha. Hiding a super healthy vegetable? Not so much. I'm happy to say this cauli-power sauce brings us both decadence and nutrition. To be honest, I was super skeptical to try the blended-cauliflower-as-pasta-sauce trend and I wasn't rushing to try it out. But after whipping up a version in my kitchen, I went crazy for this stuff. And by crazy, I mean standing over the pot of pasta and spooning it into my mouth uncontrollably. Yea that happened. It's downright irresistible just like you'd hope a creamy pasta to be. Of course, soaked cashews can create a fine alfredo sauce too, but it's great to have a change from nuts. All you have to do to make this sauce nut-free is swap the almond milk for a nut-free non-dairy milk of your choice. Fun, right?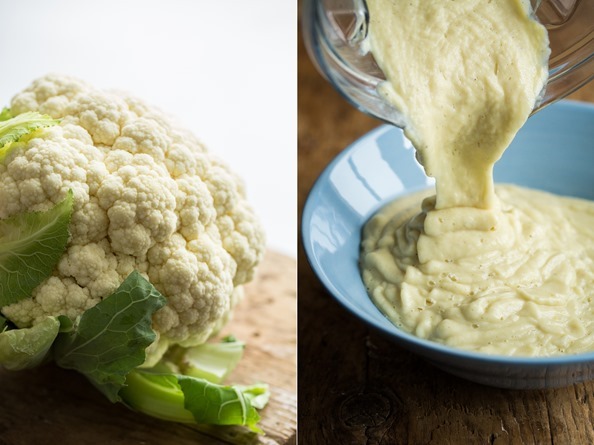 This sauce makes a lot (3 cups!) which means you can happily drown the pasta with the sauce. No skimping here! It is cauliflower after all. I stirred the sauce into whole grain spelt ribbon pasta which was quite tasty. I gravitate toward meals that leave me feeling good and this certainly made the cut. Not bad for a decadent-tasting pasta, I say.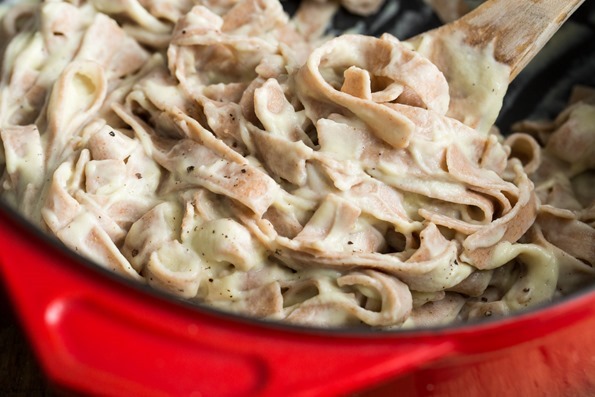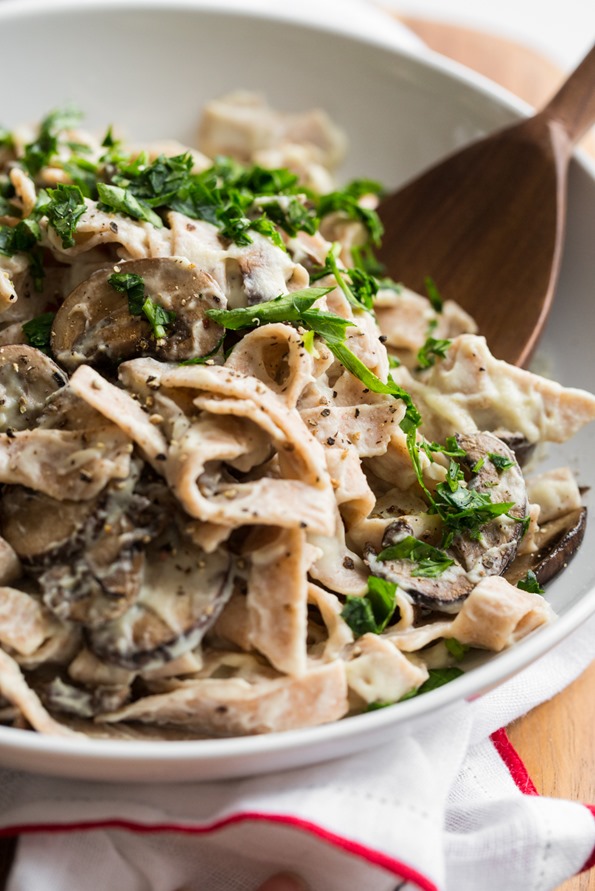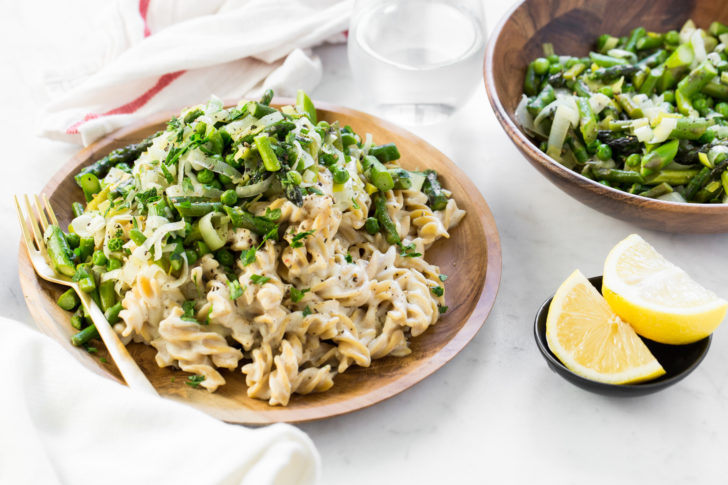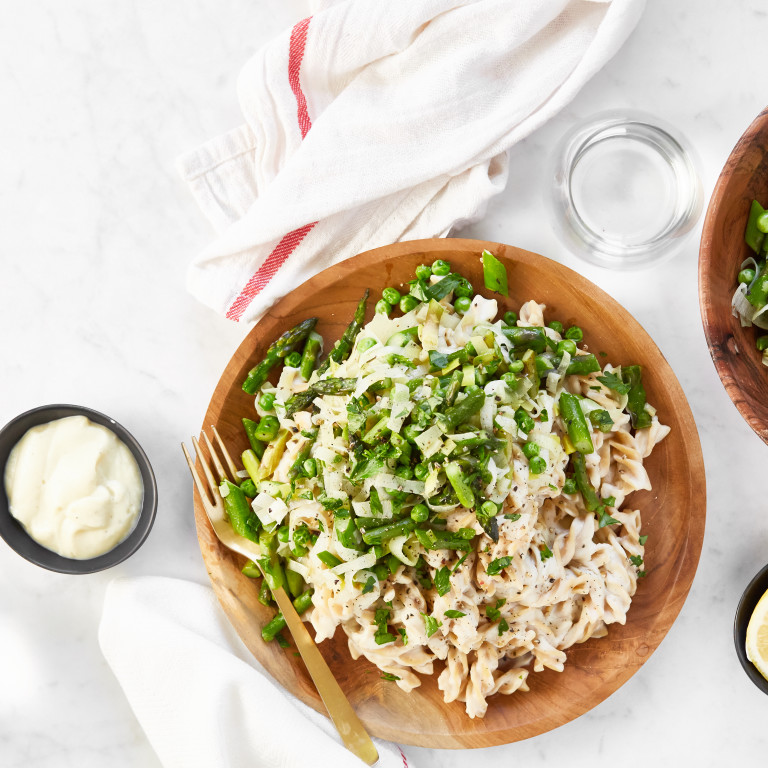 Cauli-power "Alfredo"
Vegan, nut-free, refined sugar-free, soy-free

Yield

4 servings (makes 3 cups sauce)
Prep time

Cook time

Total time

This vegan "alfredo" sauce tastes decadent, yet is super light and energizing thanks to the sneaky cauliflower base! The nutritional yeast lends this sauce a rich "cheesy" flavour, while the blended cauliflower creates a creamy, luxurious base. This alfredo sauce is lovely served with pasta, but you can also enjoy it stirred into your favourite roasted or sautéed veggies. I love sautéing seasonal vegetables to serve along with the sauce over pasta. In the photo, I topped my bowl with a lovely spring veggie trifecta of leeks, asparagus, and peas. Thanks to Pinch of Yum for inspiring this tasty recipe!
Ingredients
4 heaping cups (460 g) cauliflower florets (1 small/medium cauliflower)
1/2 tablespoon (7.5 mL) extra-virgin olive oil
1 heaping tablespoon minced garlic
1/2 cup (125 mL) unsweetened and unflavoured almond milk

*

1/4 cup (20 g) nutritional yeast
1 tablespoon (15 mL) fresh lemon juice, plus more for serving
1/2 teaspoon onion powder
1/4 to 1/2 teaspoon garlic powder, to taste
3/4 teaspoon fine grain sea salt, or to taste
1/4 to 1/2 teaspoon black pepper, to taste
1 package (350 g/12 ounces) fettuccine or rotini pasta

*

*

Fresh minced parsley, for garnish
Directions
Place cauliflower florets in a steamer basket and steam, covered, for 10 to 15 minutes until fork tender. (Alternatively, you can boil the cauliflower in a pot of water for 8 to 15 minutes until fork tender. Drain well before proceeding.)

Meanwhile, cook the pasta according to the package directions. Drain well and add it back to the pot. Set aside.

Add the oil and minced garlic to a small skillet and sauté over low heat for 4 to 5 minutes until softened and fragrant. Be careful not to burn.

Add the cooked cauliflower, sautéed garlic, milk, nutritional yeast, lemon juice, onion powder, garlic powder, salt, and pepper to a high-speed blender. Blend until a very smooth sauce forms. Adjust seasonings to taste.

Add the cauliflower sauce to the pot with the pasta and stir well. Heat over low-medium until heated through. The pasta will tone down the flavours of the sauce so it's important to taste the mixture and add more seasonings (salt, pepper, lemon, etc.) to taste before serving.

For serving: Divide the warm pasta into bowls and top with more salt and pepper (to taste), along with a squeeze of lemon and some fresh minced parsley. Feel free to add your favourite cooked veggies such as broccoli, peas, leeks, asparagus, butternut squash, etc.
Tip:
* It's very important that you use an unsweetened and unflavoured non-dairy milk in this recipe (nothing with vanilla or added sugar, please!).
** If you're only preparing a couple servings, feel free to cook less pasta and save leftover sauce for another time. The alfredo sauce will keep in an airtight container in the fridge for at least a few days.
To make the alfredo taste extra decadent, add a tablespoon or two of vegan butter to the sauce.
Make it gluten-free: Use gluten-free pasta.
Boost the protein: Use a legume-based pasta such as chickpea pasta.
Make it nut-free: Use a nut-free non-dairy milk (such as soy milk) instead of almond milk. Be sure to use unsweetened and unflavoured milk.
Nutrition Information
(click to expand)