August 24, 2011 UPDATE!
Hey guys! It was brought to my attention yesterday that my new blog posts are not showing up for some people. This was likely due to a caching plug-in that we installed last weekend.
For those not seeing new posts- you will need to clear your cache in YOUR browser.
How to clear cache in firefox: http://support.mozilla.com/en-US/kb/How%20to%20clear%20the%20cache
…
Internet explorer: http://kb.wisc.edu/helpdesk/page.php?id=15141
Safari: http://support.verio.com/documents/view_article.cfm?doc_id=4069
Let me know if this works by dropping me a note on my Facebook page: http://www.facebook.com/#!/ohsheglowsblog Thanks!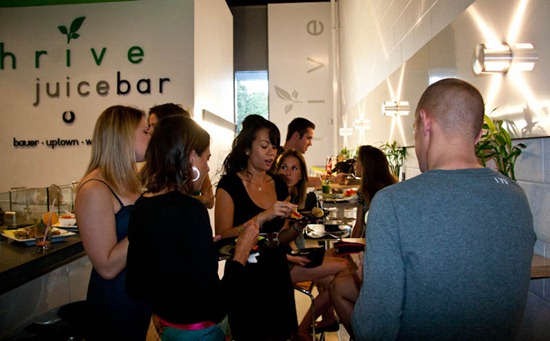 Recently, Jonnie Karan, owner and CEO of Thrive Juice Bar, generously invited us to a party at his café to thank us after a recent trip and review of his restaurant. The party turned into a birthday bash featuring all kinds of delicious vegan foods new to the menu at Thrive. Sign me up!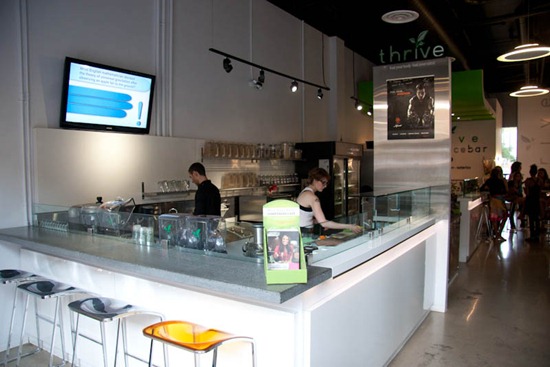 Cathy, Angela, Gen, Will, Dale, Sara, Matt, Nina, Kevin, Kate, Robyn, Jenny, Cathy, Eric, and I all celebrated Angela and Eric's birthdays, Thrive style!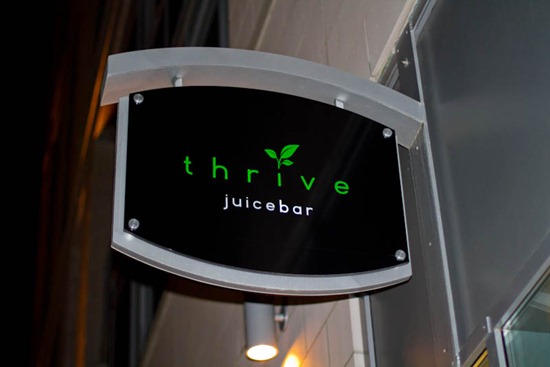 Jonnie shut the place down for us!

Or should I say, he opened for us! How amazing that Jonnie, Stephanie, and Sarah gave up their Saturday night to host this party- on the house. Who does that?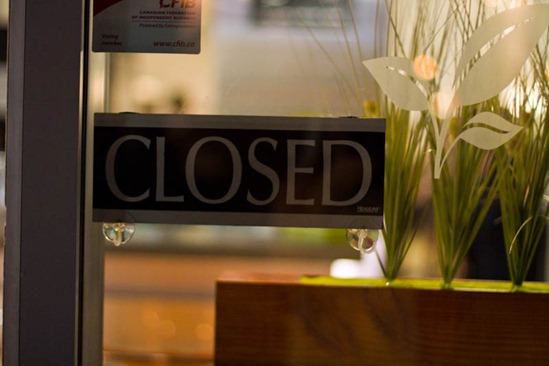 I love the modern and sleek look of the café

It's all stainless steel, white, and green.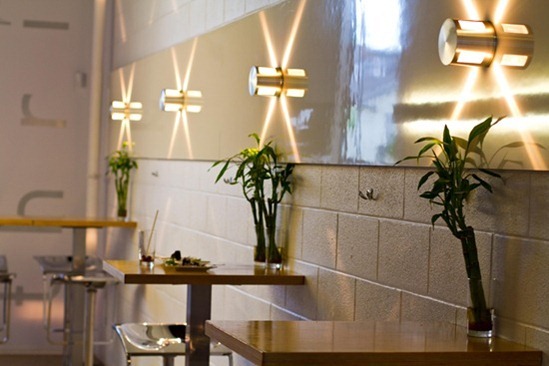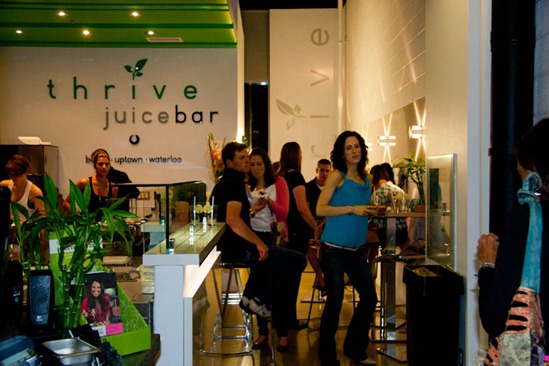 Upon arriving, we were brought out cocktails!
The Kale Mojito was made up of kale, lime zest/juice, coconut water, and sweetened with organic cane sugar! On the right, the Strawberry-Blueberry-Mango with Mint. Mmm.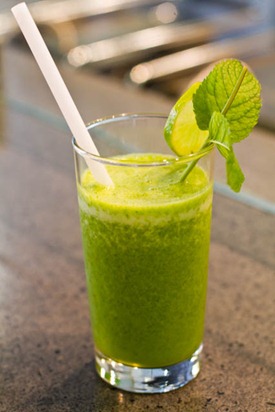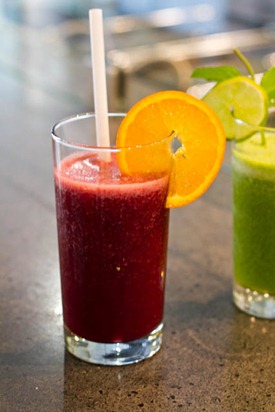 Both were incredible, but of course I was partial to the kale mojito and Eric the Berry!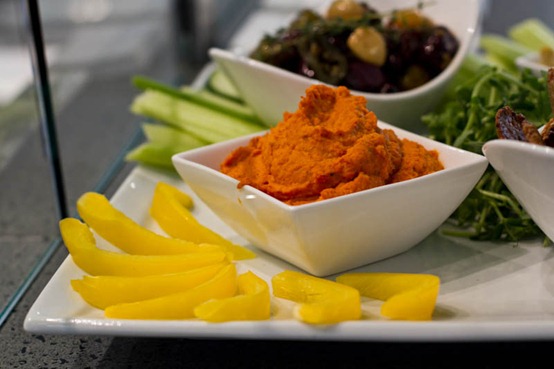 Fresh veggie platters with in-house herbed marinated olive tapenade,  jalapeno hummus, roasted red pepper hummus and flax seed crackers were served next.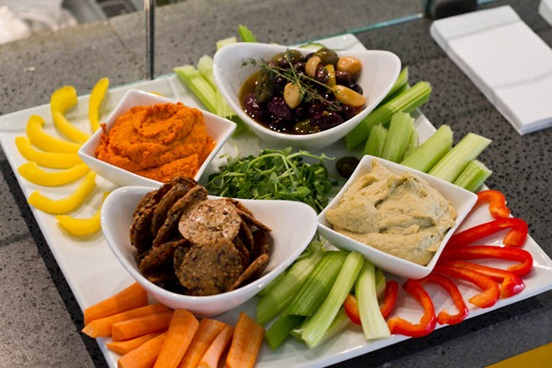 Then, wait for it…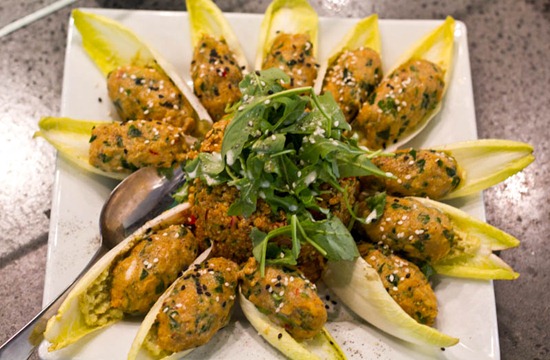 Vegan Falafels made up of red lentil and bulgar served on endive spears (which are lined with an in-house made artichoke tapenade) served with quinoa tabbouleh and topped with arugula (there were black and white sesame seeds and a lemon vin drizzle too). Party in my mouth.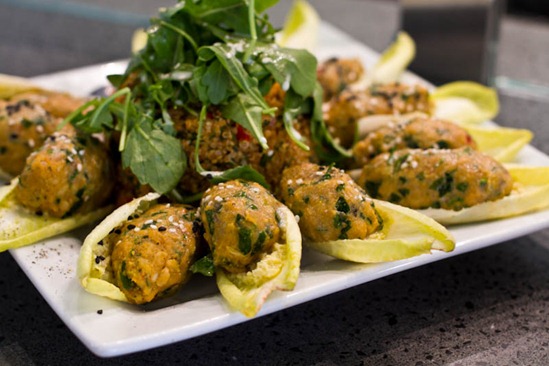 Interestingly, they were doughy in an addicting sort of way (not crispy like traditional falafel) and the flavours were spot on. It was my favourite food of the entire night! I might have to recreate these babies at home! I doubt they would taste as delicious as these were, but a girl can dream.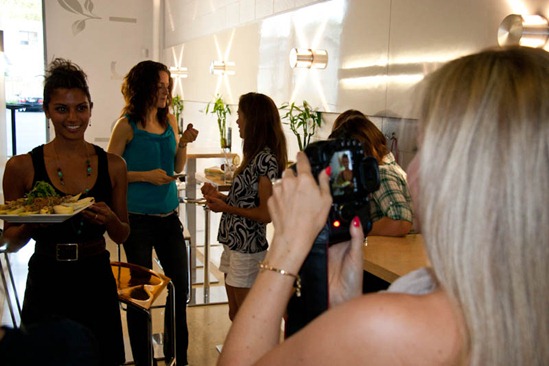 They must have sensed my obsession because they sent me home with some! I may have stuffed one in my face on the drive home.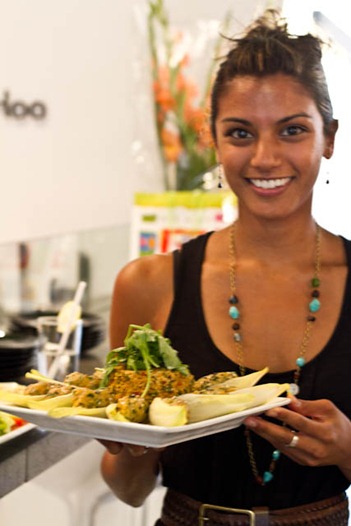 Thanks Stephanie, you know how to woo a girl.
Next up, Gluten-free & vegan flatbread pizza with artichoke hearts and crushed cashews – the sauce is a fresh tomato, garlic and basil and the pizza was finished with fresh basil leaves. Perfecto!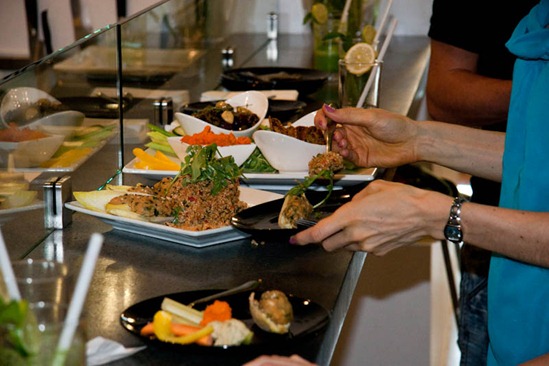 Jonnie, Stephanie, and Sarah were all wonderful hosts and treated us like Kings and Queens while they worked tirelessly all night long. It was such a nice thing to be treated to vegan food! That rarely happens and I appreciate it SO much.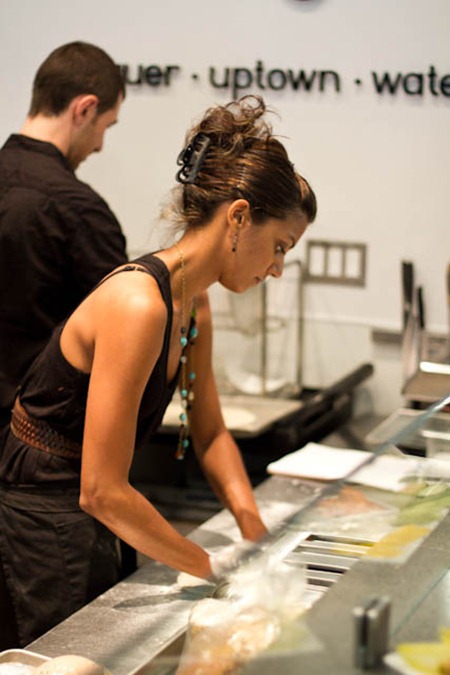 Some birthday pics ensued…but first the birthday girl needs to get in the middle!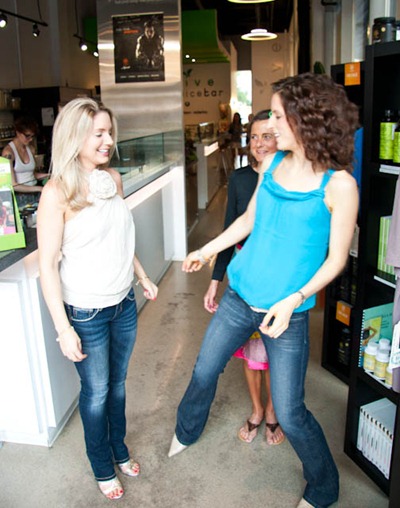 Much better. With Ange and Cathy!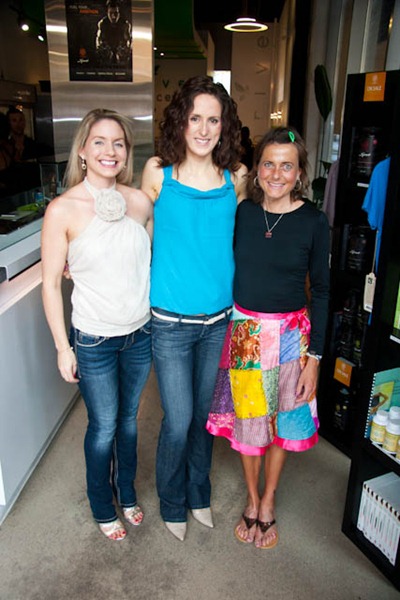 Now with the birthday boy. Eric is of course celebrating his "first" of many 29th birthday's if you catch my drift…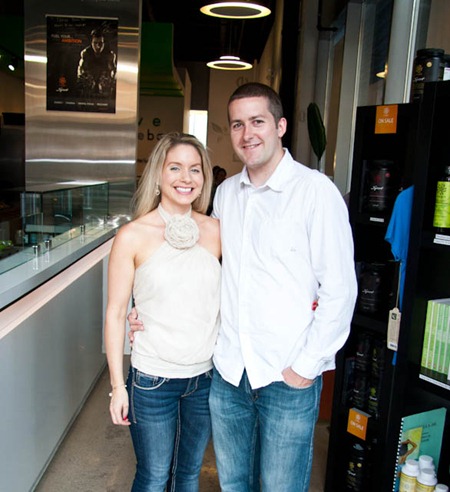 In other news, I forgot to pose with my hand in my pocket again! :| I'll never learn.
Then it was time for the main course, I mean, dessert. I almost split my pants in vegan/raw/GF dessert glory!
First up, Raw brownies made with Walnuts, dates, organic cocoa, and vanilla bean for the base. The icing was made up of avocado, dates, agave, cocoa, cinnamon, vanilla bean. The Raw Goldies (cute name!) were made with Walnuts, dates, and vanilla bean with a cashew butter & lucuma powder glaze!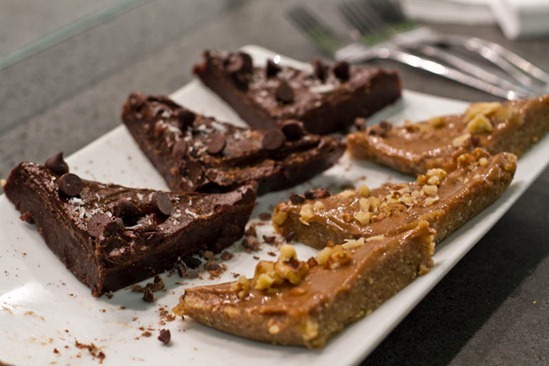 Eric preferred the chocolate and I preferred the Goldie. We're so not predictable.
Chocolate birthday shots! Made with pure cacoa, cashew butter, organic chocolate chips, coconut water.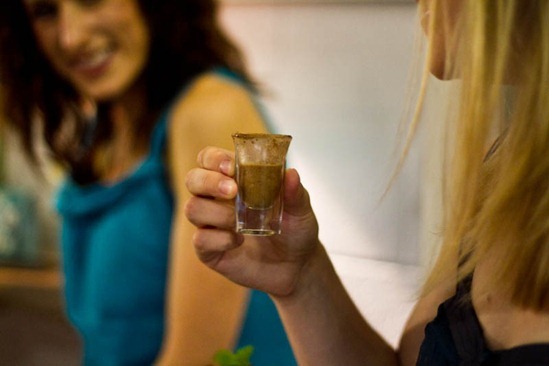 Then it was time for MORE dessert. Is this real life? Do they make skinny jeans with an elastic waist? If not, I'm inventing them.
I quickly took a picture so I could inhale this Raw/Vegan Gluten-free chocolate fudge cake made with Avocado, cocoa, dates, agave, coconut oil & cacao butter.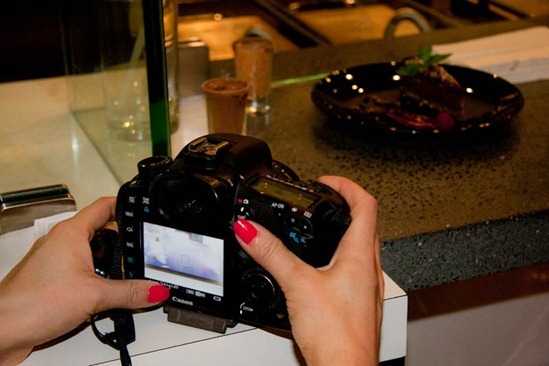 I was like, "damn it camera take the picture already!!!"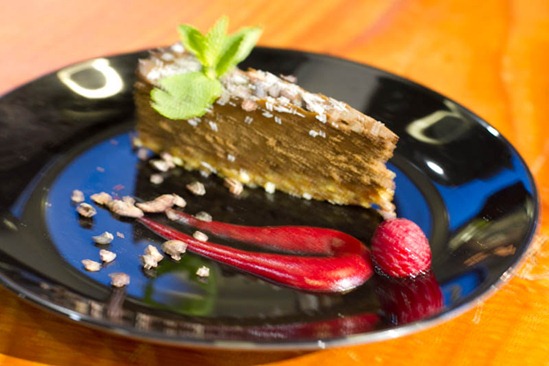 Finally, in a moment of desperation, I used the FLASH!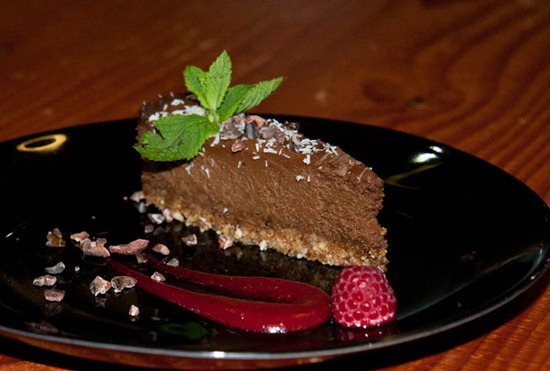 A huge thank you to Jonnie, Stephanie, Sarah, and Becca for treating us to such a lovely evening filled with creative, delicious vegan food and great company.
And a very Happy Birthday to Ange who celebrates her birthday TODAY!!!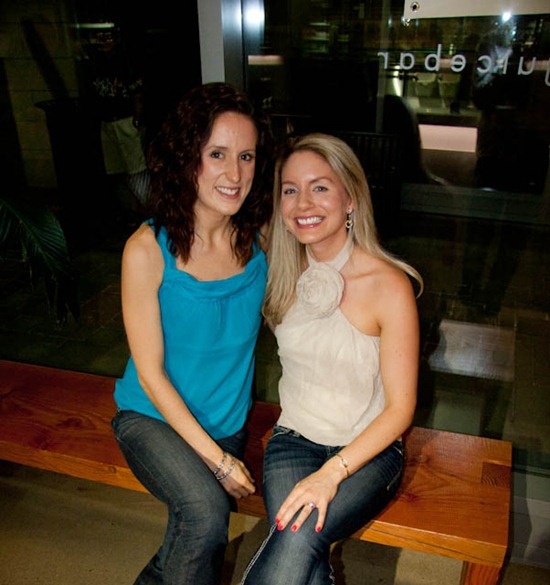 See you tomorrow for a recap of Birthday party #2! It involved pumpkin spice doughnuts, vegan cheeze burgers, chocolate cupcakes, rosemary olive oil chips, and some crazy Irish fun…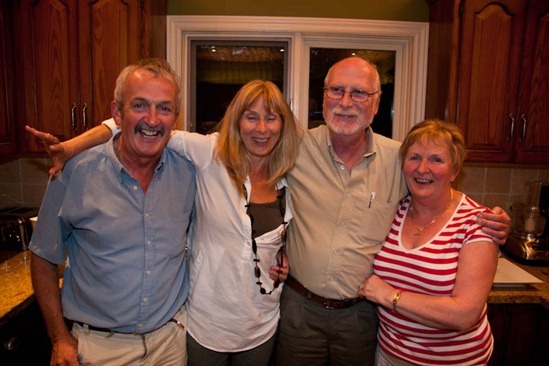 Emphasis: Crazy Irish Fun.