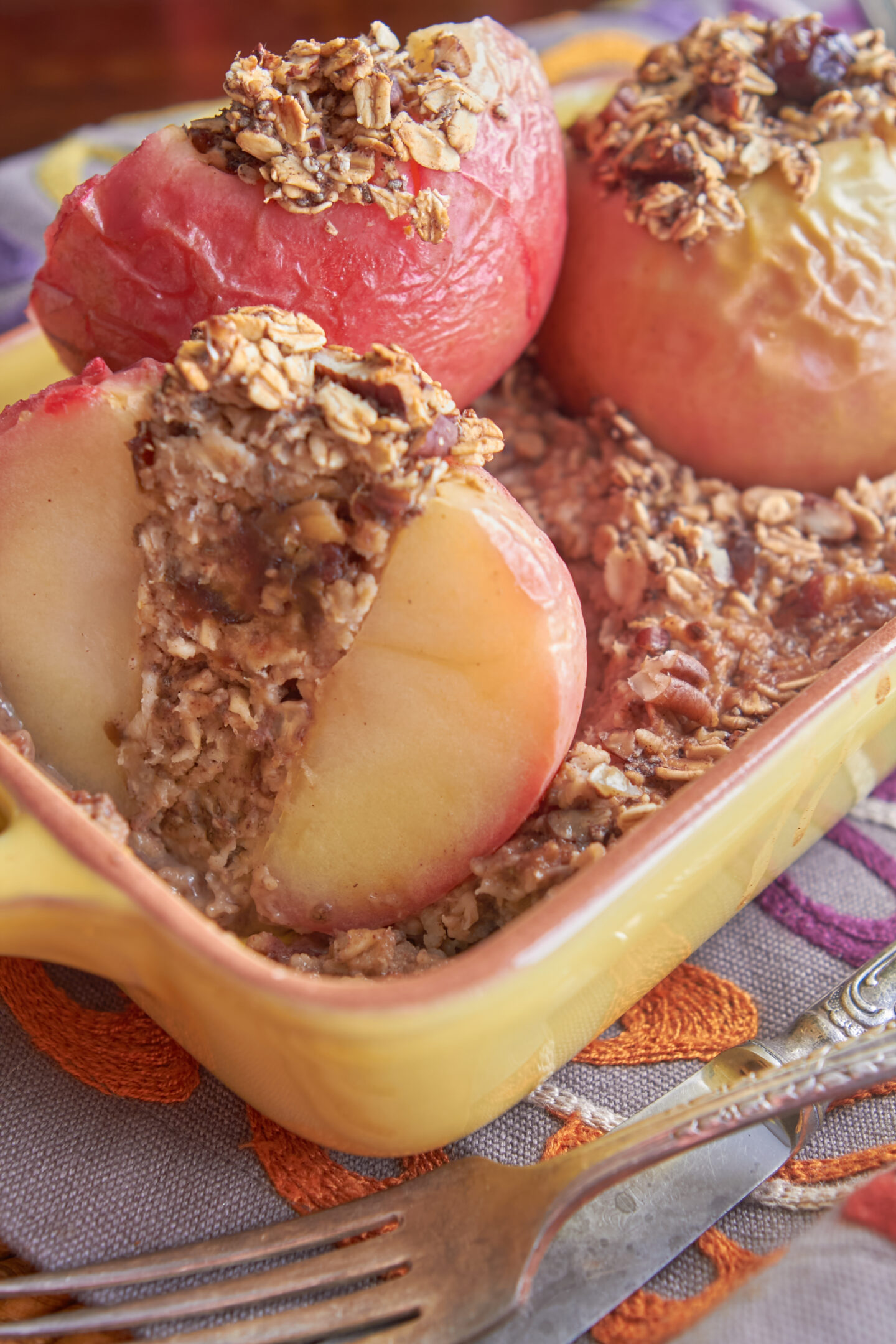 I'm a multi-tasking addict. It's sad to say that I can't perform many tasks without doing other things at the same time. For instance, when I was making this recipe yesterday, I was also cooking 2 other recipes, shooting photography, and doing computer work at the same time. That's just how I function most days. I blame the technology age for my lack of attention span and why I have no less than 20 tabs open on my computer at all times. There is no hope for me!
I guess it comes as no surprise that I like my food to multi-task too. Breakfasts that can be dressed up for dessert or whipped out of the fridge for a healthy afternoon snack really impress me. You know what else I love? Desserts that are wholesome enough for breakfast. A 3-in-1 recipe. Am I really asking for too much here? I don't think so.
After a few days away from my kitchen, it felt so good to have my appetite for baking (and eating!) back. I'm happy to say that this recipe today fits all 3 goals for breakfast, snacking, and dessert. Hey, if you want to eat it for dinner too, I'd say we're kindred spirits.
Now, a little note about baked apples.
Do you struggle as much as I do with the decision of which type of apple to bake? It gets me every time. In my mind, there's nothing worse than a mushy baked apple. I had a rather traumatic apple baking experience a couple years ago and it just about turned me off baked apples for life. Thankfully, I gave it another shot, this time using Honeycrisp apples. They held up so well in the oven, they were still firm after 40 minutes of baking. Soft on the outside and firm in the middle – that's my perfect baked apple. If you prefer the baked apples soft all the way through with that "melt in your mouth" quality, just bake until you can easily slide a fork through the middle. Your call. The baking time will vary greatly depending on the variety of apple as well as the size. My apples were huge – just under 400 grams for the pair.
I mixed up a lovely cinnamon date pecan oatmeal and then stuffed it into the middle of two apples. All of the leftover oatmeal gets scooped into the dish and it's baked for around 40 minutes or so (it probably could've used another 5 mins since the apples were so large). It's so incredibly simple – and the outcome was even better than I hoped! I could see this dish making a lovely holiday breakfast.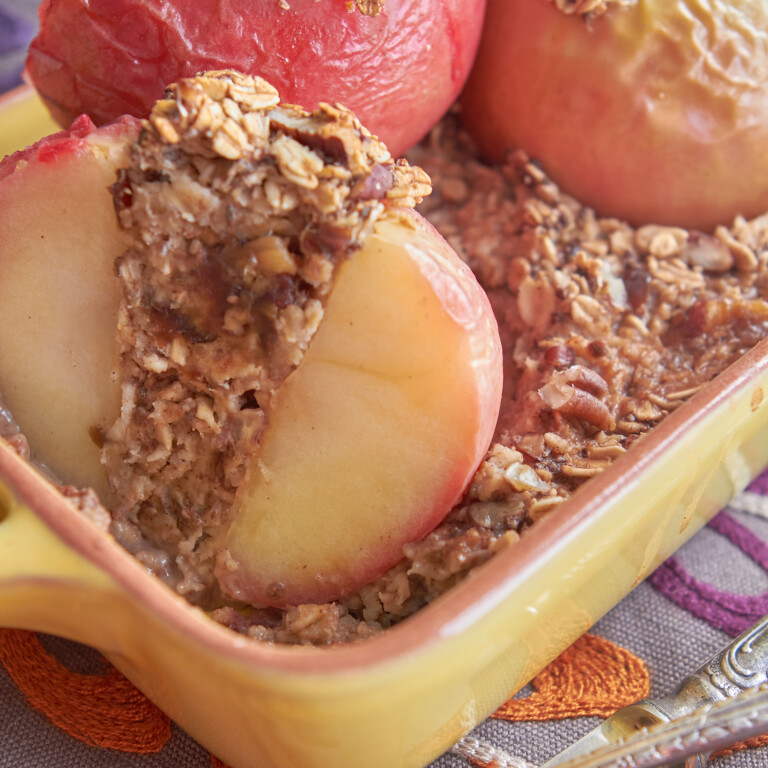 Baked Apples Stuffed With Cinnamon Date Pecan Oatmeal
Vegan, oil-free, soy-free

Yield

2-4 servings
Prep time

Cook time

Total time

Ingredients
2 large firm baking apples (I used Honeycrisp), cored
1 cup rolled oats
1 tsp cinnamon
1/4 tsp freshly ground nutmeg
4 Medjool dates (or raisins), pitted and chopped
1 tbsp chia seeds (or try ground flax)
1/4 cup pecans (or walnuts), chopped
1.5 cups almond milk
1 tsp vanilla
1.5 tbsp pure maple syrup, plus more for garnish
Directions
Preheat oven to 350°F. Wash and core apples. You want to make the hole about an inch in diameter, so there is enough room for stuffing. Place cored apples in a lightly oiled rimmed baking dish (I used a 4 cup dish).
In a mixing bowl, whisk together the rest of the ingredients.
Fill apples with the oatmeal mixture (pack it down slightly) and then spoon the leftover oatmeal + all liquid into the dish, surrounding the apples.
Bake, uncovered, for approximately 35-50 minutes (this time will vary depending on your apples, so keep an eye on it). To test for doneness, pierce apple with a knife. If it slides through fairly easy it's done. The almond milk should also be absorbed and the oatmeal fairly firm. Serve with drizzle of pure maple syrup, apple butter or pumpkin butter, whipped coconut cream, non-dairy ice cream, or yogurt.
Nutrition Information
(click to expand)
Enjoy it hot or cold, for breakfast, snacking, or dessert a la mode! [I'm a poet and I know it.]
It's also Sketchie approved. The hot oven made me flustered on a warm fall day and I had to rip off my sweater, providing him a cozy cat bed. :)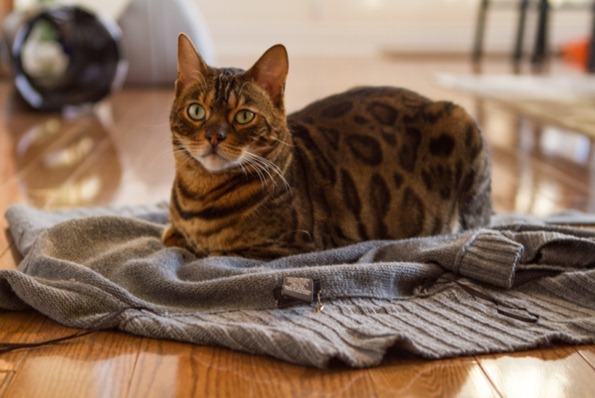 Note his cat tunnel in the background. The best 10 bucks we ever spent.
By the way, please remind me to purchase an apple corer! I am the worst at coring apples with a paring knife. It's a miracle I have all 10 fingers intact today.
I'm curious – what are your favourite baking apples? Have you tried certain varieties with great results? Or others with poor results?