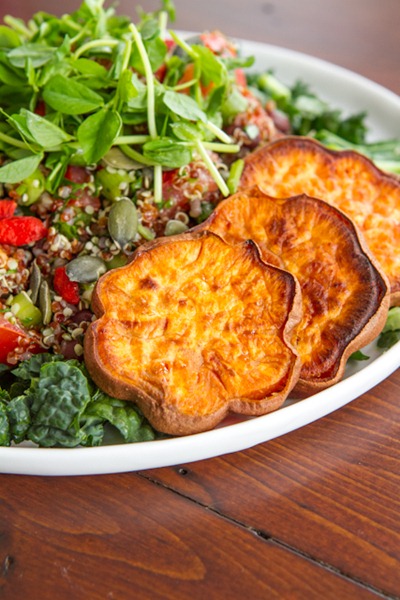 Last week, I had a meeting downtown and it was the perfect excuse to grab a bite to eat at Fresh restaurant. Whenever I'm in the city I try to pop in for a meal, even if that means eating an early dinner at 4pm and hitting rush hour traffic on the way home. It's always worth it.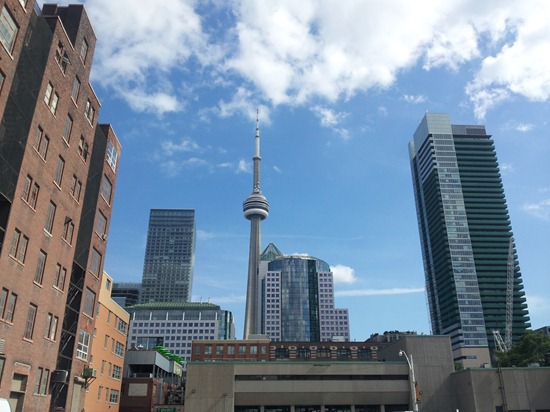 I started with a juice made up of grapefruit, beets, ginger, lemon, milk thistle, and cayenne. This might just be one of my favourite healthy juices and the bright pink colour gets me every time.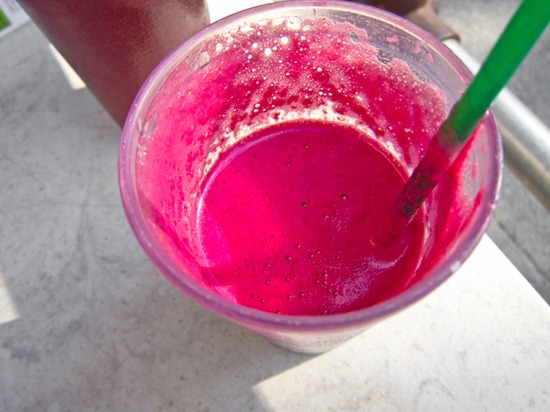 For an appetizer, I ordered the spring rolls stuffed with brown rice vermicelli, mushrooms, carrot, and cilantro served with a garlic dipping sauce. Not something I normally order, but I really enjoyed this!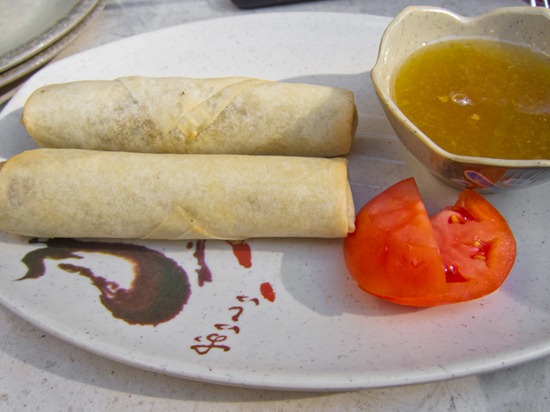 Being in the spirit of the salad challenge, I ordered another new-to-me dish: the All Star Salad made up of quinoa and adzuki bean tabbouleh,  raw shredded kale, goji berries, toasted nut and seed mix, sunflower sprouts, parsley, cilantro, grilled sweet potato, and tofu.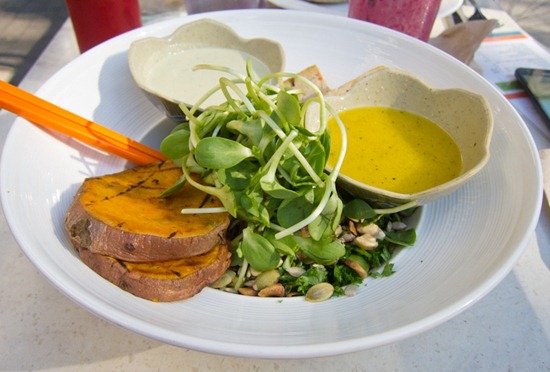 This picture really doesn't do it justice, but let me just tell you I was kicking myself for not trying this sooner! It was the perfect balance of whole grains, protein, and healthy fats with a great crunchy texture thanks to the toasted nuts and seeds. I didn't leave a bite behind.
The problem with many dishes at Fresh is that they can be tricky to recreate at home. Most of their dishes contain all kinds of toppings, sauces, grains, and multiple proteins which is why they taste so great, but they can be lengthy to prepare. If you don't feel like preparing the entire salad, I suggest simply making the tabbouleh. It makes about 5-6 cups worth and is a lovely addition to any lunch!
I started with a bed of 1 cup shredded lacinato kale. By "shredded",I just mean that I finely chopped it on a cutting board, after removing the thick stems at the bottom of each leaf. For those of you who still aren't crazy about kale, I highly recommend trying lacinato kale. It's much milder than curly kale and also has a nice smooth texture.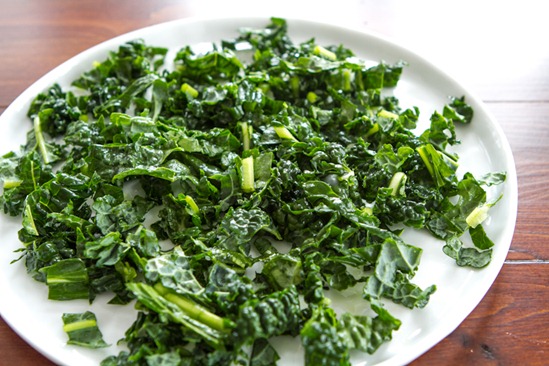 Next, I made tabbouleh with a twist. It's filled with red quinoa, adzuki beans (I really need to make these more often!), parsley, cilantro, green onion, and tomato. I knew with the right dressing, this was going to be a new favourite tabbouleh.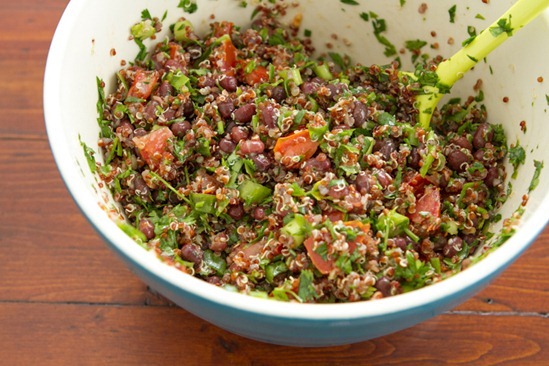 For the dressing, I decided on a red wine vinegar, olive oil, and garlic dressing instead of the typical lemon dressing that we often see in tabbouleh recipes. It has just the right amount of bite from the vinegar, while still being quite mellow.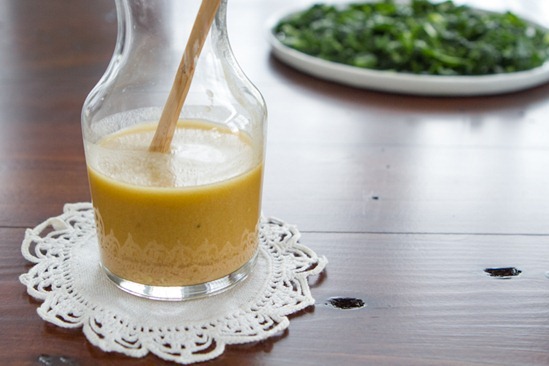 I poured the dressing on the Tabbouleh and mixed it all up. Then, I added sea salt and pepper to taste and added another tablespoon of red wine vinegar to make it pop a bit more. It turned out incredible and I could barely keep myself from shoveling it all in right then and there.
I added about a cup and a half of the Tabbouleh on top of the shredded kale: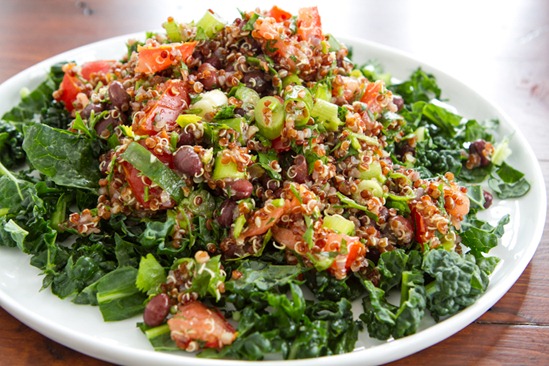 Followed by a sprinkle of goji berries, pepita and hemp seeds: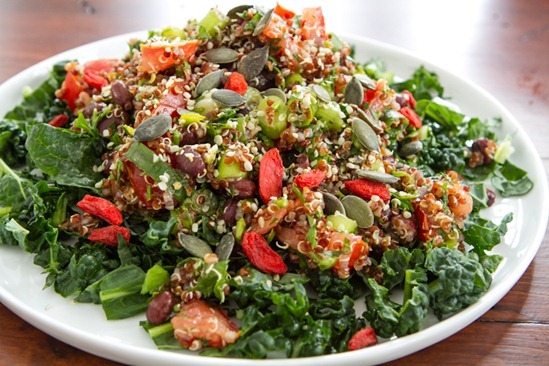 And finally, pea sprouts and baked sweet potato rounds.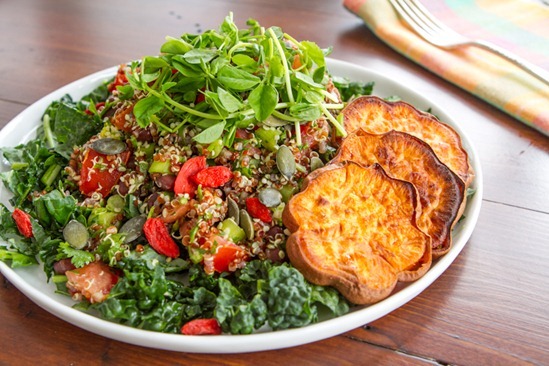 All of these toppings are completely optional, depending on your preference and you can certainly enjoy the Tabbouleh on it's own as I mentioned. Thanks to the beans and complete-protein quinoa, I found it very satisfying. In an effort to save time, I didn't add any tofu, but feel free to add some if you wish.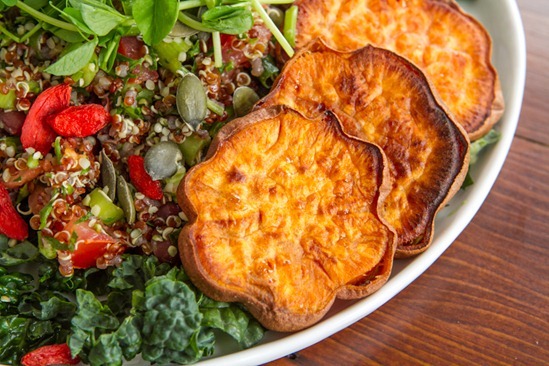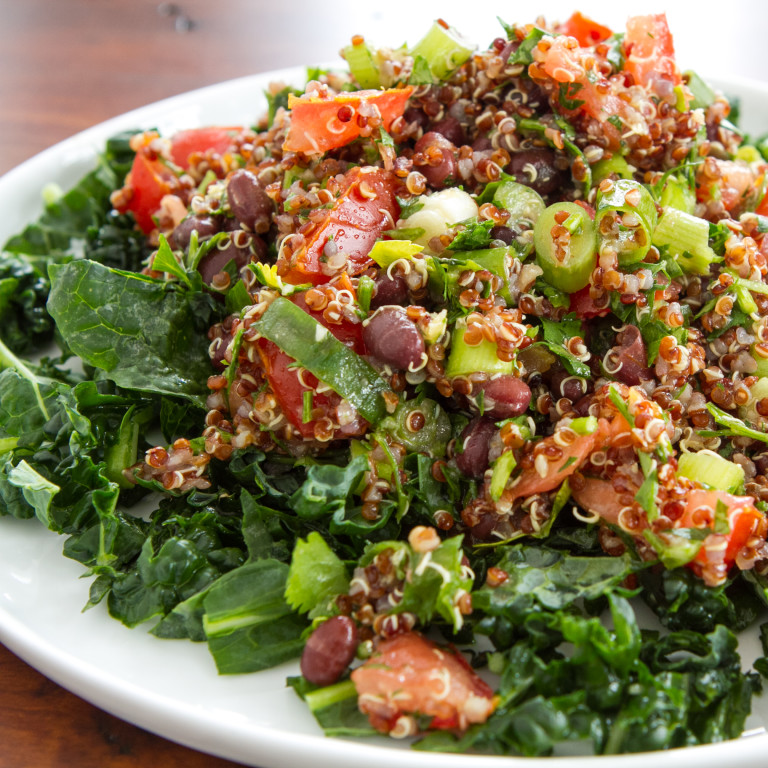 Adzuki Bean and Quinoa Tabbouleh Salad with a Twist
Vegan, gluten-free, nut-free, soy-free

Yield

6 cups tabbouleh
Prep time

Cook time

Total time

Inspired by Fresh Restaurant's All Star Salad.
Ingredients
For the tabbouleh
1/2 cup dry adzuki beans (or use 1.5 cups cooked beans)

*

3/4 cup uncooked quinoa (makes 2.5 cups cooked)
1 cup packed fresh parsley, thick stems removed and minced
1/2 cup packed fresh Cilantro, thick stems removed and minced
2 small tomatoes, chopped (makes 1 & 1/4 cups)
3 large green onions, chopped
Herbamare or fine grain sea salt & black pepper, to taste
For the dressing
1/3 cup + (1 tbsp, optional) red wine vinegar
1/4 cup extra virgin olive oil
2 garlic cloves, minced
Herbamare/fine grain sea salt & ground pepper, to taste
1 tbsp nutritional yeast (optional)
Directions
Adzuki beans: Soak the dry beans overnight in water OR use the quick soak method like I did: Place beans in a pot and cover with water. Bring to a boil and then turn off the heat and let it sit for 1-2 hours. After soaking, drain and rinse the beans and then place back into the pot with new water, covering the beans with water by about 2-3 inches. Bring water to a boil and then reduce heat to low-medium, simmering for about 35-45 minutes. Watch closely and add more water if necessary. Alternatively, you can use canned beans for a time-saver.
Sweet potato: Meanwhile, preheat oven to 425F. Line a baking sheet with parchment paper. Slice a sweet potato into 1cm rounds. Lay flat on baking sheet at bake for about 15 minutes each side, watching closely so it doesn't burn.
Quinoa: Add 3/4 cup of dry quinoa and about 1 & 1/4 cups water in a medium-sized pot. Stir. Bring to a boil and then reduce heat to low and cover with lid, simmering for about 15-20 minutes and watching closely. Quinoa will be light and fluffy when ready and the water will be absorbed.
Dressing: Whisk together all dressing ingredients and season to taste. Or feel free to use a mini processor if you have one.
Tabbouleh: Combine the drained & cooked beans, quinoa, and chopped vegetables in a large bowl. Pour on the entire amount of dressing and stir well. Season to taste. Makes about 5.5-6 cups and should keep for at least a few days in the fridge.
To assemble the salad: Add 1 cup shredded kale onto a plate or large bowl. Spoon on 1.5 cups of tabbouleh on top. Garnish with goji berries, pepita and hemp seeds, and a handful of sprouts (all optional). Finally, add the grilled or baked sweet potato rounds on the side.
Nutrition Information
(click to expand)
~~~~
I hope you enjoy it as much as I do!