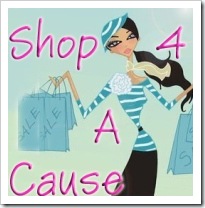 Want to purchase amazing baked goods, specialty products and crafts, jewelry, and clothing while donating the money to a fabulous cause?
Well, look no further!
Oh She Glows is hosting its' 1st "Shop 4 A Cause" Auction Charity event where you can place bids on a wide range of wonderful products.
Watch a slideshow of some amazing items up for auction here!
Here is a list of the confirmed items so far:
1) Knitting for Dummies and Crocheting for Dummies
2) 100% Australian Made Pack
3) Sarah Jessica Parker gift pack!
4) Peanut Butter Chipsters
5) Beauty and the UK Treats
6) Beautiful Coach Purse 2 Vera Bradley purses
7) Leather purse from Turkey
8.) Leather Fossil purse
9) Bijoux Terner Earrings and Necklace in Gold
10) Blue Leather Fossil Wallet
11) Swarovski Crystal Clown and angel
12) Royal Albert Bone China tea cup and saucer in White Dogwood pattern
13) $50 gift card to Winners
14) Brown leather backpack from Kusadasi, Turkey
15) Indoor Gardening Set with rake, shovel and spitzer bottle
16) Handmade Wedding Countdown board
17) Homemade Necklace in Ovarian Cancer colors made of Swarovski crystals
18) Original Glo Bakery Painting
19) Custom Stylish Homemade Journal or photo album
20) European Chocolate Gift Box
21) Personalized menu planning
22) Book: This Crazy Vegan Life by Christina Pirello
23) NO GYM, NO PROBLEM Workout DVD Pack!
24) ORGANIZE WITH STYLE
25) Carrots 'n Cake GLOW ON THE GO gift package
26) Polly's simple maple granola
27) Kara's Oatmeal Butterscotch Cookies
28) Heather's Maple Nut "Oaties"
29) Veggiegirl's Customizable Blondies
30) Oh Hungry? Oh Hangry! Trader Joe's Fun Pack
31) Priceless Poetry by Acclaimed writer Andrea Scarpino
32) Jenna bakes 'Super Charge Me Cookies'
33) Oh She Glow's Fit Gear Gift Pack!
34) Oh She Glows Girly Girl beauty gift pack!
35) PETA's Vegan College Cookbook
36) $50 ESSO Gas Gift Card
37)  Oh She Glows Book Worm health + Beauty reading Pack and Power Yoga DVD!
38) $50 ESSO Gas Gift Card
39) Mara's Food Blogger Charm 1
40) Mara's Food Blogger Charm 2
41) Vera Bradley Purse- PINK ONLY
42) Vera Bradley purse- GREEN ONLY
43) Books: My Sweet Vegan and Go Dairy Free
Two Ways you can To Participate:
1) Donate baked goods or other items to be auctioned off (Email me [email protected] and let me know what you are donating)
Examples include (but are not limited to):
Baked goods (cookies, muffins, brownies, fudge, biscotti, scones, etc)
Jewelry or unique knickknacks
Homemade Specialty items (beaded jewelry, knitted items, foodie items)
A Service you can offer (Personal training, nutritional counseling, meal planning, etc)
New or Gently Used Clothing (Have things in your closet that you don't wear- donate it!)
Fitness gadgets (e.g., HRM, jump rope, weights, Step counter, etc)
Books (ANY kind of book, especially health, cooking, or diet related)
DVDs (Workout DVDs, movies, etc)
Anything and everything!
What's in it for you? You have the prestigious role of donating your fabulous goods or services to a wonderful cause, of course! You will also be featured on Oh She Glows in a special auction highlight featuring your products. This is a great way to promote one of your skills if you wish to sell them in the future!
2) Bid on items up for Auction
On the official Auction Day (TBA) visit Oh She Glows and bid on your favourite items! You only pay if you win the item.
Anticipated Auction Day is the first week of June 2009. Stay tuned to OSG for further details!
I would like to thank you for your interest in helping support a wonderful cause!
All funds will be donated to the Canadian Cancer Society.
Coming up in the auction…a special Oh She Glows package filled with my favourite products!!
Here is a teaser of what my package will include: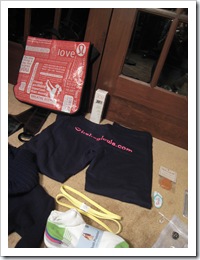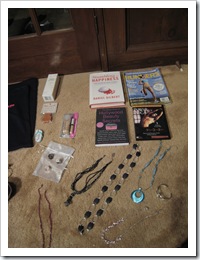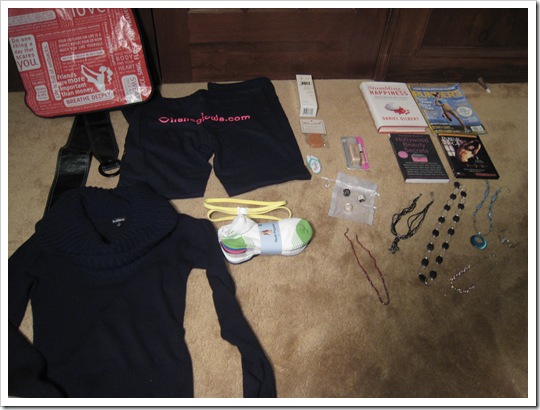 And that is just the start of it! :D
Please email me if you have any questions or comments: [email protected]
You can also follow me as I train for my first 10k race!
"Never underestimate the power of a small group of people to change the world. In fact it's the only way it ever has." – Margaret Mead