I swear my stay so far has felt like a pampered retreat!
We had such a great day. It was spent with my family (and nephews!!), playing, pepping food/cooking, seeing my sister's house, a fabulous dinner, and a spa treatment at night!
I can't remember a better Sunday in a long time (ok, well, my wedding was on a Sunday Aug 31st! hehe). But this one was great.
I decided that today would be my off day this week since I han't had one yet. Tomorrow, my sister is picking me up at 9am and we are hitting the gym! I am going to run on their indoor track and I am so pumped to be off of the treadmill for a run! Today was a nice rest day after my long run yesterday so I think I will wake up feeling revived and ready to run tomorrow.
For lunch today I was on my best behaviour as I knew I would probably have a few of my mom's baking treats later on. I had two Eziekel veggie & hummus sandwiches (thats 4 slices of bread! I was starving) and a huge serving of organic carrots from the market (sooo sweet!). Lunch was fabulous. I has a teeney tiny piece of banana bread (top row below) and I split a lemon pisachio biscotti with my mom. The perfect dessert! I have to get this recipe for the biscotti from my mom! It was amazing!
Guest blogger #2 my beautiful mom preparing the treats…
haha yes I brought my Gingerbread Spice tea (bottom) with me on the plane (A small obsession you might say!). My mom and sis tried it and really enjoyed it. Although, my search for Eggnoggin still continues! I am going to check around here this week…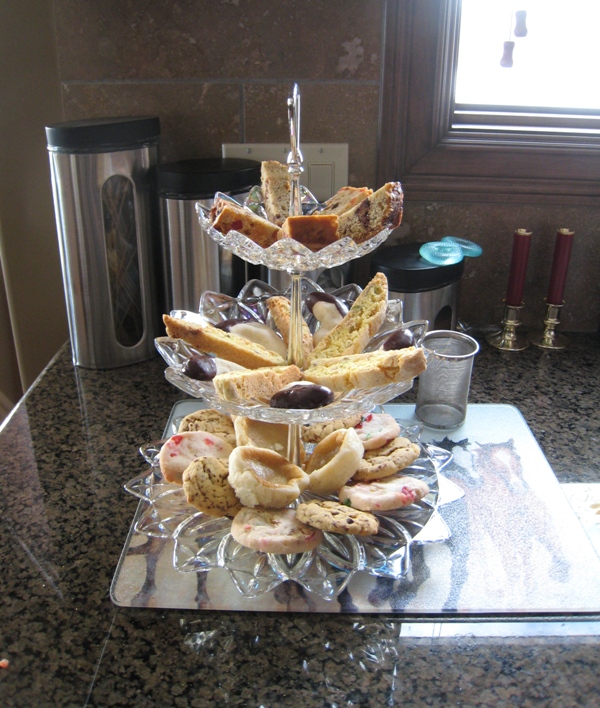 My mom baked everything except for the Icebox cookies on the bottom. It was funny, when I smelled the icebox cookies the smell reminded me of my grandparents house when I wa a little girl. It was such a weird feeling! Oh I just remembered- I also tried a bite of my mom's homemade buttertarts….they were freaking fabulous!!!!!!!!!!!!! I don't know how I resisted having one but I did. :D They will haunt me all week!
This recipe is from a famous bakery in Kensington Market in Toronto. It has a how to video as well on the website which my mom said was very helpful! I will be making these for sure!
~~~~~~~~~~~~~~~~~~~~~~~~~~~~~~~~~~~~~~~~~~~~~~~~~~~~~~~~~~~~~~~~~~~~~~~~~~~~~~~~~~~~~~~~~~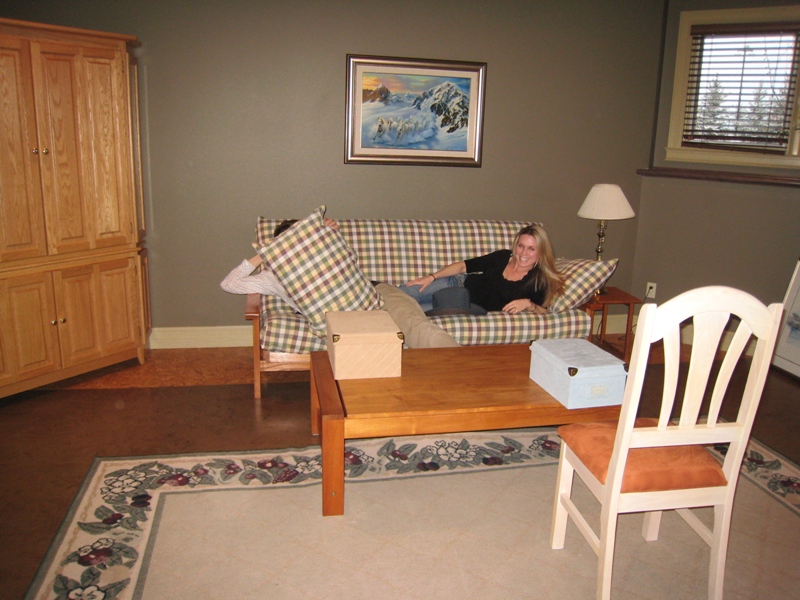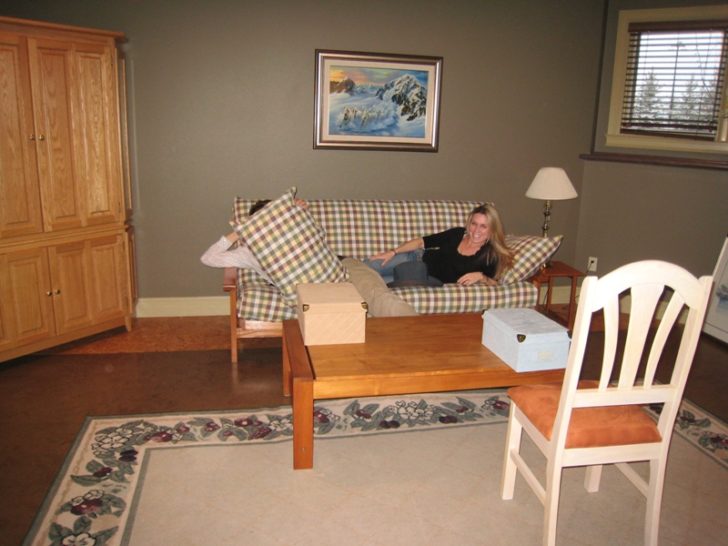 After lunch the boys went for a nap and we just chilled and caught up! I walked into the room and said 'who wants to be on my blog!?" and my BIL hid his face and my sister posed like a model. hahaha. WHich brings me to the 3rd guest blogger my beautiful sis!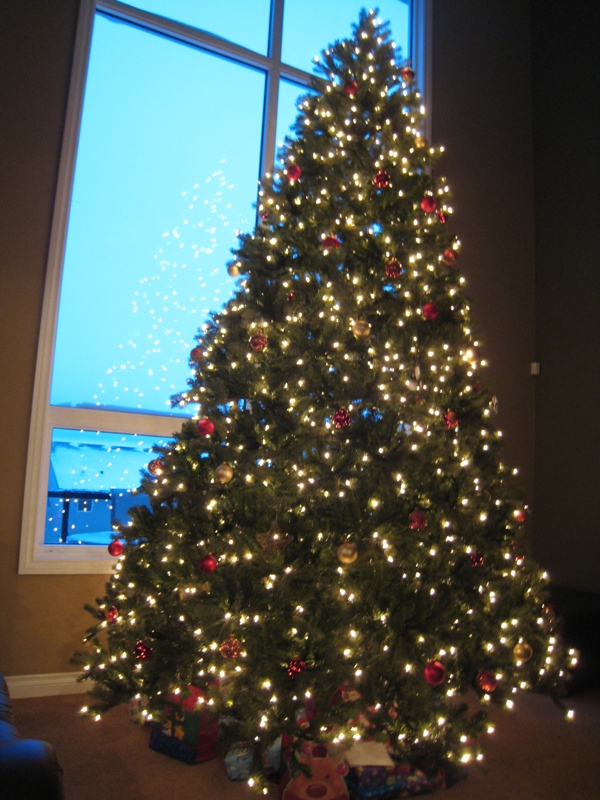 Then we drove to my sister's house! They got a ginormous National Lampoon sized tree!! LOL. It is gorgeous!
~~~~~~~~~~~~~~~~~~~~~~~~~~~~~~~~~~~~~~~~~~~~~~~~~~~~~~~~~~~~~~~~~~~~~~~~~~~~~~~~~~~~~~~~~~
Dinner was fabulous- mixed green salad with avacados, organic butternut squash, chili, and garlic bread.
I had:
half of a piece of garlic bread
small bowl of chili (maybe 1 cup)
2 bowls of salad
1/2 glass of red wine
2-3 cups worth of butternut squash (plain).
It was soooo yummy.
One of my best strategies to ensure that I don't overdo it with meals, is by filling up on veggies. Out of everything I eat, veggies probably make up 60-75%!
The table setting my mom did: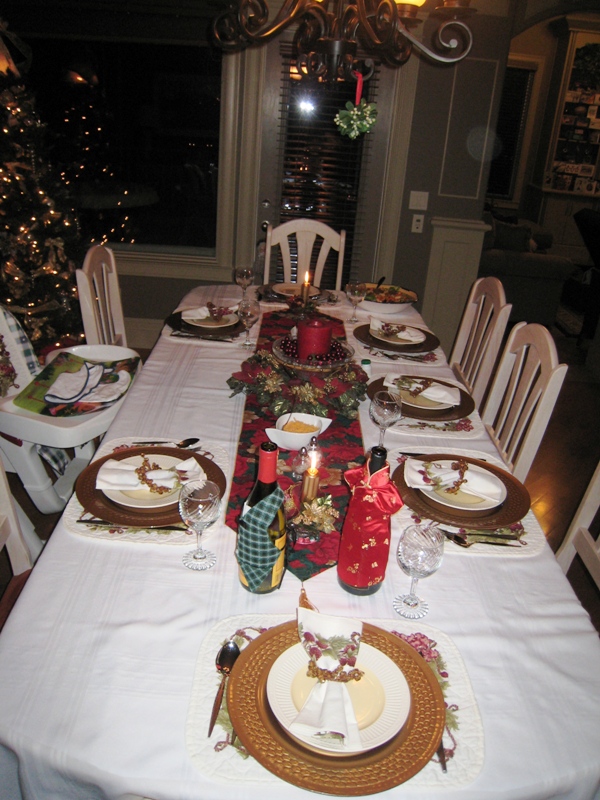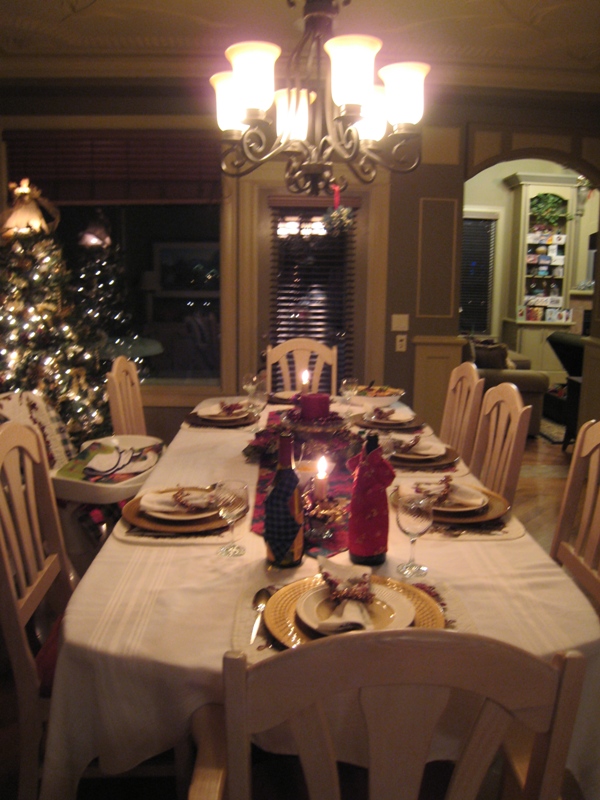 The most amazing butternut squash Ive ever tasted: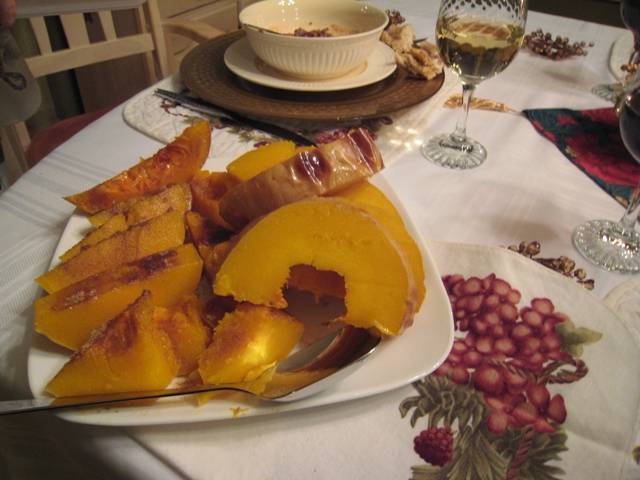 After dinner we had free hand, face, and feet treatments by a lovely lady from Beauti Control. Our skin is just glowing now! It was so relaxing. We spent the whole night sampling products. A girl's dream and fun mother-daughter bonding time!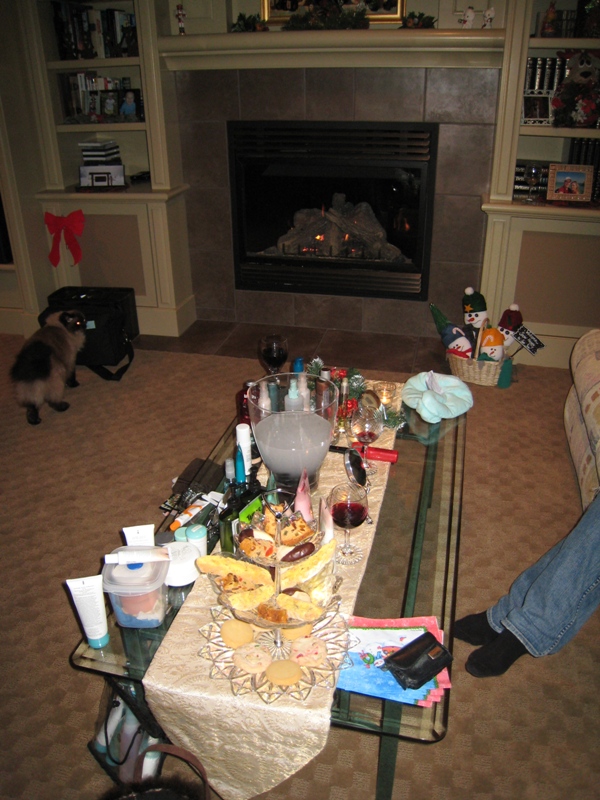 I placed a small order that I got 40% off:
lip balm (SPF 20)
Acne Control Cleanser, Toner, Scrub, and Lotion
Hand, elbow, and feet skin scrub (Ive never felt my hands softer!)
The treats made a re-appearance and I had another lemon pistachio biscotti!
I am officially beat! :D
I hope you all had a great weekend! My nephew keeps reminding me, "Auntie, Santa comes in 3 days!!!" So cute.
See you tomorrow for more excitement, including what I packed in my suitcase!!! I will also be reporting my workout and some beauty product reviews!
~~~~~~~~~~~~~~~~~~~~~~~~~~~~~~~~~~~~~~~~~~~~~~~~~~~~~~~~~~~~~~~~~~~~~~~~~~~~~~~~~~~~~~~~~~
"Nothing is particularly hard if you divide it into small jobs. "
~Henry Ford
[I fully stand by this quote when working out. When I feel like I can't do it, I divide my workout into small steps ("I will run just 1/4 of a mile then I can take a break…VS. I have 5 miles left to run"]