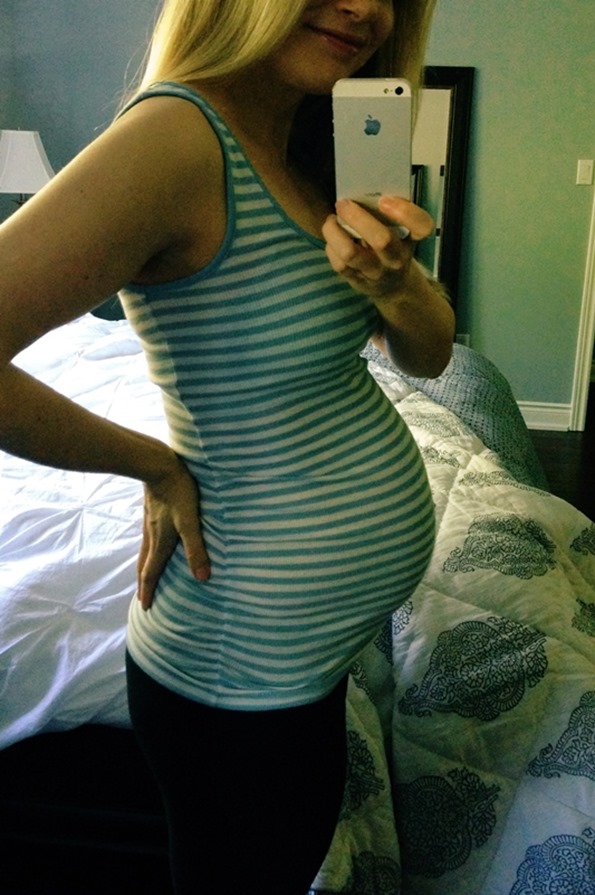 I had an ultrasound this week to check on my low lying placenta. Baby girl clocked in at 2.5 pounds. The 27 week average is 1.93 pounds so she's gaining nicely. I was given a new due date of Sept 17th rather than the 22nd, but they stressed that it's only an estimate at best. Actually come to think of it, I think my previous ultrasounds said Sept 17th rather than the 22nd. My grandpa got a kick out of this because his birthday is the 17th of September. It'll be interesting to see when she decides to make her debut! Only she knows when it's time…
Just for fun, here's a side by side comparison of 14 weeks vs. 27 weeks. Oh she grows!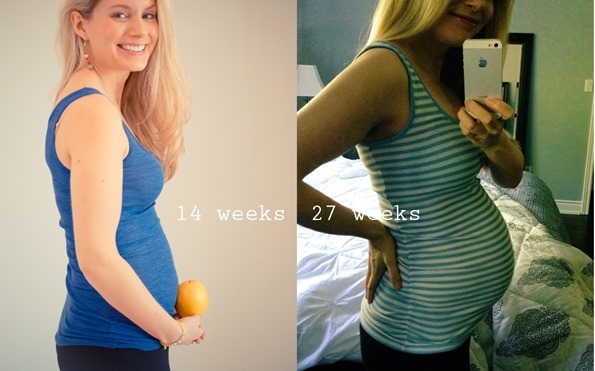 The other good news is that she is no longer breech and is positioned head down. Of course, this can still change (I heard babies can even flip during labour), but it's a step in the right direction.
Oh and guess where her foot was? Nestled up in my right ribs. Tickle me not the least bit surprised! Last night we were sitting on the couch and I yipped in pain because little ninja's kicks to my ribs were so strong.
This week's cravings:
Kirkland slow-roasted organic tomatoes from Costco. OMG. They are phenomenal on toast with hummus and basil! I also suspect they would make a wicked summer pesto.
Chocolate smoothies (I have a killer recipe coming up on the blog this summer)
My raw chocolate hazelnut buckwheat porridge (with raspberries!)
Coffee Shop Worthy Caramel Vanilla Bean Hazelnut Milk (it's the best in tea/coffee and chocolate smoothies!)
Almond butter + raspberry chia seed jam toast
Bananas spread with drippy almond butter
Fav fruit of the week = raspberries. Why can't they be sold by the bucket rather than those tiny trays? Eric keeps saying I'm going to eat us out of house and home! hah.
Exercise: Still loving my daily morning walks! I haven't been doing much strength training lately due to my rib/back pain.
How I'm Feeling: I can definitely tell that I'm slowing down a bit more. Where I once had energy to keep up with the house and be active in the evenings, I now find that I need a lot more rest than I used to. Part of this has to do with the rib pain intensifying over the course of the day, but I also just think my body needs more rest as the months go by. Oddly enough, my sleep has been worse than ever which I'm sure has contributed to feeling less energetic. I've been sleeping with a small pillow between my legs up until this point, but I think I might buy a pregnancy pillow for more support because I wake up with all kinds of aches and pains. I'm starting to feel like the bump is curving my back forward so it might be nice to have a bump wedge for support. Any tips from the pros?
Currently wearing: Old Navy maternity tanks + tees + t-shirt dress (best purchases so far!), my Lulu wonder under crops (they sit so nicely under the bump), maxi dresses, and a few cute shirts from Pink Blush. I still need to figure out what I'm going to wear for my baby shower next month…
Memorable moment of the week: I was on a morning walk and passed a lady who I've seen on the trail before and as she passed by she smiled and said, "Good morning. Your bump sure is coming along nicely!" This unexpected kindness from a stranger honestly made my whole day (I'm sure I had a big smile on my face the rest of the walk) and it reminded me the power of spreading positive vibes. I'm a shy person naturally, but I'm going to try to compliment strangers more often! Thank you sweet lady for making this pregnant ladies day.
Next stop: The Third Trimester!