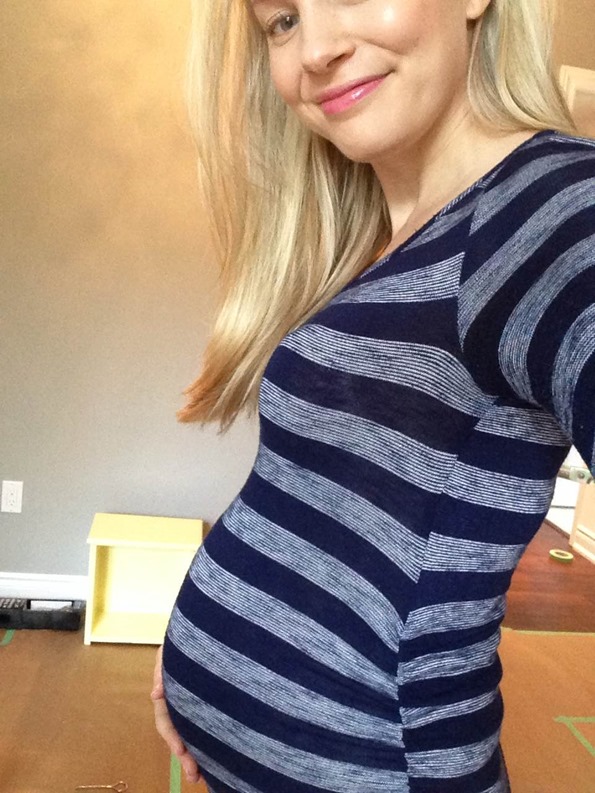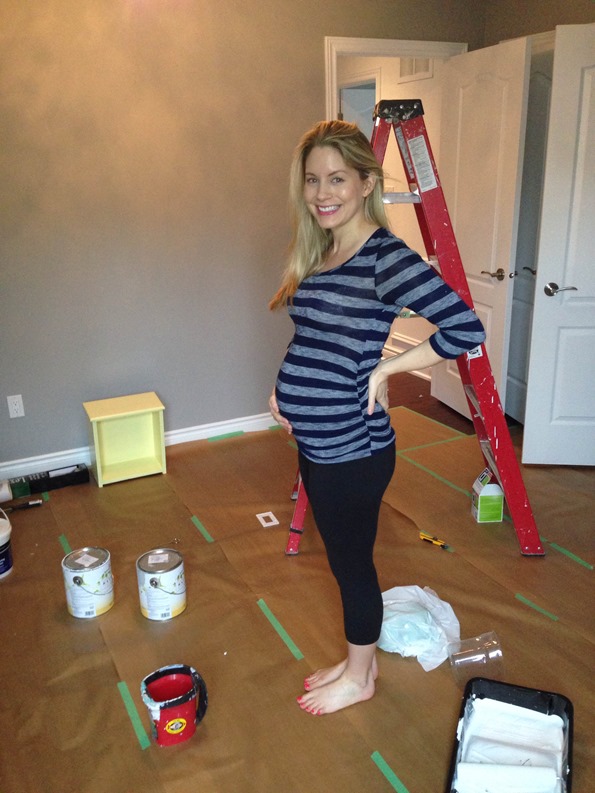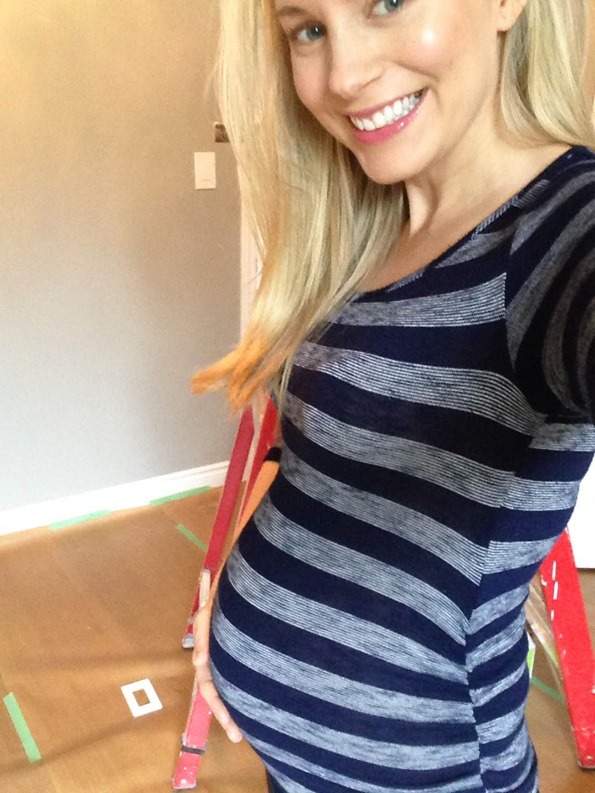 It was fun to do a few pictures in the nursery this week to give you a glimpse of how it's coming along! I hope to post a few more progress pictures in here over the next few months. It will be a nice keepsake to look back on. Eric finished painting three of the walls a soft gray. The wall colouring above isn't very accurate (I probably should've switched off the light before taking the photos). Oh well – see picture below as it's a better representation. We're doing an accent wall in a pink, yellow, and gray floral wallpaper (below) to give the room a nice pop of colour and a fun print. I'm so pumped that things are finally starting to come together!
Here is a peek of the colour scheme + wallpaper. I think it's going to be quite lovely!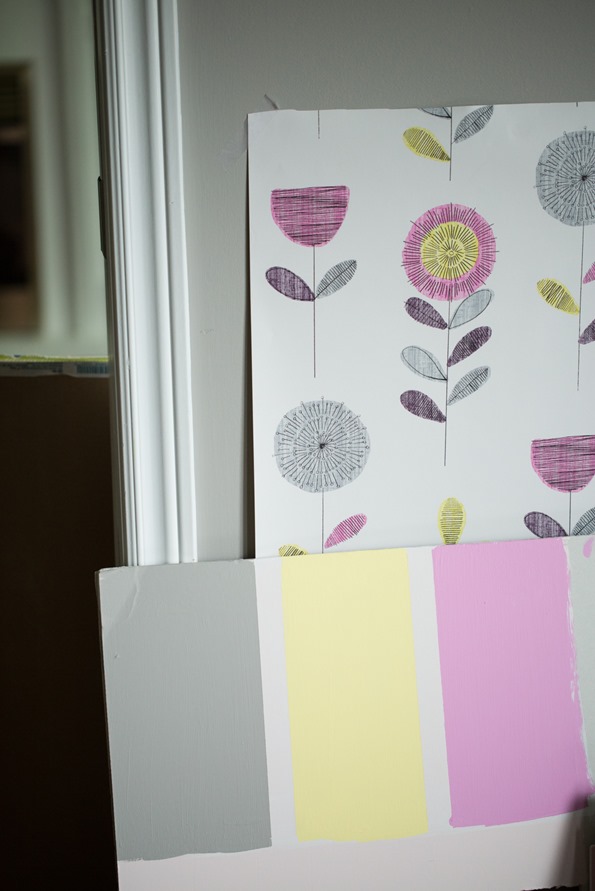 Eric finished painting the dresser yellow this week. The entire dresser didn't set us back more than $100 so we're very happy about that! We picked up some cute hardware knobs from Home Depot last night so those have to be installed and then I'm going to make homemade drawer liners. I think the yellow dresser is going to look really nice against the gray wall. We also picked up a used side table for $5 that we're painting pink to pull from the colour in the wallpaper. Eric is going to build a bookcase which will be painted gray to make it pop off the wallpaper. This will all make much more sense when I have more pictures to show you! But yeah…I'm pretty excited and can't wait to complete a few more crafts. Word on the street has it that Mimi (my mom) is going to paint her granddaughter a painting for the nursery too!
How I'm feeling physically: I'm still having lots of right lower rib and back pain (especially when sitting). I spoke with my OB about the rib pain and he thinks it's due to the ribs expanding and stretching to make room for the baby. Man, it's annoying. All for a good cause though…that baby needs room, I suppose! He recommends a mix of icing and heat for relief. He's sending me for blood work just to make sure my liver is functioning ok, but he really doesn't think it's a liver issue.
Exercise: I took last week off of my weight/resistance routine to see if it would help my rib pain (no such luck), but I've kept up with my usual 60 min. walks every morning. I feel so great starting my day with a good walk. I usually bring some cold water with me to stay hydrated on warmer mornings.
Chiropractor: I had my first adjustment with the chiropractor this week and it went great. I was quite nervous as I'd never been to a chiropractor before, but it was honestly a breeze and there was zero discomfort. She went over my assessment results and I have a couple areas of my spine that are locked up (upper neck, middle spine) as well as my left sacrum. After my adjustment my rib pain was much less than normal for the rest of the day, so I'm really hopeful that these visits are going to help.
Food: After going through a period of not being interested in food, I'm happy to report that it's improved a lot in the past 2 weeks. I wouldn't say I'm back to normal (many of you say it won't be back to normal until the placenta is out!), but it's better than it was. I actually have motivation to create recipes again and I've been whipping up all kinds of amazing things in the kitchen (which is great because I'm banking recipes). Lately, I'm loving really cold drinks (coconut water and green smoothies), dark chocolate, fresh fruit galore (mango, watermelon, berries), and hot tea (Rooibos, fresh lemon ginger tea).
Baby names: We've finally made some progress in the name department. I created a Google doc (shared with Eric) a month or so ago, and we've both been adding our favourite names (and removing ones we no longer like). So far we both love two names (including the middle name) so this is major progress. It will be interesting if we stick with our favourite or end up on something totally different by the end.
Baby Clothing: So I realized that I never showed you the first clothing purchase I made for our baby girl. As soon as we found out the sex, I drove straight to Indigo to pick up this dress that I've had my eye on for months. I almost died when I saw it. Ok, that might be because I used to be a ballerina back in the day. She's going to hate me for this, I'm sure. But mama's gotta have a little fun right?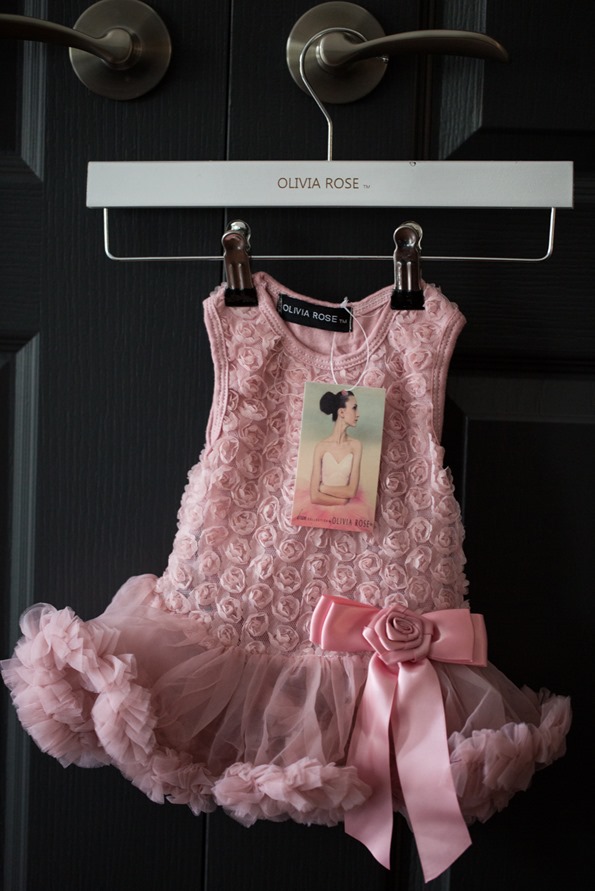 How I'm sleeping: The insomnia of the first and early second trimester is long behind me (yay!), but it was replaced with waking up a gazillion times in the night. Luckily, I can usually fall back to sleep very quickly. I wake up to pee a couple times during the night, several more wake-ups due to shifting positions, and then the baby likes to wake me up a couple times when she decides to have a dance party. It's so cute though, I can't complain. In the past week, I've also had some really VIVID dreams! Thankfully, no crazy nightmares yet (knock on wood), but I had this super random dream that I was a guest at Kim & Kanye's wedding! lol. They were all super divas and I wasn't wearing a nice enough dress so they weren't going to let me in after all. It was quite hilarious actually.