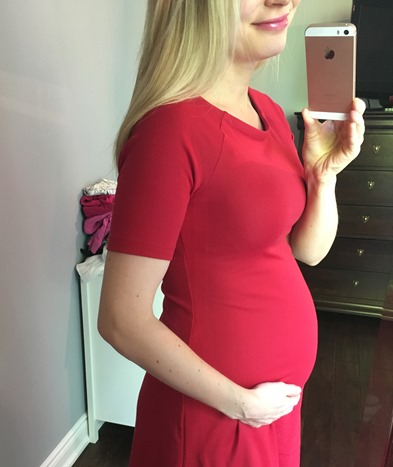 This was definitely one of the most challenging weeks to date in the course of this pregnancy. We were all hit by a nasty stomach flu; it was Adriana's first ever, but luckily she didn't get it quite as badly as we did, although hers has lasted longer. I have other friends who've had the stomach flu while pregnant, but I never knew just. how. horrible. it was. Thankfully, Eric took care of Adriana when I was at my worst (and literally couldn't get out of bed), and then when I recovered faster than he did, I took over and held down the fort. We're a great team and I don't know what I'd do without him.
Nesting: Nothing at all, unless you count going on a bit of a cleaning spree post-flu!
Sleep: We all had about 3 nights in a row of little sleep. I tried to make up for it by napping during the day and going to bed super early. I felt like I was on Adriana's schedule for a couple days. I napped when she napped midday, and I hit the hay right after she went down around 7:30pm. Yes, I said 7:30pm. Yikes. I couldn't get over how weak my body was! Even now I'm still in bed by 9pm. It's taking my body a while to bounce back from this one.
Wearing: I'm loving the heck out of my Old Navy and ASOS dresses due to this warm, summery weather. (See this post for the dress deets.) Dresses are all I've been wearing lately (aside from during the illness, when I wore PJ's 24/7). It feels good to get my money's worth out of maternity buys. I recall wearing my 1st pregnancy maternity clothes down to the bare threads in many cases.
Names: I can promise you that picking a name hasn't crossed my mind this past week, hah. #survivalmode
Reading: To The Lady Who Spoke Up At The Pool During One Of My Lowest Parenting Moments—one of the articles I read while in bed. How many of us go through the day feeling like we're not doing a good enough job or that we're being judged? This story is a great reminder to champion others, especially in their darkest moments.
Exercise: Right now I'm trying to gain back the weight I lost while sick, so I definitely haven't been working out, but I'm looking forward to getting back into my routine when I feel up to it. It's been nice getting out for some light walking again though. The sunshine and summer breeze is so healing!
Aches and pains: On day 2 of the flu, I got full body aches, with an especially sore back and calf muscles.
Hair/skin/nails: My skin is absolutely parched from being so dehydrated. I have dry flakes on my skin and a sallow complexion. I really just look worse for wear, which make-up doesn't seem to be fixing this week—what a reminder how much water and nutrients do for the body! I've been in "operation rehydrate" ever since.
Cravings: I was totally put off by food and couldn't even look at pictures of it for a couple days—I would open my Feedly then close it immediately after seeing a picture of food! Even certain descriptive food words like "spicy" or "Thai" or "chocolate" made me want to gag. I did have this one random craving for mango sorbet though. It was the only thing that sounded remotely good, even though I knew the sugar would probably not sit well with my stomach (I couldn't even drink coconut water during the day as it was too sweet). Our friends offered several times to pick us up anything we needed, but there was no way I was going to call them on a Saturday night asking them to please pick me up some mango sorbet (though I knew they would in a heartbeat). I debated making some in my food processor (I have a killer recipe for it in my second cookbook), but I realized I was out of frozen mango, and quite frankly didn't want to get up to make it anyway. Oddly enough, I'm still craving it so I think I will have to treat myself to the homemade stuff this week! Adriana really loves it too. Other than that I'm craving fluids and popsicles lately. Oh, and vegetables again! Glorious vegetables. I satisfied a random craving today for spaghetti squash pasta.
Baby purchases: Thank you all so much for your double stroller recommendations last week! I have some researchin' and test-drivin' to do. As Adriana loves to say, "Vroom, vroom!"
PS- You can find my 23 Weeks update from my first pregnancy here.