Happy Friday, friends! Boy, did I love reading your comments on my Crazy Mug Lady post the other day. Sooo funny! Glad to hear I'm not alone. After last weekend's ice storm, we're really looking forward to getting outside to enjoy some moderately warm-ish spring weather tomorrow and Sunday. I hope you have a great one too!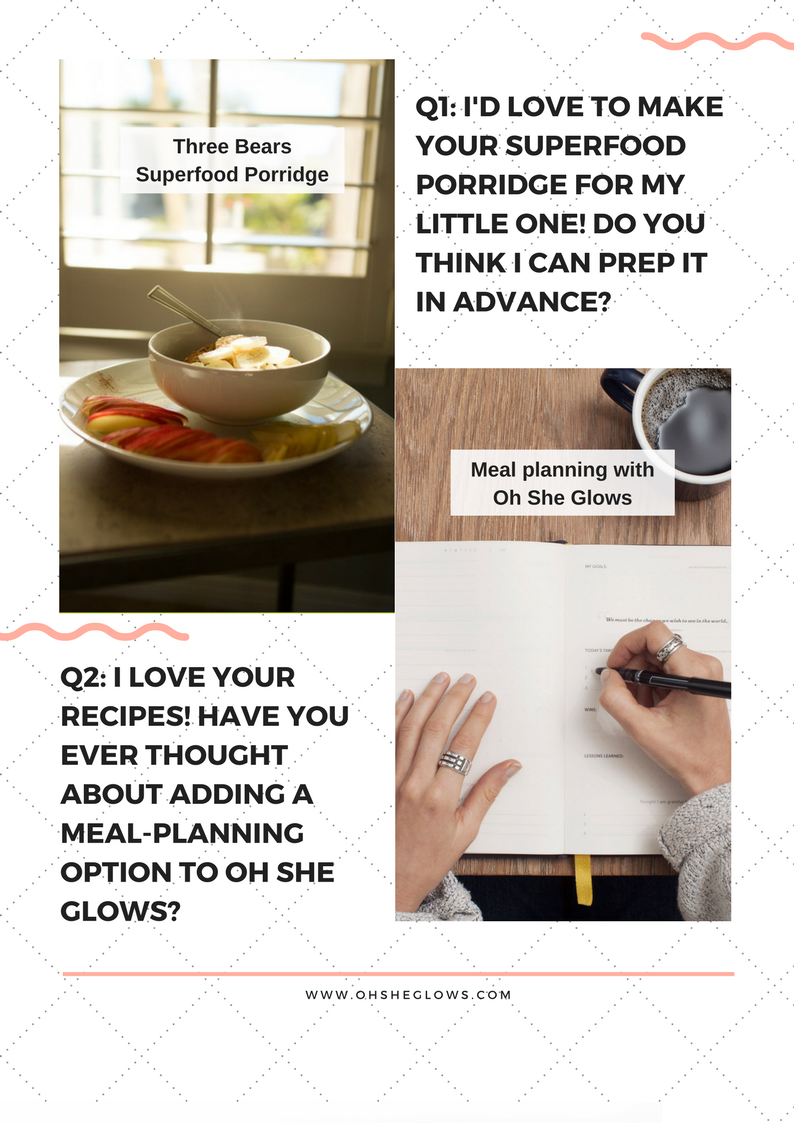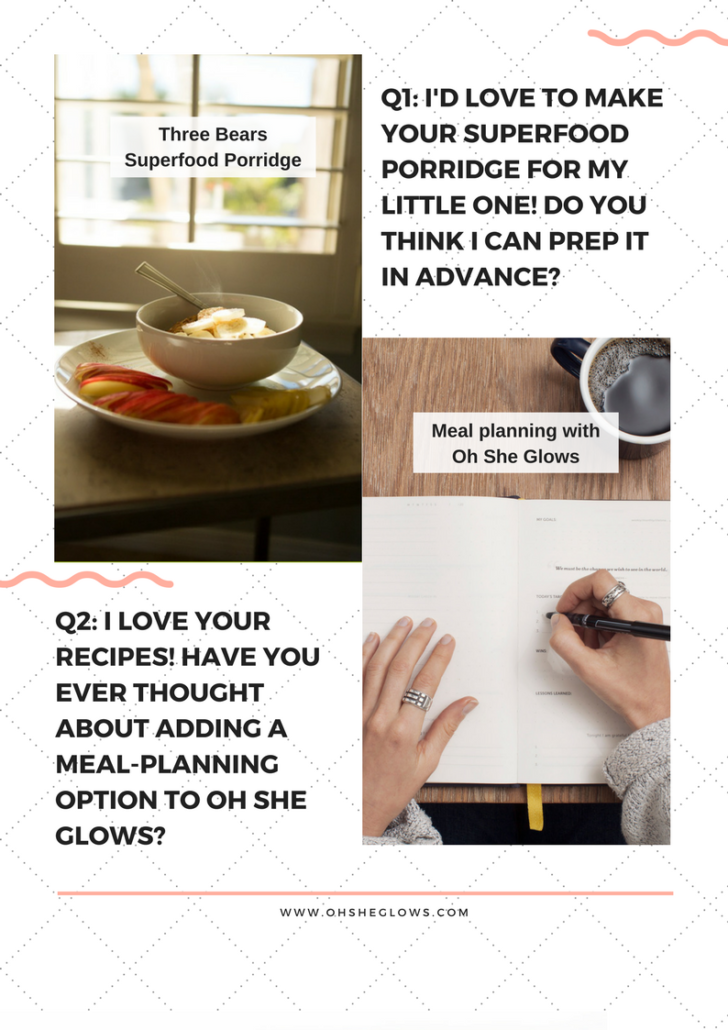 Q1. Just came across your Superfood Porridge recipe! It seems great for my one-year-old. If I were to prepare this the night before, should I cook the veggies first and then add to the oatmeal to soak? Thanks!
Hey Dawn, So glad you found this recipe! We love the porridge and make it often…it's a nice way to sneak in veggies in the AM! You don't need to cook the veggies in advance. I prep everything the night before (without cooking anything), then simply heat and serve in the morning. It really helps to use the super-fine grate hole in the grater box so the carrot and zucchini aren't too thick—that way they won't need much cooking to soften.
Q2. Hi Angela! I absolutely love your recipes. They are natural, healthy, and usually involve simple ingredients that I already have in my pantry. I have both cookbooks, the app, and I go on your website often for food inspiration. I base my meal planning around your cookbooks because they are so fail proof! I was wondering…have you ever thought about developing a meal planning app with all your recipes in it?
Hey Mya, Thank you so much for the recipe love! That's so cool you have both the cookbooks and our app…I appreciate your support so much. It's funny you mention the meal-planning thing because it's actually something Eric and I have talked about recently. It would be such a useful thing to have (goodness knows this mama could use some organization in her life)! So I guess my answer is that a meal-planning option may be a possibility for the future, whether it's on the blog, the app, or in a book. Thank you so much for mentioning the idea—it's great to hear that others would enjoy it. :)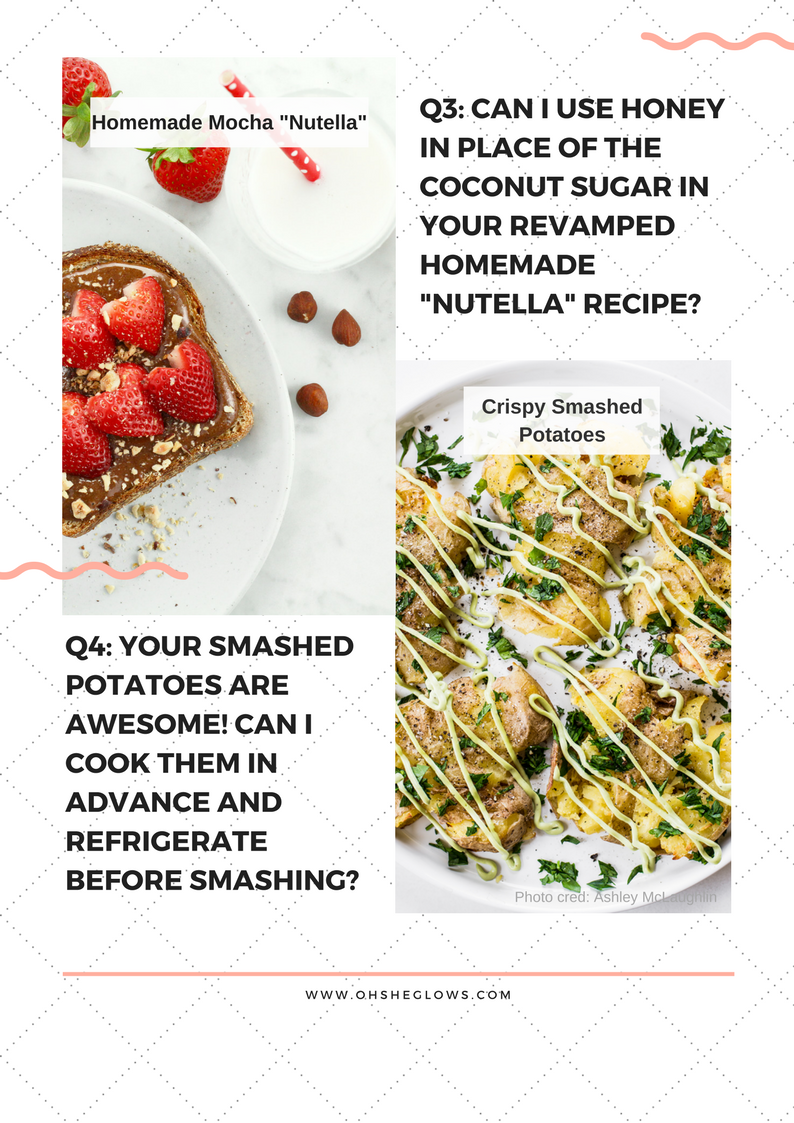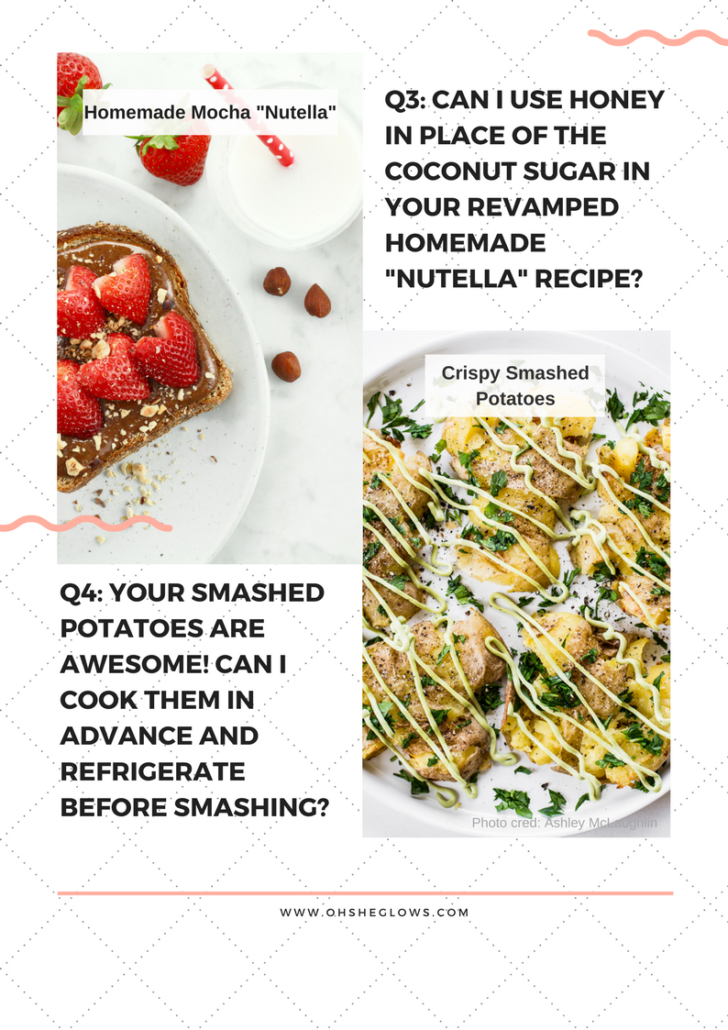 Q3. Hello! I have a question about your Homemade Mocha "Nutella" recipe from the app—do you think I could use honey instead of coconut sugar? If you think that might work, would you have a guess as to about how much honey I should use in place? I know you don't include recipes with honey on your blog, but because brown rice syrup has a similar consistency, I was thinking it might be a close comparison to honey for swapping in recipes? Thank you! You're doing a great job! ?? By the way, I voted for you in The Webby Awards and got three of my friends to buy your app. ?
Hi Fiona, Thank you so much for your support (and your pals', too!). You're so sweet. :) I've found swapping liquid sweetener in nut butters can be tricky. Often the liquid sweetener causes the nut butter to seize (making it thick and clumpy), so I prefer to use coconut sugar in the "Nutella" to keep the spread creamy. I hope this helps!
Q4. I've made your Crispy Smashed Potatoes with Avocado-Garlic Aioli in the past and LOVE them. I'm wondering if these will still smash and roast okay if they've been refrigerated overnight and are cold?
Hey Stacey, Hmm…I'm not sure whether chilling would impact the overall outcome. My guess is that the potatoes might be a bit firm for smashing, so I would suggest letting them sit at room temp for a bit? If you try it out I'd love to hear how it goes!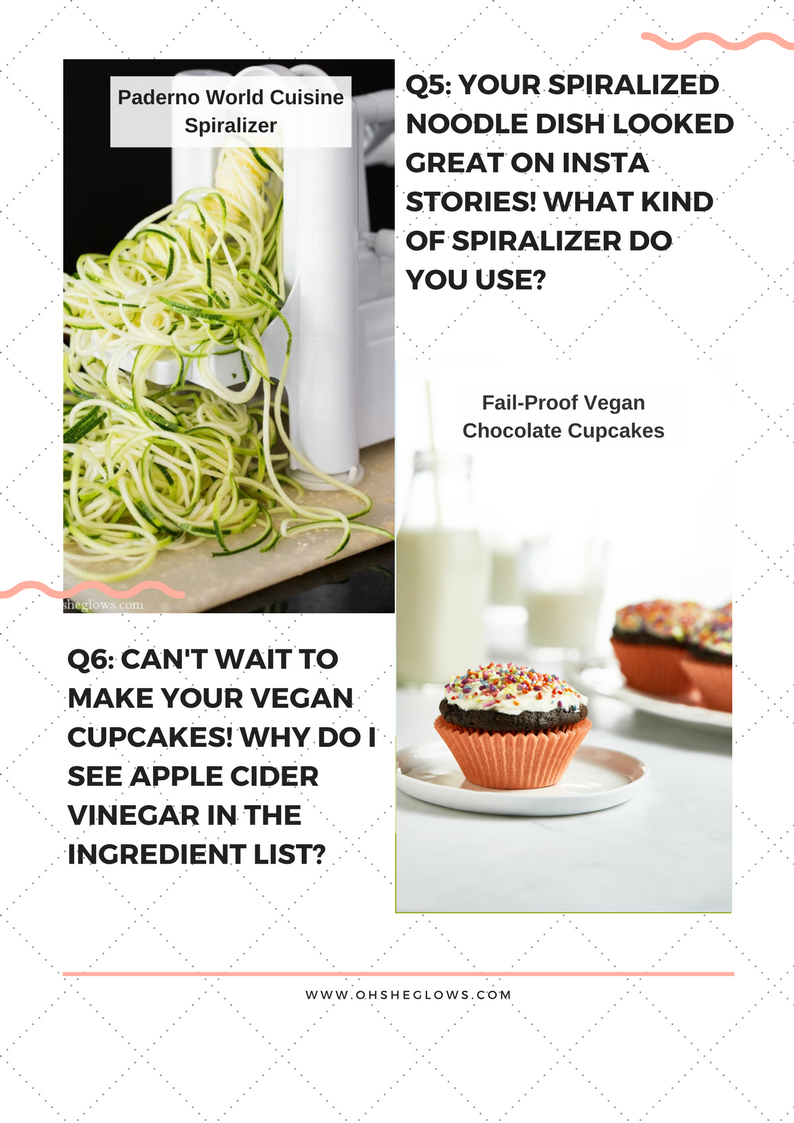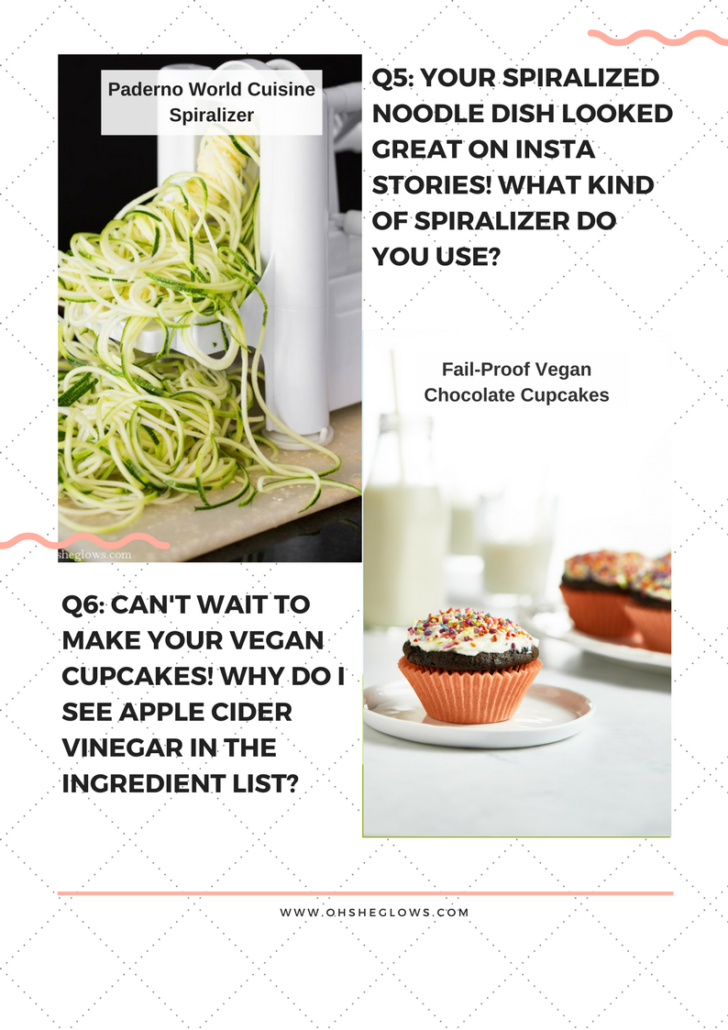 Q5. What kind of spiralizer do you use?
I received a lot of questions about my spiralizer after my Insta Story the other week showing me making spiralized butternut squash noodles for dinner! I have used the Paderno World Cuisine spiralizer for several years now. There weren't many spiralizer options on the market back when I purchased it, but now there are tons! This model isn't as sturdy as I would like it to be, so if I was going to buy another in the future I would definitely shop around and read reviews.
Q6. I can't wait to try your Fail-Proof Vegan Chocolate Cupcakes! Just one question…what is the apple cider vinegar used for in this recipe?
Hey Elisa, Great question! The vinegar is there so it can react with the baking soda which helps the cake rise. I call for apple cider in this recipe as it's a bit sweeter than other varieties, but white vinegar should work too since it's just a small amount. Hope this helps!

"I just want to start by saying damn girl you know how to cook!!! I have for many years been on again off again vegetarian. I had always wanted to go full vegan but just couldn't seem to make it happen. It always felt like unattainable goal. One day I went into a bookstore and pawed through the cookbook section unsure of what I might find. I placed my hands onto your Oh She Glows Every Day cookbook and now I am eight weeks into a new vegan lifestyle and haven't looked back! I was having skin problems, and no matter what treatment I tried, I couldn't fix things entirely…that's what led me to try a plant-based diet. Now I am happy to report my skin has completely cleared! I give your cookbook the credit for that! Thank you."
Erika, I'm totally smiling from ear to ear over here…thank you for sharing your story with all of us! That's absolutely wonderful to hear. High fives to you for all the changes you're making! I'm really flattered that I can be a part of your journey. :) :)
Photo credit (top image): Ashley McLaughlin