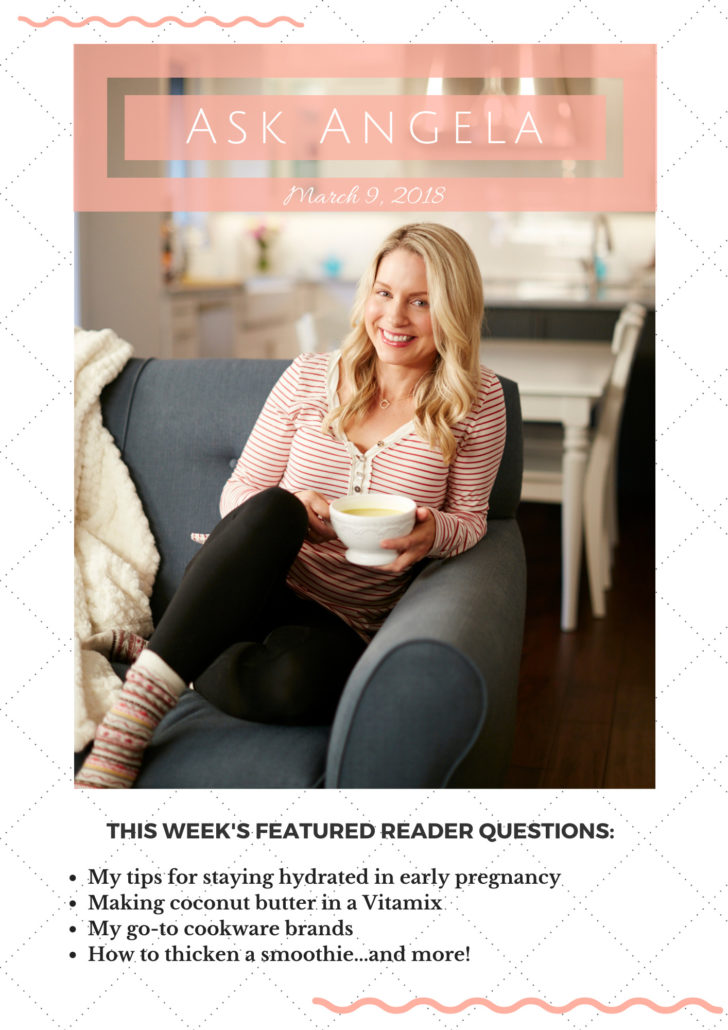 Happy Friday, everyone! Okay, who else is excited about springing forward this weekend? Sunlight until 7pm…I can just taste those brighter evenings! *gives the finger to winter* Bring on the evening light.
I hope you enjoy this week's Q&A roundup. Have a wonderful weekend!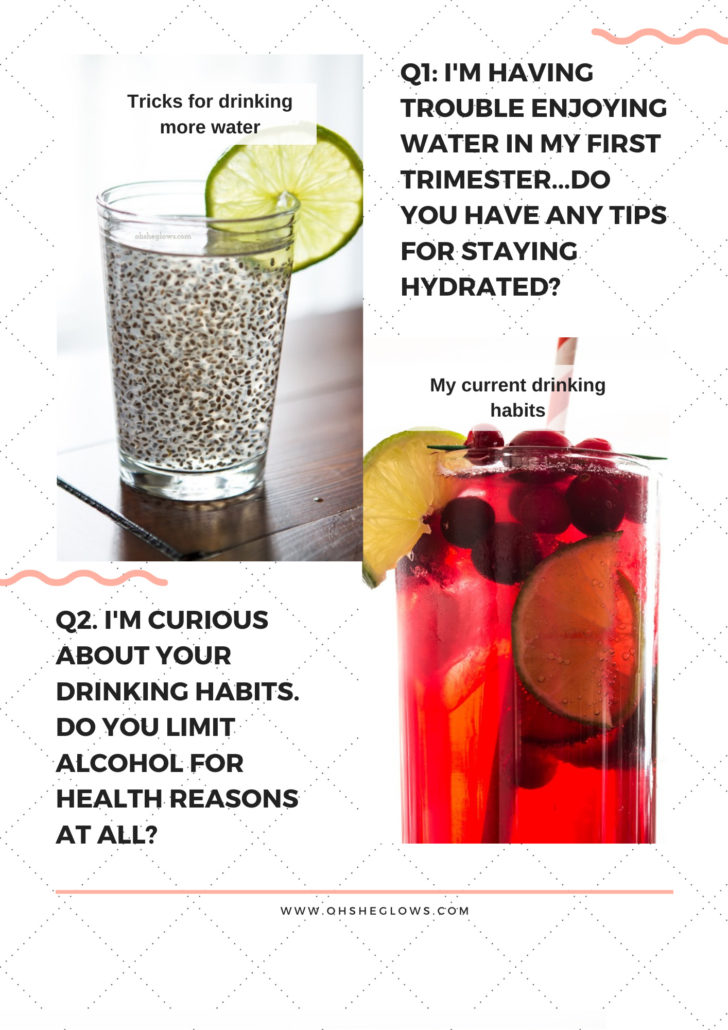 Q1. I'm currently in my first trimester and having trouble drinking water (it just doesn't taste good at all). I'm wondering if you struggled with this during either of your pregnancies and what you did to make sure you got enough water? It's so important!
Hey Sam, Congrats on your pregnancy! I also struggled with water aversion during the first four months of my pregnancies. I just felt so nauseous and water didn't sound enticing in the slightest. What I ended up doing (and it worked great!) was adding some juice to my water to help it taste better. I don't usually drink juice, so mixing some into my water made it taste so flavourful and sweet…it was such a treat, and I found myself guzzling back the fruity water in no time! Sometimes I would drink straight up coconut water too—that's also a nice option to switch things up. (Side note: I use this juice-enhanced water trick when our kids are sick as I find it motivates them to drink more fluids too.) Adding sliced fruit to water (like spa water) also seems popular these days, but I don't really care for it—I find the fruit's flavour rarely infuses enough to make a difference, and I would rather eat the fruit on its own. If you can stomach smoothies, using a cup of water as the base is another great way to "disguise" water and increase your fluid intake. You might have luck with Chia Fresca (shown in the photo), as well. It's a natural energy drink made with water, chia seeds, citrus juice, and sweetener. You can find my Chia Fresca recipe here.
Q2. Hi Angela, I love these Ask Angela posts! I just made a copy of your "What I Eat in Winter Daily" to hang above my refrigerator as motivation! I was wondering if in the near future you could talk more about your philosophy toward drinking alcohol. Do you and/or your husband drink wine/beer/cocktails/etc.? Do you limit your intake for health reasons at all? I am an American living in England and have noticed people drink SO casually over here. Although I don't drink every day, it is very common for people to have wine with almost every dinner meal. I'd love to hear your two cents on this and what you feel works for you and your family. Thanks!
Hey Cindy, Aww that's so sweet you printed the list! Thanks for the Ask Angela series love. As for drinking habits, Eric and I aren't big drinkers these days (I think we both drank enough throughout university to last a lifetime, haha). Lately we've noticed alcohol gives us headaches SO easily…maybe we're getting old…I don't know! I'll enjoy alcoholic drinks here and there for special occasions and events, but I don't drink on a regular basis. I have to say that the lack of sleep that comes along with being a parent of two toddlers is further motivation to try to feel my best at all times. When I do drink, I find a vodka soda with lime leaves me feeling pretty good, and my system seems to handle it better than wine. I hope you're enjoying England!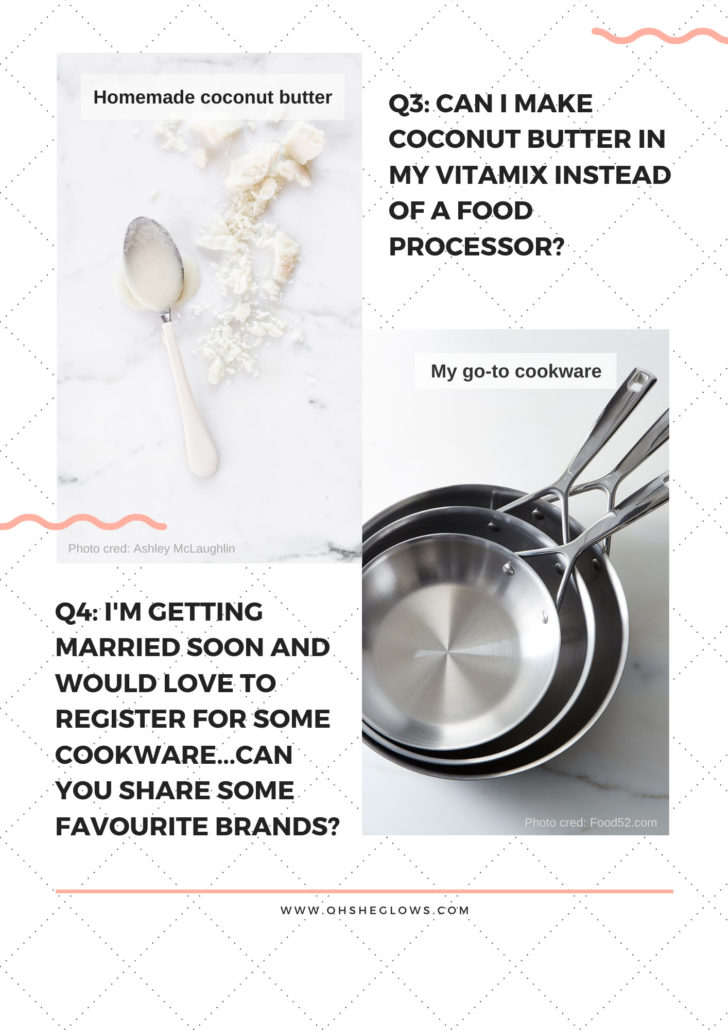 Q3. Hi Angela, your 3-Layer Nut-Free Dream Cups look so delicious and I can't wait to make them this weekend! Have you ever tried using your Vitamix to make the coconut butter? I don't have a food processor but would love to make my own. Thanks!
Hey Alema, yes, you can absolutely make coconut butter in the Vitamix! I would suggest using at least two cups of unsweetened shredded coconut (sometimes smaller amounts have a hard time blending) and also using the Tamper to help push it along. You may have to stop blending to scrape down the container during the process too. I prefer my food processor to make coconut butter because I find the clean up is much easier (I'm not a big fan of scooping butters out of the bottom of the Vitamix…#nopatience), but both types of machines will work. ;)
Q4. Hi Angela, First of all I am such a huge fan of your recipes! I have your first cookbook and the app and delight in making a TON of your recipes. My personal faves though would have to be your Butternut Squash Mac 'n Cheeze (and I have tried a lot of vegan mac and cheeses), Soul-Soothing African Peanut Stew (The Oh She Glows Cookbook, p.129) and Double-Layer Chocolate Fudge Cake (The Oh She Glows Cookbook, p.249)! I'm wondering if you could share the cookware you use? Stainless steel (like All-Clad), cast iron skillet, non-stick, baking dishes, etc.? Any feedback you have would be greatly appreciated!
Hey Katherine, Thank you so much for all the recipe love! Your support means so much to me. And congrats on your engagement…such an exciting time! The cookware brands I currently use are: Le Creuset (for stovetop and oven cooking); All-Clad and Zwilling (for stainless steel options); and Ozeria Green Earth and Zwilling (for frying pans). I like Wilton pans for baking too.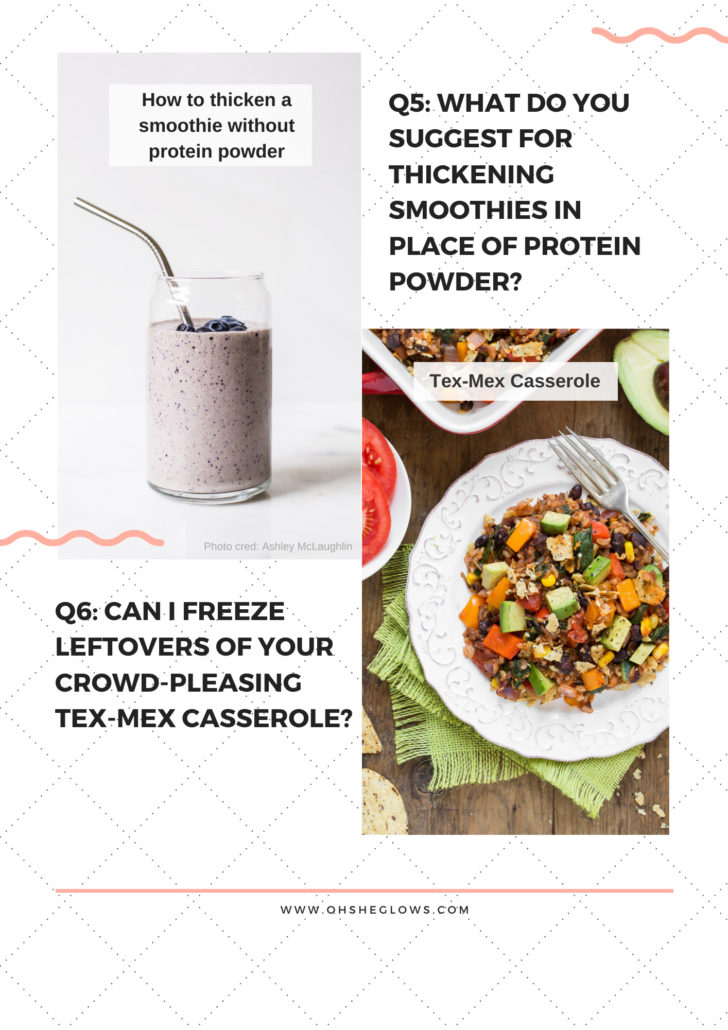 Q5. Hi Angela, I'm a fan of your cookbooks and I recently bought the second one. I'm wondering how to thicken the Satiety Smoothie (Oh She Glows Every Day, p.19) (or any smoothie for that matter) when I'm not using protein powder. I assume it's the protein powder that thickens your smoothies? Can you recommend a few different flavourless or complementary flavour ways I can thicken them without it?
Hey Jessica, Thank you for the cookbook love! I'm obsessed with making thick, creamy smoothies, and I love playing around with ingredients to produce a filling, stick-to-your-ribs texture. I love to use one or more of the following: avocado, ice, coconut butter, frozen banana, and almond (or other nut/seed) butter. Another simple option is to reduce the amount of liquid called for and it'll be thicker without any other swaps.
Q6. Hi Angela, I made the Crowd-Pleasing Tex-Mex Casserole from The Oh She Glows Cookbook (p. 149) last night. It was SO GOOD…even my husband enjoyed it! I am wondering, since it's just the two of us, can I freeze some of the leftovers?
Hey Kristina, I'm so glad you both enjoyed the Tex-Mex Casserole! It freezes quite well. I would suggest leaving off the tortilla chip and avocado toppings if you plan on freezing it. (The chips can be added during the reheating process and the avocado can be added just before serving.) I like to freeze casseroles in a large freezer bag (with the air pressed out) or an airtight glass container. It should be fine in the freezer for a month (or maybe longer, depending on your freezer and how the casserole is stored).

"You're a lifesaver! My son is allergic to dairy, eggs and nuts, and it can be challenging to celebrate his birthdays when I myself am not a baker. But I have been using your Fail-Proof Vegan Chocolate Cupcakes with Salted Buttercream for the last 5 years, and I love how he can bring it to school to feel involved in class celebrations. I freeze a batch and send it in his lunch box when needed. Thank you so much for this amazing recipe!
I'm so honoured, Karm…picturing your son being able to celebrate along with his class is so touching! He's so lucky to have such a thoughtful mom. :) I'll be thinking of you both when I make these!