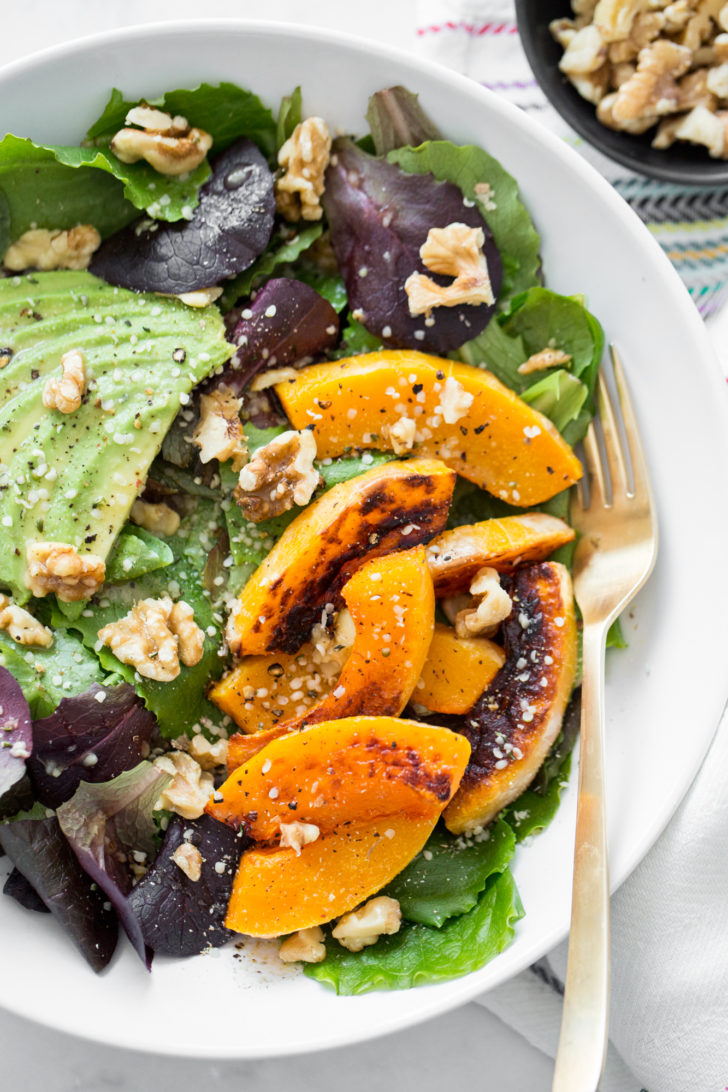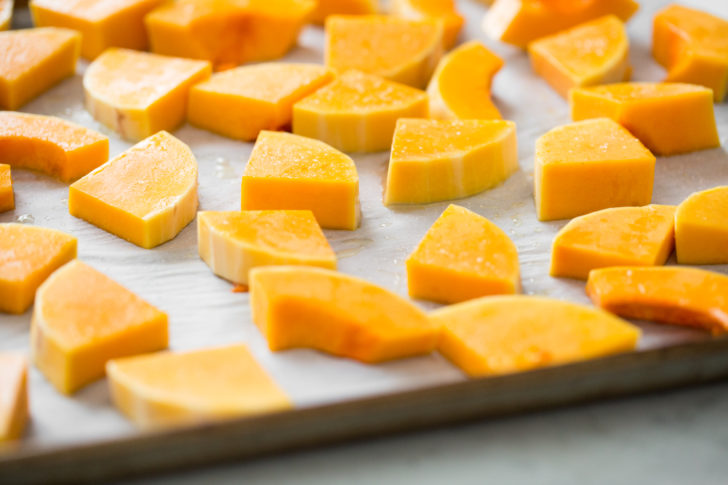 How's your February chugging along so far? Mine is off to a solid start, and I'm already feeling a bit more positive now that the doldrums of January are past! As for things on the OSG front, we're working away on our rebooted Friday FAQs and Things I'm Loving Lately series, as well as a couple new ones that will be launching in the coming weeks. And, of course, plenty of delicious plant-based recipe testing is going down, too. Things are just a-bopping around here!! It's been fun getting into a groove with regular blogging again, and I'm so thrilled you seem to be enjoying the recent posts too.
I had a lot of requests to post this warm salad recipe after sharing it on Insta Stories and mentioning it in my most recent Things I'm Loving Lately roundup. Well, ask and you shall receive! I hope you love this cozy salad as much as I do. It's a great way to use up any veggies lurking in the back of your fridge—I like to toss those on the pan to roast with a big batch of squash so I have plenty of leftovers for the next few days. The extra veggies and dressing make for a really quick reheat-and-serve lunch. If you'd like to pack this for a work- or school-day meal and still enjoy the "warm" aspect, you could store the squash separately and heat it up in the microwave before serving. Just a thought! I'd love to hear what you think if you try it out.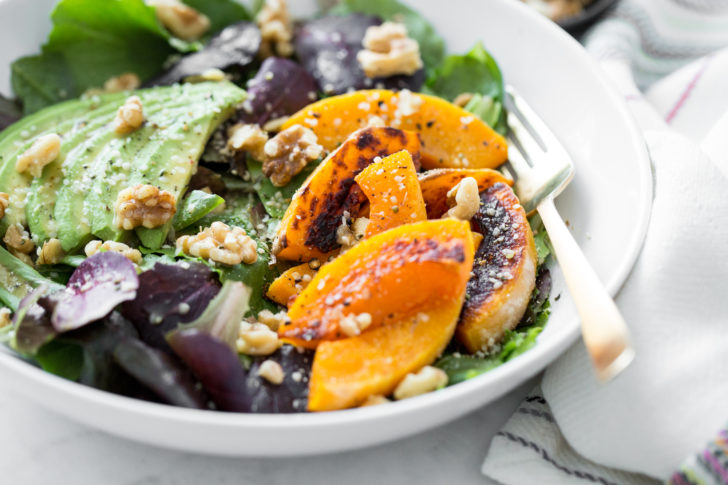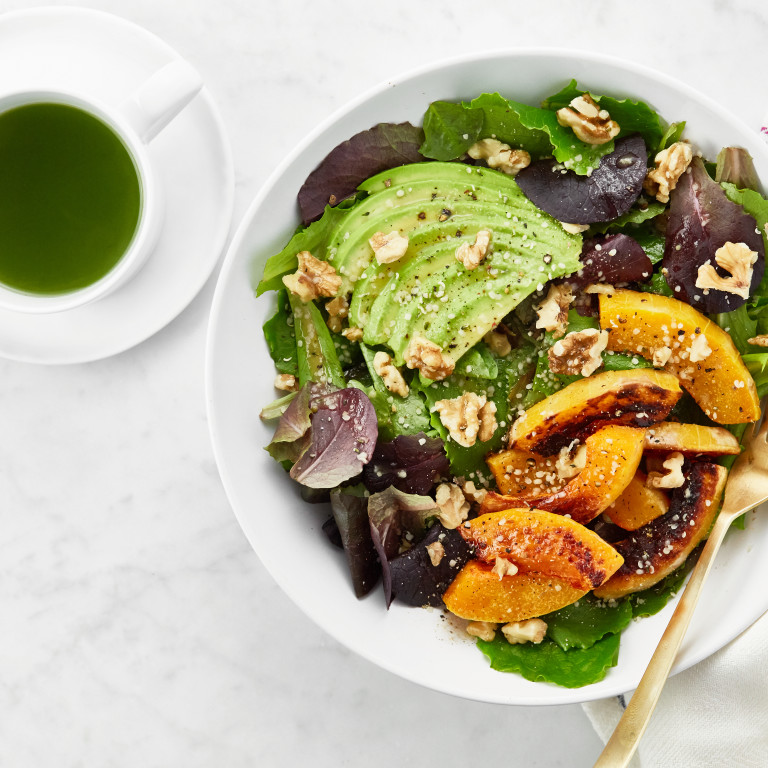 Vitamin Glow Warm Squash Salad
Vegan, gluten-free, grain-free, refined sugar-free, soy-free

Yield

4 bowls
Prep time

Cook time

Total time

This is a simple, warming salad that's been on my regular lunch rotation all winter long! It's so comforting and the vitamin A in the squash gives my skin a revitalizing pick-me-up. I've used butternut squash in this recipe, but feel free to use any variety of winter squash you have on hand. And if you'd like to throw some other veggies onto the pan while you roast the squash, be my guest—this hearty salad can be easily customized to suit your preferences and pantry! The directions are written so the recipe serves 4 people, but if you'd like to make a single serving at a time, you can find my method in the tips section below.
Ingredients
For the butternut squash:
1 medium butternut squash
1 tablespoon (15 mL) oil of choice
Fine sea salt
For the Garlic-Dijon Vinaigrette:
1 small (3 g) garlic clove
1/4 cup (60 mL) apple cider vinegar
1/4 cup (60 mL) grapeseed oil (or other light-tasting oil)
2 teaspoons (10 mL) fresh lemon juice
2 teaspoons (10 mL) Dijon mustard
Fine sea salt, to taste
Freshly ground black pepper, to taste
1 tablespoon (15 mL) pure maple syrup, or to taste
For the salad:
1 (5-ounce/142 g) package baby romaine or mixed greens
1 large (270 g) avocado, pitted and sliced
Heaping 1/2 cup (65 g) chopped walnuts

*

2 tablespoons (18 g) hemp hearts
Salt, pepper, and garlic powder, for garnish
Directions
For the butternut squash: Preheat the oven to 400°F (200°C), and line a large baking sheet with parchment paper. Peel, halve, and seed the squash. Slice the squash into 1/2-inch wedges. Transfer to the baking sheet and toss with the tablespoon of oil. Spread the squash into an even layer and season generously with salt. Roast for 30 to 40 minutes, flipping once halfway through until the squash is fork tender and lightly browned.

Meanwhile, prepare the Garlic-Dijon Vinaigrette: Finely grate or mince the garlic and place it into a small glass jar. Add the vinegar, oil, lemon juice, Dijon, salt, pepper, and maple syrup. Secure the lid and shake vigorously until combined. Taste the dressing and adjust the oil, salt, and maple syrup, if desired. You can also make the dressing in a blender or food processor, if you'd prefer.

When the squash is nearly finished roasting, begin building your salad bowls: Portion 2 to 3 handfuls of the baby romaine/mixed greens into four large shallow bowls. Drizzle a tablespoon of dressing over each bowl and toss until the greens are fully coated.

Divide the sliced avocado, walnuts, and hemp hearts into four portions, and evenly distribute on top of each bowl.

When the squash is finished roasting, transfer several wedges directly from the pan to the top of each bowl. Finish each salad with a sprinkle of salt, pepper, and garlic powder, as well as a final drizzle of dressing. Serve immediately.
Tip:
* Feel free to use toasted walnuts, if you prefer, but rest assured that raw work wonderfully too!
You can absolutely make this salad for a single portion too! To build just one salad, I suggest portioning each ingredient as follows: approximately 2 handfuls of greens, 1/4 of a large avocado (sliced), 3/4 cup warm roasted squash, 1 to 2 tablespoons vinaigrette (to taste), 2 heaping tablespoons of chopped walnuts, and 1/2 tablespoon of hemp hearts.
Any leftover squash can be easily reheated over the next few days. Here is how I like to warm up leftover roasted squash: Coat a large skillet with oil and add your leftover cooked squash with a pinch of salt. Sauté over medium-high heat for about 5 minutes, until warmed through.
Nutrition Information
(click to expand)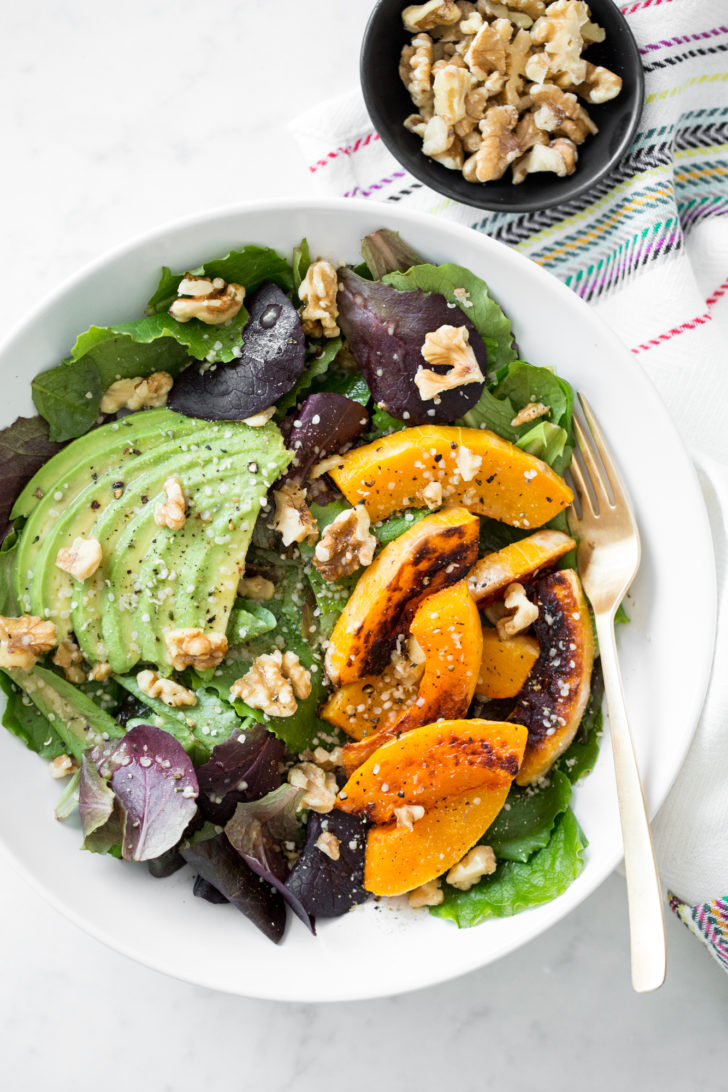 In case you missed it, I recently revamped my Two-Layer Raw Chocolate Brownies—just in time for Valentine's Day! You can find the recipe on The OSG Recipe App (iOS/Android) and updated in the original blog post too. I can't tell you how much I LOVE THESE BROWNIES….gahhhhh!! They would be a fantastic V-Day treat (and can be made ahead and stored in the fridge or freezer for easy prep!).