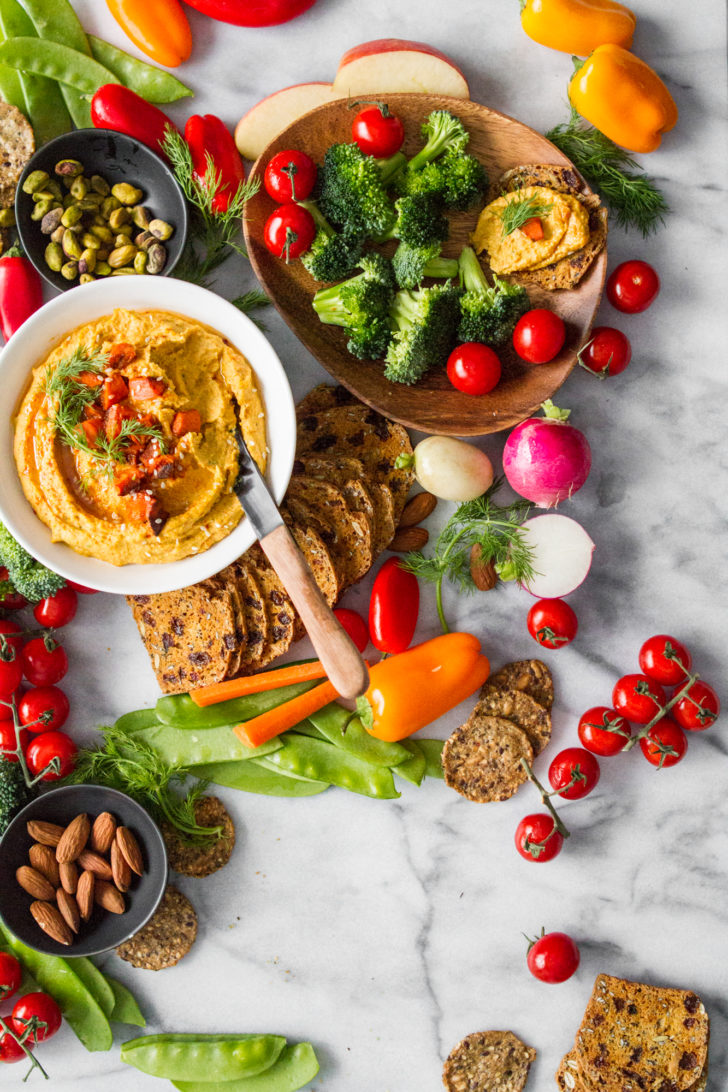 I just checked the version history of my Roasted Carrot and Dill Hummus Google Doc and realized that I first tested this hummus recipe on January 10, 2015. What the heck? THREE years ago?! #hellotimewarp Better late than never, I say…although I know a few people who are likely baffled by its turtle-paced cross to the finish line!
My kiddos are hummus fiends (they'll actually eat it by the spoonful…I have no idea who they got that habit from…), and they gobbled up this roasted carrot version in no time. I like knowing that it's packing a couple extra veggies—what's not to love about a sneaky vitamin boost?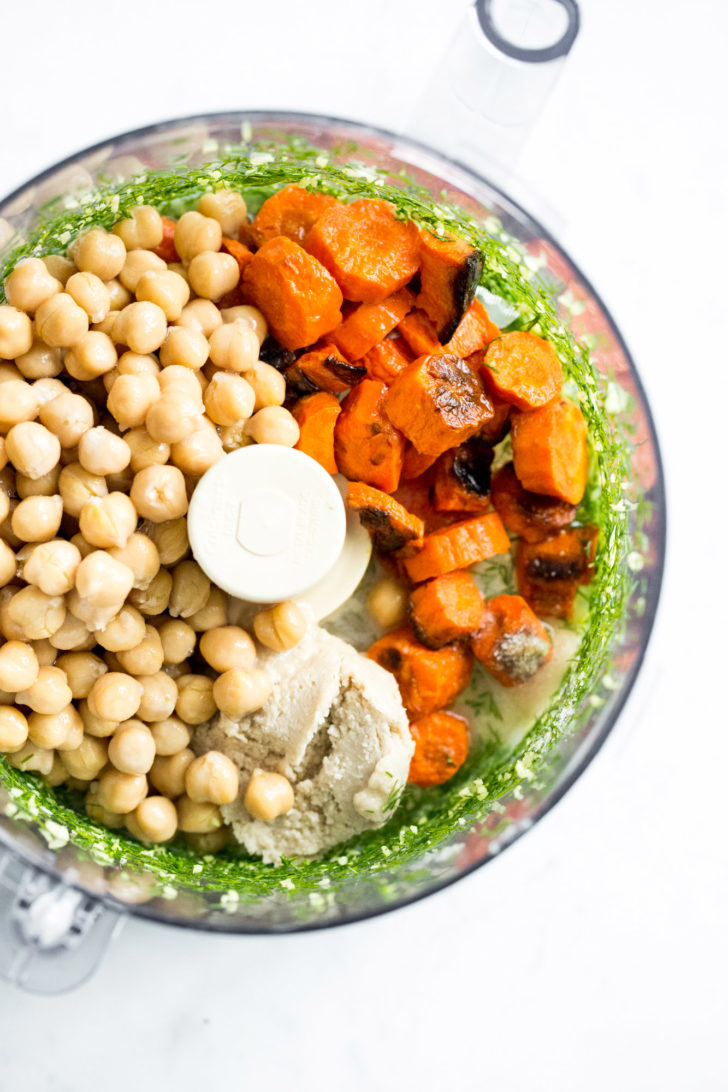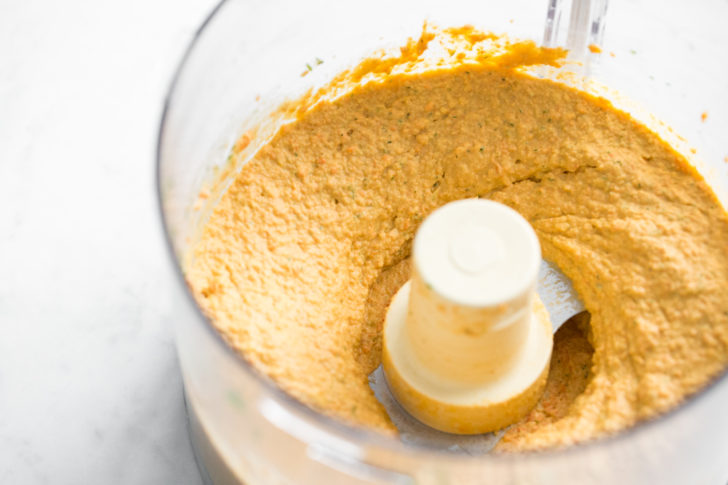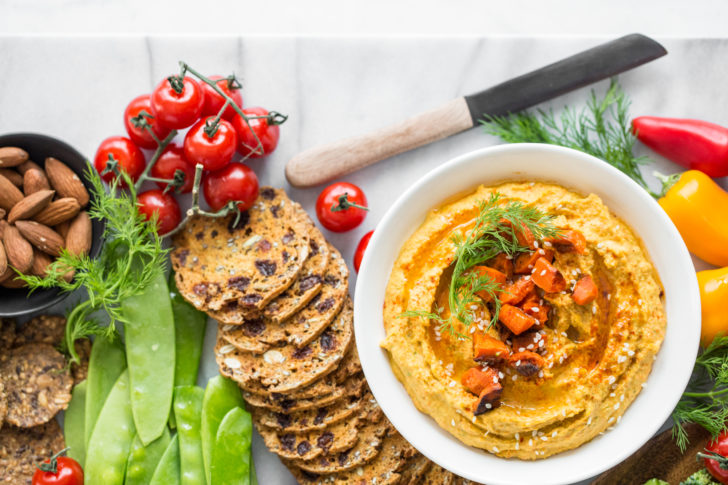 I know what you're thinking: Ange, is this hummus really worth roasting carrots for? I agree, it's sort of a big ask for a hummus recipe, but every time I make this version I'm reminded how much I LOVE the flavour combo. The smoky charred carrots just give it that little something-something…not to mention a bit of sweet creamy-dreamy-ness (technical term) alongside a hint of dill—so bright and fresh!
A couple fun tricks: Since I'm already roasting carrots for the recipe, I like to add a few extras along with some other veggies, like broccoli, for dipping into the hummus or layering in a wrap. So throw whatever veggies you have onto the roasting pan and go wild. Or you might even toss on a handful of chickpeas to get in on the roasting party—they're also great in a wrap, served on salad, or sprinkled as a garnish on the hummus itself. Another trick I use now and then is to roast the carrots before bed and pop them into a container in the fridge overnight. The next day, the carrots are ready to be thrown into the food processor with the other hummus ingredients so it all comes together super fast.
Before I get to the recipe, I'd also like to mention that The Oh She Glows Recipe App is still on sale for 99 cents in the iTunes Store! (The Google Play Store operates separately from iTunes, and we weren't able to extend the Oh She Glows app sale any longer with them, unfortunately—we'll have to do another sale in the near future!) A huge thank you to everyone who has supported our app and left such great feedback! It means the world to us as this has been such a passion project.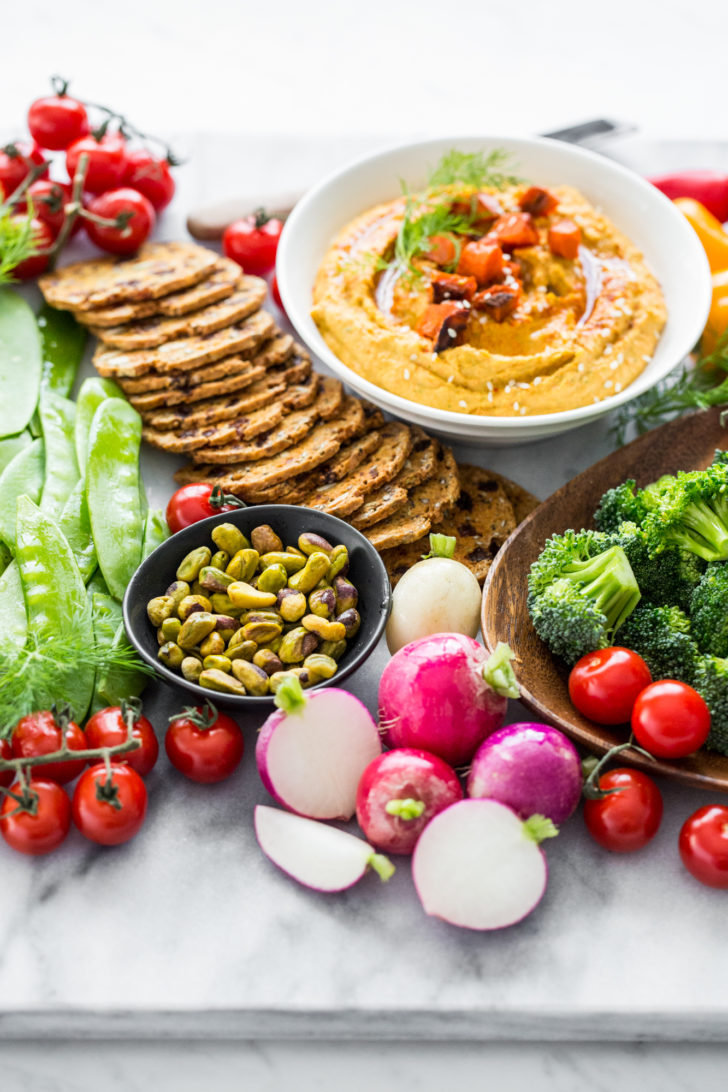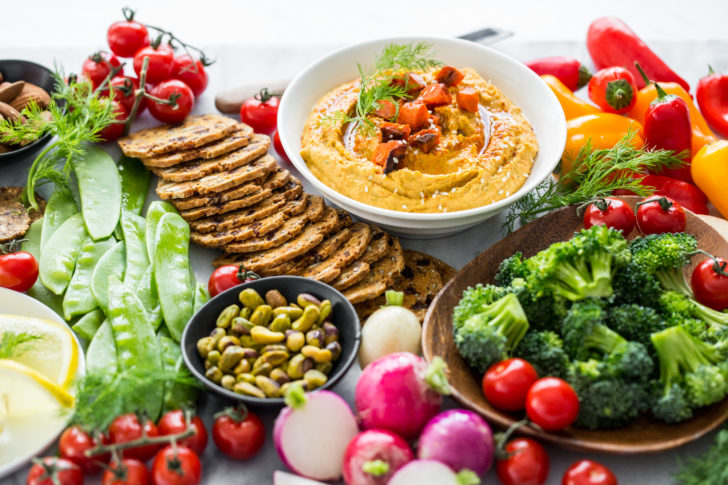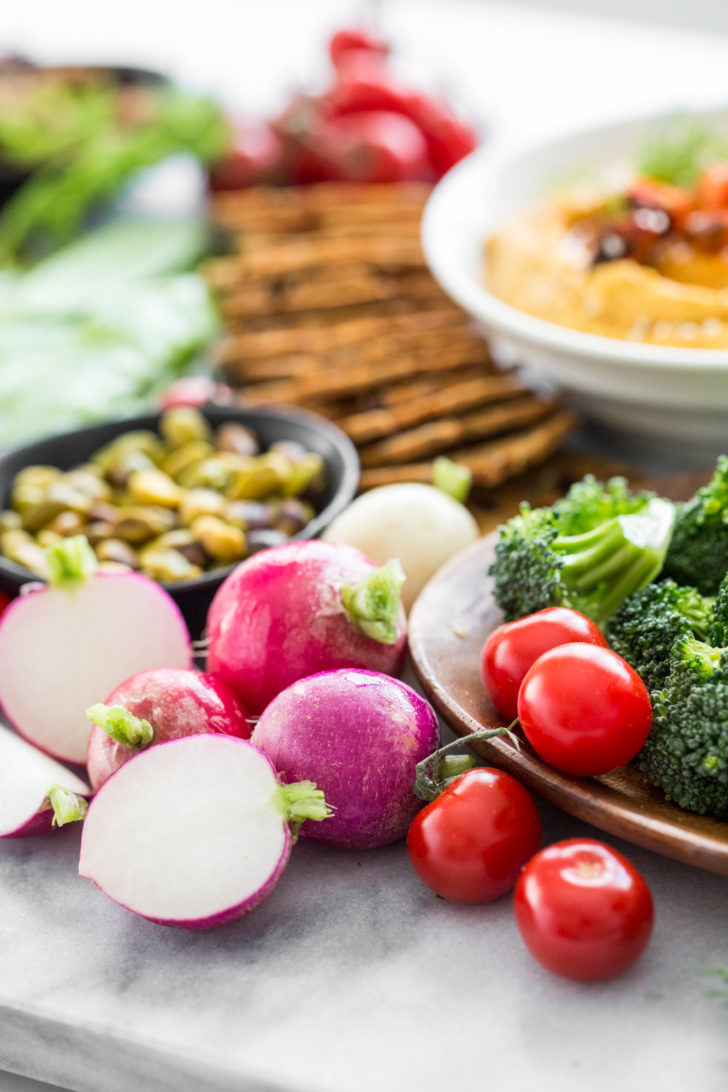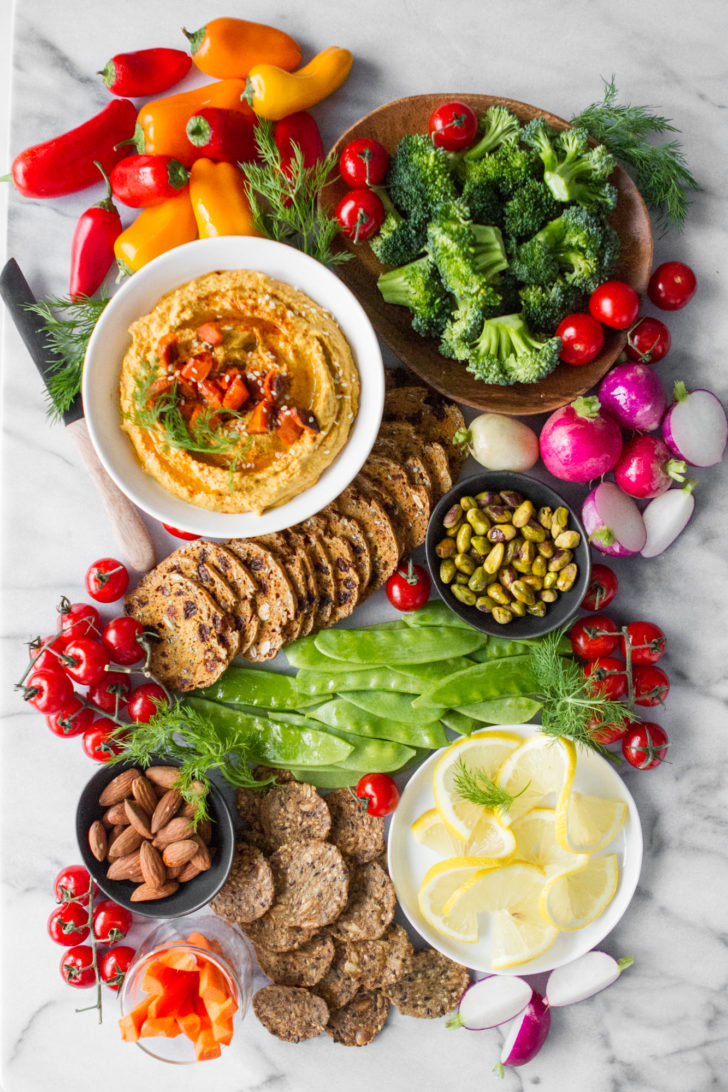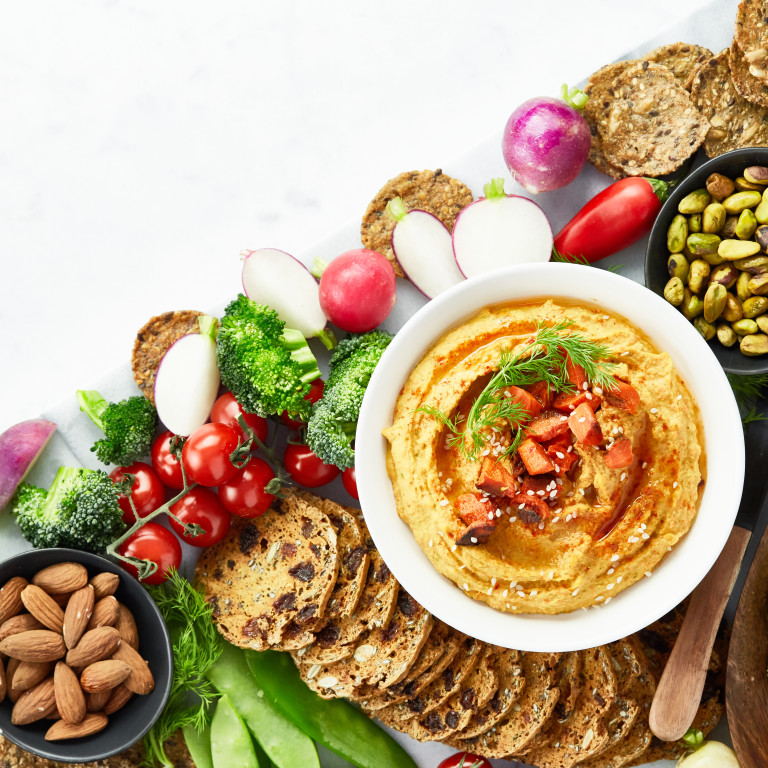 Roasted Carrot and Dill Hummus
Vegan, gluten-free, grain-free, nut-free, refined sugar-free, soy-free

Yield

2 1/4 cups (560 mL)
Prep time

Cook time

Total time

Roasted carrots and fresh dill lend this creamy hummus a lightly sweet and tangy flavour that's downright irresistible! This recipe was love at first bite and has since claimed the number 1 spot in my homemade hummus repertoire. Because this version calls for roasted carrots, I sometimes like to make the most of that oven time by roasting a few extra veggies alongside for dipping. This hummus is lovely layered in wraps or sandwiches, paired with crackers and veggies, spread on toast, or served on top of warm veggie bowls or salads—or just eaten with a spoon (you know I do). I encourage you to play around with the amount of dill, lemon, oil, and/or garlic to find your perfect version. I purposely kept the lemon and dill pretty light so that you can tweak to taste. Thank you to She Likes Food for inspiring this delicious hummus flavour!
Ingredients
For the hummus:
1 1/2 cups (200 g) peeled and diced carrots (2 to 3 medium chopped into 1/2-inch pieces)
1 teaspoon (5 mL) untoasted sesame or olive oil
Pinch fine sea salt
1 small garlic clove
3 packed tablespoons (6 g) chopped fresh dill, or more to taste
1 (14-ounce/398 mL) can chickpeas

*

1/4 cup (60 mL) tahini
2 tablespoons (30 mL) fresh lemon juice, or more to taste
4 tablespoons (60 mL) chickpea brine or filtered water, or more if needed

*

*

1 to 2 teaspoons (5 to 10 mL) untoasted sesame oil or light olive oil, to taste
3/4 to 1 1/4 teaspoons fine sea salt, to taste
For garnish:
Ground cumin, ground coriander, and/or fresh minced dill (optional)
Directions
Preheat oven to 400°F (200°C) and line a roasting pan with parchment paper.

Spread the diced carrots on the roasting pan. Toss them in the teaspoon of oil and sprinkle with a pinch of salt. Roast for 32 to 37 minutes, until carrots are fork-tender and blackened on the bottom.

About 5 to 10 minutes before your carrots are done roasting, place the garlic and fresh dill into a large food processor. Process until minced.

Drain the chickpeas over a small bowl, reserving the chickpea brine, if using.

Next add the drained chickpeas, tahini, lemon juice, chickpea brine (or filtered water, if using), oil, and salt. Process until smooth, stopping to scrape down the side of the processor as necessary.

When the carrots are ready, carefully transport them to the processor using the parchment paper as a handle to carry. Process the mixture again until smooth. I like to let the machine run for a couple minutes so it gets as smooth as possible. Taste and adjust ingredients as desired. Feel free to add more dill, lemon, salt, oil or water depending on your preferences.

Serve the hummus with a sprinkle of ground cumin, coriander, and fresh minced dill, plus a drizzle of sesame or olive oil, if desired. Leftover hummus will keep in an airtight container in the fridge for about 5 to 7 days.
Tip:
* If using freshly cooked chickpeas, please use only 1 cup. For some reason when using freshly cooked chickpeas, this hummus turns out on the thicker side. To keep from throwing off the other flavours, I recommend using just 1 cup of freshly cooked chickpeas in place of the 1 1/2 cups found in a 14-ounce can. This version will also produce a slightly smaller yield.
** Chickpea brine (or aquafaba) is simply the liquid found in a can of chickpeas. I find using aquafaba yields a creamier hummus, but the difference is slight. Feel free to use regular ol' water if you wish!
Nutrition Information
(click to expand)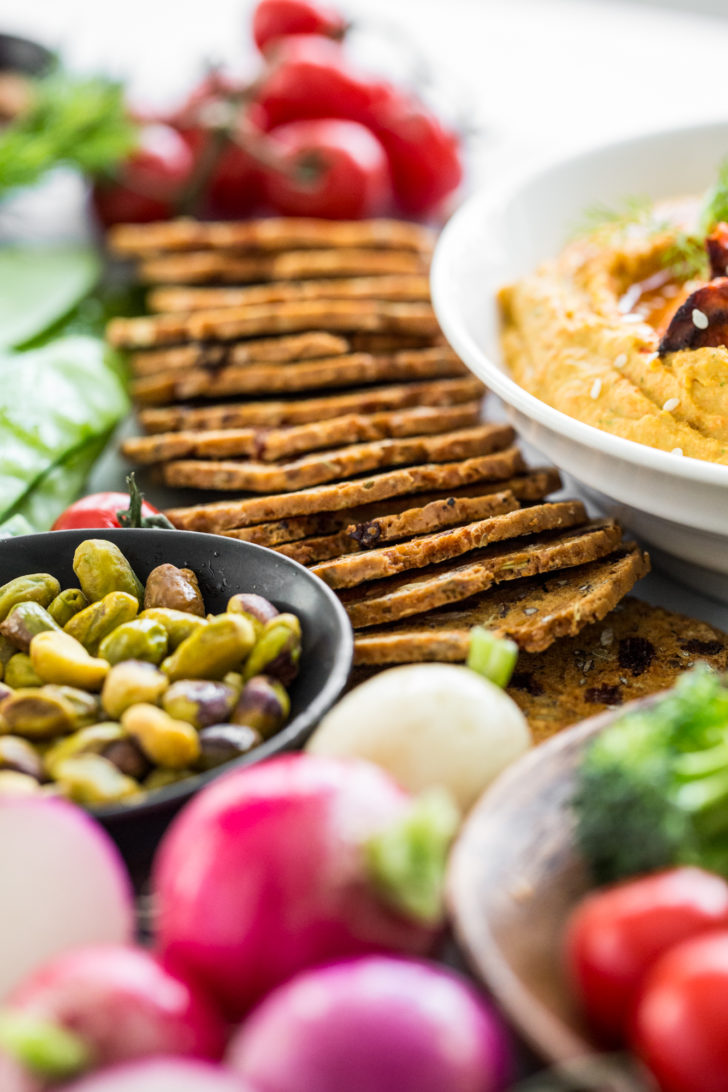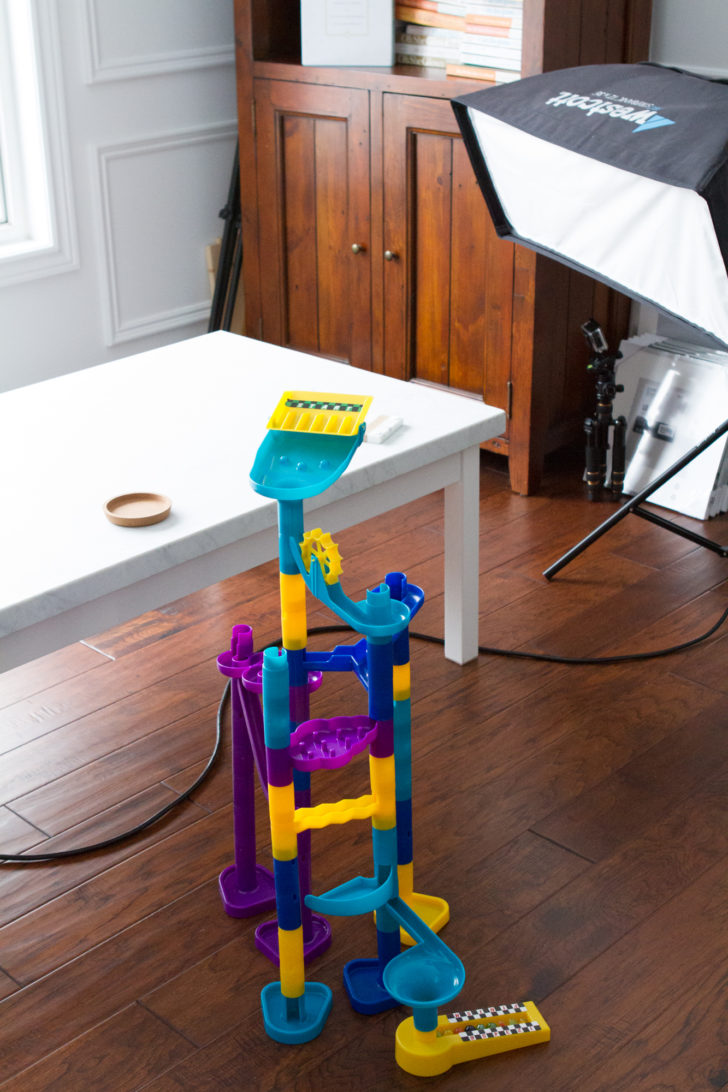 Here's a little behind-the-scenes action for ya! My photography studio is slowly being taken over by toys!! Send help.