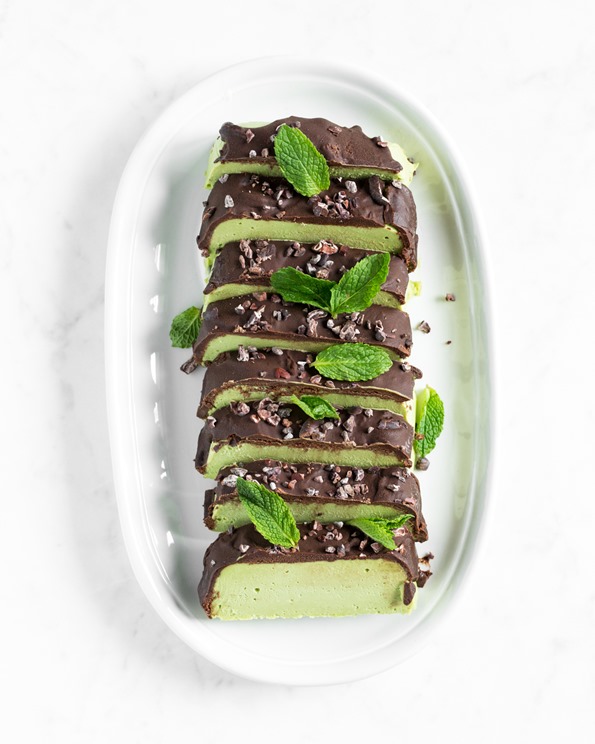 Who's ready for an easy vegan holiday dessert? I know I am! I've had this one in my holiday recipe holster since first creating it this past summer, and have been dying for the right time to share it.
A quick note about this recipe: The pictures make it look HUGE, but it's actually a small dessert with fairly dainty portions. I use a small 4×8-inch loaf pan. If you use a standard-size (9×5-inch) loaf pan, the dessert will have less height (but no less delicious flavour!). Hey—I've never complained about dessert in any shape or form, but I wanted to mention it so you don't find yourself puzzled over a smaller-than-expected finished product.
Be sure to read my tips in the headnote and at the bottom of the recipe. You know I love to give you flexibility in your own kitchens, so this recipe is bursting with my testing notes and modifications. I actually had to cut myself off from writing more!! #nerdalert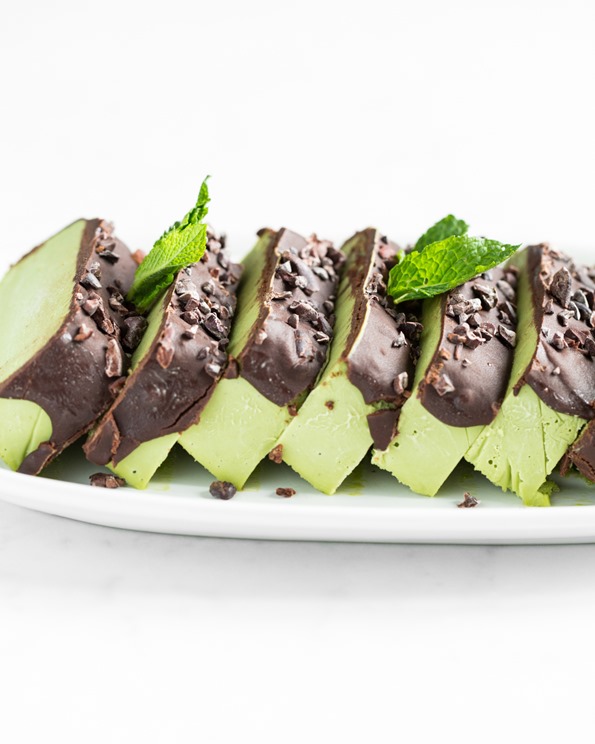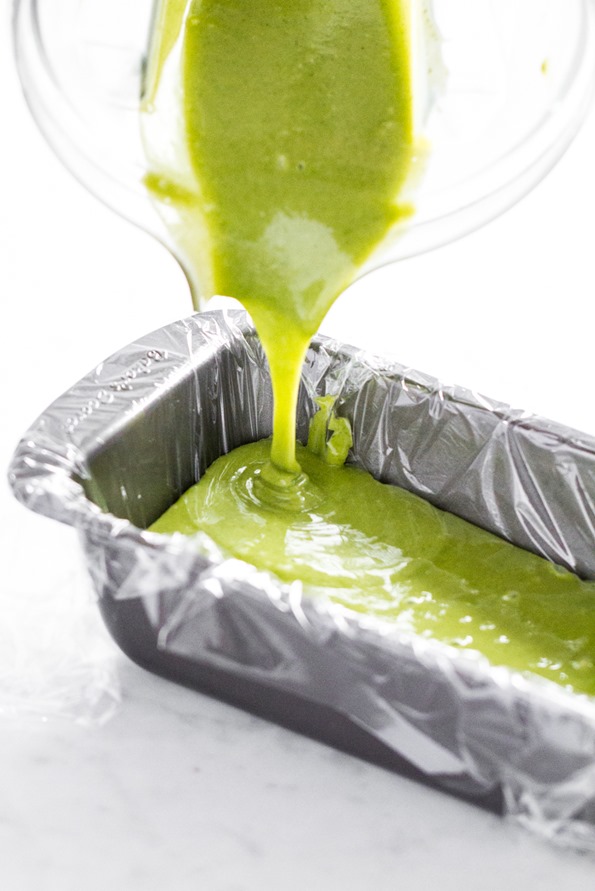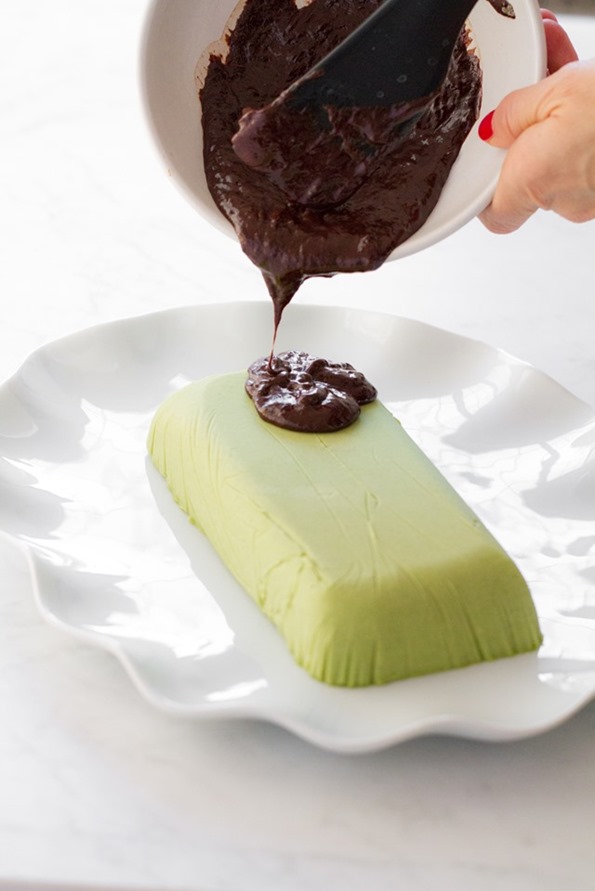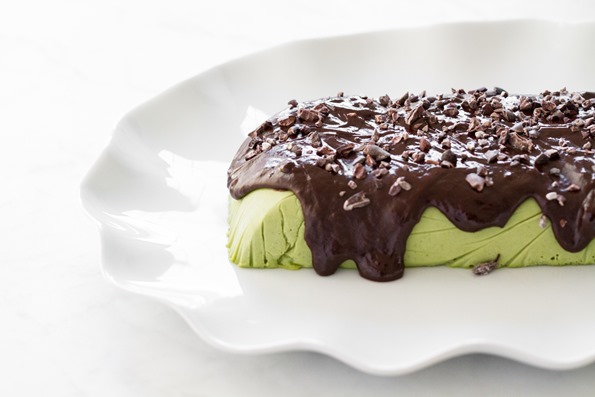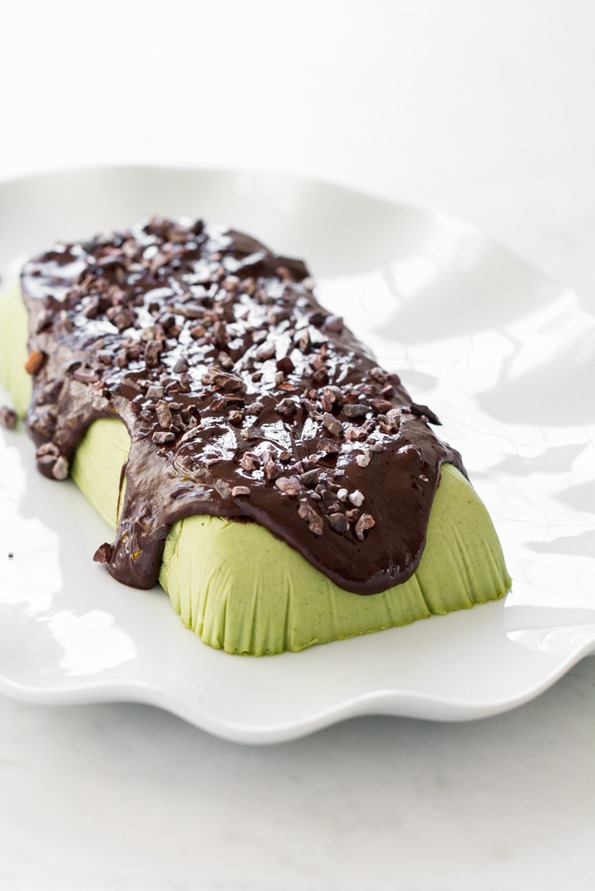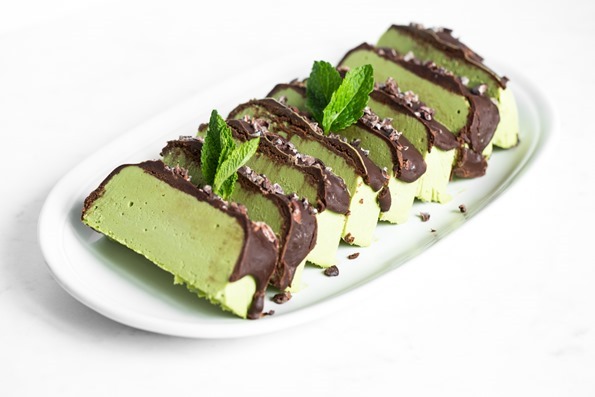 Vegan Peppermint Patty Slice
Vegan, gluten-free, grain-free, no bake/raw

Yield

10 small slices
Prep time

Cook time

0 minutes
Chill time

4 to 5 hours
Total time

This peppermint patty is a showstopping dessert that's coloured naturally with spinach—though only you and I will know its nutritious secret! As an added bonus it'll only set you back 15 minutes of prep. The filling calls for at least 4 hours of freezing time, so I like to whip it up before bed to pop in the freezer overnight. This way, all I have to do the next day is add the ganache on top and freeze it for another 10 minutes. If you're making this dessert around the holidays, it's delightful served with a crushed candy cane topping. My standby, year-round topping is raw cacao nibs, which also add a lovely (and nutritious!) crunch. The crunchy topping really completes the dessert, so I don't recommend skimping on it, and be sure to serve additional cacao nibs or crushed candy cane on top of each slice before serving. Lastly, it's important to use a very small loaf pan so the dessert has height. I use a 4x8-inch loaf pan by Baker's Secret. You could also try making individual servings by filling a silicone cupcake mold.
Ingredients
For the filling:
3/4 cup (225 g) raw cashew butter

*

1/2 cup (125 mL) pure maple syrup, room temperature
1/2 cup (125 mL) virgin coconut oil, melted
6 tablespoons (90 mL) almond milk, room temperature
1 to 1 1/2 teaspoons (5 to 7.5 mL) pure peppermint extract, or to taste

*

*

1 cup (30 g) packed baby spinach

*

*

*

Pinch fine sea salt
For the chocolate ganache:
1/2 cup (90 g) non-dairy chocolate chips
2 tablespoons (30 mL) full-fat coconut cream

*

*

*

*

Dash fine sea salt
1 1/2 tablespoons raw cacao nibs or crushed candy cane, plus more for serving
Fresh mint leaves, for garnish (optional)
Directions
Line a small (approximately 4x8-inch) loaf pan or 6-inch cake pan with plastic wrap so the slab will be easy to lift out after freezing.
Add all of the filling ingredients (cashew butter, maple syrup, melted oil, almond milk, 1 teaspoon peppermint extract, spinach, and salt) into a high-speed blender. Blend on high until smooth. Make sure no chunks of spinach leaves remain. Taste and add more peppermint extract if desired.
Pour the filling into the prepared pan. Place the pan on a flat spot in the freezer and freeze for 4 to 5 hours, until the filling is solid. There's no need to cover it unless you plan on keeping it in the freezer longer than 8 hours.
When the filling is solid, prepare the ganache topping. In a medium pot, combine the chocolate chips, coconut cream (make sure water is drained before adding), and salt. Melt the chips over the lowest heat setting, stirring frequently, until smooth. 
Remove the filling from the freezer and, gripping the plastic wrap as a handle, lift it out of the pan. Flip the filling onto a large plate and peel off the plastic wrap.
Pour the ganache over top of the solid filling, starting in the centre, and allow it to cascade down the sides a bit. Immediately scatter the crushed candy cane or cacao nibs all over the ganache. Return it to the freezer, uncovered, and freeze for about 10 minutes, until the ganache is firm.
Slice and garnish with fresh mint, if you're fancy! Sprinkle additional cacao nibs or crushed candy cane on top of each slice and enjoy immediately. Return leftovers to the freezer right away as the dessert does soften as it sits.
Tip:
* Instead of cashew butter, you can use 1 1/4 cups (180 g) of soaked raw cashews. Soak them in boiled water for 1 hour, rinse, drain, and add them into a high-speed blender (such as a Vitamix) along with the rest of the ingredients. If your blender has a hard time blending nuts smooth, I suggest that you use the raw cashew butter version instead. You can also use homemade raw cashew butter. To make your own, simply process raw cashews in a heavy-duty food processor until smooth. I don't recommend using roasted cashew butter as it gives the slice a strong nutty flavour.
** The intensity of peppermint extracts vary by brand, so 1 1/2 teaspoons is intended as a guide—please add it slowly to taste.
*** I only recommend using spinach if your blender is good at blending leafy greens smooth. If your blender tends to leave spinach chunks in smoothies, I would suggest omitting the spinach in this recipe just to make sure you aren't going to find spinach chunks in the slice. Or see my tip about using a food processor below.
**** Coconut cream is the solid white cream in a can of full-fat coconut milk. Chill the can overnight before using to ensure the coconut cream is solid. I like to open a mini can (160 mL) of full-fat coconut milk for this recipe; this way, there isn't a lot left over to use up. The remaining amount is just perfect for throwing into your next smoothie!
No blender? No problem! If you have a heavy-duty food processor you can make the filling in the processor, just be warned that the spinach doesn't break down fully (my version had some very fine green speckling resembling mint sugar), and you'll want to run the processor for a good while to help the spinach break down as much as possible.
If you don't have cacao nibs or crushed candy cane on hand, feel free to top the ganache with finely chopped dark chocolate.
Nutrition Information
(click to expand)