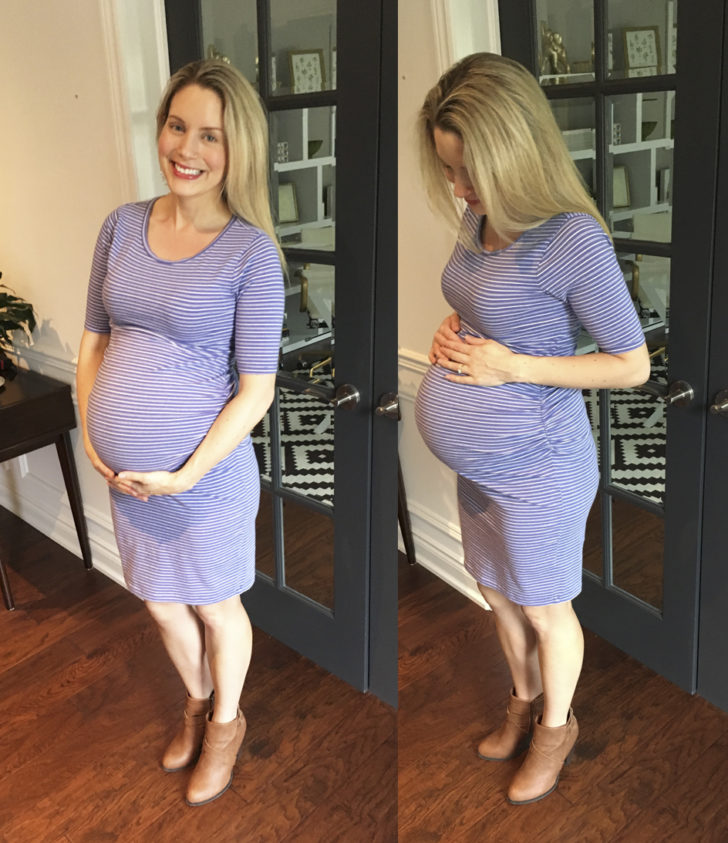 Still here, still pregnant (woohoo), and still very happy that baby has decided to stay put for the time being. It's Adriana's 2nd birthday today (yep, this mama totally cried), and I'm just hoping baby continues to enjoy life on the inside for a bit longer! I'm starting to really wonder, though; this morning on our walk I had quite a few shooting pains…and I'm just feeling kind of off and crampy today. Eek.
How I'm feeling: My attention span is that of a peanut (thank you, preggo brain). I've also been feeling emotional when I think about how our days as a family of 3 are limited, and how there isn't much time left with just us and Adriana. It kind of breaks my heart to think that she could feel jealous and have a tough time adjusting. We're going to do everything we can to help her, but it's still sad to think about. I've been welling up with tears quite a bit this week, which seems so strange because I didn't feel emotional for most of the pregnancy. I know any tough transition will pass and soon enough our family of 4 will feel like it was always meant to be, though!
I'm also feeling quite tired. Yesterday I pretty much thought I was going to fall over, I was so tired. It's been tough trying to keep up with Adriana; she is so active these days! (And hysterical—did I mention how funny this age is? Omggggg.) I've had a couple days this past week where I thought I could be in early labour, and both times one of my first thoughts was, "OMG…I'm way too tired for labour today!! Please, no…I need sleep!" hahah. Always a motivating thought. Eric assures me that I will get a "huge endorphin boost" before labour. He cracks me up. I guess if I start bouncing off the walls it could be a sign…
Midwife appointment: My midwife offered to check my progress this week (to see if I'm dilated and whatnot), but I decided not to bother because I figure it'll happen when it happens! I was much more curious for my first pregnancy (and opted to have the checks), but this time I'm kind of like…what will be will be. I'm still doing about 20 minutes with the EPI-NO each day. I think, if anything, it's helping me mentally prepare for the pushing stage and build my confidence.
Symptoms: Oh boy, do I feel like I'm slowing down this week! I feel so much more out of breath pushing the stroller on walks. I haven't had any "lightning bolts" (shooting nerve pain) this week (aside from on this morning's walk), but I've had some fairly consistent groin pains all week. Baby feels really low (especially today), and my midwife thinks baby dropped a bit more this week.
Home life: We're hoping to move back into our master bedroom by Friday if we can get it all cleaned and set up. Our master bathroom is almost finished; now we're just waiting on the mirror to be installed and a couple small electrical things. Both rooms need a major deep clean as they're covered in dust. We had another delay with the painters this week, so Eric took matters into his own hands and did some patching, sanding, and painting into the wee hours of the night just so we could get back into our room a bit sooner. Bless that man!!
Exercise: Still walking 25 minutes every morning. Today will probably be my last Barre3 workout of the pregnancy. Or I might just skip it depending on how I feel!
Wearing: This week has been all about the dresses! I discovered a maternity dress at the back of my closet this week (shown below). Score. It's super comfy. I need to figure out what I'm wearing for the maternity photoshoot, too.
Cravings: My appetite is strong, but I wouldn't say I've had many cravings at all. Update: I just thought of a craving—spicy food! I discovered this heat and eat chickpea curry (Tiffinday brand, based out of Toronto) at Whole Foods this week and it's the best thing everrrrrr. I'm actually feeling nauseous today and hoping it passes!
Best thing I ate/drank all week: Homemade banana bread. I've been testing a new recipe and it's so close to being ready to share! Keep your eyes peeled for it on the app (this week, unless I go into labour), and on the blog, (likely in October). A close second: the homemade cappuccinos that I've been testing this week. (You may have seen both featured on Snapchat recently).
Baby prep: We picked out a gift for Adriana "from baby", and I wrapped it this week. I also picked up a few newborn and 0–3 month onesies. You can never have too many onesies! Bonus points if they are zip up rather than button up. (We don't enjoy fooling with tiny buttons in the middle of the night!)
Food prep: I froze a batch of soup, banana bread, and cookies (priorities!). I also finished prepping the hospital cooler. Other than that, I feel too drained to do my planned freezer meals. My mom said she's going to cook for me when she gets here next week, so bless her sweet heart!
Names picked out? We STILL haven't decided what we're naming this little one. Lol. I'm not too worried though. I'm sure once we meet baby it will be more clear. The two middle names are decided though.
Maternity photos? I wasn't going to get maternity photos this time around, but I felt a bit guilty doing it for one pregnancy and not the other, so I booked a shoot at the last minute. My shoot is 3 days before my due date (this Friday)…so I'm really hoping I make it! Although, with all of these pains I'm having today, I'm starting to wonder if I will. Friday is actually a busy day of appointments for me as I have dentist, hair, and photoshoot appointments all back-to-back. What are the odds baby will stay put? *insert nervous, teeth-gritting emoticon*
Hospital bag packed? About 80% packed
Birth plan: I'm not bringing a birth plan with me to the hospital because it's easy to remember: Healthy baby, healthy mama, intervention/drug-free (if possible). 
Days left until due date: 6
PS—you can read my 39 weeks update from my first pregnancy here. (It was my last one since Adriana was born on her due date!)