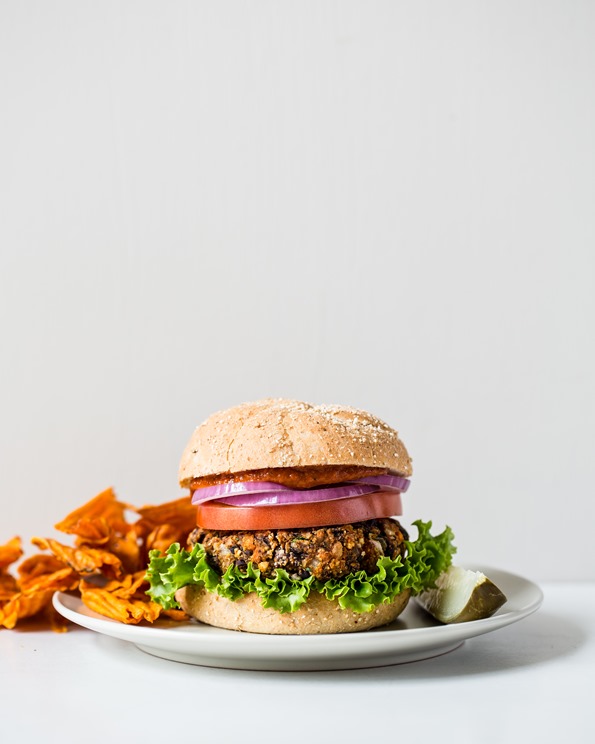 Hubba, hubba, now that's what I call a veggie burger glam shot! Served with rippled sweet potato chips and a dill pickle, what else could you want in life?!
Today I'm so excited to share one of my favourite recipes straight from my new cookbook, Oh She Glows Every Day! The countdown to the release is onnnnn…this Saturday September 3rd in Canada (including Indigo, Costco, and more!), and Tuesday September 6th in the US. I honestly can't believe it's almost here, and I can't thank you enough for all your support and excitement.
Don't forget, if you order online or pick up a copy in-store before September 13th, 2016, you can snag my OSG Every Day Bonus Recipe Bundle which has 7 brand-new recipes (not found in the book or blog), and 4 preview recipes from the book. So much recipe goodness going down!
I'm also hosting a fun Insta giveaway for a signed copy of both Oh She Glows Every Day and The Oh She Glows Cookbook! One lucky winner will receive a signed copy of both cookbooks, mailed straight to their doorstep as a special gift from me. Please see my Instagram post for all the deets.
Okay, now let me talk about these veggie burgers for a hot second. They are my newest veggie burger addiction. I tested a ton of them for this second book (you know I take my veggie burgers seriously) and these are the ones that everyone—kids, husbands, veggie-burger skeptics—loved. I hope you'll gobble them up, too!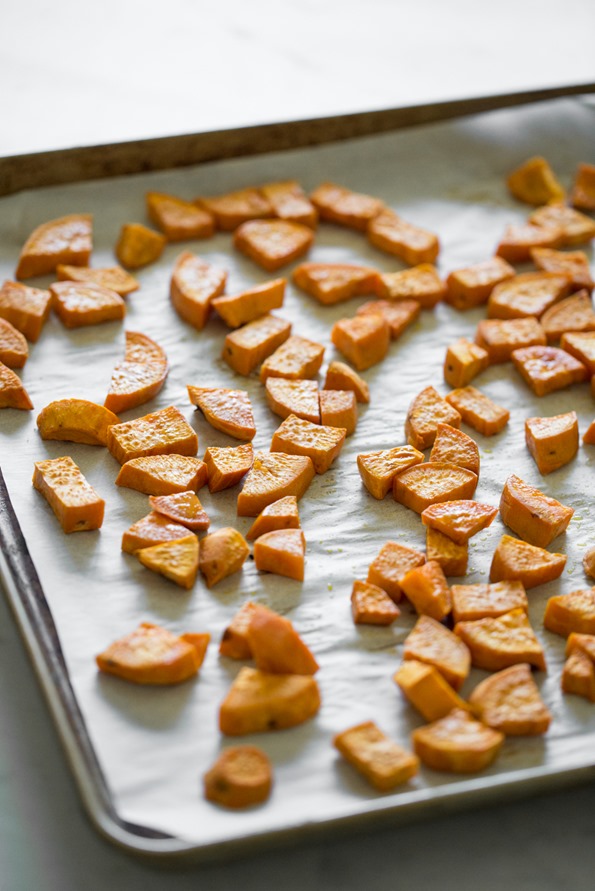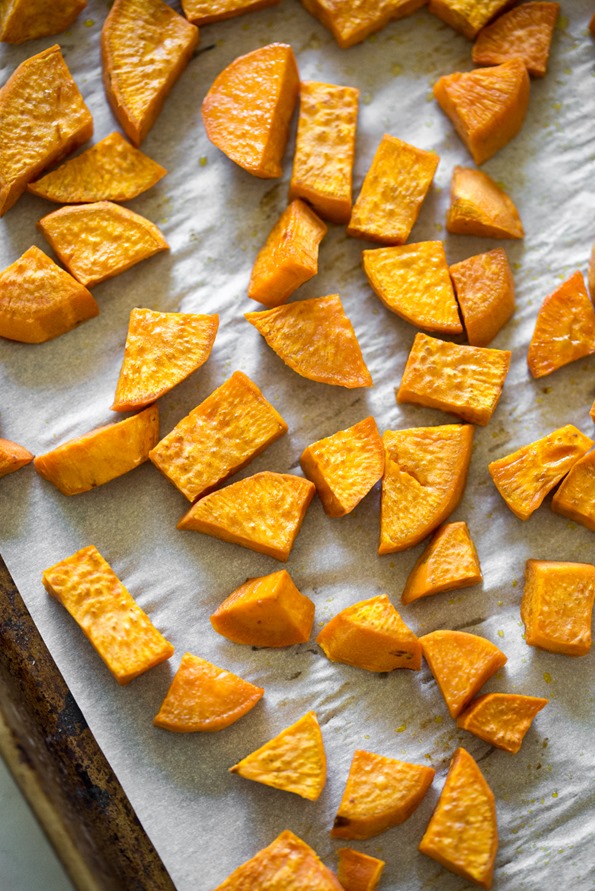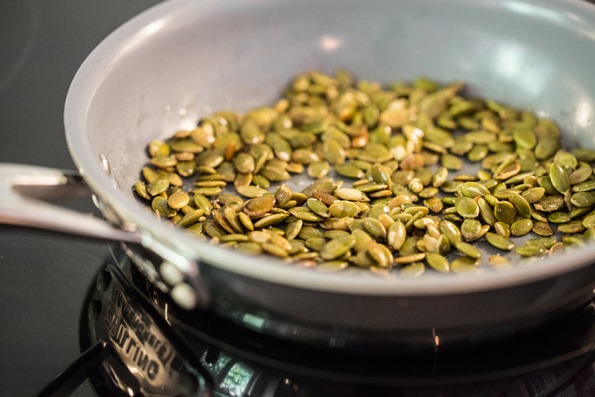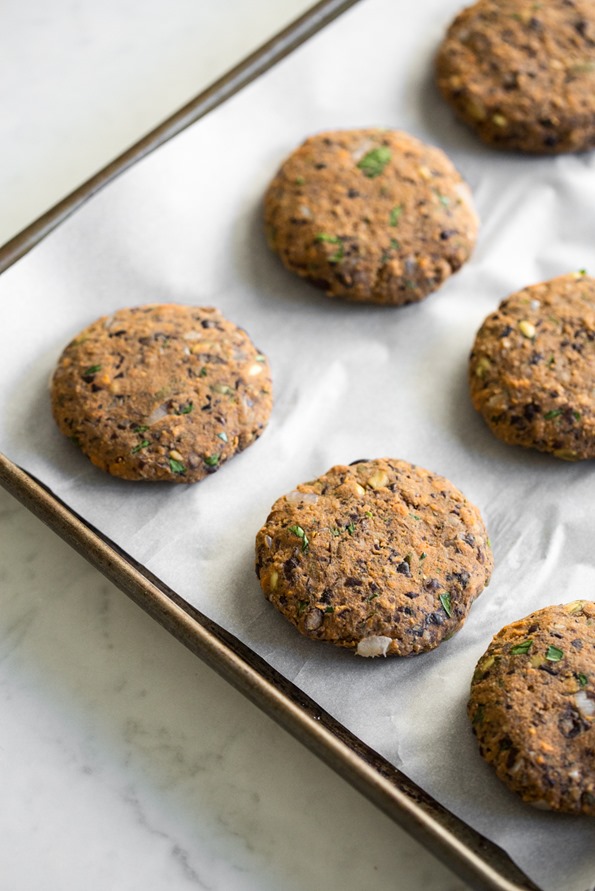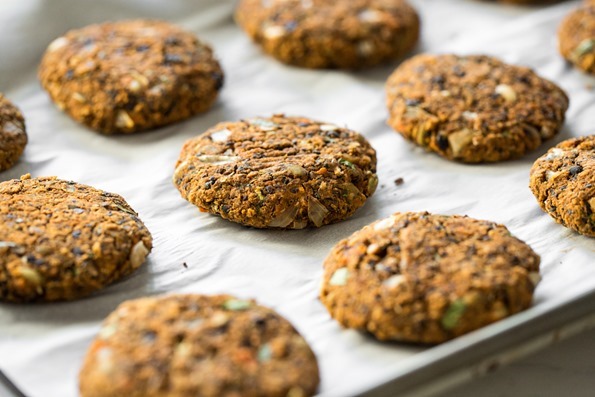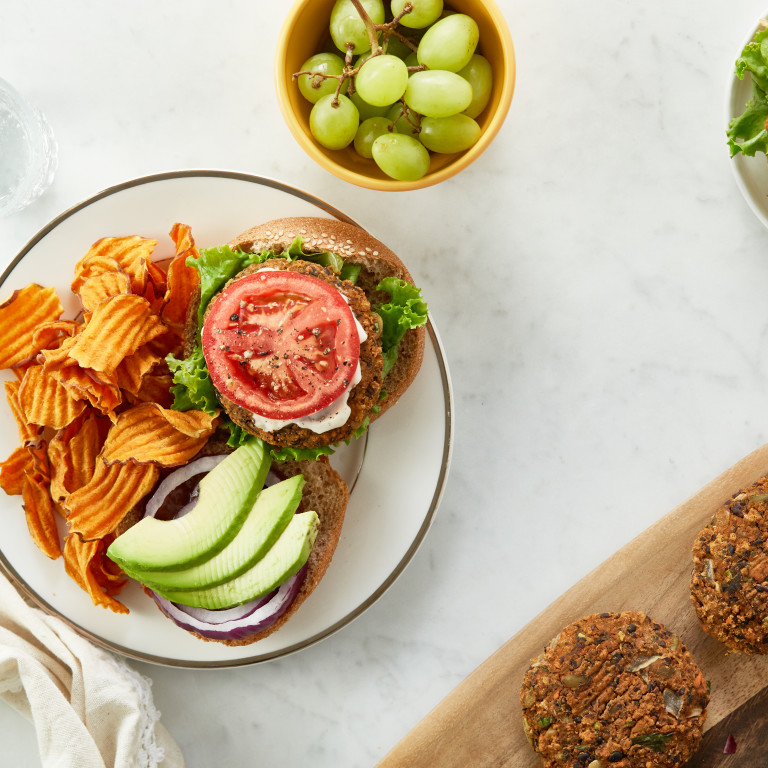 Oh Em Gee Veggie Burgers

Yield

12 patties
Prep time

Cook time

Total time

Packed with sweet potato (or butternut squash—your choice!), black beans, barbecue sauce, garlic, and an array of flavorful spices, this veggie burger bakes up perfectly and holds together well. I'll admit these burgers are a bit involved to prepare, but I think the work is worth it, because this recipe makes a big batch, enough for 12 patties, which you can freeze for later. To save time, I recommend roasting the sweet potato, toasting the walnuts, and making the 9-Spice Mix in advance. Also, be sure to chop all the ingredients very finely and evenly, as this will help the patties hold together. I always recommend that you read the entire recipe before you begin, but this is especially true here since there are quite a few steps. This recipe is from Oh She Glows Every Day. Reprinted by permission of Penguin Canada, a division of Penguin Random House Canada Limited.
Ingredients
For the burgers:
1 1/4 pounds (565 g) sweet potato or butternut squash (see Tip)
1 tablespoon plus 2 teaspoons (25 mL) extra-virgin olive oil
1 cup (100 g) walnuts, finely chopped, or 1/2 cup (75 g) hulled sunflower or pepita seeds
2/3 cup (95 g) finely chopped onion
3 tablespoons (45 mL) minced garlic (6 or 7 large cloves)
Two (14-ounce/398 mL) cans black beans, drained and rinsed
2 to 3 tablespoons (14 to 21 g) 9-Spice Mix (p. 258, Oh She Glows Every Day) or this one, to taste
1/4 to 1/2 teaspoon fine sea salt, or to taste
1/4 cup (8 g) lightly packed fresh flat-leaf parsley, finely chopped
1/3 cup (80 mL) Easy Barbecue Sauce (p. 255), or store-bought
1 cup (70 g) spelt bread crumbs or breadcrumbs of your choice
2 tablespoons (17 g) gluten-free oat flour
Topping suggestions:
Homemade Vegan Mayo (p. 269) or this one, or store-bought
Easy Barbecue Sauce (p. 255), or store-bought
Sliced avocado
Sliced red onion
Sliced tomato
Directions
Preheat the oven to 375°F (190°C). Line an extra-large baking sheet with parchment paper.

Peel the sweet potato and cut it into 1/2-inch cubes. You should have about 4 cups. Spread the cubes over the baking sheet and toss with 1 tablespoon of oil. Season with salt. Roast for 15 minutes, then flip and roast for 15 to 20 minutes more, until fork-tender.

In a large skillet, toast the chopped walnuts over medium heat for 5 to 6 minutes, until fragrant and lightly golden. Transfer the walnuts to an extra-large bowl (trust me when I say extra-large as there is a lot of dough to mix).

In the skillet, heat the remaining 2 teaspoons oil over medium heat. Add the onion and garlic, stir to combine, and sauté for 3 to 5 minutes, until softened. Transfer to the bowl with the walnuts.

In a food processor, pulse the beans until you have a mixture of bean paste, chopped beans, and fully intact beans. Be careful not to overprocess them, as you still want a bit of texture. Transfer the beans to the bowl. (You can also mash by hand if necessary.)

Measure out 2 lightly packed cups of the roasted sweet potato and transfer to the large bowl. With a fork, mash the potato into the other ingredients in the bowl until the potato is almost smooth.

Add the 9-Spice Mix, salt, parsley, barbecue sauce, bread crumbs, and oat flour to the bowl. Stir until thoroughly combined. You can knead the dough together with your hands if that's easier, or just keep stirring (it's a great arm workout!). Taste and adjust the seasonings, if desired.

Scoop a heaping 1/3 cup of the dough and shape it into a round, uniform patty, packing it tightly as you rotate the patty in your hands. Place the patty on the lined baking sheet. Repeat to make 11 or 12 patties total, setting them at least an inch apart.

Bake for 15 minutes at 375°F (190°C), gently flip with a spatula, and bake for 10 to 20 minutes more, until firm and lightly golden. Cool on a cooling rack for about 10 minutes before serving (this helps them firm up). Serve the patty in a bun along with your desired toppings. We love the combo of vegan mayo, BBQ sauce, avocado, lettuce, and tomato! 

Let any leftover patties cool completely before storing in an airtight container in the fridge for up to 3 days. You can also wrap the patties individually in aluminum foil, place in a freezer bag with the air sucked out, and freeze for 3 to 4 weeks. Thaw completely on the counter or in 

the fridge before reheating in a greased skillet over medium-high heat for a few minutes on each side.
Tip:
Tip You will need 2 cups of roasted sweet potato (or butternut squash) for this burger recipe. Any leftover roasted potato or squash can be served alongside the burgers, so feel free to make extra.
Make it gluten-free Use gluten-free bread crumbs instead of spelt bread crumbs.
Make it nut-free Use hulled sunflower seeds or pepita seeds instead of walnuts.
Make it kid-friendly Shape small patties and serve them on slider buns. They are the perfect size for precious hands! You may also consider reducing the spice mix slightly depending on how much your kids enjoy spice.
Nutrition Information
(click to expand)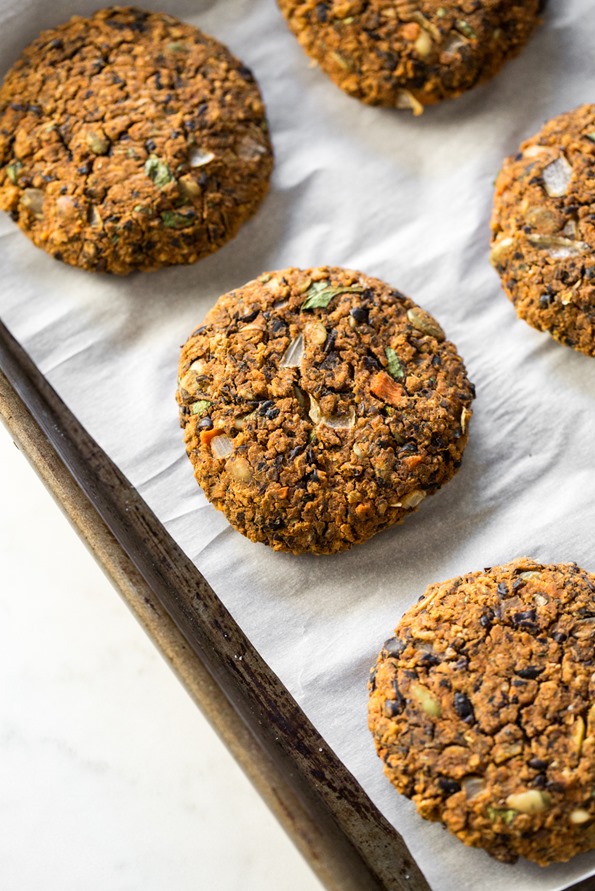 A couple quick notes:
This recipe hasn't been posted to the Oh She Glows Recipe App yet since I have to shoot a new photo for it, but it will be coming soon!
Also, just a heads up that there won't be a Friday FAQ post going up this week. Unfortunately, my little one is quite sick so I don't think I'll be able to get to it. Thanks for your understanding.
I'd like to wish you a wonderful, safe, and delicious Labour Day weekend! (Did I really just type Labour Day weekend? I can't even.)
Photography credit (top photo): Ashley McLaughlin; all other photos: Angela Liddon