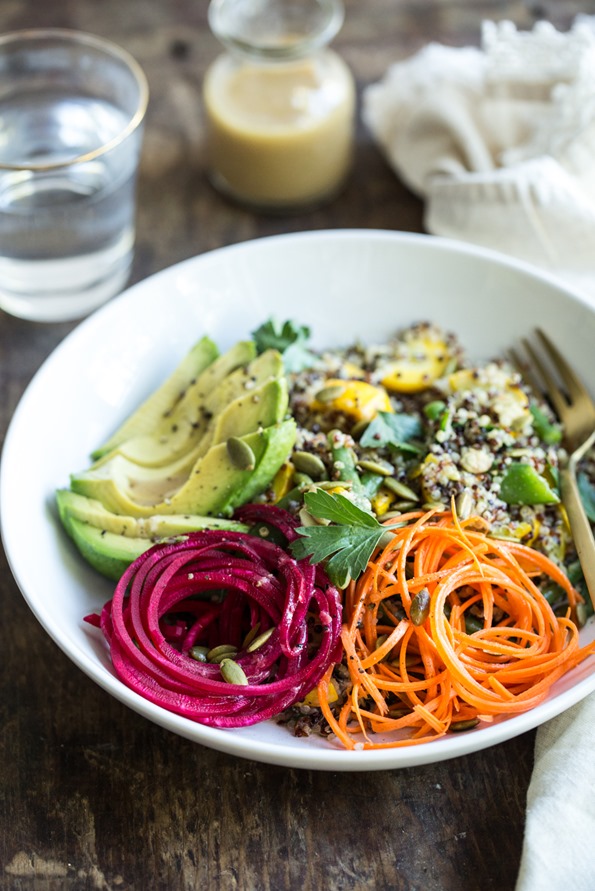 If I could live off of one thing, I'm pretty sure it would be some kind of plant-based bowl. It's hard to beat the combo of seasonal veggies, whole grains, beans/legumes, nuts/seeds, all topped off with an incredible dressing. I'm rarely disappointed. This bowl in particular is inspired by Kerr Street Cafe's Buddha Bowl (a local restaurant), which I treated myself to the other week. Let's just say this preggo mama basically had to waddle out of the café, because I could not stop eating despite baby nudging me that space was getting a bit tight in there. (Thankfully, I came armed with an empire waist dress!) I knew I had to recreate the bowl at home, and I'm sharing my delicious take on it today.
Before I get to the recipe, though, I have a couple exciting pieces of news to share!
1) We recently found out that The Oh She Glows Cookbook is the Top Canadian-Authored Book of 2015! Umm what the what!? I can't even wrap my mind around this news and couldn't be more grateful to you for your support. Here's an excerpt from BookNet Canada's article:
"The Oh She Glows Cookbook was published in April 2014, yet it still occupies the number one spot, even outselling heavy-hitting non-fiction titles published in 2015 like Shift Work and even the only Canadian-authored colouring book to make the list: Fantastic Cities. As an enduring title, it sits alongside 2013's The Inconvenient Indian and the fourth-bestselling paperback children's book of all time according to Publisher's Weekly, Love You Forever by Robert Munsch, which was published in 1995. The rest of the titles on the list were either published for the first time in 2015, or released in a new format."
THANK YOU from the bottom of my veggie-loving heart. 
2) In case you haven't seen this on my social media channels, Chapters/Indigo is running a pre-order contest for their Most Anticipated Books of 2016 list, and my next cookbook, Oh She Glows Every Day, is included (so cool!). You could win a basket of my favourite kitchen items, valued at $500, including a Cusinart food processor, Bodum Brazil French Press, Wusthof Classic 8-inch Vegetable Knife, Sunwarrior Warrior Blend protein powder, Do Matcha green tea powder, and more. All you have to do is pre-order the book from Indigo and be entered to win automatically (if you pre-ordered from Indigo earlier this year or last, you're automatically entered…yay!), or you can send a mail-in entry explaining what it means to you to cook for the people you love. Be sure to check out the full contest rules here.
You can pre-order by visiting Chapters/Indigo online. This contest is open to Canadian residents (not including Quebec unfortunately—sorry guys!). A big thanks to Chapters/Indigo and Penguin Canada for making this contest possible.
At long last…onto this glow-rious food!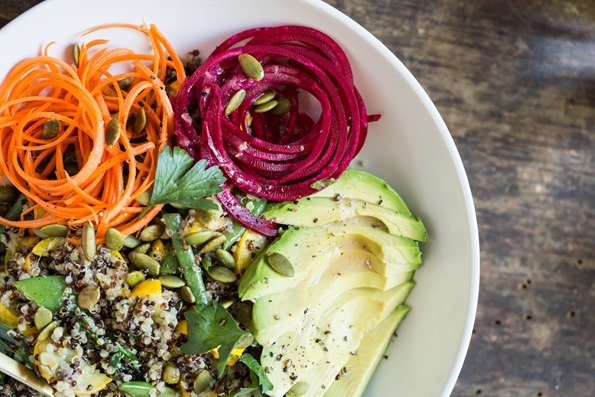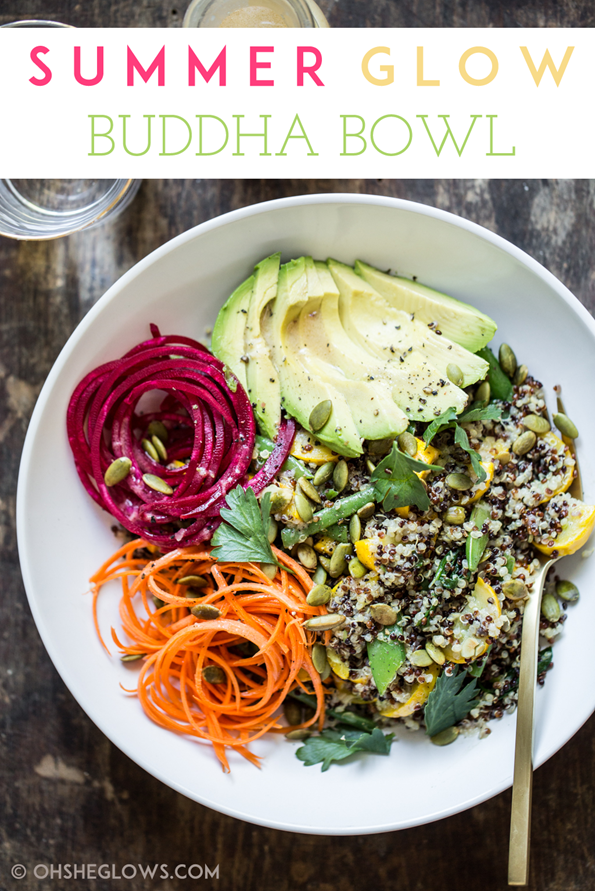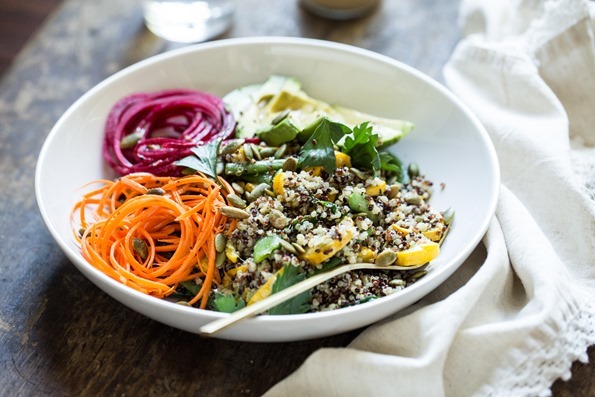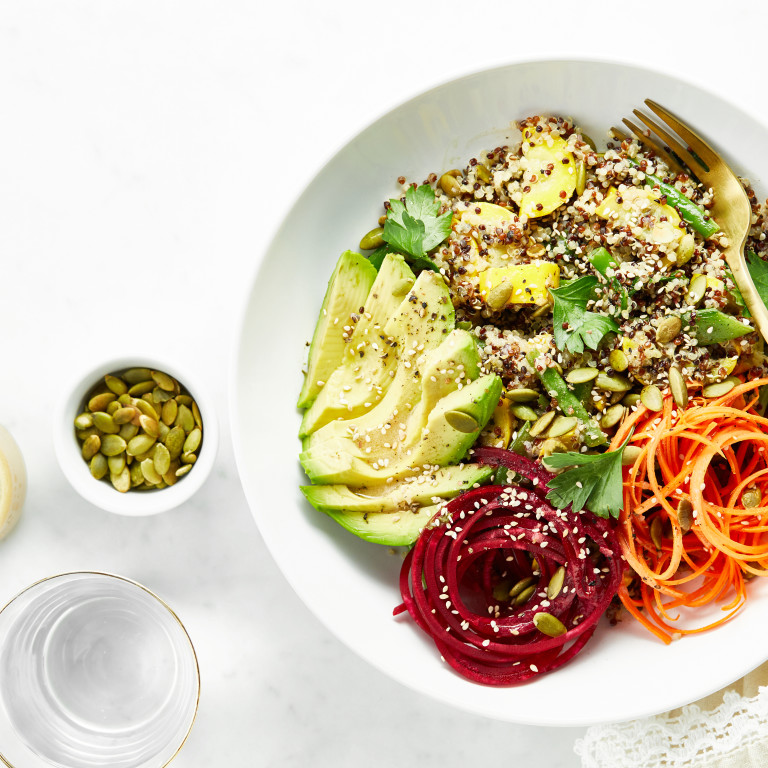 Summer Glow Buddha Bowl with House Vinaigrette
Vegan, gluten-free, nut-free, refined sugar-free, soy-free

Yield

Serves 6
Prep time

Cook time

Total time

Like most plant-based bowl recipes there are a few different components that need to be prepped for this Buddha Bowl, but I'm happy to say they're all incredibly easy to whip up. I like to prepare the House Vinaigrette and quinoa in advance, maybe the day before or the morning of. This way, the bowls come together incredibly fast. While I created this bowl with summer in mind, rest assured that you can swap out the summer veggies for seasonal veggies all year long. You can also boost the protein by adding your favourite beans/legumes. This bowl is inspired by Kerr Street Cafe's Buddha Bowl.
Ingredients
For the House Vinaigrette (makes 3/4 to 1 cup):
3 tablespoons (45 mL) red wine vinegar
2 tablespoons (30 mL) fresh lemon juice
2 tablespoons (30 mL) Dijon mustard
1 medium garlic clove, minced
2 teaspoons (10 mL) pure maple syrup, or more to taste
1/2 teaspoon pink Himalayan salt or fine sea salt, or to taste
Freshly ground black pepper, to taste
6 to 8 tablespoons (90 to 125 mL) extra-virgin olive oil, to taste
For the Buddha Bowl:
1 1/2 cups (300 g) uncooked quinoa (I use rainbow, but any kind works)
2 tablespoons (30 mL) extra-virgin olive oil
2 cups (180 g) fresh green beans, ends trimmed and chopped into bite-sized pieces
2 cups (170 g) fresh snap peas, ends trimmed and chopped into bite-sized pieces
2 cups (220 g) yellow zucchini, sliced into half-moons
Pink Himalayan salt or fine sea salt, or to taste
1 to 2 cups (30 to 60 g) fresh baby spinach
1 medium carrot, peeled and spiralized/julienned

*

1 medium beet, peeled and spiralized/julienned

*

*

1 to 2 large ripe avocados, pitted and sliced
3/4 cup (120 g) toasted pepita seeds

*

*

*
Directions
For the House Vinaigrette: In a small (1-cup/250 mL) mason jar, add the vinegar, lemon juice, Dijon, garlic, maple syrup, salt, and pepper. Secure lid and shake vigorously to combine. Remove the lid and add in the olive oil. Secure the lid once again and shake vigorously until the oil is emulsified. Taste, and add additional maple syrup or oil if desired.
Cook the quinoa: In a medium saucepan, add the quinoa along with 2 1/4 cups (560 mL) water. Stir to combine. Increase heat to high and bring to a low boil. Immediately reduce the heat to medium-low, and cover with a tight-fitting lid. Cook for 13 to 16 minutes, until the water is absorbed and the quinoa is fluffy. Remove the lid and season the quinoa with salt and pepper.
Sauté the vegetables: Meanwhile, in a large skillet or wok, add the olive oil, green beans, snap peas, and zucchini. Stir to combine and season with salt. Sauté the veggies over medium-high heat for about 10 minutes, until tender but not overcooked. You still want the veggies to have a light crispness to them. At the end of cooking, stir in the spinach and cook for a couple minutes until it wilts. Turn off the heat.
Peel and spiralize the carrot and beet, and slice the avocado.
To assemble: Stir all of the cooked quinoa into the skillet veggie mixture. Increase heat to medium, and cook until warmed throughout. Taste and add more salt and pepper if desired. Portion the quinoa-veggie mixture into large shallow bowls. Top the bowls with the carrot, beet, avocado, and a generous amount of toasted pepita seeds. Lastly, shake the House Vinaigrette and drizzle about 3 to 4 tablespoons all over the top of each bowl. Any leftover Buddha Bowl mixture will keep in the fridge for up to 3 days, and the leftover House Vinaigrette will keep for at least two weeks. The olive oil in the dressing tends to solidify when chilled, so be sure to allow it to sit on the counter for a bit (or warm the sealed jar in a bowl of hot water), and shake well before using. A great way to serve leftovers is to toss some baby mixed greens with House Vinaigrette and stir in some warmed quinoa-veggie mixture. Top it with sliced avocado and toasted pepitas for a quick meal.
Tip:
*

If you own a spiralizer, be sure to use a very thick carrot for spiralizing (the smaller ones won't work). Or you can simply julienne the carrot with a julienne peeler, which is what I usually do.

*

*

To avoid staining your hands, try wearing kitchen gloves while handling the beet.

*

*

*

To toast the pepita seeds: Spread the seeds onto a baking sheet and toast them for 8 to 12 minutes at 325°F (160°C), until golden.
Nutrition Information
(click to expand)