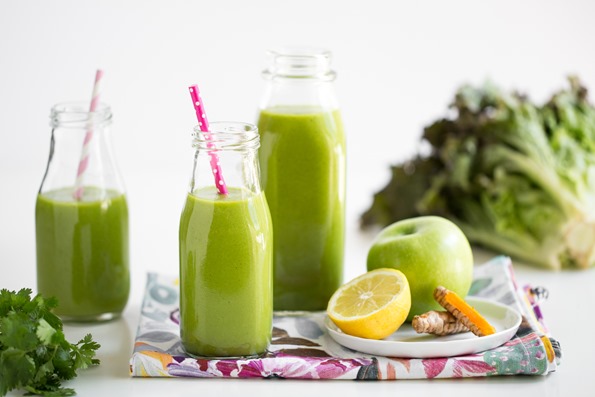 Lately I've been trying to find ways to eat more veggies—which I realize may sound a bit funny coming from someone who eats plant-based—but it's all too easy to get into ruts, especially when things are busy. It's just so convenient to grab something from a box sometimes!
Pregnancy also makes my food obsessions and aversions much more pronounced, and trickier to navigate on a day-to-day basis. I'll love something one day and loathe it the next (except cookies…I constantly have to resist the urge to bake cookies). There's a virtual stack of recipes that I've developed this year and totally loved at the time, only to want nothing to do with them the next day. It's been a bit frustrating as a recipe developer, feeling so hot and cold about my usual favourite foods.
In an effort to up my veggie intake, I made a pledge to myself on my birthday this past Monday to consciously set aside some time each day for veggie prep. That morning, feeling super inspired, I threw all the healthy ingredients I had into the blender. Usually when I toss all kinds of random things in, it comes out tasting like utter garbage, but I think birthday magic was on my side because this smoothie blew me away. Afterward, I wrote down my best guess of the "recipe", tested it in the afternoon, and was shocked to discover I'd pretty much nailed the smoothie's proportions. The best part is that this recipe makes a huge batch—enough for a big serving in the morning with breakfast (I love pairing it with avocado toast), and another as a snack in the afternoon. It also keeps well until the next day (which I think is due to not having any banana in it!), so you can save the other half for the next morning, too. I love knowing that I'm getting in so many extra veggies throughout the day. You can't go wrong with 5 cups of green smoothie ready in about 10 minutes.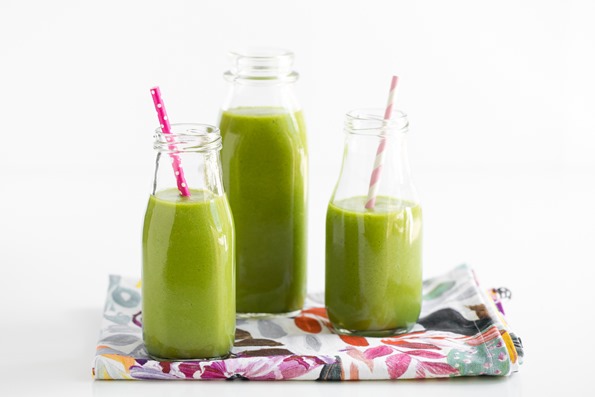 I'm in love with this smoothie's unique flavour combination (think: refreshing, tangy, and lightly sweet), not to mention how amazing—almost euphoric—I feel when I drink it. I read up on the ingredients a bit, and I'm not surprised this makes me feel so darn good:
Fresh turmeric: Anti-inflammatory and fights free radical damage to the brain. It contains curcumin, which is a powerful antioxidant. Also has pain-relieving properties.

Cilantro: Detoxifying and helps remove heavy metals from the body. Also antibacterial, immune-enhancing, and aids digestion.

Parsley: Diuretic aid rich in antioxidants. Contains vitamin K, which helps support healthy bones.

Red Leaf Lettuce: Source of folate and soluble fibre. The deep pigment in red lettuce leaves means that it contains an extra boost of antioxidants. The watery nature of lettuce helps flush toxins from the body. Also thought to have a calming or sedative effect on the body.

Lemon: Antibacterial properties. High vitamin C content. Lemon boosts digestion and is alkalizing and detoxifying.

Avocado: Contains healthy monounsaturated oil. The flesh and oil are anti-inflammatory. Also thought to help keep joints supple and may boost fertility.

Mango: High in vitamin C and beta-carotene, which can help boost the immune system. Contains prebiotic dietary fibre, which helps feed good bacteria in the gut.
Source: Healing Foods: Eat your way to a healthier life (DK Books, 2013)
Impressive, to say the least! I hope you all enjoy it as much as we do.
(And thanks to my mom for these gorgeous b-day flowers!)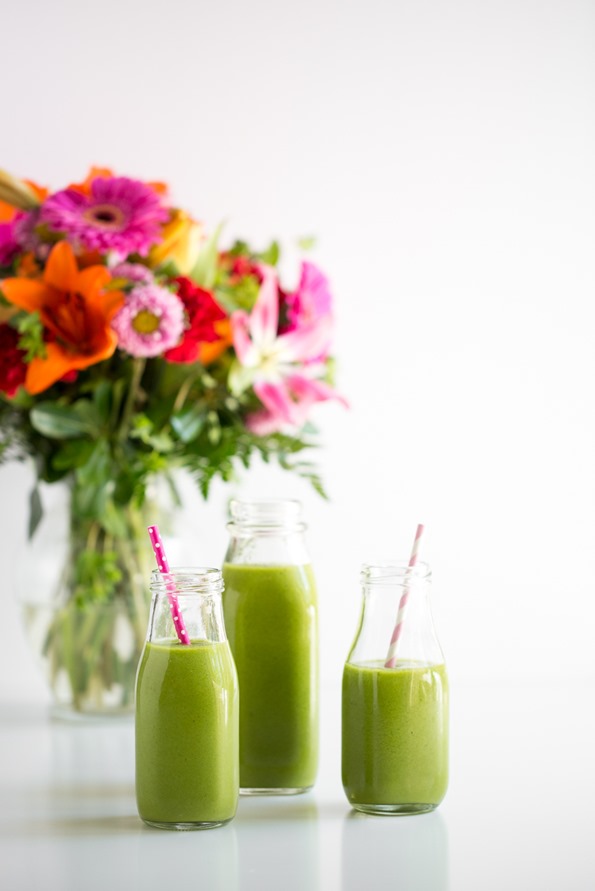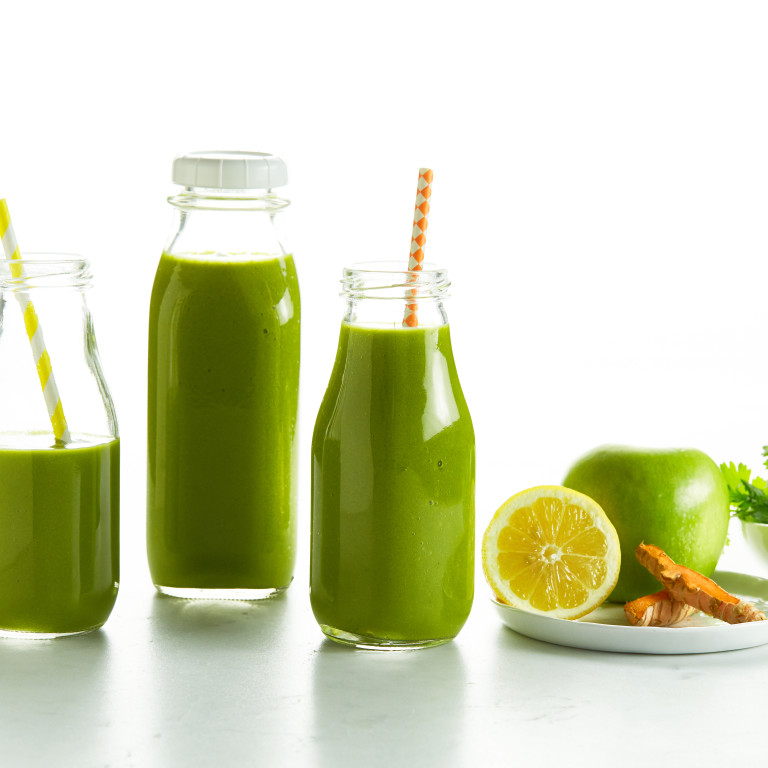 All Day Glow Green Smoothie
Vegan, gluten-free, grain-free, no bake/raw, nut-free, oil-free, refined sugar-free, soy-free

Yield

5 cups (1250 mL)
Prep time

Cook time

0 minutes
Total time

This refreshing and tangy smoothie happened by total accident. I created it on my birthday as I was looking to feel my absolute best, and I had resolved to eat more veggies in the year ahead. So I threw in all of the healthy ingredients I had lurking in the fridge, and I was absolutely astounded by how delicious it turned out. I'm not sure if I've ever created such a powerhouse smoothie before! This one is jam-packed with nutritious ingredients like fresh turmeric, cilantro, parsley, lemon, avocado, green apple, lettuce, coconut water, and more. Keep in mind this is a large batch that just fits in a 64-ounce high-speed blender, so if your blender is smaller you might want to make a half batch. I love to have a glass first thing in the morning, and another in the afternoon. Since there's no banana in it, it also keeps well until the next day when stored in an airtight container. Be prepared to feel that "all-day" glow!!
Ingredients
1 cup (250 mL) coconut water
1/2 cup (125 mL) mango juice (I love Happy Planet Organic Mango juice)
2 large (400 g total) Granny Smith apples, cored and roughly chopped
2 cups (70 g) packed red leaf lettuce or romaine
2/3 cup (18 g) loosely packed fresh parsley leaves
1/3 cup (15 g) packed fresh cilantro leaves

*

1/2 cup (70 g) frozen mango chunks
1/4 cup (50 g) packed avocado
4 teaspoons fresh lemon juice, or to taste
2 small pinky-sized pieces (12 g total) peeled fresh turmeric

*

*

5 to 6 large ice cubes, or as needed
Directions
Add the coconut water and mango juice into a (64-ounce) high-speed blender. (If your blender is on the small side, you may want to make a half-batch.)
Now add the rest of the ingredients. Blend on high until super smooth. If you have a Vitamix, use the tamper stick to get things moving. Taste and adjust sweetness if desired. If it's too tart, feel free to add a bit of liquid sweetener.
Serve and enjoy! Place any leftovers into an airtight container and store in the fridge for up to 24 hours. I love to enjoy half in the morning, and the other half in the afternoon.
Tip:
*

The cilantro flavour in this smoothie is quite pronounced. If you aren't a cilantro fan, feel free to swap it with more romaine or fresh mint (start with 1/4 cup of mint).

*

*

 Fresh turmeric root is becoming more and more common in grocery stores these days; keep your eyes peeled for it in the produce section. It can also be found on Amazon, and in select health food stores and Indian and Asian grocery stores. Look for firm turmeric that is unblemished.
Nutrition Information
(click to expand)