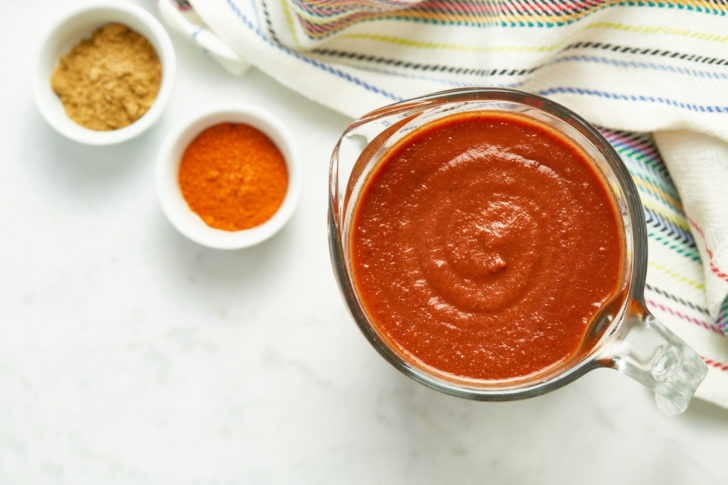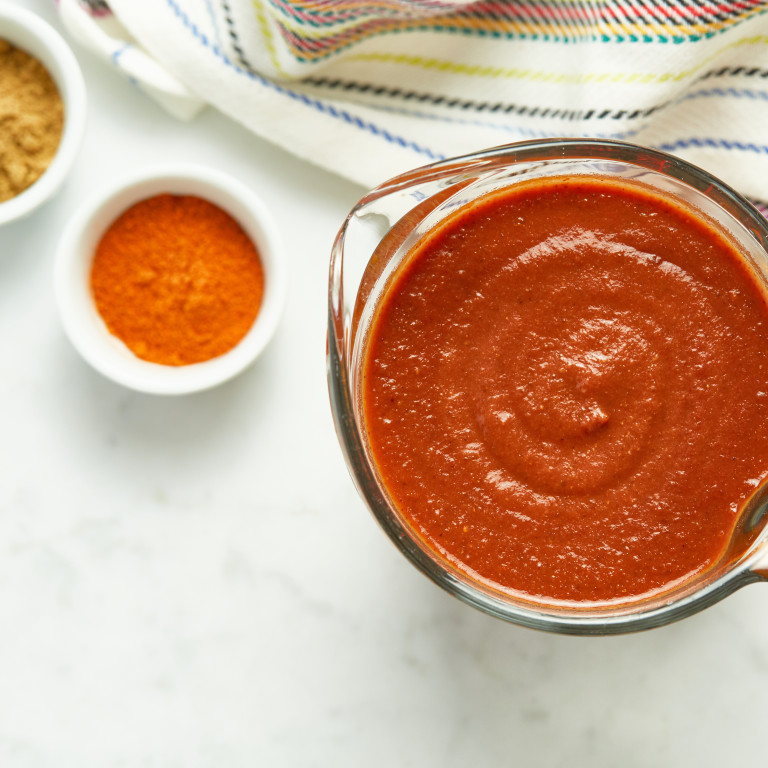 Enchilada Sauce
Vegan, nut-free, refined sugar-free, soy-free

Yield

2 1/2 cups
Prep time

Cook time

Total time

With a homemade enchilada sauce so easy and tasty, you'll never buy store bought again! Use this sauce in my Next Level Enchiladas.
Ingredients
2 tablespoons (30 mL) vegan butter or extra-virgin olive oil
2 tablespoons gluten-free all-purpose flour, all-purpose flour, or white spelt flour
1 1/2 tablespoons chili powder
1 teaspoon garlic powder
1 teaspoon cumin
1/2 teaspoon onion powder
1/4 teaspoon cayenne pepper
1 scant cup (8 ounces) tomato paste
1 1/2 cups (375 mL) low-sodium vegetable broth
1/2 teaspoon pink Himalayan sea salt or other fine sea salt
Directions
In a medium pot, melt the vegan butter over medium heat or simply add the oil and increase heat to medium.
Stir in the flour until a thin paste forms.
Stir in the chili powder, garlic powder, cumin, onion powder, and cayenne pepper until combined. Cook for a couple minutes over medium heat until fragrant.
Stir in the tomato paste followed by the broth. Whisk until smooth.
Bring to a simmer over low-medium heat. Stir in salt to taste and continue simmering until thickened for about 5 minutes, or longer if desired.
Nutrition Information
(click to expand)