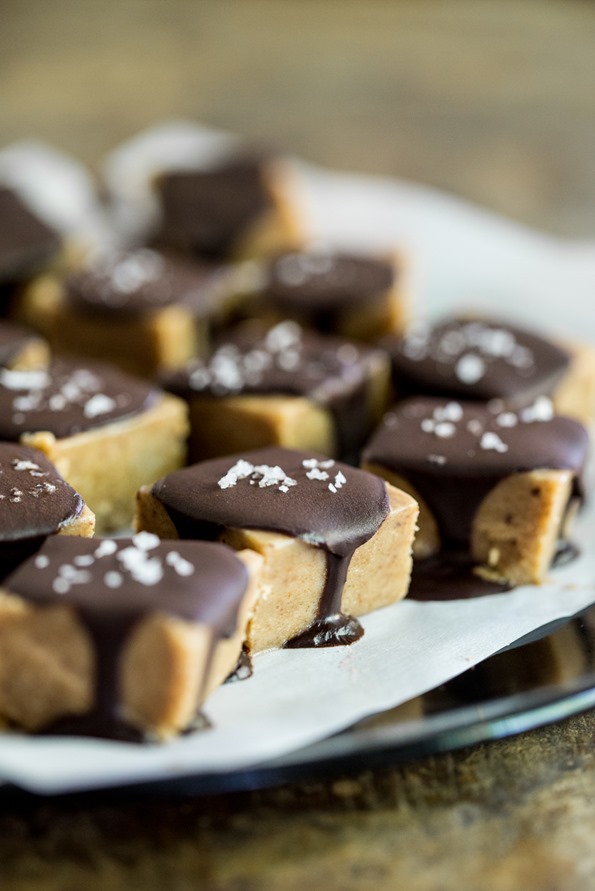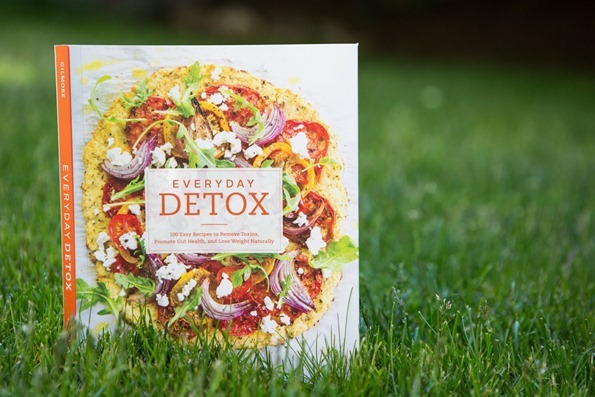 My friend and fellow blogger, Megan Gilmore, from the popular blog Detoxinista just launched her first cookbook this week, Everyday Detox: 100 Easy Recipes to Remove Toxins, Promote Gut Health, and Lose Weight Naturally. I was lucky to be able to review this cookbook before it went to print and I've been eagerly anticipating the hard copy on my doorstep. Just like on her blog, the recipes in her debut cookbook are unfussy, whole foods based, and feature short ingredient lists. I've been a fan of Megan's for years and I've always admired her ability to take a handful of simple, whole foods ingredients and turn them into something practical for everyday life. While Megan doesn't ascribe to any particular dietary label, she creates many vegan, paleo, vegetarian, and gluten-free recipes. About 75% of the recipes in Everyday Detox are vegan or can be made vegan by swapping out the sweetener or leaving out the cheese. All of the recipes are gluten-free. There are around 50 gorgeous photos shot by Nicole Franzen.
The book's chapters include: 1) An easy approach to detoxing; 2) stocking your detox-friendly kitchen; 3) liquid nourishment; 4) morning favorites; 5) salads, dressings & sides; 6) soups, sandwiches & wraps; 7) casseroles & comfort foods; 8) sweet treats; and 9) back to basics.                                                                                                                                                       
Detox-based cookbooks tend to make me think of hard-core fad diets and cleanses, but thankfully Megan's approach is much less drastic. She encourages you to practice daily healthy habits and believes in eating whole foods (ie., unprocessed, refined-sugar free, chemical additive free) on a day to day basis – making a lifestyle change – rather than teetering on the extremes and cyclic nature of dieting. Megan doesn't believe in calorie counting because she says it "doesn't take into account the quality of foods we're consuming nor the body's ability to digest natural foods versus processed ones." Instead of looking at the calorie count on a label, she says to ask yourself a few questions: Where does the food come from? Is it in its natural state? How many ingredients does it contain and do you recognize those ingredients? Better yet, she says, select foods with no label at all. I love that last tip. The recipes in Everyday Detox are also based on the principles of food-combining and how food-combining can impact digestion (which is something I admit that I'm not overly motivated to follow), but whether you want to learn more about food-combining or not, the recipes can be enjoyed simply because they are healthful and delicious.
Today, I'm happy to share a recipe from her cookbook for all of the almond butter lovers out there! I couldn't help myself and added a homemade chocolate topping and Maldon sea salt flakes. It was a hit with our friends!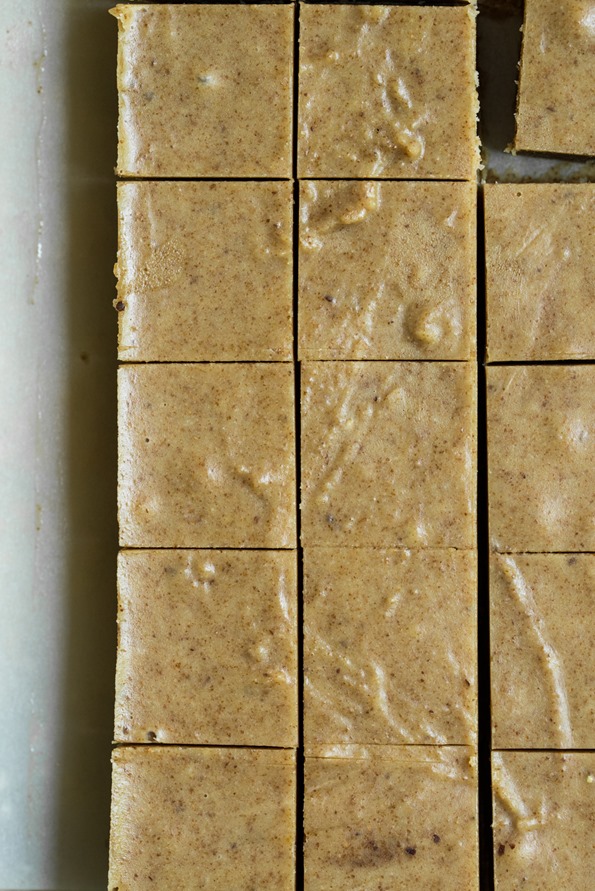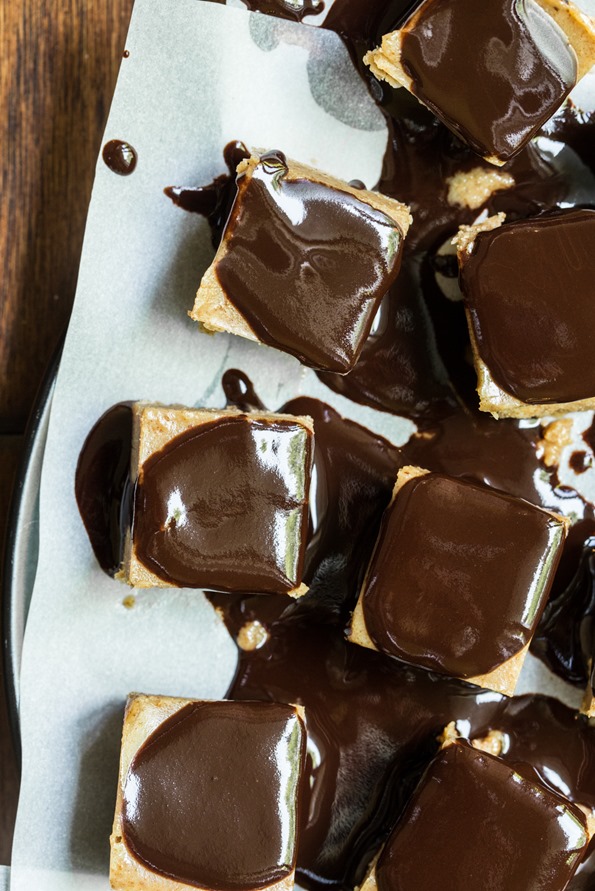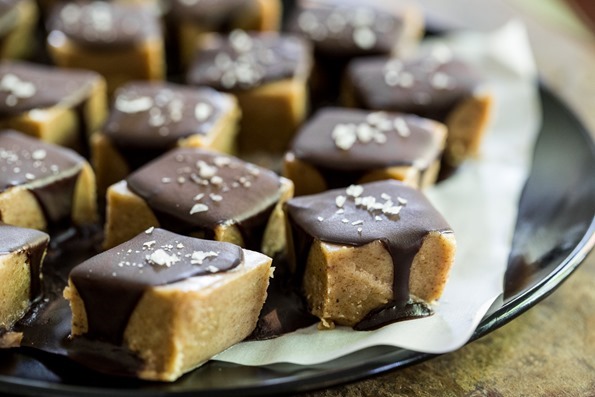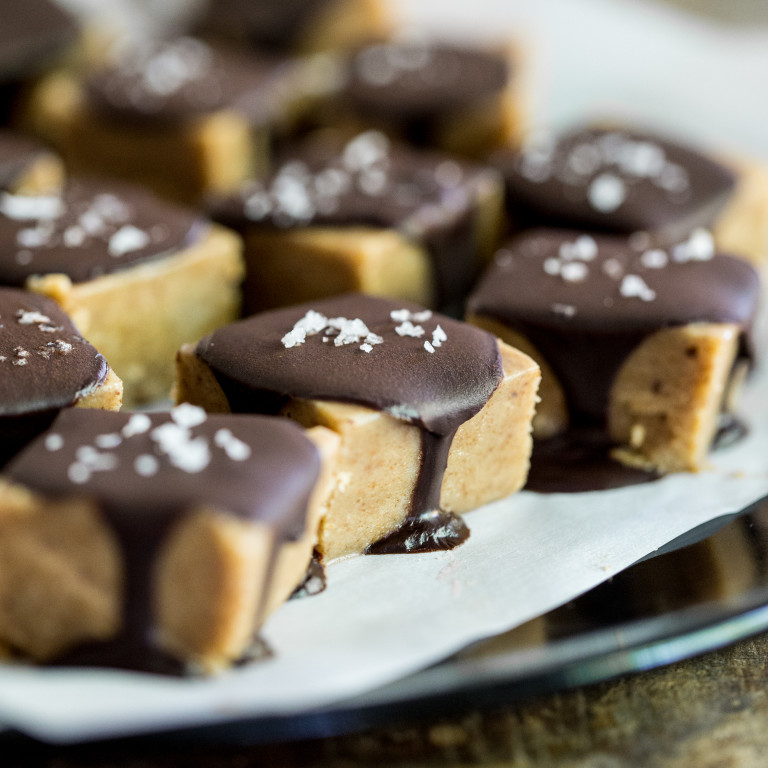 Salted Almond Butter Freezer Fudge
Vegan, gluten-free, grain-free, no bake/raw, refined sugar-free, soy-free

Yield

21 pieces
Prep time

Cook time

0 minutes
Chill time

1.5 hours
Total time

This almond butter fudge is lightly adapted and shared with permission from Everyday Detox (2015) by Megan Gilmore. I also threw on a homemade chocolate coating for a snappy burst of chocolate in each piece, and a garnish of flaked sea salt. Be sure to keep this fudge in the freezer because it melts at room temperature.
Ingredients
For the freezer fudge (lightly adapted from Everyday Detox):
1 1/2 cups raw smooth almond butter
1/4 cup + 2 tablespoons virgin coconut oil
1/4 cup pure maple syrup
1/4-1/2 teaspoon pink Himalayan sea salt or other fine sea salt, to taste
For the chocolate topping:
3 tablespoons virgin coconut oil
1.5 tablespoons pure maple syrup
3 tablespoons unsweetened cocoa powder
Pinch of pink Himalayan sea salt or other fine sea salt
Maldon sea salt or other flaked sea salt, for garnish (optional)
Directions
Lightly grease a standard size loaf pan (9"x5") and line with a piece of parchment paper cut to fit the length of the pan.

For the fudge

: Spoon the almond butter into a large mixing bowl.
In a small pot, add the coconut oil, maple syrup, and salt (only the fudge ingredients here). Heat over low, until the oil is melted. Slowly pour the wet mixture into the bowl with the almond butter, stirring as you go. Stir until completely smooth and combined. It'll be quite runny at this stage.
With a spatula, spoon the almond butter mixture into the prepared pan. Smooth out. Place the pan, uncovered, on a flat surface in the freezer. Freeze for around 1 hour, or until the fudge is solid.

For the chocolate topping

: In a small pot, add the oil and melt the oil over low heat. Remove from heat and whisk in the maple syrup, cocoa powder, and salt until smooth. I like to place the chocolate sauce in the fridge for several minutes until thickened slightly.
Slice the frozen slab of fudge into about 21 (1-inch) squares and place on a large plate lined with parchment paper, about a half-inch between each piece. Spoon the chocolate sauce on top of each square (a scant 1 teaspoon per square). Place back in the freezer until the chocolate is solid. Sprinkle on some flaked sea salt, if desired.
Break apart the squares of fudge (if the chocolate pooled at the bottom) and enjoy immediately. Return leftovers to the freezer.
Nutrition Information
(click to expand)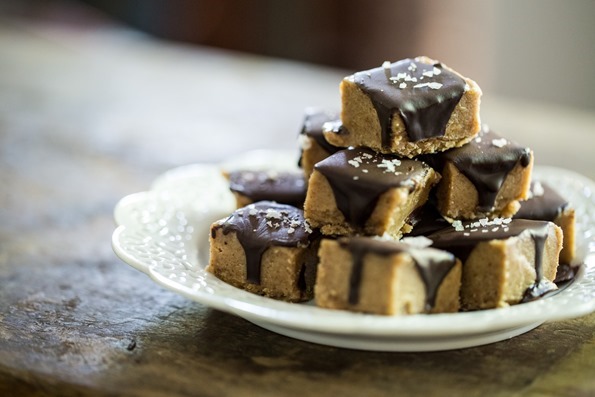 I also tried out the Strawberry Basil Blast smoothie a few times. I change it up a bit using half the avocado and lemon juice. It's also good without the fresh basil (I don't always have it handy because I love to kill me a basil plant), but I do recommend trying the basil version first. I've made a cherry-basil combo in the past and it really is awesome in a smoothie! This smoothie will be on heavy rotation throughout the summer.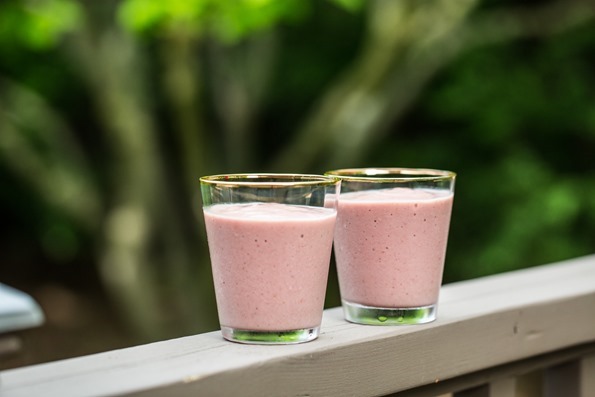 Some other recipes on my must-try list include: Raw Falafel Wraps, Enchilada Stuffed Cabbage Rolls, and "Beef" and Broccoli.
Thanks to Megan for letting me share this almond butter fudge recipe today. Be sure to check out Everyday Detox which is hot off the press this week!