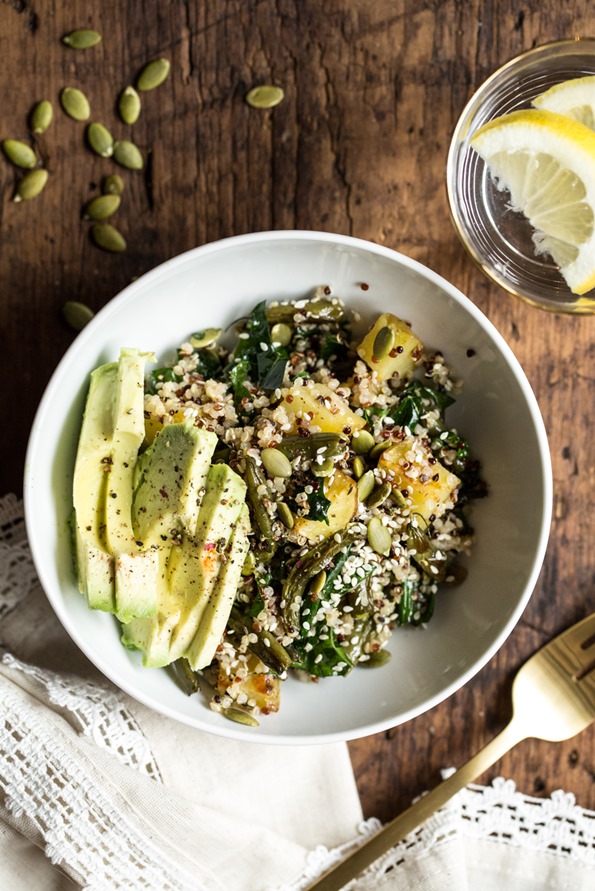 This salad is a good example of how I love my salads in the winter – warm, hearty, and bursting with nutrition. Like a big hug. I have no desire to eat a cold salad right now (unless it's this one, I suppose). It's light, but still has that "stick to your ribs" quality I crave soooo much right now. Give me all the healthy comfort food!
I started by roasting Yukon Gold potatoes (one of my all-time favourite winter comfort foods!) and crunchy green beans with a bit of olive oil and a generous seasoning of sea salt and pepper. While it's roasting, whip up a batch of quinoa (speltberries or millet might be nice too) and chop some green onion and kale. Whisk together a simple red wine vinaigrette and we'll add some freshly roasted garlic (if you are already roasting veggies, you might as well roast a few cloves of garlic too!). When the potatoes and green beans are golden and lightly charred on the bottoms, throw it into a big bowl and fold in the quinoa, dressing, green onions, and kale. Toss on a big handful of pepita seeds for crunch and my favourite salad topper – sliced avocado. It's the perfect soul-soothing, warm bowl of comfort food in the middle of January.

Warm + Roasted Winter Salad Bowl
Vegan, gluten-free, nut-free, refined sugar-free, soy-free
By Angela Liddon
The ultimate bowl of winter comfort food! Yukon Gold potatoes and green beans are roasted until golden and then tossed with warm rainbow quinoa, shredded kale, green onion, and a quick red wine vinaigrette. I topped it with crunchy pepita seeds and sliced avocado. Feel free to change up the potatoes with what you have on hand. Instead of quinoa, speltberries or millet might work nicely too.
Yield

4-6 servings
Prep time

Cook time

Total time

Ingredients:
For the salad:
1 cup uncooked rainbow or regular quinoa + 1.5 cups water

3/4 pound Yukon Gold potatoes, chopped into 1/2-inch chunks (about 2 1/2 cups)

1 pound fresh green beans, trimmed and chopped into 1-inch pieces (about 3 cups)

2 extra-large or 3 large garlic cloves (peel left on)

1 tablespoon extra virgin olive oil

1 cup stemmed and finely chopped kale (I used lacinato, but curly works fine too)

3 green onions, thinly sliced

3 tablespoons pepita seeds (I added a handful of sesame seeds at the last minute too)

Sliced avocado
For the dressing:
1/4 cup red wine vinegar

1/4 cup extra virgin olive oil

2 teaspoons Dijon mustard

1/4 teaspoon pink Himalayan salt or fine grain sea salt

Freshly ground pepper, to taste

Pure maple syrup, to taste (optional)
Directions:
Preheat oven to 400F and line one extra-large (or 2 large) baking sheets with parchment paper.
Place the chopped potatoes, green beans, and garlic cloves (leave the peel on) onto the baking sheet. Toss with the oil and season with a generous amount of salt and pepper. Spread into an even layer.
Roast for 15 minutes, remove from the oven and flip, and continue roasting about 10-20 more minutes until the potatoes and beans are tender and golden. Watch closely during the last 10 minutes to avoid burning.
Meanwhile, cook the quinoa by adding the quinoa into a medium pot along with 1.5 cups water. Bring to a low boil, reduce heat to medium-low, cover with lid, and cook for 13-17 minutes until the water is absorbed and the quinoa is fluffy. Remove from heat, fluff with a fork, and leave the lid on to keep warm.
Prepare the dressing by whisking the dressing ingredients together in a small bowl. Set aside.
Chop the kale and green onions.
When the vegetables are finished roasting, remove garlic cloves and set aside. Spoon the potatoes and beans into a large serving bowl. Stir in the quinoa and the other chopped vegetables.
Trim the end off each garlic clove and push the roasted garlic out. Finely chop or mash the garlic. Whisk the garlic into the dressing until combined. Taste the dressing and add optional maple syrup, a teaspoon at a time, if desired. Pour all of the dressing onto the vegetables and toss to coat.
Season with salt and pepper to taste and serve immediately. Leftovers can be reheated in a saucepan with some oil and the salad will keep in the fridge for a few days.
Nutrition Information
Tips:
Tip: To boost the protein even more, try adding chickpeas, adzuki beans, great northern beans, or lentils. Roasted chickpeas would be nice too!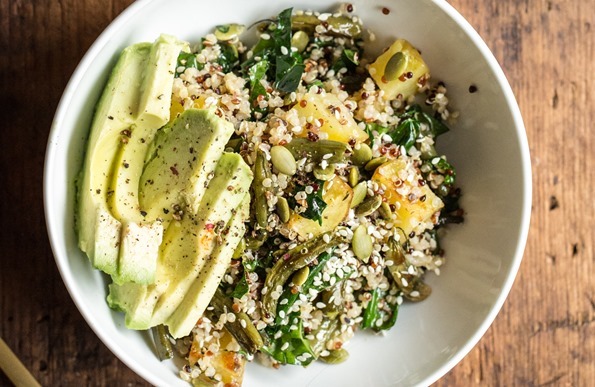 A huge thank you to those of you who volunteered to be a recipe tester for my second cookbook! I'm blown away by the response – I wish I could take you all up on your offer to help. If you aren't emailed by the end of next week, don't despair. There's a good chance that I will need more help in the future so I might end up emailing more volunteers down the road. I will keep your submissions on file if that's ok with you (no pressure if you can no longer volunteer, of course). PS – I haven't emailed anyone yet, but I should be sending out an email within a couple weeks once I get my testing site ready to roll. Thank you a million!
Let's get social! Follow Angela on Instagram @ohsheglows, Facebook, Twitter, Pinterest, Snapchat, and Google+