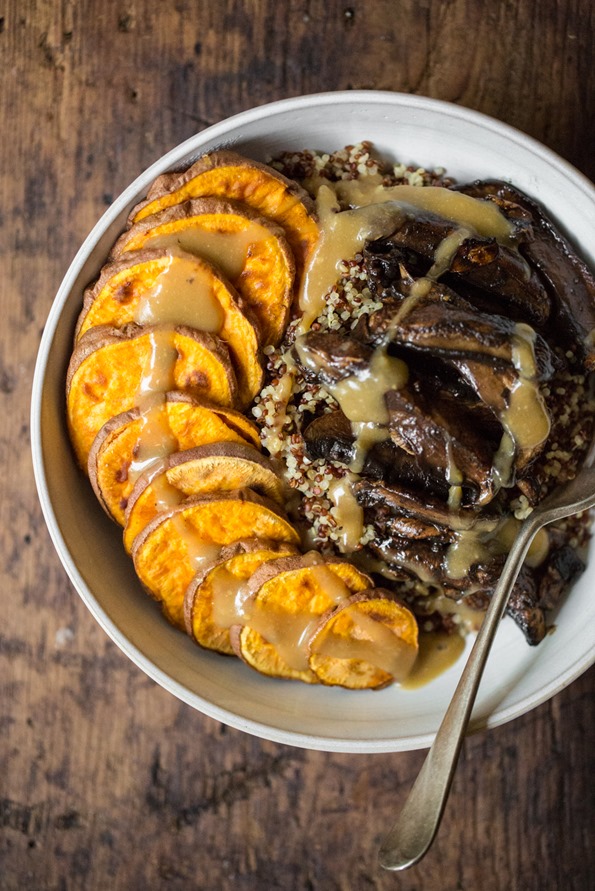 Sometimes I feel like I have a devil on one shoulder and an angel on the other this time of year. The devil tells me to eat ALL the cookies, chocolates, and treats (you know…#allthethings) while the angel reminds me how much better I feel when I'm eating ALL the rainbow. [I told Eric this, and with a twinkle in his eye he said, "So am I the devil on your shoulder?" He was referencing the fact that he's been begging me to bake some treats lately. "YES, yes you are the devil."] In an effort to feel my best throughout this busy holiday season (and keep my energy high!), I've made it my mission to strive for balance over the next four weeks. The devil is currently laughing on my shoulder! Shush! This is a goal I always have throughout the year, but I need more reminders during December when treats and parties are a plenty. I've also struggled with healthy eating since having a baby. Increased hunger (no, hanger) combined with overnight nursing sessions/lack of sleep result in a lot more sugar cravings throughout the day. I've been giving in way too often, but there's always room for improvement? Food tends to either deplete or increase my energy, and it's not hard to figure out which kind does what. 
So I'm trying to make sure I have a few solid meals each day to keep me going. This means when I do have treats I'll be less likely to go cray cray. Breakfast and lunch are no-brainers right now. My 5-Minute Power Oatmeal Bowl is still going strong (so happy to see that you guys are loving it too!) and for lunch I'm still loving an avocado mashed on toast with marinara sauce and Herbamare and an apple and raw almond butter on the side. Dinner tends to be trickier to come up with sometimes so I figured it was a good time to try out some new meals…which brings me to this recipe! I made it over a month ago and intended on sharing right away, but I had #gravyproblems (not sure why I feel the need to hashtag everything today, but let's go with it). There are a few moving parts to this recipe, but the beauty is that most can be made in advance. You can also make one or two of the items (such as the miso gravy or sautéed mushrooms) and mix and match with leftovers you currently have in the fridge. A bowl recipe is never the final word. Feel free to improvise as you see fit and come up with something new!
A note about this chickpea miso gravy – holy hell did I test it a gazillion times. And you'd never know it because the final gravy recipe is quite simple. In an effort to make a gluten-free gravy, I tested different gluten-free flours and I had problems with many. Chickpea flour seemed like an obvious pairing with chickpea miso, however I found that after the gravy leftovers chilled in the fridge it turned very thin and watery. Frustrating for me as a recipe developer, but maybe not a deal breaker if you consume it right away. I also tried some all-purpose gluten-free flour mixes and I always find there is a lot of variance among them. The ones with gums (like guar or xanthan) often produced gummy textures in my gravy attempts and I couldn't settle on one that I loved. Maybe you will have better luck though. Finally, I tried sorghum flour and I really liked the outcome, flavour, and texture. As always, feel free to experiment with what you like. I do think non-GF flours like regular all-purpose flour will work too! Another new discovery for me – I found that using potato starch instead of arrowroot powder for thickening yielded a nicer consistency/texture. I find arrowroot can be a bit slimy at times. I will definitely be using potato starch for future gravy recipes! Cornstarch might be fine too. Anyway, the final gravy recipe that I came up with is light in flavour with a nice consistency – it coats the back of a spoon nicely. A big bonus is that the gravy comes together in about 5 minutes flat. There's no chopping or anything (but if you wanted you could always add minced garlic and onion). It's my quickest gravy to date.
This concludes my gravy testing spree of 2014. Whew. I'd love your feedback on the gravy if you make it!
By the way, I made this recipe using Portobello mushrooms (my preferred version!) and then another using sliced cremini mushrooms. Both work great so feel free to use whichever you prefer! This is also why you see two types of mushrooms in the photos below – two different photoshoots. ;)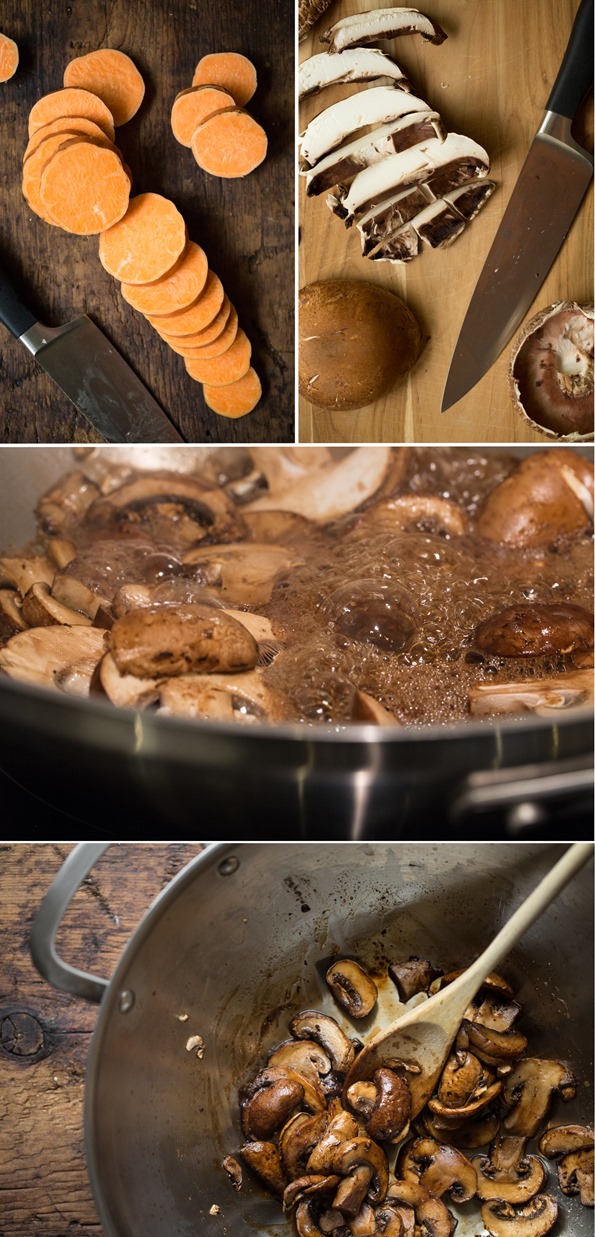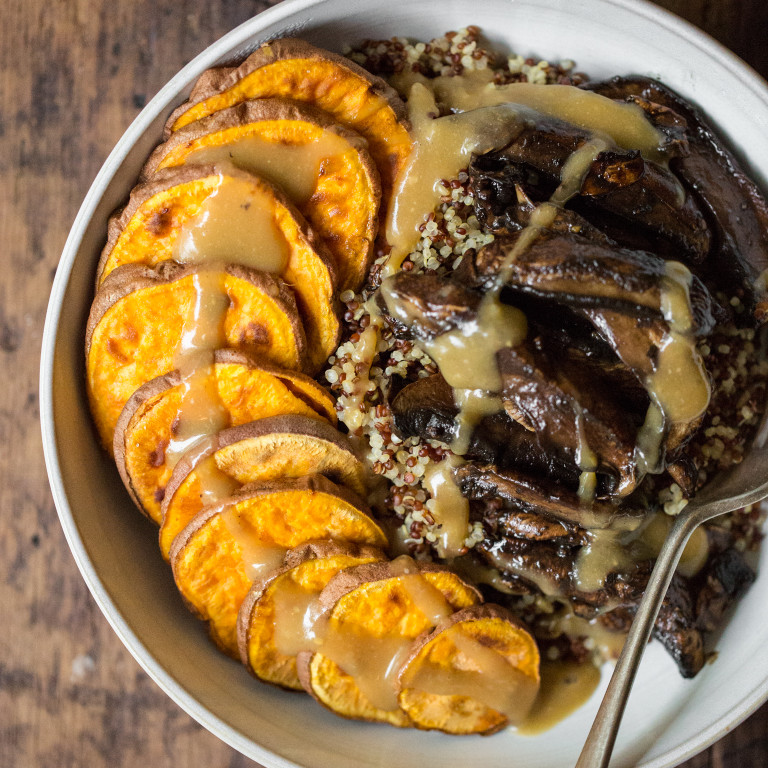 Chickpea Miso Gravy Bowl with Sweet and Tangy Portobello Mushrooms
Vegan, gluten-free, nut-free, refined sugar-free, soy-free

Yield

2-3 servings
Prep time

Cook time

Total time

A warm and cozy gluten-free quinoa bowl made with roasted sweet potatoes, chickpea miso gravy, and balsamic garlic Portobello mushrooms. I used chickpea miso, coconut aminos, and soy-free vegan butter which makes this recipe soy-free. As for swaps, feel free to use your preferred light miso, low-sodium tamari, and your preferred vegan butter (just note the recipe will contain soy if using these alternatives). Inspired by my cozy millet bowl.
Ingredients
For the gravy (makes 3/4 cup):
2 tablespoons vegan butter (I used soy-free)
2 tablespoons sorghum flour
3/4 cup low-sodium vegetable broth
1 1/2 tablespoons chickpea miso, or to taste
1 tablespoon potato starch
1 tablespoon coconut aminos
Fine grain sea salt + freshly ground black pepper, to taste
For the sweet potato and quinoa:
1 large sweet potato
1 cup uncooked quinoa
For the mushrooms:
4 medium/large Portobello mushroom caps (or 4-5 cups sliced cremini mushrooms)
3-4 tablespoons balsamic vinegar, to taste
1 teaspoon garlic powder or 2 minced garlic cloves
1 tablespoon coconut aminos
fine grain sea salt, to taste
freshly ground black pepper, to taste
Directions
For the gravy

: In a medium saucepan, melt the butter over low heat. Stir in the sorghum flour (it will form a chunky paste, but that's normal). In a small bowl, whisk the broth, miso, and potato starch until completely smooth. Pour it into the saucepan and increase heat to medium-high, whisking vigorously until smooth and no lumps remain. Whisk in coconut aminos, salt, and pepper, to taste. Reduce heat to medium-low to avoid burning. Once thickened, remove from heat until ready to use (you can quickly reheat before serving). You can always add a bit more broth if it's too thick for your liking.

For the sweet potatoes

: Preheat oven to 375F and line a baking sheet with parchment paper. Slice a large sweet potato into 1-cm rounds. Place on baking sheet and drizzle with olive oil. Toss to coat and spread out into an even layer. Season with salt and pepper. Roast for 20-35 minutes, until tender and lightly golden in some spots, flipping once half way through roasting.

For the quinoa

: Add 1 cup of quinoa into a pot with 1.5 cups of vegetable broth or water. Bring to a low boil. Reduce heat to medium-low and simmer,

covered

, for 13-16 minutes, until the water absorbs and the quinoa is fluffy. Remove from heat, season with salt, and keep lid on until ready to consume.

For the mushrooms

: Remove stems from Portobello mushrooms by twisting them off. Discard stems or save for future use. With a small spoon, scoop out the black gills and discard. With a damp cloth, wipe the cap to remove any debris. Slice into long, 1/2-inch wide strips. In a large wok or saucepan, whisk together the vinegar, garlic, and coconut aminos. Add sliced mushrooms and toss until coated in the liquid. Turn heat to medium-high and cook down the mushrooms for 10-15 minutes, stirring frequently and reducing heat when necessary. You want to cook the mushrooms until all the water cooks off the bottom of the pan. Season with salt and pepper to taste.

To assemble

: Add a couple scoops of cooked quinoa into a bowl. Layer on roasted sweet potato rounds. Top with mushrooms and drizzle on gravy. Season with a herbed salt (such as Herbamare) and black pepper to finish.
Tip:
1) In the gravy, you can probably sub regular all-purpose flour for the sorghum flour with similar results. Add more broth if it's too thick. Other flours may work too. 2) You can probably sub low-sodium Tamari for the coconut aminos and cornstarch for the potato starch. I haven't tried these yet, but I can't see why the swaps wouldn't work! 3) The amount of mushrooms might seem like a lot, but remember the mushrooms cook down and reduce in size a lot! You don't want to use anything less than 4 cups of sliced mushrooms. 4) Feel free to customize this bowl with leftovers you have in the fridge.
Nutrition Information
(click to expand)